Horseback Riding in New Jersey: Trail Rides, Lessons for All levels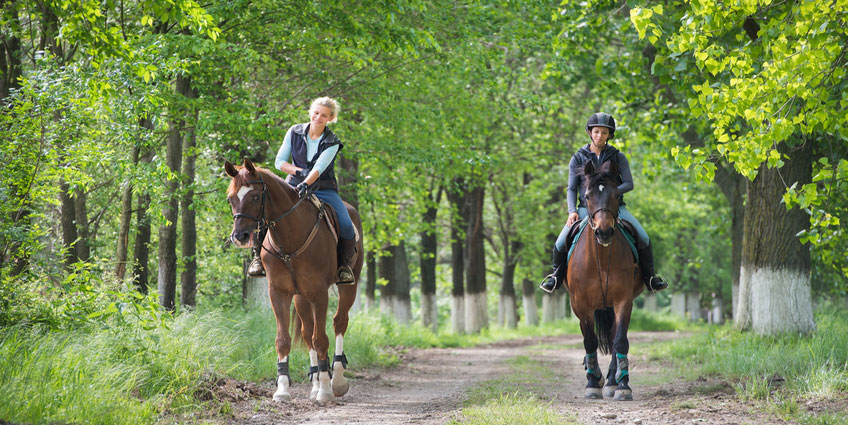 Discover the best places for horseback riding in New Jersey.

The facilities listed here offer horseback riding services to the public. Many of these riding academies can accommodate a variety of skill levels from the beginner who has never ridden to the most experienced rider.

Many of these facilities also provide lessons, summer horse camps for kids, and a variety of packages for private parties, corporate events, Boy and Girl Scout badges, and school trips.
Northern NJ Horseback Riding Venues

Echo Lake Stables
55 Blakely Lane
Newfoundland, NJ
973-697-1257
Website
They offer trail rides along the paths of the ancient Indians in mountain terrain, swiftly running streams, and along centuries old rock walls. They offer trail rides, night rides, and lessons. All rides are guided. Children must be at least 7 years of age to ride on the trails and riders must weigh below 225 pounds. On Friday and Saturday evenings they offer an hour-and-a-half trail ride with a one-and-a-half-hour Western-style BBQ, live entertainment and lots of quality fun with an old fashioned hayride at the end of the evening. Open year round, 5 days a week from 9:00AM to 5:00PM. Closed Wednesdays and Thursdays.
---
Ledgends Riding Stables
State Route 94
Vernon NJ
973-827-8332153
Website
OPen Year round
They offer public guided Horseback Riding Trail Ridesover 350 acres and miles of woods located in Sussex County, Northern New Jersey. right down the street from Mountain Creek!
You can be any experience level to enjoy the horses and trails. They do not have a weight limit. For younger children. they also have pony rides. There are picnic tables if you are thinking about celebrating a birthday
Special programs are available for family events, scouting, school trips, and other events. Riding lessons are also available for ages 7 and above.
---
Saddle Ridge Riding Center
900 Shadow Ridge Road
Franklin Lakes, NJ
201-847-9999
Website
They are a full service equestrian facility set on over 28 acres of mountains, fields, and trails, only 40 minutes from NY.
They offer boarding, leasing, lessons, trail rides and summer camps. The facility includes fully lit indoor and outdoor arenas, hot water wash stalls, a round pen, a second working outdoor arena and numerous turnouts.
---
Silver Bit & Spur Farm
631 Route 523
Whitehouse Station, NJ
908-534-4010
Website
A family-run farm open to the public 365 days a year. They offer unguided horseback riding over 61 acres of woods and streams. There are no trail guides to set the pace. Horses are available for every level of experience. You can also board your horse here or also lease a horse by the month. They have summer camp sessions and programs for company picnics and pony parties. Ponies are available for younger kids.
---
Spring Valley Equestrian Center
56 Paulinskill Lake Rd.
Newton, NJ
Website
They offer guided trail riding through picturesque woods, lakes and they have access to the Paulenskill Trail which is a NJ state maintained former rail bed. It is about 26 miles of scenic riding. They also offer lessons on how to handle a horse in the ring and on the trail. Additionally, they offer Boy and Girl Scout badge programs and two hour Birthday Party programs with both indoor/outdoor facilities with picnic tables for your decorating. They are open from 9am to 5pm everyday, closed during the winter.

---
Watchung Stable
1160 Summit Ln
Mountainside, NJ
Website
908-527-4000
Open to the public
Located in the Watchung Reservation, they offer programs on learning how to ride, enhance equestrian skills, or just enjoy the natural beauty of the 26 miles of bridle paths that weave through the Reservation, a 2,000-acre forest preserve.
The Watchung Stable is state-of-the-art facility consisting of a main barn, housing nearly 100 County and privately owned horses, four riding rings, a show ring and an outside hunter course. Scheduled guided tours and programs are available for Girl/Boy Scouts, pre-schoolers, senior citizens, and organizations serving people with disabilities.





Central NJ Horseback Riding Venues
Bella Rosa Riding Academy
151 Oak Glen Road,
Howell, NJ
732-938-5445
Website
Covers 25 acres, two indoor and two outdoor riding arenas operating year round, 25 horses,and ten riding instructors, they provide horseback riding lessons for beginners and intermediate riders from ages 3-1/2 and up. They also offer intermediate and advanced riding camps. Children birthday parties can be accommodated.
---
Circle A Riding Academy
116 Herbertsville Rd.
Howell, NJ
732-938-2004
Facebook
They offer guided horseback riding through scenic, 3,800 acre Allaire Park. This is an ideal place for a one hour ride for beginners and novices. Guides will take you on a trail through the woods, hills, a field and across a stream. They are open 7 days a week, year round. Their summer hours are from 9am to 6pm and all other times from 9am to 4pm. . They also accommodate groups of up to 35 people. They take cash only.
---
Hunter Brook Horse Farm
672 Fort Plains Rd
Howell, NJ
732-364-4949
Facebook
Note: They are not a trail riding facility.
They offer quality English riding instruction from beginners to advanced riders. The facility has a 5/8 mile riding track surrounding the perimeter of the facility with a picturesque lake close by. They also offer half hour or 45 minute semi-private lessons. Group lessons (3-5 riders per group) are available in 45 minute and hour increments. They provide safety approved riding helmets. They have an indoor heated lounge and indoor arenas to accommodate parties or lessons anytime of year. They also offer a variety of packages for Birthday Parties, Class Trips, Girl Scouts, Brownies, and Dasies with a petting zoo, trick horse, grooming session, arts and crafts table, mini riding lesson, food, birthday party videos, DJ, karaoke, and more.
---
Legacy Riding Stables
3299 Bordentown Avenue
(located between Jemme Mill Road & Cheesequake Road)
Sayreville, NJ
(732) 727-3838
Website
They offer horseback experiences for all ages and skill levels, including trail rides, pony rides and parties, horseback riding lessons, scout and merit badge programs and summer camp
---
Washington Riding Stables
3701 Bordentown Ave
Sayreville, NJ
732-249-2471
Website
They offer a full range of Horseback Riding programs and activities for youths age 13 and older and adults with both beginner and advanced level riding experience. ages 13 thru adult. open to the public on Saturday and Sundays. They have a strict weight limit for Horseback Riding of under 195 lbs. with an average or slim height-to-weight ratio. Trail rides are available for 30, 60, & 90 minute rides. They also have a Couple's Riding Package with a 30 minute riding lesson and a 60 minute trail ride for two people. They have a Summer Day Camp program for ages 9-16.





Southern NJ Horseback Riding Venues
Handy Acres Farm
2 Archertown Rd
New Egypt, NJ
(732) 620-3984
Website
They offer a wide range of services at their horse farm including Carriage Rides, Wagon Rides, Trail Rides, pony rides, and more.
---
Okey Doke Ranch
150 Timberlane Rd.
Clarksboro, NJ
856-224-0195
Website
They are Year Round, Rain or Shine. Offers Beginner Riding, Trail Riding, Riding lessons & Parties for all ages.
They also offer Horseback riding on the beach in Wildwood from October thru April
---
Rockin' J Ranch
236 N. Leipzig Avenue
Egg Harbor City, NJ
888-534-0989
Website
Rockin' J Ranch brings a real cowboy lifestyle to the East Coast. Straight from Texas, a true Cowboy and Cowgirl have come to teach you how to ride the cowboy way. Enjoy horse riding lessons, barrel and roping lessons, western experiences and walkabouts, pushing cows, and much more!
They also offer boarding for horses and horse leasing
Open 7 days a week

---
Split Elm Equestrian
553 S. Frankfurt ave.
Galloway, NJ 08205
***NOTE*** GPS systems will not take you the correct way as there are two South Frankfurt Avenues. Use the intersection of S. Frankfurt ave and Aloe st in Galloway, NJ (1000 Aloe Street, Egg Harbor City, NJ)
609 965 5010
Website
A 64 acre horse farm in southern New Jersey in the Galloway/Mays Landing/Egg Harbor area. They offer traditional riding lessons in english and western styles. Private lessons, Semi-private(2-3), and group(4-10) lessons. Trail Riding lessons.
All trail rides done at Split Elm are considered lessons. This means that the guide will not only lead the ride but will also instruct riders how to ride most effectively.