Horseback Riding in New Jersey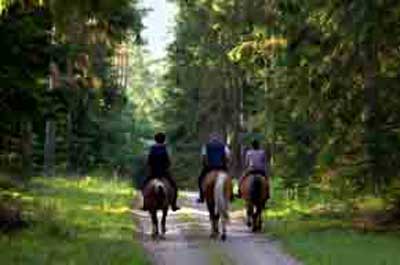 Discover the top places for horseback riding in New Jersey. The facilities listed here offer horseback riding services to the public.
Many of these riding academies can accommodate a variety of skill levels from the beginner who has never ridden to the most experienced rider.
These facilities also provide lessons, summer horse camps for kids, and a variety of packages for private parties, corporate events, Boy and Girl Scout badges, and school trips.
Northern NJ Horseback Riding
Echo Lake Stables
55 Blakely Lane
Newfoundland, NJ
973-697-1257
Website
They offer trail rides along the paths of the ancient Indians in mountain terrain, swiftly running streams, and along centuries old rock walls. They offer trail rides, night rides, and lessons. All rides are guided. Children must be at least 7 years of age to ride on the trails and riders must weigh below 225 pounds. On Friday and Saturday evenings they offer an hour-and-a-half trail ride with a one-and-a-half-hour Western-style BBQ, live entertainment and lots of quality fun with an old fashioned hayride at the end of the evening. Open year round, 5 days a week from 9:00AM to 5:00PM. Closed Wednesdays and Thursdays.
GG Farms
204 Schooleys Mountain Road
Long Valley NJ
Website
They specialize in hosting horse shows and in helping disabled veterans and children learn how to ride horses as well as find joy, peace, and love in the presence of equines.
Kafka Farms
901 Valley Road
Watchung NJ
908-405-8038
Website
Located on 20 acres with an indoor facility 60ft by 140ft, with a 80ft by 150ft outdoor ring lighted for night time riding. The ring is surrounded by a private wooded area. They offer both private and group lessons for riders of all ages .Depending on favorable weather conditions, they offer 1 1/2 hour trail rides down scenic trails.
Ledgends Riding Stables
State Route 94
Vernon NJ
Website
They offer family fun filled activities, and trail rides for adults and older children. over very scenic trails through 350 acres of woods. They have pony rides for younger children. Open Saturday and Sunday year around. The offer special programs for family events, scouting, school trips, and other events. Riding lessons are also available for ages 7 and above.
Silver Bit & Spur Farm
631 Route 523
Whitehouse Station, NJ
Website
A family-run farm open to the public 365 days a year. They offer unguided horseback riding over 61 acres of woods and streams. There are no trail guides to set the pace. Horses are available for every level of experience. You can also board your horse here or also lease a horse by the month. They have summer camp sessions and programs for company picnics and pony parties. Ponies are available for younger kids.
Spring Valley Equestrian Center
56 Paulinskill Lake Rd.
Newton, NJ
Facebook page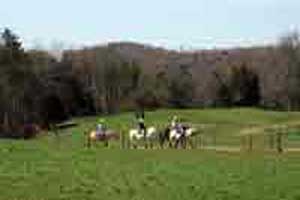 They offer guided trail riding through picturesque woods, lakes and they have access to the Paulenskill Trail which is a NJ state maintained former rail bed. It is about 26 miles of scenic riding. They also offer lessons on how to handle a horse in the ring and on the trail. Additionally, they offer Boy and Girl Scout badge programs and two hour Birthday Party programs with both indoor/outdoor facilities with picnic tables for your decorating. They are open from 9am to 5pm everyday, closed during the winter.
4 Winds Horse Ranch
104 Halsey Rd
Newton, NJ
973 - 383 - 9144
Facebook page
Located on a 221 acre facility adjacent to the scenic Paulinskill Valley Trail where riders can enjoy fields of green grass with the river along its banks and an opportunity for horses to splash in the river rapids. The Ranch is home to over 30 rescues of unwanted, abused , abandoned, and slaughter bound horses. They offer horseback riding by the Hour for one, two, or three our rides. Open daily 7 Days a Week. They also offer riding lessons, pony rides Pony, parties, Girl & Boy Scout programs, corporate events,and private rides.
Central NJ Horseback Riding
Bella Rosa Riding Academy
151 Oak Glen Road,
Howell, NJ
732-938-5445
Website
Covers 25 acres, two indoor and two outdoor riding arenas operating year round, 25 horses,and ten riding instructors, they provide horseback riding lessons for beginners and intermediate riders from ages 3-1/2 and up. They also offer intermediate and advanced riding camps. Children birthday parties can be accommodated.
Circle A Riding Academy
116 Herbertsville Rd.
Howell, NJ
732-938-2004
Facebook page
They offer guided horseback riding through scenic, 3,800 acre Allaire Park. This is an ideal place for a one hour ride for beginners and novices. Guides will take you on a trail through the woods, hills, a field and across a stream. They are open 7 days a week, year round. Their summer hours are from 9am to 6pm and all other times from 9am to 4pm. . They also accommodate groups of up to 35 people. They take cash only.
Hunter Brook Horse Farm
672 Fort Plains Rd
Howell, NJ
732-364-4949
Website
They offer quality English riding instruction from beginners to advanced riders. The facility has a 5/8 mile riding track surrounding the perimeter of the facility with a picturesque lake close by. They also offer half hour or 45 minute semi-private lessons. Group lessons (3-5 riders per group) are available in 45 minute and hour increments. They provide safety approved riding helmets. They have an indoor heated lounge and indoor arenas to accommodate parties or lessons anytime of year. They also offer a variety of packages for Birthday Parties, Class Trips, Girl Scouts, Brownies, and Dasies with a petting zoo, trick horse, grooming session, arts and crafts table, mini riding lesson, food, birthday party videos, DJ, karaoke, and more.
Washington Riding Stables
3701 Bordentown Ave
Sayreville, NJ
732-249-2471
Website
They offer a full range of Horseback Riding programs and activities for youths age 13 and older and adults with both beginner and advanced level riding experience. ages 13 thru adult. open to the public on Saturday and Sundays. They have a strict weight limit for Horseback Riding of under 195 lbs. with an average or slim height-to-weight ratio. Trail rides are available for 30, 60, & 90 minute rides. They also have a Couple's Riding Package with a 30 minute riding lesson and a 60 minute trail ride for two people. They have a Summer Day Camp program for ages 9-16.
Southern NJ Horseback Riding
Miller Farms
134 N. Grove Street
Berlin, NJ
856-728-3500
Website
They are open Saturday & Sunday,10 am to 4 pm with 1 hour rides leaving at the top of the hour. Children must be at least 7 years old to ride. Open year round, Weather permitting. Reservations recommended. They also offer a Horse day Camp for ages 7-17 during the summer in June, July, and August, group outings for family events, birthday parties, girl scouts, and other youth themes.
Triple R Ranch
210 Stagecoach Rd.
Cape May Court House, NJ
609-465-4673
Facebook page
They are open year round and offer one hour guided horseback riding on a wooded trail for ages 10 and above. This riding academy is ideally suited for the inexperienced rider. They also have pony rides for the younger children. They have a variety of packages for birthday parties, family functions, clubs, etc.
---
---
Comments
Have a comment about what you just read! Leave a comment in the box below.
---