The Best Hiking Trails in New Jersey
Hike NJ's forested trails, waterfalls, ridges, valleys, and wetlands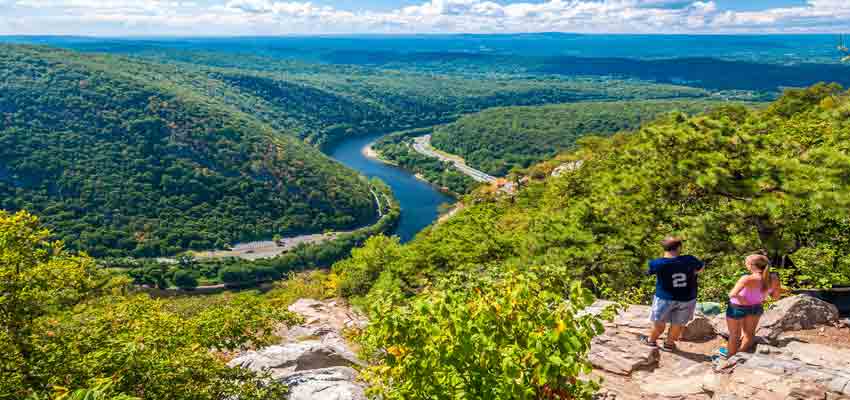 The best time of the year to enjoy hiking in NJ is in the fall when the leaves are in full color and in the spring or after a heavy rainfall when the waterfalls and rivers are at their best
Northern Jersey Hiking Trips
Apshawa Preserve
West Milford Township
Website - Trail Map
Difficulty - Moderate, some rocks, and steep sections. 5.3 miles. . This hike offers takes you along a diversity of habitats and beautiful vistas in the heart of the Highlands of northern New Jersey. The Butler Reservoir is a scenic attraction for hikers and birdwatchers, and the Apshawa Brook flows through the preserve to the Pequannock River. The Apshawa Preserve is open year round from dawn to dusk for recreation, and can be accessed from Macopin Road in West Milford. Directions to the Apshawa Preserve from Route 287 - Take Route 287N to Exit 52 - Route 23 North. Continue on Route 23 North for 5.6 miles to Germantown Road, turn right onto Germantown Road and travel east for 2.5 miles. Torn right onto Macopin Road and travel for 1.6 miles. Turn right turn onto Northwood Road and immediately look to the right for "Apshawa Preserve, New Jersey Conservation Foundation" sign. There's plenty of parking in the lot there.

Buttermilk Falls Loop
Mountain Road
Walpack Township, NJ 
GPS Parking: N41 08.221 W74 53.350
Website
The best time to come is in the Spring or after a heavy rain. From the falls, you can follow markers to the blue trail, which leads to the white Appalachian trail.
Difficulty: Moderate. The entire loop covers 7.5 miles R/T and includes 3 waterfalls, cascades, and good views. As a note of caution, trails are not well marked. Buttermilk Falls is NJ's highest waterfall at 200' high. It requires virtually no hiking to see it, though there are other short stair climbing and trails to get to see other views. For the shortest loop, climb up the stairs around the falls and continue on the Blue trail at the top. At the beginning there is a steep climb, though the views at the top are well worth it. Consider stopping at Tillman Ravine on the way to the Falls and doing a couple mile hike around there, and then stopping at Buttermilk for a look.
Parking/Trail head: To get there: From Branchville, take Rt. 206 N, past Culver's Lake, make a left onto Struble Road where it becomes Dimon Road. Continue on past two parking areas on the left for Tillman Ravine. At the intersection, turn left onto Mountain Road, past Walpack Cemetery. Continue on Mountain Road until you see a large dirt lot on your right, the falls on are the left right next to the road and can't be missed. Note: Restrooms are the two Tillman Ravine parking lots on Mountain Rd.

Hacklebarney State Park
Chester, NJ
Website
892 acres of a glacial valley with gorges carved by the Black River and two tributaries that feed it. There are over 5 miles of overlapping trails. This is an easy hike. Good for kids. There are a number of bridges and picnic tables throughout the park. Anyone who wants to experience a wonderful outdoor setting without a lot of hiking or effort Fishing - the water is stocked with trout. Note this is a very popular place without much solitude.
Parking/Trail Head: Rt 206 to 513 W. Just past Cooper Mill make a left onto State Park Road. (There are signs) Continue for about 2 miles and make a right onto Hacklebarney Road. Park entrance on your left.

Mt. Tammany - Delaware Water Gap
Worthington State Forest
Kittatinny Point Visitor center
908-496-4458
Website
Difficulty: Moderate to Difficult. One of the most popular trails in New Jersey. It traverses the Appalachian Trail and offers great panoramic views of the Delaware Water Gap and Mt. Minsi across the Delaware River in Pennsylvania. The Red Dot Trail is the more steeper at 1.2 miles to the summit. The Blue Dot Trail is more gradual and a little longer at 1.4 miles. At the top of the summit you will reach Indian head be rewarded with an awesome, much photographed panoramic view of the Gap.
Parking/Trail head: Begin your journey by first stopping at the Kittatinny Point Visitor center. In early fall it's open only 3 days a week. Take Route 80 west to Exit 1 and bear left 1/4 mile. On the right there is a sign for Dunnfield Creek Natural Area. There is a parking lot on the right, then a large main lot in the center.

Pyramid Mountain – Tripod Rock
472 A Boonton Avenue
Montville Township, NJ
Website
Difficulty; Moderate but interesting for experienced hikers. 4.6 miles R/T with a variety of short to medium trail loops with moderate elevation gains, rocky footpaths, several streams, interesting glacial erratics in a beautiful setting. For nice views of the NYC skyline take the blue trail. It crosses a stream and power lines and then ascends on a short, but steep climb to the top of Pyramid Mtn.
Parking/Trail head: Rt 287 to exit 45. 472 A Boonton Avenue, Montville Township, NJ

Ramapo Mountain State Forest & The Van Slyke Castle
973-962-7031
Website
GPS Coordinates DMS 41° 01' 58.10" N 74° 15' 06.57" W
This route takes in Ramapo Lake, Van Slyke Castle ruins, plus views of the surrounding area and of NYC. It's easy to create loops of any length here, and there is a lot to see, even on a short loop. The entire 9.8 mile loop is recommended for experienced hiker in decent shape.
For less experienced hikers that are easier, shorter and flatter trails.
Take Rt 287 to Exit 57, north on Skyline Drive Access on Skyline drive at the "upper" lot with parking. The trails from that will lead to the lake area via Hoeferlin in yellow, Schuber in orange, or Todd in white and head north. There are several short trails from 1.1 to 1.6 miles that can take you to the Van Slyke Castle and Ramapo Lake.

Ramapo Mountain State Forest - Wanaque Ridge Trail
6 miles, moderate difficulty hike covering Ramapo Lake with views from Wanaque ridge of the reservoir and surrounding mountains. There are a few steep climbs with some easy wooded road sections around Ramapo Lake.
Parking/Trail head: Rt 287 to Exit 57, north on Skyline Drive. The "lower" parking lot is on the left. Take caution for low-clearance vehicles: The entrance is rocky and rutted.

Stony Lake
Interactive map
Fee: Free access, except from Memorial to Labor day
Two trails, 2.5 or 1.3 miles. This is an easy hike around Stony Lake with an option to view two small waterfalls. The trails have some rocks and tree roots with little elevation change.
For the best experience, take in both waterfalls, and the beaver dam on the lake --- do the whole loop. The parking lot is in the middle of the hike , if you feel one trail is enough, you can just do one of the two.
For detailed directions, click here
Parking/Trail head: N41.20292° W74.77338° Take 206 North until you enter Stokes, pass Rt 636 and then turn right for the park entrance. Drive down Coursen Rd and make a right at the end to get to the trail lot. (Follow signs for Stony Lake)

Sunrise Mountain & High Point
Stokes State Forest
973-948-3820
Website
This very popular 7 mile R/T Appalachian Trail hike with easy difficulty takes you to the northern Kittatinny Ridge with a climb to the highest point in NJ to an elevation 1803 feet at High Point. Here you can experience beautiful vistas along jagged ledges and views of the High Point Monument, Normanook Fire Tower, and the Sunrise Mountain Pavilion over the Walkill River valley and Delaware River.
Parking/Trail head: Route 15 north to Route 206 North. Go past Culvers Lake and shortly past turnoff for Sunrise Mountain Rd, make right onto Coursen Rd. Follow to day use area at Stony Lake.

Terrace Pond South
West Milford, NJ
Parking  N41 08.573 W74 24.446 
This 4.5 mile moderate difficulty loop offers some attractive forest walking with rocky scrambles. The ascend is a little rocky with some easy wooded sections over a gradual climb to Terrace Pond, a secluded lake on top of Bearfort Mt. There are some cool cliffs around the lake. Along the rout you pass some neat rock formations and glacial erratics. There a a few small waterfalls off the Terrace Pond South trail. Take the Blue Terrace Pond North, to White Terrace Pond, to Yellow Terrace Pond South.
Parking/Trail head: Take Rt. 23 North into West Milford. Make a right onto Clinton Road past Clinton Reservoir. Trail head is on left on Clinton Road, just before the pipe Line. If you go to Warwick Turnpike you went to far.

Torne Mountain - Osio Rock Norvin Green State Forest

DMS 41° 04' 08.00 " N 74° 19' 32.37" W
Bloomingdale
Website
This 3.5 miles R/T moderate difficulty trail takes you to the top of Torne Mountain along the ridge for great views on the way up to Osio Rock for a 360 degree view of the Wanaque Reservoir, the Ramapos and on a clear day, the NYC skyline.
Parking/Trail head: Take Rt 287 to exit 53, turn left onto Hamburg Turnpike, right onto Glenwild Ave. Pass a hiker parking area for Wyanokie Crest on the right, shortly after that is limited parking for Otter Hole (8-10 cars, The trail head is across the road. This route starts from the "Otter Hole" parking area of Norvin, not at the Weis Ecology Center.

Wawayanda Mountain, Wawayanda State Park
Hewitt, NJ
973-853-4462
Website
This 6-mile hike through Wawayanda State Park takes the hiker through 13,000 acres of remote trails, cliffs, plateaus, bogs, ravines,streams, and beautiful vistas. The mountain contains some of oldest bedrock along the entire Appalachian Trail dating back over 12,000 years.
Parking/Trail head: From Route 23, take Route 94 North for about 1 mile into New York and turn right on Moe Road. This road becomes Warwick Turnpike in New Jersey; the park entrance will be to your right, well marked. Start at one of the two access points on the Warwick Turnpike.

The Lockwood Gorge Wildlife Management Area and the Columbia Trail
High Bridge, NJ
GPS Coordinates 40.669490, -74.896492
(973) 383-0918
Website
7.5 miles of an easy trail that can be completed in 3 hours. Hikers can enjoy a stroll along the unpaved road that parallels the river without interruption by vehicular traffic, It parallels the South Branch of the Raritan River through a deep gorge, one of the most beautiful spots in New Jersey. The Columbia Trail crosses over the Ken Lockwood Gorge Bridge,  a metal bridge constructed in 1891. Mileage posts are located every quarter of a mile on the Columbia Trail, ascending in the direction you are headed, descending in the opposite direction.
Parking/Trail head: Take I-78 to exit 17 (westbound) or exit 16 (eastbound) for Route 31 towards Washington.  Drive about 2 miles on Route 31 then turn right on Main Street.  In 1.1 miles turn right on Bridge Street, proceed 390 feet, then left on Main Street.  Continue for .2 mile through town then turn left at The Commons sign to the parking lot. 





Central Jersey Hiking Trips
Baldpate Mountain
28 Fiddlers Creek Rd
Hopewell Township, NJ 08560
Website
(609) 303-0700
12 miles of trails for all levels ranging from short level loops to steep rocky trails. This is a great hiking trail for families and hikers ages.
Under management of the Mercer County Park system, the marked trails are utilized for hiking, horseback riding, mountain. A hike to the grassy summit of Baldpate, the highest point in Mercer County, offers a spectacular view of the Delaware River and the City of Trenton. Picnic tables are located at the summit of Baldpate. Public restrooms are available at the lodge adjacent to the Main House.  Restrooms are closed during the winter.
Parking/Trail head
: There are two parking lots at the base of the mountain on Fiddlers Creek Road and Pleasant Valley Road
Delaware & Raritan Canal
Towpath
Website
This is a great hiking trail for families and hikers & cyclists of all ages. This is a gentle, flat trail that takes you along a very picturesque Canal straddling the Delaware river in western New Jersey. A great activity for a day trip where you can take in nature, historic 19th century buildings, and river wildlife. The trail is made up of 60 miles of canal paths winding through charming towns. The trails can be taken is smaller sections at a time. The popular sections include:
The Northern Section
-
12.2 Miles
. This trail begins/ends in Frenchtown and heads south to Stockton at Historic Prallsville Mills, today a center of cultural, arts and community activities with tours of the Mill Complex and the recently preserved miller's house. En-route to Stockton you'll pass through the Bull's Island section of the D&R Canal Park. Parking is available at Prallsville Mills, Bull's Island, and in Frenchtown, just off Bridge Street
The Central Section - 4.0 miles.
This trail begins/ends in Stockton at Prallsville Mills heads south to Lambertville. Enjoy passing by Victorian houses, Federal row homes, charming shops and galleries. Parking is available at Prallsville Mills and right off Route 202 on the southern end, at The Holcombe-Jimison Farmstead Museum on Rt 29, just north of Lambertville, and in Lambertville at city lots.
The Southern Section - 10.8 Miles.
This trail begins/ends in Lambertville heading south to Lower Ferry Road in Ewing Township, The trail passes through Washington Crossing State Park, a good stop off point with a variety of recreational activities. Parking is available in Lambertville at city lots, and at Lower Ferry Road.
Southern Jersey Hiking Trips
The Batona Trail, The Pine Barrens
Brendan T. Byrne State Forest
Batsto Visitor Center.
Website - Trail Map
Difficulty: Easy, without steep ridges and craggy peaks. This 50 mile trails interconnects the Brendan T. Byrne, Wharton, and Bass River State Forests. This trail is very flat and easy to hike, and is excellent for a day trip with the kids. Other trails intersect with the Batona Trail to provide loops of about 6 miles and 14 miles for day hikes. Loops of about 2 miles at the forest office and one mile at Pakim Pond provide short easy hikes with wide pathways which avoid contact with vegetation that may harbor ticks or other insect pests. The best time of the year to hike the Batona Trail is in the fall when mosquitoes and insects are less intrusive. The Batona Trial is the longest trail in South Jersey and and the fifth longest in the state. This trail lacks the stunning panoramic views of the trail of Northwest New Jersey, but it offers the hiker a more gentle approach to taking in nature.
Parking/Trail head:
The best access points are at the Brendan T. Byrne State Forest headquarters and the Batsto Visitor Center.
Franklin Parker Preserve
Speedwell Entrance
3705 County Rd 563
Chatsworth, NJ 08019
Parking: N39° 48.819′ W74° 32.859′
Website
Difficulty: Easy, flat, with soft sand and pine needles, and a few water crossings on logs.
Take the Red Trail, a 6 mile trail that goes through a beautiful section of pine barrens where hikers get to see old cranberry bogs, a beaver dam, a cool suspension bridge, and other smaller bridges. The Preserve is the home of several animals that are considered endangered species in New Jersey, including the bobcat and bald eagle. Several New Jersey threatened species can be found in the preserve, including the Barred Owl, Northern Pine Snake and Pine Barrens Tree Frog

Maurice River Bluffs Nature Preserve
Cumberland County
Website
Difficulty: All levels
The 6 mile trail system winds along a bluff that overlooks the Maurice River and features a 35-foot long bridge, steps and rails throughout the steeper parts that make the trails accessible to all levels of hikers, multiple benches and picnic tables, and a bird blind overlooking the river. This enclosure allows visitors a "bird's eye view" of various waterfowl and eagles in their natural habitat without disturbing them. Visitors to the preserve can also take advantage of the visitor kiosk, stocked with interpretive information and large trail maps.
The Maurice River is a critical link between the Pinelands National Reserve and the Delaware Estuary, both nationally and internationally important. The Maurice River corridor serves as the western boundary of the Pinelands and includes the cities of Vineland and Millville, and the townships of Maurice River, Commercial and Buena Vista. The preserve provides crucial stopover habitat for migrating and breeding birds, including songbirds, waterfowl, and raptors like nesting osprey and bald eagles. The nature preserve also hosts productive freshwater ponds and unique plant communities, including some of New Jersey's largest contiguous wild rice marshes. The preserve is a freshwater haven for the many species of odonates who make their home here.
Rancocas Nature Center
794 Rancocas Rd.
Westampton, NJ 08060
Website - Trail Map
(609) 261-2495
Difficulty: Easy, level
The Rancocas Nature Center, located on a 210 acre portion of Rancocas State Park, is set up with 3 miles of hiking trails through varied habitats including meadows, forest, and wetlands. There are four separate trails that range in length from .2 miles to .9 miles.
Parking/Trail head:
Visitors Center at 794 Rancocas Rd. Westampton, NJ
Smithville Park and Smith's Woods
803 Smithville Rd.
Eastampton, NJ 08060
Website - Trail Map
Difficulty: Easy
With 4.4 miles of marked trails traversing a variety of terrain types, Historic Smithville Park and Smith's Woods together are the centerpiece of the Burlington County Parks System. There are a variety of separate trails that range in length from .2 miles to 1.5 miles. While hiking the trails, visitors might see white-tailed deer, wild turkey, red fox, beaver, cottontail rabbits, red-tailed hawks, great blue herons, and a wide variety of waterfowl to name a few. Most park trails are designated for shared use by hikers and all-terrain bikers. The Ravine Nature Trail is for hikers only. The Smith's Woods Area is on the opposite side of Smith-ville Rd. This section includes picnic pavilions and picnic areas with grills, a playground, restrooms, butterfly garden, and hiking trails.
Parking/Trail head:
Two access points for Smithville Park at 803 Smithville Rd., and for Smith's Woods at East Railroad Ave. Parking, rest rooms, and picnic tables are available at both access points.
Unexpected Wildlife Refuge
110 Unexpected Rd
Newfield, NJ
(856) 697-3541
Website
Difficulty: Moderate, some ungroomed trails.
A protected natural habitat comprising 767 acres of pristine pine lands, forest, fields and bogs. It provides a refuge to animals and plants indigenous to southern New Jersey; a place where wildlife can live freely and naturally without fear of being harmed at the hands of human beings.
A great place for hiking. Some of the trails can be ungroomed and challenging, Excellent for birders, artists, and photographers. Hikers are apt to see beavers, river otters, turtles, deer, bald eagles, and a large variety of smaller birds. Call ahead for an appointment to visit,