Hereford Inlet Lighthouse - A Visitors Guide
A unique historic lighthouse and
the only one of this style on the east coast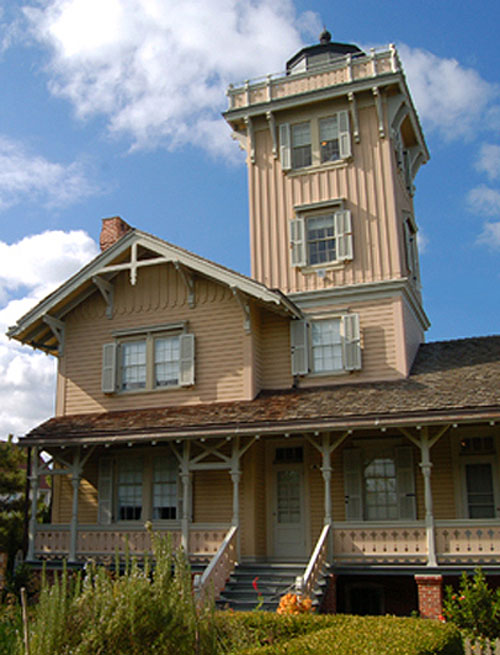 Hereford Inlet Lighthouse
111 N Central Ave
Wildwood, NJ 08260
609-522-4520
Website
Hours:
Closed Monday & Tuesday
Hours: 10:00am - 4:00pm
Last tour ticket sold 3:00PM  
Photo courtesy State of New Jersey
---
Located in North Wildwood, NJ, built in 1874, the 50-foot tower and its beacon are visible for up to 13 nautical miles.

The treacherous Hereford inlet had sunk many ships before, so the United States Lifesaving Service built a small station there in 1849.

It was later destroyed and replaced by the current lighthouse in 1874.

This Swiss Gothic Style Lighthouse was constructed in 1874 to provide a beacon for mariners navigating the treacherous Hereford Inlet. The Lighthouse still shines its beacon 14 nautical miles out to sea.

The Hereford Inlet Lighthouse was closed in 1913 from storm damage was rebuilt and moved 150 feet west 1914. The lighthouse continued to operate until 1964 when it was decommissioned and an automatic iron light tower was built nearby replacing the old light and displacing the light-keeper.

In 1963 the entire property was transferred to the control of the New Jersey Marine Police, who used other buildings on the property but boarded up the lighthouse. On September 2, 1982 the lighthouse was turned over to the city of North Wildwood.

Now owned by the town of North Wildwood, it has reopened to public tours of the light and its extensive gardens.

The Hereford Inlet Lighthouse is listed on the State and National Historic Registers.