Heirloom at The St Laurent, Asbury Park NJ:
A Restaurant Review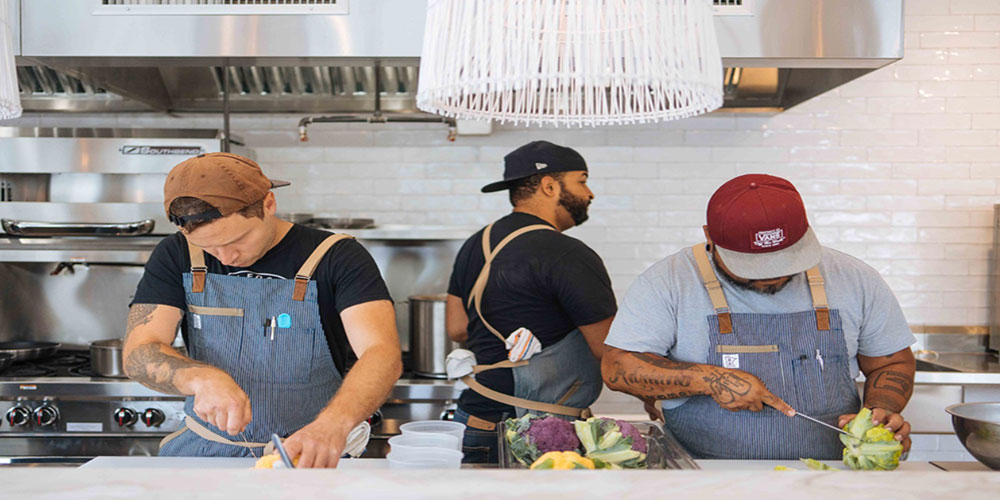 Heirloom at The St Laurent
408 7th Ave
Asbury Park, NJ
732-795-2582
Website
Heirloom At The St Laurent: Restaurant Highlights
Fare: New American
Price: Expensive
Food Quality: Exceptional, well-executed offerings are highly creative and gorgeously plated, with many interesting, unusual ingredients and unique flavor combinations.
Service: Unpretentious, personable, knowledgeable, and attentive
Ambiance: Modern, light, and airy, floor to ceiling windows with a coastal farmhouse vibe. The centerpiece is the open Kitchen.
Overall Rating: 3 1/2 Stars. One of the Best Restaurants in the Central Jersey shore area- Classified as Chef-Inspired Casual Dining (* Note - See below restaurant classification for details)
Note: Four-star Rating System from 1/2 star = poor to 4 stars = Best in Class
Noise Level: Moderate-loud
Dress: Casual
Recommended For: Diners who love to cook, and love to eat at a restaurant with an acclaimed chef committed to using organic, locally sourced produce, dairy, grains, poultry, and meats.
Not Recommended For: Budget conscious diners with taste preferences for a traditional menu with heavy sauces served in huge portions.
Recommended dishes: When available, The Porcini Crusted Strip Steak w/Black truffle potato croquette, broccoli rabe, cipollini onions; The Pork Farro w/ smoked apple purée, chorizo espuma; and The Tuna Tartare Mortadella w/ pickled currants, pistachio butter, pumpkin seed oil, mint.
Liquor: Full-service bar and cocktail lounge
The Heirloom at The St Laurent is one of the top restaurants in the central Jersey Shore area.
Opened in 2022, The Heirloom at The St Laurent is the creation acclaimed Chef David Viana who is also the executive chef of The Heirloom Kitchen in Old Bridge, NJ
The restaurant is located on a quiet residential street in Asbury Park, at the former Hotel Tides, built in the 1800s. The hotel was originally called St. Laurent, and in 1941 was renamed the Tides, and again renamed Hotel Tides sometime in the late '60s.
The interior has been beautifully refurbished and modernized with a coastal farmhouse vibe with white-painted tin ceilings, white-wooded walls, white wicker light fixtures, and large glass garage doors that offer an open view of the pool area. During the summer months, the large garage doors are opened, and poolside dining is offered.
The centerpiece is the open Kitchen, with counter seating where diners can interact with Chef Viana and his team. The culinary team are personable and interactive and are willing to share their tricks and tips with diners.
However, the ambient noise level can get to a high level making quiet conversation challenging, with little or no sound abatement fixtures.
At the entrance, diners will access the restaurant thru the attractive cozy, dim-lit cocktail lounge, open to walk ins without reservations and for diners wanting to have a drink before or after dinner.
The primary reason to dine at The Heirloom at The St Laurent is to experience an extraordinary dining culinary experience with well-executed, beautifully plated dishes, prepared with quality, locally sourced ingredients.
Chef David Viana received his formal education at the Institute of Culinary Education and later honed his culinary skills under many acclaimed chefs and restaurants including Bobby Flay, Anthony Bucco, and Michael White, and worked in the kitchens of highly rated restaurant including the Madison Park in NYC, and Two Star Michelin restaurants, and the Villa Joya in Portugal. In New Jersey, Chef Viana also served as executive chef at The Kitchen at Grove Station, and chef de cuisine at Ryan DePersio's Battello, both in Jersey City. and as chef de cuisine at Daryl Wine Bar in New Brunswick under Zod Arifai, before opening the Heirloom Kitchen in Old Bridge, NJ.
Chef Vianna also appeared on the TV cooking show "Top Chef" and in 2018, was nominated for the James Beard Award for Best Chef in the Mid-Atlantic region.
During the evening, The Heirloom at the St. Laurent offers a three-course prix fixe menu prepared with unusual ingredients and unique flavor combinations. They are committed to using organic, locally sourced produce, dairy, grains, poultry, and meats.
Daytime dining is available with an à la carte menu including raw bar selections, crudos, sandwiches and salads.
Except for the locally sourced primary ingredients, everything else is made on site.
Diners who favor Vegan, Vegetarian, and Gluten free dishes are often accommodated just by letting your server know.
Service is unpretentious, friendly, knowledgeable, and attentive.
The Heirloom at The St Laurent is open for Lunch & Dinner with seasonal hours; Closed on Monday & Tuesday.
Reservations are a must secured by a non -refundable $10 deposit per person. Dining is not for children; patrons must be 21+
*Description of Restaurant Classification - Chef-Inspired Casual Dining:
The current trend of upscale, high quality food focused restaurants.
Chef driven by chefs with impressive credentials including formal culinary education and skills honed at award winning restaurants.
Serves an approachable, more casual menu with creative food preparation.
Uses higher quality food ingredients such as imported items not available in the supermarket, with emphasis on local seasonal farm-to-table produce, wild caught seafood, & meats without the use of antibiotics and growth hormones.
Chic, trendy ambiance with a casual atmosphere and a casual dress code.
The wait staff is professional, knowledgeable, and attentive.
Can be BYOB or have an alcohol menu with a variety of wines, specialty cocktails, and beers.
Patrons are of all generations with medium to high incomes.
The most popular upscale restaurants in New Jersey, classified into three categories: Chef-Inspired Fine Dining, Chef-Inspired Casual Dining, and Contemporary Casual. 
Learn more about casual upscale restaurants and how reviews are created.
(updated: November 2022)