Hearthside, Collingswood, NJ: A Restaurant Review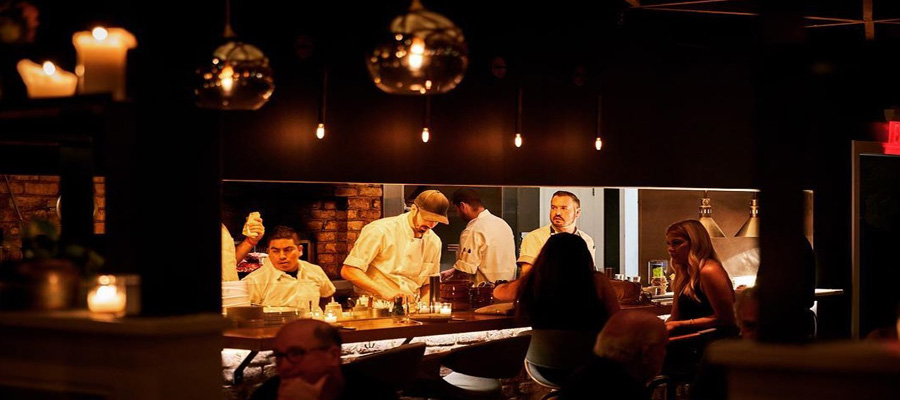 Hearthside is an inventive wood-fired contemporary American restaurant with a well executed menu with rustic, elegant ambiance

Hearthside: Restaurant Highlights
Fare: Contemporary American

Price: Expensive

Food Quality:Excellent. Uses fresh local and seasonal products. Many of the dishes are cooked over an oak wood fire

Service:Friendly, knowledgeable, and attentive.

Ambiance:Rustic, yet elegant. The centerpiece is the open kitchen with the soft glow from the wood-burning oven and grill emanating throughout the dining area.

Overall Rating: 3 1/2 Stars. One of the Best Restaurants in South Jersey - Classified as Chef-Inspired Casual Dining (* Note - See below restaurant classification for details)

Note: Four star Rating System from 1/2 star = poor to 4 stars = Best in Class

Noise Level: Moderate

Dress: Casual

Recommended For: Diners who enjoy a well-executed menu with inventive dishes set in a rustic, elegant atmosphere.

Not Recommended For: Budget conscious diners who prefer a casual, traditional family style menu

Recommended dishes: When available, The Whole Roasted Bronzino with artichokes, mint, olives, chili butter, and white wine; The Lamb Chop with black lentils, kale saag, and crispy lamb belly; and the 30 day dry-aged porterhouse with mixed mushrooms, leeks, and crispy potatoes.

Liquor: BYOB

Restaurant Review
Hearthside is an extraordinary Collingswood BYOB restaurant offering well executed, inventive wood-fired contemporary American dishes with a rustic, elegant ambiance.
Hearthside is owned and operated by Chef Dominic Piperno and his wife Lindsay.
Chef Piperno received his formal culinary training at The Culinary School in Chianti, Italy. He later honed his culinary skills at Joey Baldino's Zeppoli in Collingswood, and later under acclaimed chef Greg Vernick at Vernick Food & Drink in Philadelphia, where he rose to become sous-chef.
Chef Piperno is committed to using fresh local and seasonal products. Many of the dishes are cooked over an oak wood fire resulting in inspired, creative dishes
The seasonally changing menu is divided into four parts, Small, Pasta, Large, & From The Hearth. The menu is well-executed, creative with a commitment to using local sourced ingredients. Dishes include a selection of dry-aged steaks, chicken, and seafood cooked over a wood-fired oven and grill, plus several pasta dishes --- but no Pizza!
Diners are encouraged to place your entire order at the onset (except desserts)
The design of the restaurant has been carefully undertaken to create a rustic, yet elegant vibe to the dining room.
The centerpiece of this 48-seat restaurant is the open kitchen with the soft glow from the wood-burning oven and grill emanating throughout the dining area. The smoke glass globes hanging from the ceilings enhances the warm glow. Wooden beams suspended from the ceiling in a triangular pattern also serve as soundproofing and control of the noise level. The interior is done up with floor-to-ceiling windows, and brick, and wood accents.
Tables are constructed of cherry wood with seating arranged in comfortable banquettes and cushioned chairs. There is also seating around a communal table and the chef's counter. In the warmer months there is outdoor seating.
Hearthside is focused on paying attention to detail that contribute to it being a top restaurant operation, as an example, adding locally made Collingswood scented candles in the bathrooms.
Not recommended for children.
Reservations are necessary, especially for Friday and Saturday evenings
Hearthside is open for dinner with seasonal days of operation, either four or five days/week. Closed on Sunday & Monday.


*Description of Restaurant Classification - Chef-Inspired Casual Dining:

The current trend of upscale, high quality food focused restaurants.
Chef driven by chefs with impressive credentials including formal culinary education and skills honed at award winning restaurants.
Serves an approachable, more casual menu with creative food preparation.
Uses higher quality food ingredients such as imported items not available in the supermarket, with emphasis on local seasonal farm-to-table produce, wild caught seafood, & meats without the use of antibiotics and growth hormones.
Chic, trendy ambiance with a casual atmosphere and a casual dress code.
The wait staff is professional, knowledgeable, and attentive.
Can be BYOB or have an alcohol menu with a variety of wines, specialty cocktails, and beers.
Patrons are of all generations with medium to high incomes.


The most popular upscale restaurants in New Jersey, classified into three categories: Chef-Inspired Fine Dining, Chef-Inspired Casual Dining, and Contemporary Casual.
learn more about casual upscale restaurants and how reviews are created.

(updated: November 2022)