Free Family Attractions in New Jersey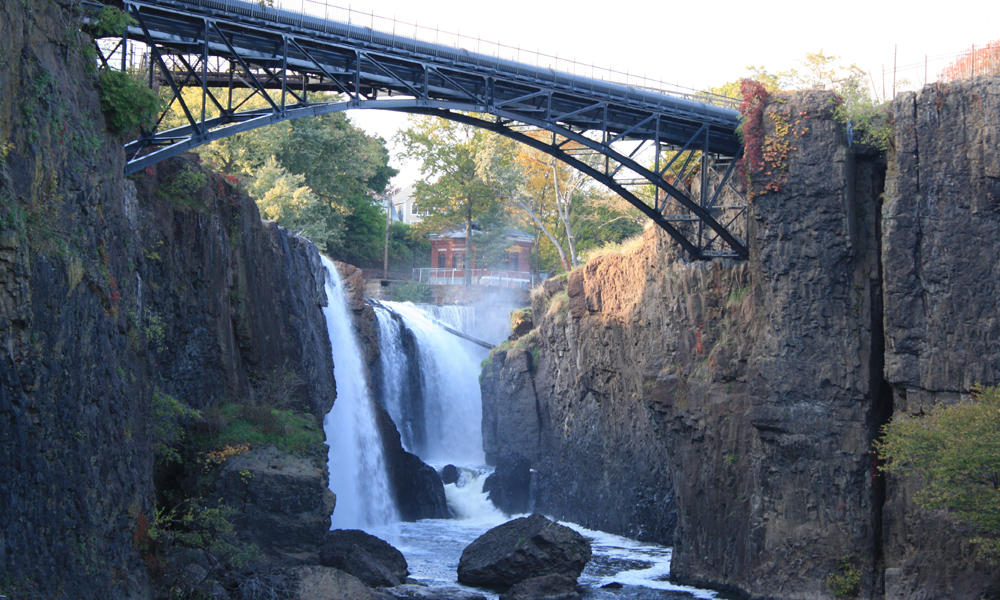 Great Falls National Park
You don't have to break the bank to enjoy a day out with the family.
New Jersey is loaded with family attractions that are free
or come with very little cost.

While the family attractions listed below are mostly free, some request a small donation, or charge a small fee for additional shows, exhibits, or parking.

These attractions all have hours of operation, and/or special exhibits or programs that require an advance registration. Sometimes conditions require cancellations or changes of dates and times which are not reflected in the original schedule. Before planning a trip to visit one of the listed attractions with a special exhibit, it is suggested that you call ahead to confirm scheduling or for additional information.

North Jersey Cheap & Free Family Attractions: Historic Parks & Sites
Central Railroad of New Jersey Terminal

Liberty State Park, Morris Pesin Drive, Jersey City NJ 07305 (201) 915-3400
For more information, please visit their
Website
From 1892 through 1954, the CRRNJ Terminal stood with the Statue of Liberty and Ellis Island to unfold one of this nation's most dramatic stories: the immigration of northern, southern and eastern Europeans, among others, into the United States. After being greeted by the Statue of Liberty and processed at Ellis Island, these immigrants purchased tickets and boarded trains at the Terminal to their new homes.
Great Falls National Historic Park : A Spectacular Natural Attraction With Historical Significance
65 McBride Ave. Extension Paterson, NJ 07501 (973) 279-9587
For more information, please visit their
Website
The falls now 77 feet high, emerged approximately 13,000 years ago the end of the ice age. As the glaciers ice melted, the Passaic river swelled and rerouted it's way around the north end of the Watchung Mountains, carving out the spectacular falls from the basalt base.
Hamilton - Von Wagoner House
971 Valley Rd, Clifton, NJ 07013 (973) 744-5707
For more information, please visit their
Website
This 18th Century Dutch gambrel-roofed homestead, was once the home of the Van Wagoner and Hamilton families. The basic plan of the house does not greatly differ from its Dutch antecedents. The sturdy one and one half story cut sandstone structure, flanked by a grainery, spring-house and gardens, reflects almost two hundred years of American history. It brings back memories of an uncluttered horizon with farms, orchards, fresh brooks, forests full of game and filled with the scent of wildflowers.
Lake Hopatcong Historical Museum
(on the grounds of Hopatcong State Park)
Landing, NJ 07850 973-398-2616
For more information, please visit their
Website
The Museum, located in a 19 th century building which originally served as a Morris Canal locktender's house. has been recognized as one of the finest small museums in New Jersey. Six exhibits present the Lake's history from the time of the Lenape through "Nickel Nights" at Bertrand Island Amusement Park.
The Museum of the Historical Society of Bloomfield

90 Broad Street Bloomfield, NJ 07003 973-743-8844
For more information, please visit their
Website
The collection consists of furniture, clothing and accessories, tools, household articles, paintings, toys, posters, memorabilia, dioramas, maps, newspapers, postcards, letters, deeds, documents and books.
Dr. Wm. Robinson Plantation & Museum
593 Madison Hill Road, Clark, NJ 07066 (732) 340-1571
For more information, please visit their
Website
Built circa 1690 on the 700 acre farm of Dr. William Robinson, one of the first known physicians in the area, who emigrated here from Scotland with his family. The plantation is a rare example of late 17th century frame construction, notable for its chamfered and carved summer beam, rubble stone foundation and massive fireplace foundation in the cellar, steeply pitched roof, crenellated chimney, diamond-paneled casement windows and broad overhanging corner pendants.
North Jersey Cheap & Free Family Attractions: Museums

African Art Museum
23 Bliss Avenue, Tenafly, New Jersey 07670, 201-894-8611
For more information, please visit their
Website
Established in 1980, the Tenafly museum is one of only a rare few in the United States dedicated solely to the arts of Africa. Its permanent collections, exhibited on a rotating basis, offer a unique advantage in the study and research of sub-Saharan sculpture and painting, costumes, textiles and decorative arts, religion and folklore.
The Aviation Hall of Fame and Museum
400 Fred Wehran Drive, Teterboro Airport Teterboro, NJ (20) 288-6344
For more information, please visit their
Website
The museum offers visitors an opportunity to view historic air and space equipment and artifacts, photographs, fine art and an extensive model collection. The Library has more than 4000 volumes and hundreds of aviation video tapes.
Friar Mountain Model Railroad Museum

240 Demarest Rd Sparta Township, NJ 07871 973-579-9833
For more information, please visit their
Website
The Museum is divided into two sections. The Mountain is the center piece of the train section. This Mountain is twenty feet long, ten feet wide and ten feet high. There are eight trains and two trolley lines running on, through and around the Mountain. There is also a cable car, Ferris wheel, carousel, a twenty foot long wood trestle bridge, a twenty foot long concrete bridge, the A-frame mine bridge along with the iron trail mine, the bear canyon and the High Point Monument.


The Maywood Station Museum
269 Maywood Avenue, Maywood, NJ 07607 info@maywoodstation.com
For more information, please visit their
Website
The museum has everything for the rail historian - from a restored historic train station with numerous photographs, artifacts and displays to historic equipment and operating model trains, there is plenty to explore and relive. The museum's collection of railroad related and local historical artifacts is exceptional.
Macculloch Hall Historical Museum
45 Macculloch Avenue, Morristown, NJ (973) 538-2404
For more information, please visit their
Website
An 1810 Federal-style mansion with ten period rooms, four exhibit galleries and the oldest gardens in Morris County. During tours of the gorgeous historic home visitors will view a variety of decorative art pieces as well as the Museum's collection of original artwork by caricaturist Thomas Nast. The museum is renowned for the world's largest collection of works by Nast. Visitors can also visit the changing exhibits in the three galleries at the Museum or can enjoy the galleries before or after their room tours. The Museum gift shop is also open during touring hours and visitors can find a selection of Thomas Nast items, as well as a wide range of local history books and other gifts. Macculloch Hall preserves the history of the Macculloch-Miller families, the Morris area community, and the legacy of its founder W. Parsons Todd through its historic site, collections, exhibits, and educational and cultural programs.
Meadowlands Museum
91 Crane Avenue, Rutherford, NJ 201-935-1175
For more information, please visit their
Website
They are the main steward of history and culture of the Meadowlands region and one of its leading storytellers. Its mission and collection, which resides in the Yereance-Berry House in southern Bergen County in Rutherford, NJ, are distinctive and unique. The house is a historic treasure and landmark, and was built in 1804 by the Berry family, who were among the county's earliest settlers. ​


The Morris Museum
6 Normandy Heights Road, Morristown, NJ, 973-971-3700
For more information, please visit their
Website
Offers special events for all ages and all interests -- from young children to seniors, from hands-on art and science workshops to discussions of significant historical events, and theatrical and other performances.
The museum contains a collection of more than 40,000 objects ranging from rocks and minerals to model trains, as well as one of the country's largest collections of mechanical musical instruments and automata.
The Museum is Pay What You Wish on the second and third Thursday of each month from 4:00pm to 8:00pm.


Ridgewood Schoolhouse Museum

650 E. Glen Avenue Ridgewood, NJ 07450 (201) 447-3242
For more information, please visit their
Website
The one-room schoolhouse in which the museum is housed was built in 1872, and was an operational school until 1905. It now serves as a museum of local historic artifacts. The schoolhouse is on the National Register of Historic Places


The Stickley Museum at Craftsman Farms

2352 Rt. 10-West Morris Plains, NJ (973) 540-0311
For more information, please visit their
Website
Craftsman Farms is Gustav Stickley's early 20th century country estate. The 30 park-like acres of this unique National Historic Landmark await you. Step back in time to 1911 and learn about the Arts and Crafts movement and Stickley's utopian vision. The Museum's growing collection includes numerous Stickley furnishings, many which are original to the Log House, plus textiles, pottery, metalwork, and archival materials. In addition to these priceless objects on view in the Log House, an original Stickley bungalow has been furnished with touchable Arts and Crafts furnishings. A visit to this bungalow, known as North Cottage, allows visitors the opportunity sit in the chairs and fully experience Arts and Crafts living. Tours of North Cottage must be booked in advance


The West Milford Museum

1477 Union Valley Road, West Milford, NJ 07480 (973) 728-1823
For more information, please visit their
Website
The Museum presents an eclectic view of local and regional history through permanent and changing exhibits of artifacts, documents, photographs, books, and videos.
North Jersey Cheap & Free Family Attractions: Nature Centers

Closter Nature Center

154 Ruckman Road Closter, New Jersey 07624 (201) 750-2778
For more information, please visit their
Website
With 136 acres of ponds, brooks, meadows and forests to explore, the center provides informative monthly lectures and nature walks for the general public, as well as school or scout groups.


Demarest Nature Center

90 Park St, Demarest, NJ 07627 info@demarestnaturecenter.org
For more information, please visit their
Website
In addition to preserving and protecting important open space here in the midst of a large metropolitan area, the center seeks to educate young and old alike as to the beauty of nature and the importance of protecting our environment.
The Environmental Education Center
Lord Stirling Park, 190 Lord Stirling Rd, Basking Ridge, NJ (908 722-1200) Ext. 5002
For more information, please visit their
Website
Offers approximately 9 miles of hiking trails, Naturalist led programs, school field trips, fun festivals, nature themed exhibits, facility and classroom rentals, a resource library, science and conservation research, and more.


Flat Rock Brook Nature Center

443 Van Nostrand Avenue, Englewood NJ, 07631 (201) 567-1265
For more information, please visit their
Website
A 150-acre nature preserve and environmental education center with 3.6 miles of self-guided forested hiking trails that lead to a cascading stream, wetlands, pond and meadows.


Great Swamp National Wildlife Refuge
Helen C Fenske Visitor Center, 32 Pleasant Plains Rd. Harding, NJ, (973) 425-9510
For more information, please visit their
Website
The refuge consists of 7,768 acres of varied habitats, and the refuge has become an important resting and feeding area for more than 244 species of birds. Fox, deer, muskrat, turtles, fish, frogs and a wide variety of wildflowers and plants can be found on the refuge. At the Helen C Fenske Visitor Center you can learn about the history and find where the wildlife hotspot of the day is.
Hawk Rise Sanctuary
1811 Lower Rd, Linden, NJ 07036, (973) 226-6082
For more information, please visit their
Website
A 95-acre ecological preserve and wetland complex bordering the Rahway River, at the lower reaches of the Rahway River Parkway. Has flat trails about 1.5 miles long,
James A. McFaul Environmental Center
150 Crescent Avenue, Wyckoff, NJ 07481 (201)891-5571
For more information, please visit their Website
This is an the 81-acre Wildlife sanctuary offers nature programs and workshops. The site includes a waterfowl pond, bird shelters, a boardwalk, nature trail, memorial gazebo, and natural science exhibits.

Kay Environmental Center
200 Pottersville Rd, Chester, NJ 07930
For more information, please visit their Website
Home to the New Jersey Office of Nature Conservancy. There are numerous walking trails on the property leading to the Cooper Mill.

Lorrimer Sanctuary
790 Ewing Ave, Franklin Lakes, NJ 07417 (908) 481-4090
For more information, please visit their Website
The visitors' center has an exhibit and lecture room, winter bird feeding station, interpretive displays, hands-on exhibits, and a gift shop. There is a self-guiding trail system that winds through the 14 acres of land.

The Pequest Trout Hatchery and Natural Resource Education Center
605 Pequest Rd., Oxford, NJ 07863 (908) 637-4125
For more information, please visit their Website
The Center includes a Natural Resource Education Center for environmental education as well as the only state-owned and operated trout hatchery. Pequest produces up to 700,000 trout annually for stocking in the public waters of New Jersey. Visitors to the site use the area to learn about trout and how they are raised, as well as to use the 5,100 acres of state WMA land that surrounds the hatchery for recreational opportunities such as hiking, hunting and bird watching, while great fishing opportunities abound in the nearby Pequest River.

The Raptor Trust
1390 White Bridge Rd Millington, NJ 07946 (908) 647-2353
For more information, please visit their Website
They are home to approximately 50 resident birds, with an on-site medical, rehabilitation center, and education center.

Scherman Hoffman Wildlife Sanctuary
11 Hardscrabble Rd, Bernardsville, NJ 07924 (908) 396-7409
For more information, please visit their Website
They consist pf an environmental learning center, tree-top level observation deck, bookstore, and exhibits. The bird-feeding station next to the building is a popular attraction for birds and bird-watchers alike, and can be viewed in comfort from the inside of the building. Well-maintained and marked trails traverse the Sanctuary, ranging in length from 0.3 miles to 1.3 miles and passing through upland deciduous forest, fields, woodland, and the floodplain along the headwaters of the Passaic River. The Sanctuary is home to more than 60 species of nesting birds, and over 200 species of birds

Schiff Natural Lands Trust & Schiff Nature Preserve
339 Pleasant Valley Road, Mendham, NJ 07945 (973) 543-6004
For more information, please visit their Website
They offer environmental education classes, Summer Nature Programs, and 15 miles of marked trails on 768 acres of land.

Tenafly Nature Center
313 Hudson Ave, Tenafly, NJ 07670 (201) 568-6093
For more information, please visit their Website
They are a steward nearly 400 acres of forest land and wetland in order to protect, improve, restore, and sustain it as wildlife habitat. They offer educational programs, and maintain over seven miles of hiking trails for pleasure and exercise.

Trailside Nature & Science Center
Watchung Reservation, 452 New Providence Road, Mountainside, NJ 07092 (908) 789-3670
For more information, please visit their Website
They maintan a sensory trail providing a way to safely experience the outdoors and providing opportunities to interact with nature and learn about the rich history their county. There are several walking trails including a .2 mile braille trail loop with guide ropes features multiple stops to learn about the local flora and fauna.





Check Out More Free New Jersey Family Attractions