Flavia's Cucina Romana, Asbury Park, NJ:
A Restaurant Review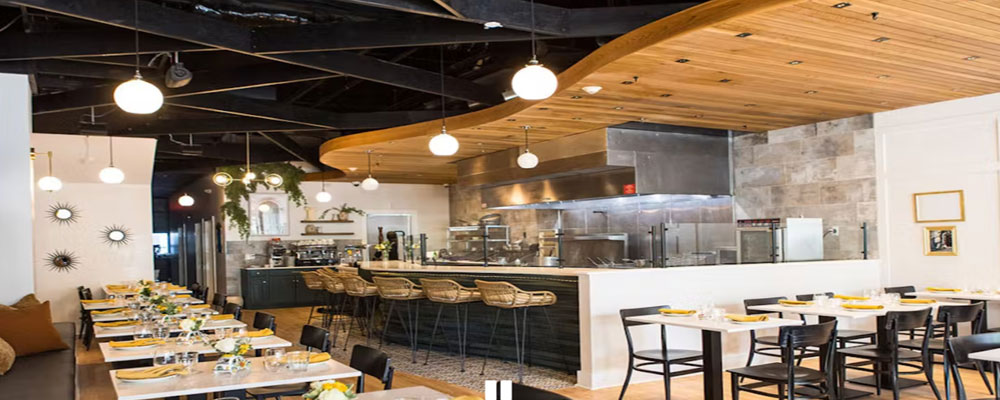 Flavia's Cucina Romana
550 Cookman Ave
Asbury Park, NJ
(732) 361-5080
Website
Flavia's Cucina Romana: Restaurant Highlights
Fare: Italian -- Roman regional cuisine
Price: Expensive
Food Quality: Well-executed, inspired, menu using authentic Roman cuisine recipes and ingredients.
Service: Friendly, welcoming, knowledgeable. During peak busy periods, dishes prepared from scratch tends to slow servings.
Ambiance/Decor: Modern Euro-Italian, chic ambience, with an open-concept kitchen.
Overall Rating: 2 1/2 Stars
Note: Four star Rating System from 1/2 Star = Poor to Four stars = Best in Class
Noise Level: Moderate - high
Dress: Casual
Recommended For: Diners who enjoy experiencing authentic regional Italian fare, (not easily found in the Jersey Shore) in an upbeat, chic ambiance with BYOB amenities.
Not Recommended For: Budget conscious diners who prefer an Americanized, heavy red sauce, traditional Southern Italian restaurant, popular in most Italian BYOB area restaurants.
Recommended dishes: When available, for pasta, the Cacio E Pepe with creamy caciocavallo cheese & black pepper; the Ossobuco, lamb shank with broccoli rabe & roasted rosemary potatoes; and the Bistecca Alla Romana grilled ribeye with roasted potatoes, fried zucchini & mixed green salad.
Liquor: BYOB
Restaurant Review
Opened in 2022, Flavia's Cucina Romana has quickly become a hit with restaurant enthusiasts who enjoy an Italian BYOB serving a well-executed regional Italian menu a trendy, chic setting.
However, diners whose taste buds have matured on popular Americanized, heavy sauce, traditional southern Italian restaurants---may not enjoy the flavors and preparation of authentic regional Roman cuisine.
Flavia's Cucina Romana is a family operation, owned and operated by Flavia Peterno, and her daughter Andrea Paterno, Andrea's fiancé Andrew Perrotti, and family friend Kevin Matthews. The family also employs many other relatives who work in the kitchen and as servers.
Flavia Paterno, emigrated from Rome over 40 years ago, introduces many of the Roman authentic recipes, handed down from her ancestors who operated a restaurant in Rome.
Authentic Roman cuisine features the use of olive oil over butter, and the creamy sticky nature of the "sauces," resulting from the re-introducing a bit of starch water to the pasta, after it is done boiling. Pasta also tends to be undercooked, al dente style.
Classic Roman dishes are heavy on black pepper, funky pecorino, bitter greens, and offal (a part of the innards of an animal).
In Rome, restaurants will often feature four classic pasta dishes on the menu: cacio e pepe, spaghetti alla Carbonara, bucatini all'Amatriciana, and pasta alla Gricia. Each of these Rome classics are served in Flavia's Cucina Romana.
The head chef, who recently emigrated from Rome, oversees a kitchen that serves a well-executed, inspired, creative menu using authentic Roman cuisine ingredients, with weekly changing specials.
All pasta and gnocchi are house made. You will not find Americanized, traditional southern Italian Chicken Parm served here.
The decor is modern Euro Italian chic ambience, with an open-concept kitchen in a friendly atmosphere. Counter seating offers a close-up view of the food being prepared. Decor includes exposed ceilings, hardwood floors, white marble tables.
The owners are hands on as they roam the dining area checking on all the tables, greeting guests, and making sure every guest was enjoying their night out.
Flavia's Cucina Romana is open for dinner 5 days/week. Closed Monday & Tuesdays.
(Updated April 2023)
How Do We Review (analyze) Restaurants?
New Jersey Leisure Guide strives to provide analytic restaurant reviews.
The methodology used is research, analysis driven --- as opposed to that of a single restaurant critic or a social media platform, viewer comment posting board.