Flames Brazilian Steakhouse, Belmar, NJ: A Restaurant Review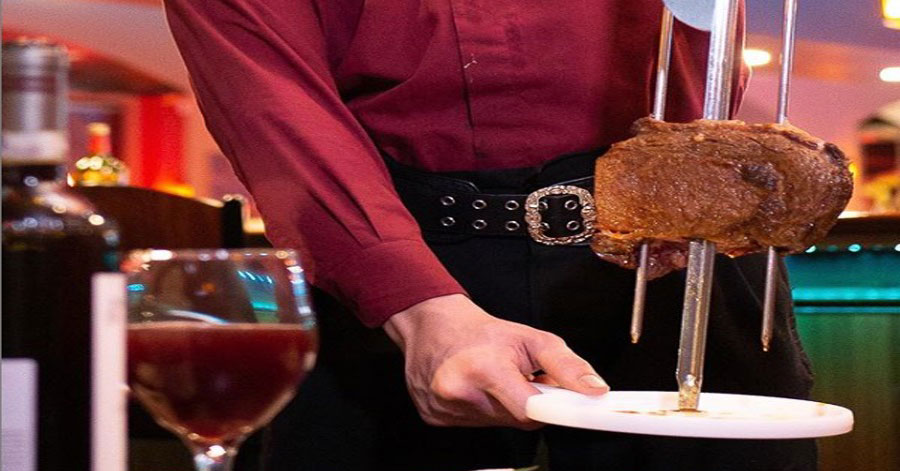 Flames Brazilian Steakhouse
1000 Main Street
Belmar, NJ 07719
732-681-7680
Website
Flames Brazilian Steakhouse:  Highlights

Fare:  Brazilian Steakhouse

Price: Expensive ----- though reasonable ---- considering all you can eat filet mignon and ribeye steak.

Food Quality: Well-executed traditional rodizio-style cuts of meat: Prime cuts of meat, sausage, and poultry.

Service: Friendly, knowledgeable, and attentive, though depending on server, can be inconsistent with few servers having a limited knowledge of English.

Ambiance/Decor: Attractive with dark earth tone walls, wood flooring, soft lighting, and a huge bar lit up with a bright violet background.

Overall Rating: 3 Stars

Note: Four-star Rating System from 1/2 stars = poor to Four stars = Best in Class

Noise Level: Moderate - Loud

Dress: Casual

Recommended For: Meat loving diners with hearty appetites who enjoy quality meats in a festive, high-energy setting.

Not Recommended For: Diners with a small or moderate appetite who prefer a low-key setting serving small plate dishes.

Liquor: Full-service bar, features Brazilian inspired cocktails.

Restaurant Review

Flames Brazilian Steakhouse brings Newark to the Jersey Shore with its authentic Brazilian "Churrasco" where different tender cuts of meat are brought to you, one at a time by Gauchos in large vertical skewers.

Under the management of owner Wellington Brito and Cordon Bleu Chef Joao Euzebio, together they have created a sensation for meat loving diners with hearty appetites who come to enjoy an upscale well executed Brazilian "Churrasco" dining experience, with an energetic vibe, Brazilian entertainment, and outstanding service.

Flames Brazilian Steakhouse is a great place to meet up with friends or family to celebrate a special occasion, or just to have a memorable time together.

Chef Joao Euzebio oversees a menu of prime cuts of meat, sausage, and poultry cooked to order with tasty salads, and tasty desserts.

The full rodizio dining experience begins with plate of tasty Brazilian cheese bread, followed by a flip of your token to the green "Go" side, to signal the Gauchos to descend to your table with a wide variety of hot meat hand-carved beef, pork, chicken, turkey and lamb, sliced to your preference. Ready for a pause, flip your token back to the black "Stop" side, loosen your belt, take a deep breath, until you're ready to resume the main course, or proceed to order desserts.

The menu at Flames Brazilian Steakhouse also includes a fresh all-you-can-eat salad bar with non-traditional salad items such as smoked salmon, chickpea salad, marinated mushrooms, artichoke hearts, arugula with mandarin oranges, and more along with some traditional items such as creamy potato salad, mozzarella and tomato salad, potato salad, and crab salad.

They also serve a hot buffet with a variety of hot entrees and side dishes that includes Brazilian black bean stew (feijoada), rice, fried bananas, yucca fries, mashed potatoes, crispy chicken fingers, French fries, and other selections.

The interior is done up with dark earth tone walls, wood flooring, soft lighting, and a bar that accommodates a seasonal liquor license, lit up with a bright violet background.

Service is friendly, knowledgeable, and attentive, though depending on server, inconsistent.

Flames Brazilian Steakhouse is open seven days/week including Easter, Mother's Day, Thanksgiving, Christmas Eve, Christmas Day, New Year's Eve, and New Year's Day.

(Updated October 2023)
How Do We Review (analyze) Restaurants?
New Jersey Leisure Guide strives to provide analytic restaurant reviews.
The methodology used is research, analysis driven --- as opposed to that of a single restaurant critic or a social media platform, viewer comment posting board.