Best New Jersey Fall Trips

Scenic drives, hiking and places to stay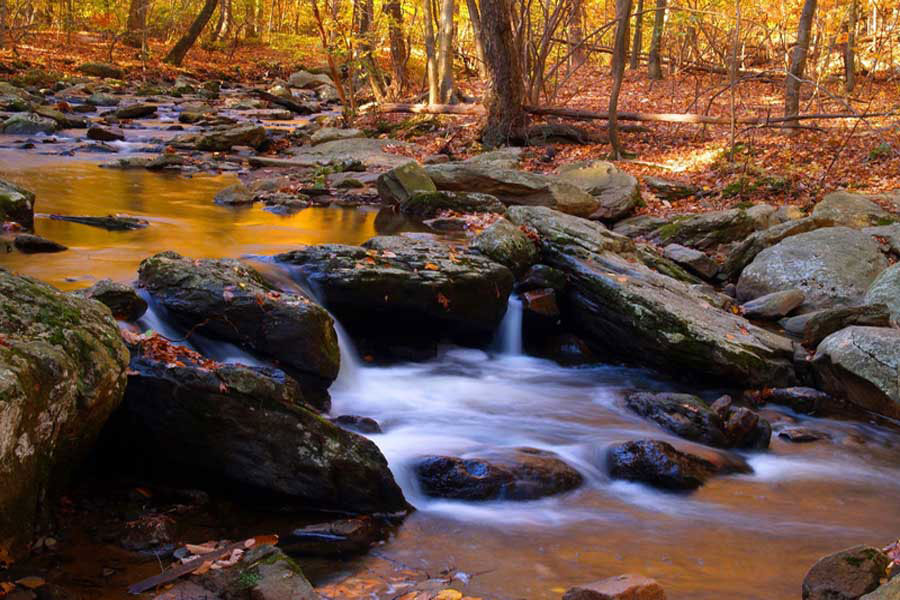 New Jersey, with the turning of the fall foliage to bright colors is second to New England. Watching the leaves turn in NJ is one of the most romantic things you can do in the fall, even if only to for a day trip to check out the scenery. New Jersey fall trips, whether they be for a day or weekend, makes for a memorable, scenic experience.

In New Jersey, fall colors tend to peak around Columbus Day Weekend, with many of the ridges maintaining their golden shades into November. Fall, followed by dry summer weather, will often see the swamp maples, ash and other shallow rooted trees turn early

While foliage conditions vary from year to year, the best fall colors begin in Northern NJ, and appear further south with fall colors still in bloom in southern new jersey - Pine Barrerns as late as Mid/late October into early November.

For New Jersey Fall Foliage information visit:
For live Northeast Foliage Reports
New Jersey Fall Foliage Map
Northwest NJ Fall Trips & Scenic Drives
Last Week in September to Early October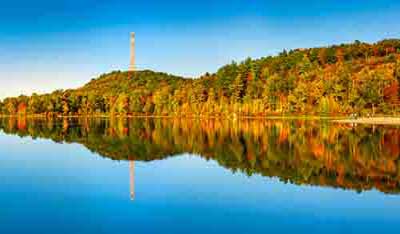 Sussex County
Take a ride on Jersey's mountainous forested region to view the vibrant colors of Fall. It can be done as a day trip, or as a leisurely weekend getaway for taking some of the many rural stop off points.

Begin your fall scenic drive in the town of Newton has a historic Revolutionary War past and many colonial-style dwellings and antique shops. Take Rt 94 East heading toward Rt Route 206 Lafayette. Head north to the the entrance of Sunrise Mountain and Stokes State Forest in Sandyston.

For the casual driver, the 7 mile Sunrise Mountain Overlook is a scenic loop and is one of the most frequently visited sites in Stokes State Forest. The mountaintop provides a breathtaking view at an elevation of 1,653 feet above sea level. The Appalachian Trail runs along the ridge. Once in the park there are many signs that point you to Stokes State Forest and High Point State Park

Continue on to High Point State Park and Monument, the highest point in New Jersey at 1,803' above sea level. The Monument affords a spectacular 360 degree view of three states and the Delaware River valley.

Continue down Rt 206 to Peters Valley Peters valley is known for its fine crafts workshops and also serves as the northern entrance to the Delaware Water Gap National Recreation Area. Continue further south to Wallpack Center via Rt 615.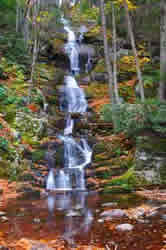 Buttermilk Falls
If you are slightly adventurous, continue further on to Buttermilk Falls cascading down the steep side of Kittatinny Mountain. (See below this page for Best Fall Hiking Trails)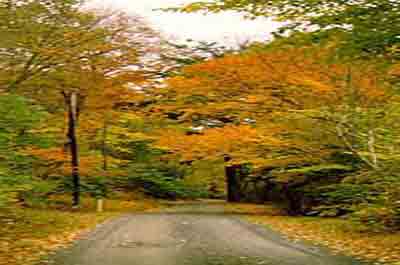 Travel the Old Mine Road
 A New Jersey Historic and Scenic Treasure, this is a scenic route recorded in the National Register of Historic Places and is considered to be one of the oldest roads in the United States, running 104 miles from the southern most point at Kittatinny Point Visitor Center in Hardwick Township, NJ to Kingston, NY
More info
Northeast NJ Fall Trips & Scenic Drives
Early - mid October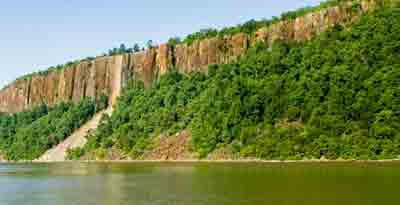 Photo Courtesy Palisades Interstate Park Commission
Palisades Scenic Byway
Beginning in Fort Lee, NJ, either take the 11 mile route along the Palisades Interstate Parkway or the 9 mile drive along Henry Hudson Drive

The Palisades Interstate Parkway north, runs through 2,500 acres of parkland ending at the New York state border. It offers awesome views of the Hudson River and Manhattan skyline from the 500-foot tall Palisades Cliffs that the byway rests upon. Parallel to the byway at the river level are a number of facilities for the public that are connected by a scenic river drive.

The Byway takes you along a scenic route on top of the cliffs and the Henry Hudson Drive located between the Parkway and the Hudson River. Travelers get to enjoy spectacular views of the Palisades, the Hudson River and the New York City skyline. Three scenic overlooks are accessible from the Parkway and include Rockefeller Lookout, Alpine Lookout and the popular State Line Lookout, which is located on the highest point on the Palisades cliffs (532 feet). Several river access points are available from Henry Hudson Drive and include Hazard's Ramp Public Boat Launch, Ross Dock Picnic Area, Englewood Picnic Area and Boat Basin, and Undercliff Picnic Area. The park also includes hiking trails, a nature sanctuary, historic sites and the Fort Lee Historic Park providing information on the significant role Fort Lee played in the American Revolutionary War


Central NJ Fall Trips & Scenic Drives
Mid - late October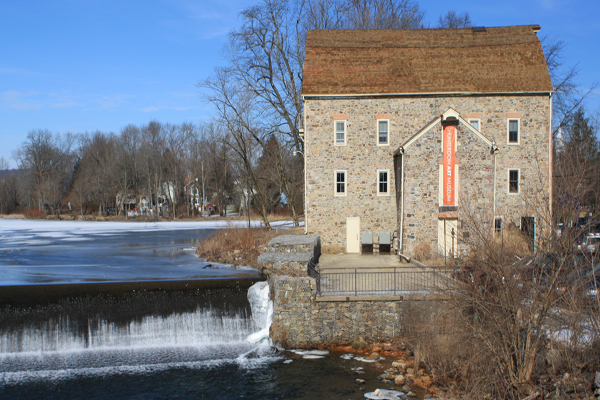 Clinton, NJ
A picturesque, widely photographed small town with a tree lined downtown filled with shops and restaurants and an attractive river with an old grist mill and 200 foot wide waterfall winding through it.
More info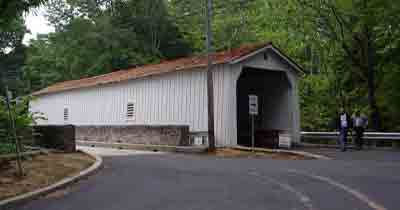 Photo Courtesy Hunterdon County
Green Sergeant's Covered Bridge, Stockton, NJ
A wooden covered bridge over the Wickecheoke Creek In Stockton, NJ near the border between the Hunterdon Plateau and Amwell Valley. It is the last covered bridge in the state of New Jersey, it is listed on the National Register of Historic Places. The bridge was first constructed in 1872, but after being damaged in 1960, it was dismantled and rebuilt from the original materials in 1961. While in Stockton check out the oldest three room school house in New Jersey. Established in 1872, it is still in operation today. Stockton School is well known for its small classes that give individual attention to each student and is compared frequently with local private schools. Also visit Prallsville Mills listed on the National Register of Historic Places and is located in the D & R Canal State Park. This stone grist mill was an important commercial center during the 19th century and continued in operation until the 1950's. Today the Mill is a resource for a wide variety of cultural, arts and community activities while also providing docent tours of the Mill Complex and the recently preserved miller's house, the John Prall Jr. House.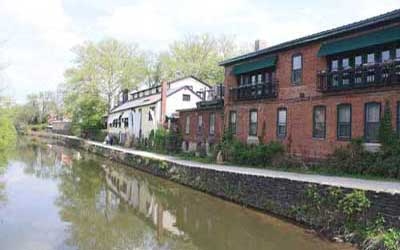 Lambertville
- An historic town with plenty to do and see including antique shops, art galleries, specialty stores, bed and breakfasts, a brewery, and plenty of good restaurants. The curious visitor will find antique shops, art galleries, specialty stores, bed and breakfasts, a brewery and plenty of good restaurants. The more active visitor will try the canal tow path where bicyclists can enjoy a ride for people of all skill levels.
Learn more
Southern NJ Fall Trips & Scenic Drives
Mid October - Early November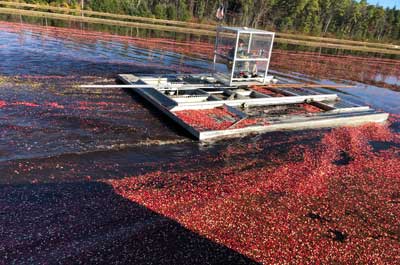 Pinelands Southern NJ
Begin your journey in Chatsworth (Rt 532 & Rt 563) a historic cranberry town. Plan your trip in October and take in
Chatsworth Cranberry Festival
This is a celebration of New Jersey's cranberry harvest, the 3rd largest in the United States, and offers a tribute to the Pine Barrens & Local Culture. Continue south down Rt 563 (Carranza Road) to Green Bank,
passing by the cranberry bogs
. In the fall they are bright red with floating berries. In Green Bank you can stop off and rent a canoe and do some flat water paddling & canoeing. Recommend a rental at
Bell Haven Paddle Sports
on Rt 542. Continue on Rt 542 (Nesco Road) to
Batsto Village
located in Wharton State Forest
for an historic visit back to the iron and glass making era. Today, many of the buildings have been preserved and modern crafts people still ply their trades. Continue on to Rt 206 N to to Atsion Recreation Area (also
in Wharton State Forest)
that offers facilities for boating, camping, fishing and swimming.
For a special 3 hour tour during the month of October, you can learn about the local history, cranberry culture and harvesting, through personal stories and entertaining, but little-known facts , Book a tour with Pine Barens Native Fruits in Brown Mills, NJ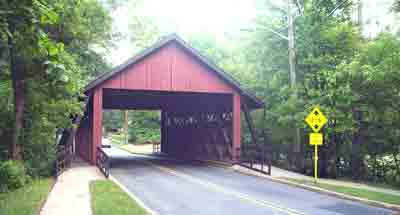 Photo Courtesy User:JSF0864 on Flickr for releasing this photo under a free license
Scarborough Bridge - Cherry Hill
One of two covered bridges still standing in New Jersey was designed by famed architect Malcolm Wells and built across the Cooper River's north branch. This covered Bridge,joins two sections of the Barclay Farm neighborhood off NJ Route 70 in Cherry Hill. It was dedicated on Valentine's Day in 1959 as 101 couples kissed to mark the tradition of the Kissing or Friendship Bridge

Best Fall Hiking Trails
Buttermilk Falls Loop (see photo at top of page)
Difficulty: Moderate. The entire loop covers 7.5 miles R/T and includes 3 waterfalls, cascades, and good views. As a note of caution, trails are not well marked. Buttermilk Falls is NJ's highest waterfall at 200' high. It requires virtually no hiking to see it, though there are other short stair climbing and trails to get to see other views.
From the falls, you can follow markers to the blue trail, which leads to the white Appalachian trail. For the shortest loop, climb up the stairs around the falls and continue on the Blue trail at the top. At the beginning there is a steep climb, though the views at the top are well worth it. Consider stopping at Tillman Ravine on the way to the Falls and doing a couple mile hike around there, and then stopping at Buttermilk for a look. To get there: From Branchville, take Rt. 206 N, past Culver's Lake, make a left onto Struble Road where it becomes Dimon Road. Continue on past two parking areas on the left for Tillman Ravine. At the intersection, turn left onto Mountain Road, past Walpack Cemetery. Continue on Mountain Road until you see a large dirt lot on your right, the falls on are the left right next to the road and can't be missed. GPS Parking: N41 08.221 W74 53.350 Note: Rest rooms are the two Tillman Ravine parking lots on Mountain Rd.

Southerly approach to Sunrise Mtn. - Stokes Forest
Difficulty: Easy It offers great views over 7 miles r/t on a well maintained Trail. Near: Branchville, NJ Scenery: Distance: 7 miles round trip Elevation Gain:

Mt. Tammany - Delaware Water Gap
Difficulty: Moderate to Difficult. One of the most popular trails in New Jersey. It traverses the Appalachian Trail and offers great panoramic views of the Delaware Water Gap and Mt. Minsi across the Delaware River in Pennsylvania. The Red Dot Trail is the more steeper at 1.2 miles to the summit. The Blue Dot Trail is more gradual and a little longer at 1.4 miles. At the top of the summit you will reach Indian head be rewarded with an awesome, much photographed panoramic view of the Gap.
Parking/Trail head: Begin your journey by first stopping at the Kittatinny Point Visitor center (908-496-4458). In early fall it's open only 3 days a week. Take Route 80 west to Exit 1 and bear left 1/4 mile. On the right there is a sign for Dunnfield Creek Natural Area. There is a parking lot on the right, then a large main lot in the center.

Pyramid Mountain – Tripod Rock
Difficulty; Moderate but interesting for experienced hikers. 4.6 miles R/T with a variety of short to medium trail loops with moderate elevation gains, rocky footpaths, several streams, interesting glacial erratics in a beautiful setting. Parking: Rt 287 to exit 45. 472 A Boonton Avenue, Montville Township, NJ

The Lockwood Gorge Wildlife Management Area and the Columbia Trail, High Bridge
7.5 miles of an easy trail that can be completed in 3 hours. Hikers can enjoy a stroll along the unpaved road that parallels the river without interruption by vehicular traffic, It parallels the South Branch of the Raritan River through a deep gorge, one of the most beautiful spots in New Jersey.
Parking/Trail head: 609-984-0547. take I-78 to exit 17 (westbound) or exit 16 (eastbound) for Route 31 towards Washington. Drive about 2 miles on Route 31 then turn right on Main Street. In 1.1 miles turn right on Bridge Street, proceed 390 feet, then left on Main Street. Continue for .2 mile through town then turn left at The Commons sign to the parking lot.

Recommended Places To Stay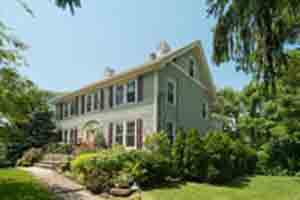 Located in the Sussex County Skylands, reserve one of the romantic suites in the Carriage House with gas fireplaces and Jacuzzi tubs.

Reviews & booking
This charming 1860 Victorian B & B overlooking the Delaware River near Lambertville, is furnished with rooms that have many amenities including electric fireplaces.
Reviews/Booking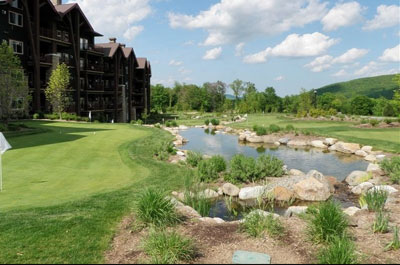 A luxury resort hotel with amenities that include indoor & outdoor heated pools, mineral spa, sports & fitness facilities, and six Golf courses
Reviews & booking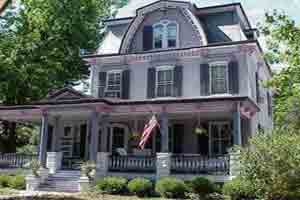 A 6 room 1882 historic inn located in the heart of Clinton, one block from the village shops, major attractions, and casual restaurants.
Reviews & booking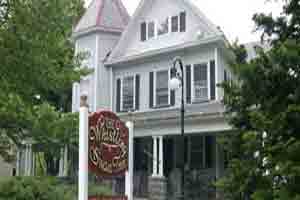 A romantic honeymoon B&B in the Skylands Region with suites having a fireplace and whirlpool tubs for two. Massage services are also available.
Reviews & booking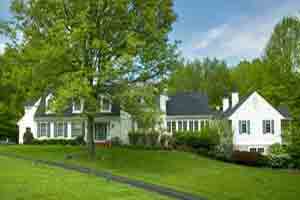 This charming mini-estate is ideal for a quiet romantic getaway. Deluxe rooms have a two-person soaking tub, a fireplace, and a private balcony.
Reviews & booking
---