Chez Catherine, Westfield, NJ: A Restaurant Review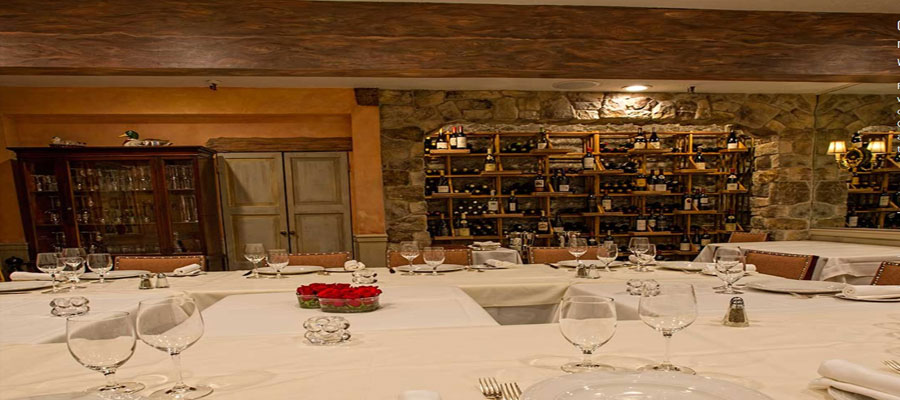 Chez Catherine:  A go to restaurant for high quality French cuisine

Chez Catherine: Restaurant Highlights

Fare: Classic French

Price: Very Expensive

Food Quality: Serves a well executed, artfully presented seasonally changing menu using quality seasonal ingredients; committed to using local, farm - to - table, fresh ingredients when available.

Service: Professional, knowledgeable, and attentive. Guests are welcomed by the warm, engaging maître d' Robert Madden

Ambiance: A small 12 table dining room with elegant, formal, cozy, romantic ambiance

Overall Rating: 3 1/2 Stars --- One of the best French restaurants in New Jersey --- Classified as an upscale "Chef-Inspired Fine Dining" restaurant. (* Note - See below restaurant classification for details) :

Note: Four-star Rating System from no stars = poor to 4 stars = Best in Class

Noise Level: Moderate

Dress: Upscale casual

Recommended For: Diners who enjoy high end French cuisine complemented by special occasion, fine dining amenities.

Not Recommended For: Limited budget diners who prefer simpler food in a less upscale, casual setting.

Recommended dishes: When available, The Filet Mignon Beurre Cardinal Pan Seared Filet Mignon, Tomato Butter, and Fingerling Potatoe; The Sole de Douvres Meunière Dover Sole, Lemon and Brown Butter Sauce, Table Side Preparation Supplement; and The Magret de Canard aux Mûres Duck Breast, Blackberry Port Reduction, and Rice Pilaf

Liquor: Full service bar with an extensive wine selection

Restaurant Review

Chez Catherine, as close as you can find to a taste of France in New Jersey, is a popular dining destination for a special occasion and for diners who enjoy high end French cuisine.

One of the finest French restaurants in NJ, owned by Stephan Bocket and his business partner Michael Cowan.

Stephan Bocket, a former maître d'hôtel, has worked with many famed chefs and restaurateurs including Chef Alain Ducasse in both Paris and New York.

The Kitchen is run by Executive Chef Christine Migton. Chef Migton received her formal culinary training at The Culinary Institute of America, graduating with honors in 2007 with a Bachelor of Professional Studies in culinary arts. She later honed her culinary skills at A Toute Heure Bistro in Cranford, The Grand Cafe in Morristown, Stage Left and Catherine Lombardi in New Brunswick, and as sous chef at Chez Catherine before being promoted to Executive Chef in March, 2017.

Executive Chef Migton prepares a well-executed, artfully presented seasonally changing menu using quality seasonal ingredients, and is committed to using local farm - to - table, fresh ingredients when available.

Chez Catherine is a small 12 table dining room with an elegant, formal, cozy, romantic ambiance. The attractive decor is done up walls adorned in peach tones and beautiful floral arrangements to set the stage for a formal yet cozy and intimate dining experience. A great place to enjoy a special occasion or a romantic dinner for two.

With COVID-19 concerns for safe indoor dining, Chez Catherine has implemented an AtmosAir Solutions' air purification and monitoring technology to restoring air to its natural state where no pollution or contaminants exist.

Owner Stephan Bocket is hands-on with a delightful French accent and buoyant personality as he roams the dining area to ensure patrons are well taken care of.

Not recommended for kids.

Chez Catherine is open for lunch: Tuesday - Friday Noon to 2:00 PM and for dinner: Tuesday - Ssaturday. They are closed on Sunday and Monday (except major holidays)
They are open on Thanksgiving Day and serve a traditional Thanksgiving turkey menu.

Free off-street parking is available next to the restaurant.

They have an attractive private room that can accommodate private parties from 10 to 40 people.


* Description of Restaurant Classification - Chef-Inspired Fine Dining:

"Old World" with sophisticated and romantic décor.
Priced higher than other upscale restaurants to cover the cost of the added amenities.
They are chef driven by chefs with impressive credentials including formal culinary education and skills honed at award winning restaurants.
Committed to high quality food ingredients such as imported items not available in the supermarket, with emphasis on local seasonal farm-to-table produce, wild caught seafood, & meats without the use of antibiotics and growth hormones.
The wait staff is rigorously trained --- professional, knowledgeable, and attentive. Has an alcohol menu with high end wines and specialty cocktails and with a staff knowledgeable in wine pairings.
Additional amenities include linen and fine China table settings, carpeted flooring, chandeliers, and complimentary sorbets, dessert chocolates, etc.
Patrons tend to be older, more formally dressed, with high incomes.

The most popular upscale restaurants in New Jersey, classified into three categories; Chef-Inspired Fine Dining, Chef-Inspired Casual Dining, and Contemporary Casual.
learn more about the three types of upscale restaurants and how reviews are created.

(updated November 2022)