Cape May Lighthouse - A Visitors Guide
One of the oldest operating lighthouses in the United States,
located on the southernmost tip of New Jersey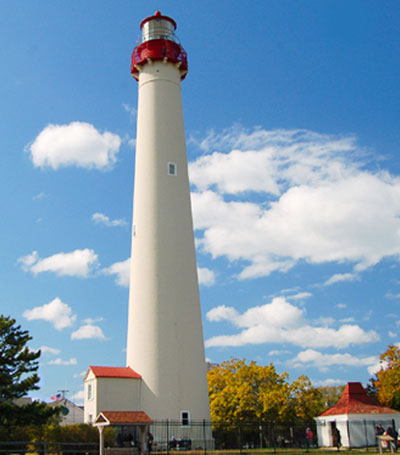 Cape May Lighthouse
215 Light House Ave
Cape May Point, NJ 08212
(609) 884-5404
Website
Located in Cape May Point, two miles from the city of Cape May, NJ
Photo courtesy State of New Jersey
---
Climb up the winding 199 stairs to the top of the 157 foot-tall structure and from the watch gallery take in a fantastic view the Atlantic ocean, the town of Cape May, Delaware Bay, and Cape May Point State Park.

The present Cape May Lighthouse is the third to be located on this site. The 157-foot-high lighthouse is still an aid to navigation, beaming it's light 24 miles out to sea.

The first known lighthouse at Cape May was built in 1823. In 1847 the replacement lighthouse was erected on higher ground bluff, but due to the encroaching sea and inadequate building design it was eventually dismantled. The current lighthouse was erected in 1859 using the original bricks of the 1847 lighthouse.

As with many other lighthouses during this period, the Lighthouse was blacked out during the World War II years. In 1946 the Fresnel lens was dismantled, removed from the tower, and loaned to the Cape May County Historical Museum where it is currently on display to the public. A rotating aero beacon replaced the historic lens.

The lighthouse was automated in 1946, and continues in operation to this day. There are 199 steps to the top of the Lighthouse.

The view from the top extends to Cape May City and Wildwood to the north, Cape May Point to the south, and on a clear day, Cape Henlopen, Delaware, to the west.

A special treat is taking a full moon lighthouse climb at night with an awesome view of the ocean and the bay with the reflection on the ocean of the full moon

The lighthouse is owned by the United States Coast Guard, which maintains it as an active aid to maritime navigation. The Coast Guard leases the structure and the grounds (but not the navigation equipment) to the State of New Jersey which, in turn, sub-leases the structure and grounds to the Mid-Atlantic Center for the Arts (MAC).

MAC raises funds for the restoration and upkeep of the structure and allows visitors to climb to the top.

MAC has interpretive exhibits about the lighthouse's history, the lives of the former keepers, and other maritime history of the Jersey Cape.

The Cape May Lighthouse is listed on the State and National Registers of Historic Places.