Canal House Station, Milford, NJ: A Restaurant Review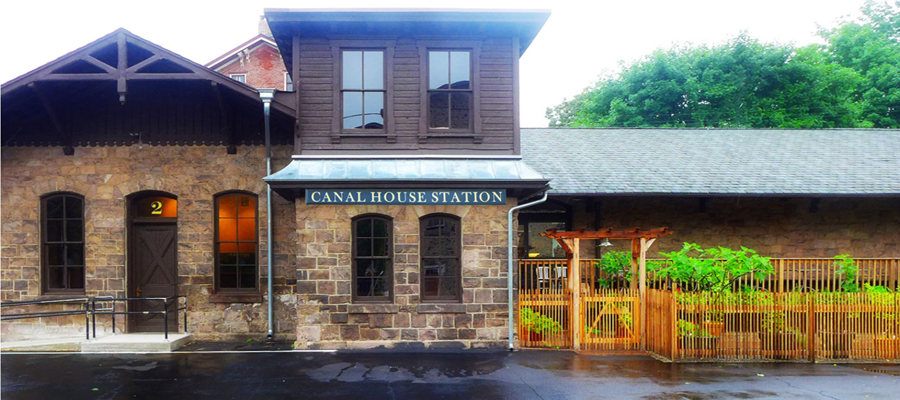 Canal House Station: Restaurant Highlights
Fare: Classic American with European influences

Price: Expensive

Food Quality: Excellent. Well-executed menu, using fresh farm-to-table ingredients, presented as works of art

Service: Friendly, professional, attentive. Meal wait tends to be slow, due to the food being prepared from scratch.

Ambiance/Decor: Elegant, yet cozy rustic, with historic train station atmosphere.

Overall Rating: 3 1/2 Stars - One of the top restaurants in Northern New Jersey - Classified as Chef-Inspired Casual Dining (* Note - See below restaurant classification for details)

Note: Four-star Rating System from 1/2 star = poor to 4 stars = Best in Class

Noise Level: Moderate.

Dress: Casual

Recommended For: Diners who enjoy a high end, well executed menu in an historic rusting setting.

Not Recommended For: Budget conscious diners who prefer a traditional casual style American menu, in a trendy, contemporary, high-energy setting.

Recommended dishes: When available, The Roast Prime Rib of Beef with Wax & Green Beans, Sister Frances's Potatoes; The Duck Confit with green & wax beans & frites; and The Mussels in wine and cream & crusty bread.

Liquor: BYOB

Restaurant Review

Opened in 2019, on the site of a converted 1870 historic train station, The Canal House Station, despite being one of New Jersey's hidden gems, has quickly achieved success as an upscale, Chef-Inspired, Casual Dining restaurant.
Having achieved award winning culinary success, co-owners and chefs Melissa Hamilton and Christopher Hirsheimer, ventured into unfamiliar territory with their first joint ownership of a restaurant and cafe, owning and operating Canal House Station in Milford.
While it is their first joint venture into owning and operating a restaurant and cafe, they are certainly no strangers to the culinary world.
Before moving to New York, Christopher Hirsheimer had two restaurants in Illinois. Hirsheimer is co-founder and former executive editor of Saveur, a gourmet, food, wine, and travel magazine known for its essays about enduring culinary traditions. Throughout the magazine's 25-year-history, it brought home 23 James Beard Journalism Awards.
Melissa Hamilton partnered with her father, Jim, in 1988 to open Hamilton's Grill Room in Lambertville, NJ, where she was executive chef. Melissa Hamilton is also the former test kitchen director and food editor of Saveur and has worked in the kitchens of Martha Stewart Living and Cook's Illustrated.
Amongst their many culinary achievements, together they founded Canal House, a publishing venture and a culinary, photography, and design studio. Their cookbook Canal House Cooks Every Day received a James Beard Award, and their blog, Canal House Cooks Lunch, is followed by thousands of readers who find inspiration in what they cook up each day.
In 2020 Melissa Hamilton and Christopher Hirsheimer were nominated for Best Chef Mid-Atlantic, earning seven spots on the semifinalist list for the James Beard Foundation Awards, among the most prestigious culinary awards in the world.
While the Canal House menus tend to classic American, European influences are apparent. Despite their seasonal Prix Fixe menu with limited selections, they are willing to accommodate vegetarian requests.
The owners are passionate about transforming top quality ingredients into delicious courses. Though best known for their French cooking techniques they are passionate about utilizing home cooking techniques, that present an exciting and sophisticated mix of textures and flavors.
​Fresh Farm to Table ingredients are sourced from high end purveyors, most organic, from neighboring farms, farm stands, Comeback Farm in Hunterdon County, Phillips Farms in nearby Milford, Manoff Market Gardens, in New Hope, Cowgirl Creamery Mt Tam cheese, in Marin County, CA, and others.
Menus at Canal House change weekly, depending on seasonal availability. They offer special seasonal Sunday dinners for famiiies and friends as a 5-course, prix fixe menu that changes weekly.
The beautifully renovated historic train station has high ceilings, wood beams, and with details that were blended into keeping the feeling of an old train station.
There are 49 seats in the dining room and 35 additional seats in the café. The cafe's seating includes two communal tables and a few porch tables. guests dining at rustic, farmhouse-style communal tables. The casual layout is dotted with colorful details, such as Canal House cookbooks, aprons, and fresh produce.
They feature an open kitchen sitting area that allows you to be close to where the cooking action
The dining areas are done up with chestnut wainscoting, original woodwork, and restored paint colors. The main dining area of the restaurant evokes the circa-1870 history of the Milford train station. Dark woods meet tall windows that allow natural light to peek through. Unframed oil paintings found at an antique fair adorn walls, along with paintings and photography of the Delaware River region.
Service is welcoming, professional, and attentive. Owners Hamilton and Hirsheimer, often will greet you when you arrive and deliver a dish or two to your table, and to ensure your dining experience exceeds your expectations.
Weather permitting, there is outdoor seating in the Garden.
The Canal House Station is open on Sunday only from 11:00 am – 6:00 pm with prix fixe menu.


*Description of Restaurant Classification - Chef-Inspired Casual Dining:

The current trend of upscale, high quality food focused restaurants.
They are chef driven by chefs with impressive credentials including formal culinary education and skills honed at award winning restaurants.
Serves an approachable, more casual menu with creative food preparation.
Uses higher quality food ingredients such as imported items not available in the supermarket, with emphasis on local seasonal farm-to-table produce, wild caught seafood, & meats without the use of antibiotics and growth hormones.
Chic, trendy ambiance with a casual atmosphere and a casual dress code.
The wait staff is professional, knowledgeable, and attentive.

Can be BYOB or have an alcohol menu with a variety of wines, specialty cocktails, and beers.
Patrons are of all generations with medium to high incomes.

The most popular upscale restaurants in New Jersey, classified into three categories; Chef-Inspired Fine Dining, Chef-Inspired Casual Dining, and Contemporary Casual.
Learn more about casual upscale restaurants and how reviews are created.

(updated: March 2023)