Canal Day Music & Craft Festival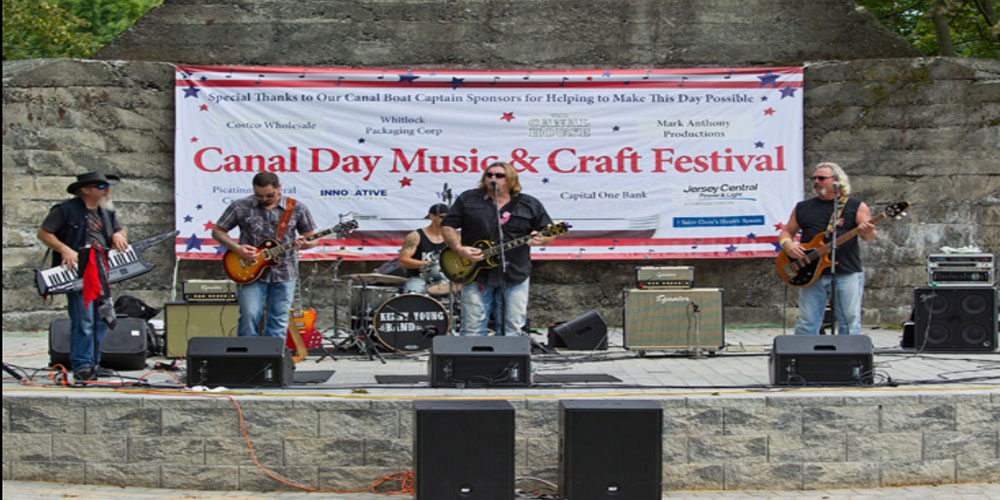 Visit the annual Canal Day Festival in Wharton, NJ and experience an old-time country fair on the banks of The Morris Canal, a historic site listed on both the National Registers of Historic Places, and as a National Historic Civil Engineering Landmark.
Date:
Saturday, August 19, 2023 (Rain or Shine)
Admission is Free
Location:
Hugh Force Canal Park
180 West Central Ave.
Wharton, NJ
This popular annual family event features an old-time country fair that celebrates the Morris Canal and its contributions to the development of the communities along its banks.
Come to a day of free family fun featuring a craft show, great food, educational events and enjoy a day of listening to a wide variety of musical entertainers. Musical performances from New Jersey's best artists will feature Rock, Blues, Country, Classical as well as traditional and contemporary Irish Folk Music. performing on two stages. The grand finale will be fireworks at dusk.
Learn about local history by taking a guided Morris Canal walking tour provided by the Canal Society of NJ. Experience life on the Morris Canal firsthand by traveling down the canal on a free boat ride or prove your prowess by paddling a kayak.

The Morris Canal is listed on the New Jersey and National Registers of Historic Places.

Recently they have opened outdoor museum that will highlight New Jersey's history of innovation by unearthing its once-great conduit of commerce, and the newly restored Lock 2 East and its tender's house share the story of the equine-powered Morris Canal.
The Morris Canal Lock 2 East helped put Wharton on the map in the 19th century. The borough is now hoping to return the favor and restore one of its most historic assets.
Lock 2 East was one of 23 traditional locks and 23 inclined planes within the Morris Canal which traversed Northern New Jersey in general east to west direction between Newark and Phillipsburg.
Plans are also underway to complete the Morris Canal Greenway, envisioned as a 111-mile continuous pedestrian and bicycle trail connecting six counties in northern New Jersey. Although it was dismantled, portions of the canal and its accompanying feeders and ponds are preserved. The statewide Morris Canal Greenway project will provide a route for cyclists and pedestrians from the Delaware River on the west to the Hudson River on the east, to create a continuous trail. from Phillipsburg, traversing Warren, Sussex, Morris, Passaic, Essex, and Hudson Counties and including the old route through Jersey City.
The Master Plan will serve as a guide in the implementation of the plan to transform this site from a park currently maintained by the Morris County Park Commission and the Borough of Wharton to a more active role as an outdoor museum. Wharton Borough plans to use the site as an outdoor interpretive exhibit on the use of locks along the Morris Canal, with the goal of restoring the Lock to working condition
For the full schedule of activities, visit Canal Day Music & Craft Festival