Cafe Matisse, Rutherford, NJ: A Restaurant Review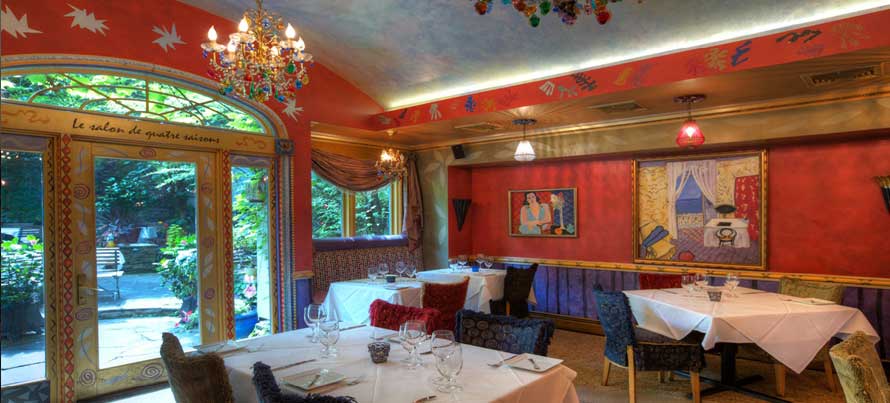 Cafe Matisse ---- a destination restaurant for upscale fine dining and a great place to celebrate a special occasion or for an intimate romantic occasion.

Cafe Matisse: Restaurant Highlights

Fare: Eclectic / Int'l

Price: Very Expensive

Food Quality: Outstanding. Serves a well executed, eclectic menu and prepared using high quality local and seasonal ingredients.

Service: Professional, attentive, without being intrusive

Ambiance/Decor: Elegant, has an air of sophistication and romance.

Overall Rating: 3 1/2 Stars - One of the best restaurants in Northern New Jersey. Classified as a "Chef-Inspired Fine Dining" restaurant. (* Note - See below restaurant classification for details)

Note: Four star Rating System from 1/2 Star = poor to 4 stars= Best in Class

Noise Level: Moderate, high during peak times

Dress: Upscale Casual

Recommended For: Diners who enjoy a top rated, special occasion restaurant and are willing to pay more for the experience.

Not Recommended For: Budget conscious diners who prefer traditional, casual family style restaurants.

Recommended dishes: When available, The Black Peppered Tuna Loin, Tempura Green Beans, Pineapple Crab Fried Rice with Green Onion Toasted Macadamize Nuts, Drizzled with Wasabi Mayonnaise and Passion Fruit Vinaigrette;
The Parmesan Panko Pan Fried Artichoke Hearts Creamy Onion Goat Cheese Mousse, Heirloom Tomato Red Onion Salad, Topped with Thinly Sliced Parma Ham, Julienne Spinach, Radicchio, Endive, Rosemary Vinaigrette, Balsamic Glace, Balsamic Pearls;
and The Sliced Filet Mignon Tenderloin with Toasted Walnut Creamy Blue Cheese Bread, Baby Arugula, Endive, and Radicchio Topped with Ginger Pear Chutney, Drizzle of Dijon Mustard Vinaigrette

Liquor: BYOB, If you forgot to bring your own, there is a wine shop on site with assistance to choose the wine to accompany your meal

Restaurant Review

Cafe Matisse, one of the top restaurants in New jersey, is a destination restaurant for upscale fine dining with all the amenities of fine dining except bar service. It's a great place to celebrate a special occasion or an intimate romantic occasion.

Located in a historic building that was originally a horse and buggy firehouse, this restored building has been elegantly done-up with influences by French artist Henri Matisse. The interior is attractive with soft lighting and features blown Murano glass chandeliers hanging from the ceiling, plush chairs, and vibrant colored walls with artwork by Henri Matisse, the French artist for whom the restaurant is named. The ambiance radiates both sophistication and romance.

In the warmer months, ask for a table outside in their "European Secret Garden", a plush outdoor garden with fountains. The garden can also be viewed from the inside through floor-to-ceiling windows. Note: Garden/Patio reservations cannot be made on-line. You must call the restaurant to request outside dining.

Owner and Executive Chef Peter Loria is masterful at putting together an eclectic, upscale, well executed, seasonal grazing menu, or as they refer to them as "Matisse Plates". The menu is well executed and prepared using high quality local and seasonal ingredients.

They serve a price fix four course Seasonal Tasting Menu with a choice of options. Just sit back and relax, and put your trust in the menu offerings. You will leave well satisfied.

They do not offer vegan and gluten free requests.

The service at Cafe Matisse is professional, attentive, and friendly. They take that extra step to provide excellent service. As an example of their attention to care and detail, diners who are wearing black or dark colors, are offered black cloth napkins to replace the white ones, which eliminates the unsightly white lint that can come from white napkins.

Cafe Matisse is open five evenings a week for dinner with two dinner seatings (5:45 pm & 8:00 pm).
Note: A credit card is required to secure all reservations.

Cafe Matisse is not recommended for children.

* Description of Restaurant Classification - Chef-Inspired Fine Dining:

"Old World" with sophisticated and romantic décor.
Priced higher than other upscale restaurants to cover the cost of the added amenities.
They are chef driven by chefs with impressive credentials including formal culinary education and skills honed at award winning restaurants.
Committed to high quality food ingredients such as imported items not available in the supermarket, with emphasis on local seasonal farm-to-table produce, wild caught seafood, & meats without the use of antibiotics and growth hormones.
The wait staff is rigorously trained --- professional, knowledgeable, and attentive.

Typically, but not always, has an alcohol menu with high end wines and specialty cocktails and with a staff knowledgeable in wine pairings.
Additional amenities include linen and fine China table settings, carpeted flooring, chandeliers, and complimentary sorbets, dessert chocolates, etc.
Patrons tend to be older, more formally dressed, with high incomes.


The most popular upscale restaurants in New Jersey, classified into three categories; Chef-Inspired Fine Dining, Chef-Inspired Casual Dining, and Contemporary Casual.
learn more about the three types of upscale restaurants and how reviews are created.

(updated: November 2022)