The Butcher's Block, Long Branch, NJ:
A Restaurant Review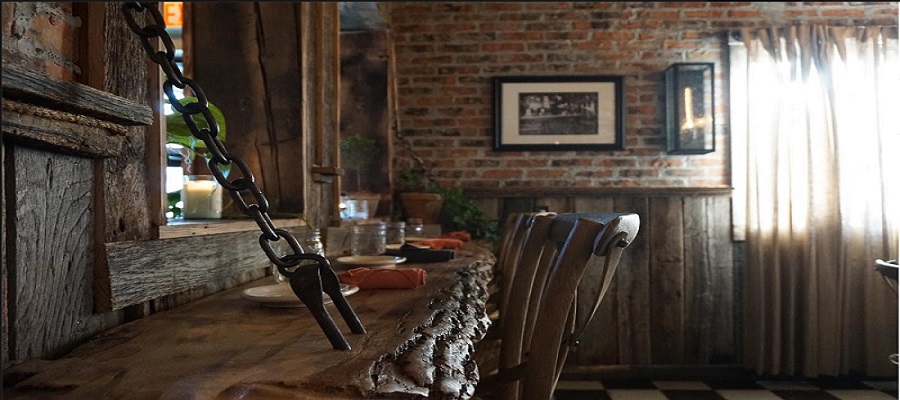 The Butcher's Block

235 West Avenue
Long Branch, NJ
(732) 795-3903
Website
Restaurant Highlights

Fare: High end steaks

Price: Expensive

Food Quality: 3 1/2 Stars

Service: 3 1/2 Stars

Ambiance: 3 1/2 Stars

Overall Rating: 3 1/2 Stars

Note: Four star Rating System from 1/2 Star = Poor to Four stars = Best in Class

Noise Level: Moderate

Dress: Casual

Recommended For: Diners who enjoy high end steaks served in an upscale , rustic setting.

Not Recommended For: Cost conscious diners who prefer traditional meat dishes served in a casual, family style setting.

Recommended dishes: When available, The Tomahawk steak (bone-in rib eye); The Butcher Blend Block Burger with house ground beef, aged cheddar cheese, house cured bacon, black sauce, fried onions, and beef fat fries; and The Local 130 Seafood Catch of the Day.

Liquor: BYOB.

Restaurant Review

The Butcher's Block is a mecca for meat lovers. They are a whole animal, "farm to table" butcher shop, restaurant, coffee bar, and a market, all in one that serves up some of the best meats in Central Jersey.

The Butcher's Block is the creation Tom D'Ambrisi. It's attached to D'Ambrisi Wholesale Foods a meat-distribution company run by his father, Rudy, and brother, Rudy Jr.
Tom D'Ambrisi and his wife, Cara, converted office space and a refrigerated area from D'Ambrisi Wholesale Foods into a restaurant, butcher shop, coffee bar and market complex. The name of the complex "The Butcher's Block" was coined with the idea that "the butcher is the heart of the block."

The D'Ambrisi's have teamed up with Executive Chef ​ Brandon Carter who runs the kitchen and Armando Ferrante who runs the butcher shop, who prior to coming to the Butcher's Block, owned Ferrante's, a South Philadelphia butcher shop.

Their meats are sourced from animals raised humanely on 100% grass fed and grass from New Jersey and New York farms. They menu emphasizes the use of organic products also sourced from local farms and features natural, prime cut meats, cooked in a wood fired oven..

While The Butcher's Block is a carnivores paradise, they also serve seafood as a daily special from Local 130 Seafood in Asbury Park, known for using only local wild caught seafood direct from new Jersey fisherman.

Chef Brandon's kitchen will prepare dishes selected from the menu, and any of the meats diners select from the Butcher shop (at market price). The Butcher shop selections include prime dry-aged beef, bone-in and boneless rib-eyes, tomahawk cuts and porterhouse steaks, plus chicken, pork and sausages.

Note: Tomahawk steak is a cut of beef rib eye that has five or more inches of extra rib bone. It's called a "tomahawk" cut because the steak with the long bone resembles a single-handed axe. In some restaurants it's referred to as the "cowboy steak" or a "bone-in rib eye". These steaks are typically served at high-end restaurants.

For price conscious diners, be forewarned, ask for the price of the steak before you order. If you're not accustomed to a high-quality, metropolitan steakhouses, you could experience sticker shock.

This small family owned restaurant has an upscale rustic, unique design. The NYC style ambiance is homey, nostalgic and aesthetically pleasing. It takes you back in time to an old NYC neighborhood block in the meat district. The decor uses a lot of exposed brick, wood, and metal. The layout gives off a hip, trendy, vibe throughout the different themed rooms. They have a butchers room where you can select your meats, a cafe area called the Warehouse Cafe, and The Block Parlor, the main dining area. The rooms are small, with only a couple of tables in each. During the warmer months, there is outside seating on tables and benches.

The wait staff is friendly. welcoming, and attentive. Hands on owner Tom D'Ambrisi can be seen roaming the complex with a passion to ensure the diners are having a positive, memorable dining experience.

The Butcher's Bock is open 5 days/week:
For Lunch Tuesday - Saturday 11 - 4pm, For Dinner Tuesday - Saturday 5 - 11pm

(updated July, 2019)

How Do We Review (analyze) Restaurants?
New Jersey Leisure Guide strives to provide analytic restaurant reviews.
The methodology used is research, analysis driven --- as opposed to that of a single restaurant critic or a social media platform, viewer comment posting board.