Bobby Flay Steakhouse, Atlantic City, NJ:
A Restaurant Review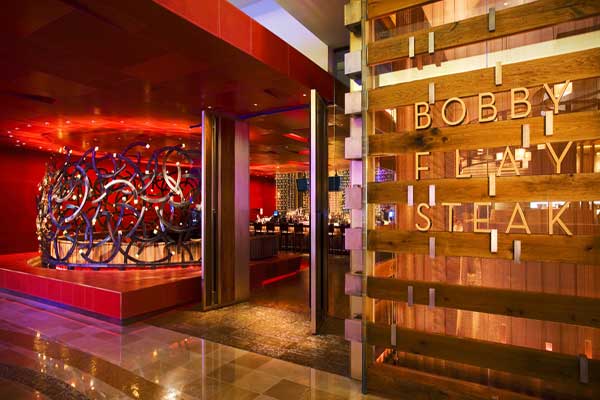 Bobby Flay Steakhouse
Borgata Hotel
1 Borgata Way
Atlantic City, NJ
609-317-1000
Website
---
Restaurant Highlights

Fare:  Steak house

Price:  Very Expensive

Food Quality: 3 Stars

Service:  2 Stars

Decor: 3 1/2 Stars

Overall Rating: 3 Stars

Note:  Four star Rating System from 1/2 Sstars = poor to Four stars = Best in Class

One of the best steak houses in Atlantic City

Service can be inconsistent

Value:  Given the high food quality, though prices are high, the value is good

Noise Level:  Moderate,  High during peak times

Dress:  Upscale casual

Recommended For:  Diners who enjoy excellent steaks and upscale, trendy ambiance

Not Recommended For:  Budget conscious diners who may prefer simpler food, lower prices and less trendy ambiance

Recommended dishes:  When available, The Spicy Southwest Rib eye with roasted red and green chiles & garlic; The Spice Rubbed Filet Mignon with the house special sauce; and Philadelphia-Style Strip Steak

Liquor:  Full Service Bar, Extensive wine list, specialty cocktails. Bar scene is vibrant.

Restaurant Review

If you venture to Atlantic City and are looking for a good steak house with a Southwestern flair, and are prepared to pay high prices, try this exceptional fine dining restaurant.

Here you will find a good grade of meats creatively prepared with a special mix of seasoning and rubs.

This 11,000 square foot restaurant has a sleek, contemporary decor with leather, cast glass, parquet flooring, polished wood panels, and recessed lighting creating a soothing ambiance.

The bar is appealing to high roller sportsmen with three flat-screen monitors, and a tequila sunrise back light that comes through the openings of the huge wine rack behind the bar.

This is a meat lovers paradise, although there are many selections of quality seafood on the menu. True meat lovers would be reluctant to use steak sauces, but Bobby Flay's sauce is exceptional and not to be missed.

However, Bobby Flay Steakhouse falls below the top tier steakhouses such as Morton's and Ruth's Chris who use USDA Prime beef. USDA choice, a grade down from USDA Prime, is served at Bobby Flay Steakhouse.

Note: USDA Prime is the superior grade with exceptional tenderness, juiciness, flavor and fine texture. It has the highest degree of fat marbling and is derived from younger beef. That's why Prime is generally featured at the most exclusive upscale steakhouse restaurants.

USDA Choice is the second highest graded beef. It has less fat marbling than Prime. Generally USDA Choice will be less tender, juicy and flavorful with a slightly more coarse texture than Prime.

The service is professional, and knowledgeable.

(updated: September, 2016)


How Do We Review (analyze) Restaurants?
New Jersey Leisure Guide strives to provide analytic restaurant reviews .
The methodology used is research, analysis driven --- as opposed to that of a single restaurant critic or a viewer comment posting board.

Data is gathered from our viewers e-mail restaurant comments, Internet research, and professional restaurant critics. The data is sorted, (weeding out the obvious biased, "bone to pick",  and out of consensus comments), analyzed, and the review is created.

Learn More
---