Best NJ Biking Trips And Trails

Biking routes with trips for cyclists at all levels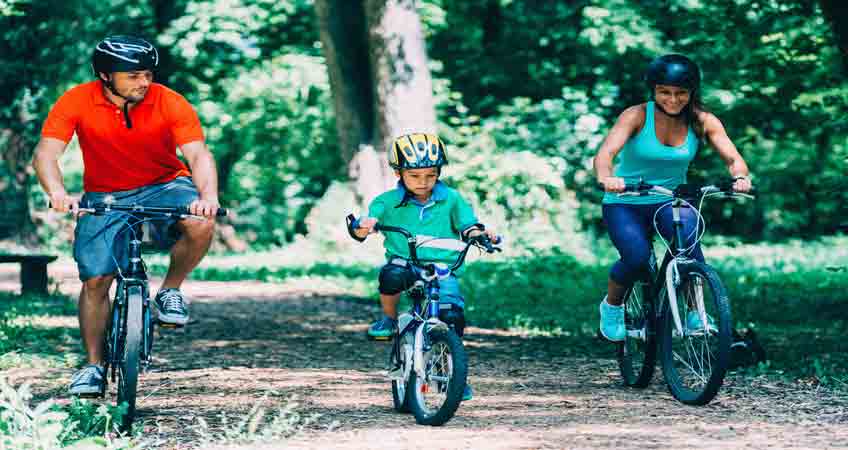 NJ has a range of terrain from gentle terrain along the Jersey shore and the Pine Barrens, to the more moderate-difficult terrain of the Hunterdon County farmlands, gentle rolling hills,and lazy country roads, to the Skylands in Northwest New Jersey where you can find the more difficult mountainous terrain.

The New Jersey State Park System also offers many cycling trips and trails with outstanding scenery, many of which are featured on this site.

Cycling trips can be enjoyed almost any time of the year in New Jersey. Spring, summer and fall are certainly better than winter for obvious reasons. The best time to enjoy the bike tours near the shore would be of course during the summer. Of all the seasons, the autumn and spring is the best time to cycle, especially in the western and northern parts of the state when the leaves are exhibiting their brightest colors
.
Listed are a broad range of cycling trips, with access to trail maps for biking trips and trails for the beginner, or young families with kids to the more advanced cyclist.



Note: This information is provided by event sponsors as a free service to our viewers. Sometimes conditions require cancellations or changes of dates, times and location which are not reflected in the original schedule. Before planning a trip to visit one of the listed events, it is suggested that you call the event sponsor to confirm the event schedule or for additional information on the event.

Northern New Jersey Bike Trails
Allamuchy Allegory Bike Loop
Begins at Allamuchy Elementary School on Warren County Route 612 near Route 517.
41 miles, Moderate
View Trail Guide
Traverses the scenic back roads in the rural woodlands of Northern Warren and Southern Sussex counties.


Columbia Trail
Washington Township, begins on the border with Mount Olive in the Bartley section of the township.
Information
10 Miles, Easy
The trail is a multi-use path with natural and gravel tread.
Delaware River
- Old Mine Road Bike Route
43.2 miles, Moderate -Difficult
View Trail Guide
Starting at the Kittatinny Point Visitors Center located just off the last exit from I-80 in New Jersey, the old Mine Road is an exceptionally scenic bicycle route. It takes you along the historic Delaware River and winds its way through the Delaware Water Gap National Recreation Area. Beautiful vistas encompass the Delaware River around every turn
read more
Duke Farms
7 Miles, Easy
This bike ride will take you past lakes, waterfalls, bridges and sweeping vistas. Cycling tours are led by a Duke Farms' guide who provides an overview of the history and environmental significance of the beautiful landscapes.
read more
Great Swamp Ride
18 & 24 miles, Moderate
View Trail Guide
Begin near the Great Swamp National Refuge Headquarters at the intersection of White Bridge Road and Pleasant Plains Road. Two loops passing through and around the Great Swamp National Park.
Liberty State Park
10 Miles, Easy
Bike on a paved path and take in the views of the Statue of Liberty and the Manhattan skyline.
read more
Loantaka Brook Reservation

5 miles, Easy
Begin at 468 South Street Morristown, NJ
.A flat scenic trail - Good for riding with kids, you'll pass by a duck pond and playground.

Park information
Paulinskill Valley Trail
27 Miles, Moderate
Access to the trail begins at the Station Road Trail head in Knowltown Township. From I-80, take the Columbia Exit and follow SR 94 east. Turn right on Station Road. The trail head is on the right side of the road just past the stone arch bridge.
The trail passes through rural landscapes, northern deciduous forests and wetlands, and small towns in Warren and Sussex Counties. Six bridge crossings of the Paulinskill River provide scenic views. The trail has a wide, firm cinder base.
Park information
Ringwood State Park
1304 Sloatsburg Rd.
Ringwood, NJ
(973) 962-7031
20 Miles, Moderate - Difficult
Ask almost any mountain biker in North Jersey about good places to ride, and you'll hear the name Ringwood. There is a mountain bike loop trail that begins in the Shepard Lake section of the park.
Park information
Round Valley
1220 Lebanon-Stanton Road
Lebanon, NJ
Park information
29 miles, Moderate
Circum navigate the Round Valley Reservoir and the out lying areas
Central New Jersey Bike Trails
Battle of Monmouth Ride
29 miles, Moderate -Difficult
Begins at begins at the entrance to Monmouth Battlefield State Park
16 Business Route 33
Manalapan, NJ
Traverses the gentle rolling hills of Monmouth county.
View Trail Guide
Henry Hudson Trai
l
24 miles, Easy
View Trail Guide
This trail is a former railroad right-of-way. It currently consists of three separate sections (North Segment, Freehold segment, and The Marlboro Brook Park Segment is a section that interconnects the two. Eventually the Brook Park Segment will be constructed to form one continuous trail.

Henry Hudson Trail
Freehold Segment, (5.25 miles)
- Currently, the trail runs from Rt. 537 in Freehold to Big Brook Park in Marlboro.
The trail then resumes at Station Road in Marlboro and continues for 5 miles to Church Street in Matawan.

Henry Hudson Trail North Segment, (12 miles)
- This trail runs from Matawan to Highlands along a converted railway system. (just north of and parallel to Rt. 36) from the Aberdeen/Keyport border at the intersection of Lloyd Rd. and Clark St. to the Leonardo section of Middletown/Atlantic Highlands border at Avenue D. After sharing the road, the trail resumes at the Atlantic Highlands Marina and continues along Sandy Hook Bay to Popamora Point on Atlantic Highlands - Highlands border. The entrance point is at 20 Gerad Ave.
D&R Canal Towpath
60 miles in sections of 12, 4 & 11 miles, Easy
Trail Guide
This is a great trail for families and cyclists of all ages. This is a gentle, flat trail that takes you along a very picturesque Canal straddling the Delaware river in western New Jersey. A great activity for a day trip where you can take in nature, historic 19th century buildings, and river wildlife. The trail is made up of 60 miles of canal paths winding through charming towns. An attractive feature of the trail is the surfaced consists of compacted grit, providing a smooth, enjoyable ride The trails can be taken is smaller sections at a time.
The sections include:
The Northern Section - 12.2 Miles
. This trail begins/ends in Frenchtown and heads south to Stockton at Historic Prallsville Mills, today a center of cultural, arts and community activities with tours of the Mill Complex and the recently preserved miller's house. En-route to Stockton you'll pass through the Bull's Island section of the D&R Canal Park. Parking is available at Prallsville Mills, Bull's Island, and in Frenchtown, just off Bridge Street
The Central Section - 4.0 miles
This trail begins/ends in Stockton at Prallsville Mills heads south to Lambertville. Enjoy passing by Victorian houses, Federal row homes, charming shops and galleries. Parking is available at Prallsville Mills and right off Route 202 on the southern end, at The Holcombe-Jimison Farmstead Museum on Rt 29, just north of Lambertville, and in Lambertville at city lots.
The Southern Section - 10.8 Miles
. This trail begins/ends in Lambertville heading south to Lower Ferry Road in Ewing Township, The trail passes through Washington Crossing State Park, a good stop off point with a variety of recreational activities. Parking is available in Lambertville at city lots, and at Lower Ferry Road.
Washington Crossing State Park
355 Washington Crossing-Pennington Road
Titusville, NJ
(609) 737-0623
5 miles, Easy
View Trail Guide
Plan a full day bike ride and picnic as you traverse the Delaware river, Washington Crossing State park. There are five miles of bike trails in the Phillips Farm Day Use Area available for mountain bike use.
Southern New Jersey Bike Trails
Cape May Point

9 miles, Easy
Tour the Victorian homes of the town of Cape May then head out along Sunset Blvd to Cape May Point past the bird sanctuary and out to the lighthouse and back. This is a great trip for the cooler months in the the spring and fall when the crowds are down.
read more
Island Beach State Park
732-793-0506
Seaside Heights - Barnegat, NJ
16 miles round trip, Easy
Information
Ride on road bike lanes adjacent the sea shore, dunes and wildlife sanctuary.
The Edgar Felix Bikeway
Begins at the Manasquan Municipal Parking lot, on North Main St. Access to the Bikeway path is across the street from the parking lot.
5.4 miles, Easy-Moderate
Information
A multi-use, mountain bike trail from the Jersey shore town of Manasquan to the visitors center of Allaire State Park. It runs along the trackage of the former Farmingdale and Squan Village Railroad and Freehold and Jamesburg Agricultural Railroad. The Edgar Felix was the first cycling trail created in the state of New Jersey.

The Pine Barrens
Batsto- Tabernacle-Chatsworth-Greenbank-Batsto
21.3 miles & 51.3 miles, Easy
Information
Discover pristine pine & oak forests. A good place to start is in Wharton State Forest (eight miles east of Hammonton) from the Batsto Village parking area on Route 542.