The New Berlin Diner
A Berlin, NJ Restaurant Review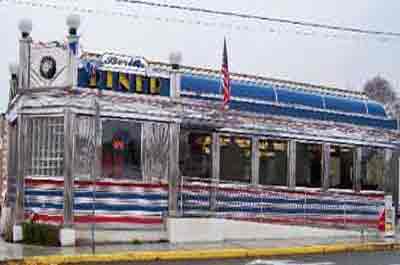 New Berlin Diner
117 South White Horse Pike
Berlin, NJ
Website
Fare: American Diner
Price: Inexpensive
Overall Rating: N/A, A casual eatery, not rated as a fine dining restaurant.
---

Enjoy a railroad car style "Jersey Diner"experience
Value: Excellent
Noise Level: Moderate
Dress: Very casual

---
Recommended For: Diners who enjoy a classic New Jersey diner atmosphere with well prepared American diner food at a reasonable price
Not Recommended For: Diners who prefer a larger, modern diner with a larger menu
Restaurant Review

The New Berlin Diner, built in 1952, has maintained it's classic diner charm with a 50's Jersey diner atmosphere, standing out with an exterior of chrome and red vinyl, characteristic of that era
The diner is medium sized by today's standards, though they offer a full American style diner menu at a reasonable price.
One of their signature breakfast specials is the Challah French Toast.
They also offer a value priced early bird special menu for budget conscious diners.
The New Berlin Diner is open seven days a week for breakfast lunch & dinner:
Sunday - Thursday: 7:00 am - 10:00 pm
Friday & Saturday 7:00 am - 11:00 pm
(updated: February, 2015)
How Do We Rate and Review Restaurants? 
New Jersey Leisure Guide contains the largest source of extensive and unbiased New Jersey restaurant reviews. Data is gathered from our viewers e-mail restaurant comments, Internet and print research, and professional restaurant critics. The data is analyzed and a review created. Staff personal visits are sometimes made to corroborate and/or tweak results.

Other New Jersey Resources