Amanda's Restaurant,  Hoboken, NJ;
A Restaurant Review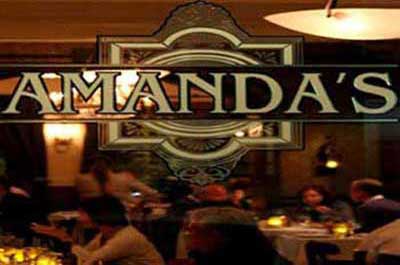 Amanda's Restaurant
908 Washington St.
Hoboken, NJ
201-798-0101
Website




Restaurant Highlights
Fare:  New American

Price:  Expensive

---
Food Quality:  3 Stars

Service:  3 Stars

Decor: 2 1/2 Stars

Overall Rating: 3 Stars

Note: Four star Rating System from
1/2 Star = poor to Four stars = Best in Class


Excellent for Sunday Brunch


Cozy intimate ambiance --- perfect for . romantic dining.


They don't take reservations and on Saturday evenings after 7 pm, you can expect a long wait.

Value:  Excellent

Noise Level:  Moderate

Dress:  Upscale Casual

Recommended For:  Diners who enjoy intimate fine dining with well prepared food and charming, cozy intimate ambiance.

Not Recommended For:  Budget conscious diners who enjoy casual family dining with less ambiance.

Recommended dishes:  When available, The Duck Two Ways, seared breast, duck confit spring roll, crispy Brussels sprouts, and ginger-sweet potato puree; The Pan Roasted Brook Trout; and The Grilled Tuna with Cous Cous.

Liquor:  Excellent wine selection and specialty cocktails at a moderate price

Restaurant Review

Amanda's Restaurant is one of the best fine dining Hoboken restaurants and is ideal for diner's looking for a cozy, romantic, dining experience, with top rated food at a reasonable price.

The setting is in a beautiful brownstone, with three cozy dining rooms, embroidered linen, fireplace, and pine-planked flooring, all balanced to set the mood for a memorable, romantic dining experience.

The creative new American cuisine, is elegantly presented and prepared with the freshest ingredients.

The service is professional, attentive and friendly.

They offer an outstanding Saturday and Sunday Brunch from 11:00a.m.-3:00 p.m. The brunch includes a large variety of gourmet selections at a reasonable price.

Driving? Free parking is provided at 12th and Hudson Streets at the Little Man Parking Deck. They will validate your ticket for 3 hours of free parking.

Jackets are not required, however upscale casual dress is recommended.

Amanda's Restaurant can accommodate private parties for 16 to 90 guests in private dining rooms.

Reservations are recommended.

They are open on Thanksgiving, Christmas Eve, and New Years Eve.

(updated September, 2016)

---
---