Alice's Restaurant, Lake Hopatcong, NJ:
A Dining Review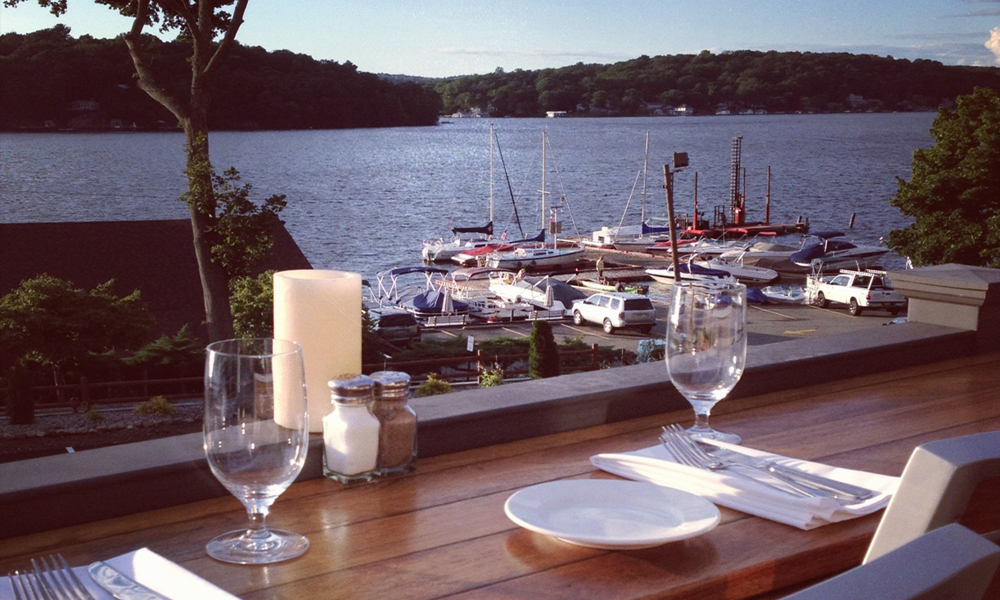 Alices Restaurant
24 Nolans Point Park Rd
Lake Hopatcong, NJ
973-663-9600
Website
---
Restaurant Highlights

Fare: New American

Price: Moderate

Food Quality: 2 1/2 Stars

Service: 2 1/2 Stars

Decor: 2 1/2 Stars

Overall Rating: 2 1/2 Stars

Note: Four star Rating System from 1/2 Star = Poor to Four stars = Best in Class


Serves well creative, healthy dishes at a very reasonable price.


Attractive, rustic decor with scenic lakeside views.

Value:   Excellent

Noise Level: Moderate

Dress:  Casual

Recommended For:  Budget conscious diners who enjoy creative food at a reasonable price in an attractive, rustic, lake side setting.

Not Recommended For: Upscale diners who may prefer a more formal setting; or for casual diners who prefer a menu with a larger variety of comfort food.

Recommended dishes:  When in season, When in season, The Wild Boar Ragu with homemade pappardelle; The Lobster Risotto green garbanzo beans & lemon foam (vegetarian); and Alice's Homemade Meatloaf with mashed potaotes, scallions, broccolini & mushroom gravy

Liquor: Good selection of very reasonably priced wines and specialty cocktails.

Restaurant Review

Alice's Restaurant,  located on the lake in Lake Hopatcong,  is  popular with diners who enjoy reasonably priced, well prepared food in an attractive, lakeside setting.  A good choice for a date or a romantic occasion.

The menu has now evolved into a mix of creative, healthy dishes and comfort food with very reasonable prices.

Alice's Restaurant has attractive lake front views of Lake Hopatcong with a large deck for outside dining in the warmer months.

The interior has a rustic decor with vaulted ceilings, restored barn wood walls, comfortable booths, and a mahogany bar that runs the length of the deck for a clear view of the lake.

The downstairs "Big Fish Lounge" offers a more upscale complement to the upstairs dining area with subdued lighting, walls done up in upholstered leather, weathered mirrors, leather seating and a marble bar with a view of the water.

The kitchen is run by Chef Joseph SanFilippo who offers a seasonal menu using fresh seasonal ingredients

When in season they use local produce picked fresh from the Szigethys' Halsey Island farm.

Alices restaurant is open with seasonal hours
February 1st – May 31st; Wednesday & Thursdays: 5 pm – 10 pm, Friday & Saturday: 12 pm – 10 pm, Sunday: 12 pm – 9 pm
June 1st - December 31st: Wednesday - Saturday;: 12 pm - 10 pm , Sunday: 12 pm - 9 pm

Reservations are recommended during the peak summer months.

(updated: December 2016)


How Do We Review (analyze) Restaurants?
New Jersey Leisure Guide strives to provide analytic restaurant reviews .
The methodology used is research, analysis driven --- as opposed to that of a single restaurant critic or a viewer comment posting board.

Data is gathered from our viewers e-mail restaurant comments, Internet research, and professional restaurant critics. The data is sorted, (weeding out the obvious biased, "bone to pick",  and out of consensus comments), analyzed, and the review is created.

Learn More
---