Absecon Lighthouse - A Visitors Guide
New Jersey's tallest and one of the nations oldest lighthouses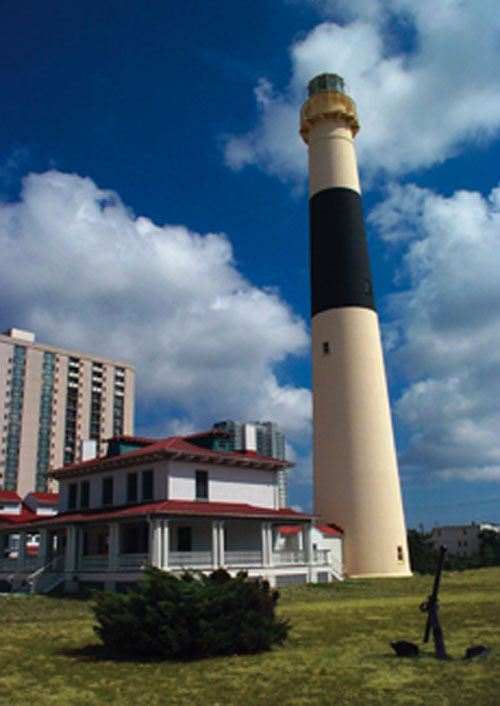 Absecon Lighthouse

31 S. Rhode Island Ave.
Atlantic City, NJ 08401
(609) 449-1360
Website


Hours
Absecon Lighthouse is Open all Year Round! Our Hours of Operation are: September - June Open Thursdays through Mondays 11am to 4pm Closed Tuesdays & Wednesdays July - August Open 7 days a Week 10am to 5pm Thursdays until 8pm
Photo courtesy of Absecon Lighthouse
---
Located on the northern tip of Atlantic City, climb the 228 steps and take in an amazing experience as you view the Jersey Shore and the Atlantic City skyline from a perch that is breathtaking.

The light house is also the third tallest light house in the nation and has it's original first-order Fresnel Lens

The Absecon lighthouse was built in 1857, was deactivated between 1933 and 1997, but it has been restored and reactivated and now has public access, including climbing to the watch room and external gallery

The lighthouse has gone through numerous color changes. Each lighthouse has a distinctive color scheme or day marker so ships at day can see which lighthouse they are coming up to.

Originally the color scheme was white with a red band, but was later changed to yellowish white with a black band. It is felt the color change occurred because it was too similar to Barnegat Lighthouse and the two were easily confused. It was decommissioned in 1933 and the color scheme reverted back to the original red and white. Now that it has been refurbished, it is once again back to the yellowish white and black.

The Absecon Lighthouse  was designed by Lt. George Meade and it's original first order fixed Fresenel lens remains in tact. As a fixed lens, it does not have a landward segment allowing visitors to look up in the lens where the keepers entered it for maintenance.

The lighthouse is listed in the National Register of Historic Places by the Historic American Buildings Survey.
The lighthouse's recent multi-million dollar restoration also includes a recreation of the Light keeper's dwelling, an educational museum, gift shop, a Fresnel Lens exhibit in the original Oil House and expansive grounds.