Kaya's Kitchen, Belmar, NJ:
A Restaurant Review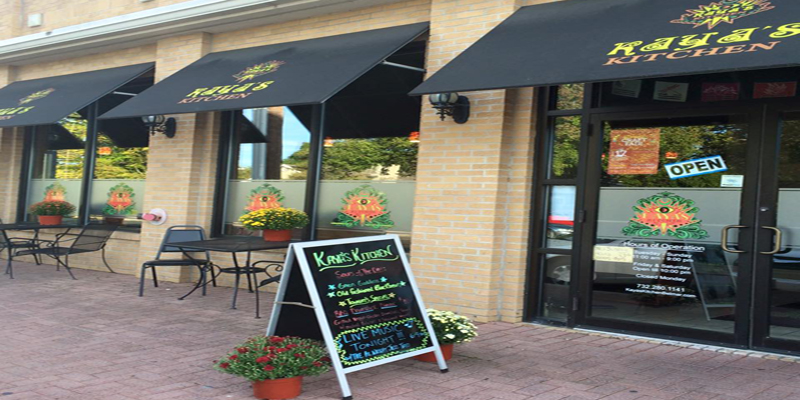 Kaya's Kitchen
1000 Main St
Belmar, NJ
(732) 280-1141
Website
Restaurant Highlights

Fare:  Vegetarian/Vegan

Price:  In expensive - moderate

One of the top vegetarian/vegan restaurants on the Jersey Shore


Excellent quality Vegan dishes, well prepared with fresh ingredients


Service is slow, a notch below the excellent quality of food.

Value:  Good

Noise Level:  Moderate

Dress:  Very casual

Recommended For:  Diners who enjoy well prepared vegetarian food using fresh ingredients

Not Recommended For:   Diners who prefer meat or sea food dishes with fine dining amenities.

Recommended dishes:  When available, The burritos with soy beef and chili, Kaya's Combo a sampler of appetizers, coconut "chicken", and their house specialty, and the Vegan meatloaf.

Liquor:  BYOB

Restaurant Review

Kaya's is one of the best vegetarian & vegan friendly restaurants on the Jersey Shore.

Located in downtown Belmar on the corner of Main & 10th Ave., this BYOB restaurant was formerly the Veggie works and is now managed by Chef/owner Omar who was a waiter and cook at Veggie Works.

Their menu dishes are well prepared with fresh ingredients, many of them organically grown.

Their service is friendly, laid back, and slow.

Kaya's Kitchen also offers a fresh vegetable juice and fruit smoothie bar, and a display case with homemade dishes to take-out.

They do not accept credit cards, it's cash only.

There is live entertainment, music & poetry to complement the laid back ambiance.

Kaya's Kitchen is open Tuesday - Thursday: 11:00 am - 9:00 pm, Friday - Saturday: 11:00 am - 10:00 pm& Sunday: 10:00 am - 9:00 pm

(updated: November, 2018)

How Do We Review (analyze) Restaurants?
New Jersey Leisure Guide strives to provide analytic restaurant reviews.
The methodology used is research, analysis driven --- as opposed to that of a single restaurant critic or a social media platform, viewer comment posting board.