618, Freehold, NJ: A Restaurant Review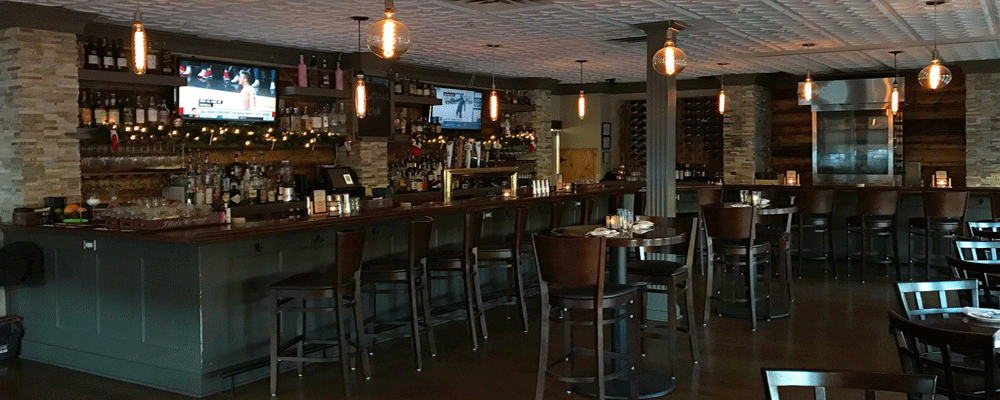 618 Restaurant
618 Park Ave
Freehold, NJ 07728
732-577-0001
Website
Restaurant Highlights

Fare: Creative New American with Mediterranean, Italian, Caribbean, Asian, and French flavors

Price: Moderate - Expensive

Food Quality:  3 1/2 Stars

Service:  2 1/2 Stars

Decor:  3 Stars

Overall Rating:  3 Stars

Note: Four star Rating System from 1/2 Star = Poor to Four stars = Best in Class


Well prepared, inspirational dishes using healthy, quality ingredients


Attractive,  modern-rustic decor with a well stocked bar.

Value: Excellent

Noise Level: Moderate

Dress: Casual

Recommended For: Diners who enjoy creative new American food using, healthy quality ingredients in a modern-rustic setting and a well stocked bar.

Not Recommended For: Diners who prefer an old world, low key BYOB setting with a heavy sauce, traditional menu.

Recommended dishes:  When available, The Grilled Bronzino with roasted cauliflower, pine nuts, raisins, potatoes and salsa verde; The Miso Cod, Marinated in miso and sake and served with edamame dumplings in a shitake lemongrass broth; and The Cajun BBQ Shrimp & Grits with aged cheddar, green chili grits, in Beach Haus IPA

Liquor:  Full bar service. Well stocked with hand crafted specialty cocktails, 12 beers on draft and a variety of craft beers, and a variety of well priced wines by the glass and bottle.

Restaurant Review

618 Restaurant is the best Freehold area restaurant! It's a fresh, alternative to the many mediocre BYOB's and franchise restaurants in the area. This is a place where diners come to enjoy a creative American menu with healthy food options, in an attractive, modern - rustic atmosphere with a well stocked bar.

Opened in November 2016, 618 Restaurant is the creation of owner Matt Borowski, and part owner/Executive Chef Christopher Dutka.
Executive Chef Dutka is also the owner Christopher's Kitchen, a Morganville-based meal service and catering company featuring healthy, organic, fresh food.
Prior to opening Christopher's Kitchen, Chef Dutka worked at Whole Foods Market as a Prepared Foods Team Leader and at several restaurants in Florida including the highly rated Marina Cafe in Destin, FL.

This team is hands-on and on target with the latest trends in New Jersey restaurants. They are committed to serving the freshest, healthiest food from local sources when available, complemented by shipped in quality ingredients. No "Old World" menu, ambiance, and service here.

Chef Dutka serves a seasonally changing menu with inspirational dishes prepared using fresh, locally sourced produce and seafood, and meats sourced from quality purveyors. Produce is locally sourced, farm to table, from Beyond Organic Growers in Freehold, NJ who use vertical, aeroponic  tower technology going beyond organic to produce fresh and non-GMO fruits and vegetables. Seafood is shipped in daily from Trinity Seafood in Lakewood. Meats are sourced from Pat LaFrieda Meat Purveyors, known for their aged prime and choice grade beef, from anti-biotic and hormone free Black Angus Steers, raised on small, family owned farms.

90% of the menu items are prepared from "Scratch" --- meaning that the food has not undergone significant modification, including being heated, marinated, assembled or a combination of those procedures.
618 Restaurant has no freezers.


Organic and gluten free, and other healthy items can often be found on the menu.

To enjoy the true experience of the Chefs cooking skills and the use of the freshest ingredients, order one of the daily specials.

Save room for home made desserts, Their signature dish, the warm sticky toffee cake with sea salt and orange-whipped mascarpone is outstanding.

Don't be put off by the the plain exterior that gives little hint of what's inside. Once entered you will be surprised to find an attractive, modern rustic decor with a California wine country ambiance featuring tall barn doors, funky lights hanging from the ceilings, dark hardwood floors, and a wine room in the center of the dining room. The Bar lounge has large screen TV's, good for sports watching. There are two built in aquarium style fireplaces surrounded by stone in the main dining room and bar lounge.
Their restaurant seats 150 diners downstairs in both the main dining room and at the bar, with an additional seating for 175 in the second-floor banquet room.

Service is professional, well trained, good knowledge of the menu, friendly and enthusiastic.

Convenient on site parking is available.

618 Restaurant is open for lunch and dinner, Monday through Thursday from 11:30 a.m. to 10:00 p.m., Friday and Saturday from 11:30 a.m. to 11:00 p.m., and Sundays from 4:00 to 9:00 p.m Happy Hour takes place all day Monday to Thursday, Friday and Saturday from 11:30 am to 6 pm, and Sunday from 4 to 9 pm.

Reservations are recommended especially on Friday & Saturday Evenings.

618 Restaurant is child friendly with a kids menu.

(updated December, 2017)


How Do We Review (analyze) Restaurants?
New Jersey Leisure Guide strives to provide analytic restaurant reviews .
The methodology used is research, analysis driven --- as opposed to that of a single restaurant critic or a viewer comment posting board.

Data is gathered from our viewers e-mail restaurant comments, Internet research, and professional restaurant critics. The data is sorted, (weeding out the obvious biased, "bone to pick",  and out of consensus comments), analyzed, and the review is created.

Learn More
---