Romantic Valentine's Day Celebrations
and Events in New Jersey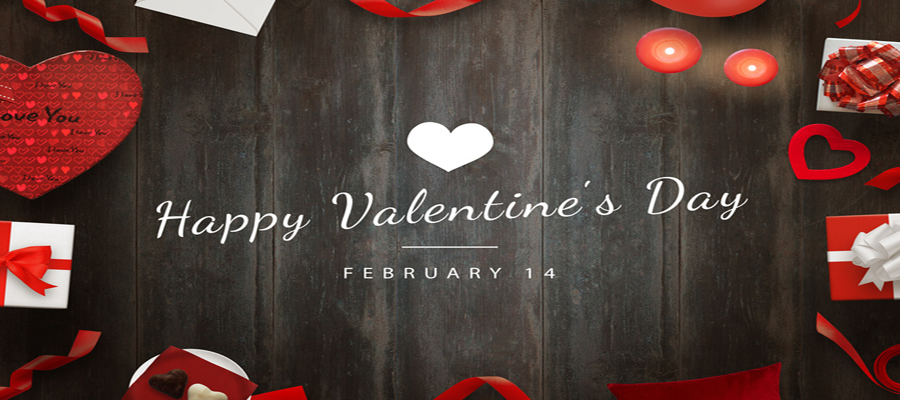 Discover The popular Things To Do in 2023 to Make
Valentine's Day a Special Romantic Occasion


There is more to Valentine's Day than a box of chocolates or a dozen roses.

Here you will find suggestions, ideas, events, places to go, the best and affordable romantic restaurants, couple's spa's, and romantic getaways.

The origin of Valentine's Day is riddled with myth. What we do know is that February has long been a month of romance.

Valentine, who later became St. Valentine, was a priest who sent the first "valentine" greeting himself. While in prison, it is believed that Valentine fell in love with a young girl who visited him during his confinement. Before his death, it is alleged that he wrote her a letter, which he signed "From your Valentine"

---
Note: Sometimes conditions require cancellations or changes of dates, times and location which are not reflected in the original schedule. Before planning a trip to visit one of the listed events, it is suggested that you call the event sponsor to confirm the event schedule or for additional information on the event.
---
Stay tuned --- we will be updating this list as the event sponsors confirm this year's events.

2023 Northern NJ  Valentine's Day
Celebrations and Events
Celebrate Valentine's Day With a Special Evening Tea Experience
February 10, 2023; 7pm - 8:30pm
The Secret Tea Room
Reeves-Reed Arboretum
165 Hobart Ave
Summit, NJ
Website/Registration
908-273-8787
Event Cost: $55 - $60
Celebrate Valentine's Day with a very special evening Tea iin historic Wisner House at Reeves-Reed Arboretum.
The Secret Tea Room's full unlimited tea menu will be available along with two new caffeine free infusions: White Chocolate Peppermint and Turmeric Ginger.  Your choice of tea will be brewed to perfection and served with just-baked scones from the Wisner House kitchen, jam, homemade clotted cream, and scrumptious tea sandwiches on fresh baguettes from BAKE.  A tier of delicious desserts will also be included along with your choice of a Valentine cocktail, glass of Prosecco, or sparkling lemonade.


Valentine's Day Planetarium Shows - Romancing the Stars & Laser Love
Tuesday, February 14, 2023; 7p.m & 8pm
Raritan Valley Community College Planetarium
East Bldg.
118 Lamington Road
Branchburg, New Jersey
908-231-8805
Website
For ages 16 & older (no children, please)
It's date night at the Planetarium! Enjoy a light-hearted look at the Universe. Stars, constellations, songs, and stories all celebrate love. This Valentine's Day evening program is for adult couples only, please.
Valentine Romantic NYC Harbor Cruises
Cruising February 14, 2023; 7:00 PM & 9:30 PM
City Cruises
Lincoln Harbor Marina
1500 Harbor Blvd,
Weehawken, NJ
(800) 459-8105
Website

Toast to the most romantic day of the year on a New Jersey Signature Dinner Cruise. Treat your Valentine to a special evening on the water with signature buffets, delicious cocktails, dancing, and New Jersey & New York's most stunning Skyline views.

Take in a day of cross country skiing or snow shoeing and combine it with an overnight stay at a nearby romantic Bed & Breakfast.
High Point XC Ski Center
1480, Rt. 23
Sussex, NJ  07461
Information
High Point with the highest snowfall in New Jersey, offers cross country skiing and snow shoeing. This is a great area for beginners and intermediates, and for experienced cross country skiers who enjoy a scenic setting. High Point is an ideal place for newcomers to the sport who want to learn from experienced instructors and to get to experience the joy of cross-country skiing and snowshoeing, High Point is the most equipped, and best groomed cross-country ski and snowshoe area in NJ, and one of the few with equipment rentals.

Celebrate Valentine's Day with an Overnight Stay at Crystal Springs Resort
3 Wild Turkey Way
Hamburg, NJ 07419
Website
Strolling hand-in-hand, relaxing with a couples massage, sharing an intimate meal at 4-Star Restaurant Latour — Crystal Springs Resort has everything you need to make Valentine's Day unforgettable for you and your partner. From romantic holiday themed activities to chocolates and champagne, you'll find something special to share at every turn and countless ways to connect and rekindle during a romantic holiday away. Valentine's Highlights Special menus at all Resort Dining Venues Holiday themed class/tasting featuring chocolate Romance themed activities
Reviews/booking for Crystal Springs Grand Cascades Lodge

Valentine's Day Dinner at Brook Hollow Winery
Tuesday, February 14th, 2023 | 7pm - 9pm
Brook Hollow Winery
594 New Jersey 94
Columbia, New Jersey
Website/Tickets
Cost: $150.00 per couple
Celebrate Valentine's Day with your loved one.
This event features a relaxed evening of soft music by Alex Kerssen, great wine, and delicious dinner and dessert!

Celebrate Valentines Day With an Overnight Getaway to a Romantic Castle
The Castle at Skylands Manor, is boutique romantic castle hotel on the grounds of the New Jersey Botanical Gardens. A good choice for couples looking for a romantic getaway without the amenities of a modern lodge. This granite Tudor revival mansion that looks just like a European castle. Stay in one of the 24 glamourous suites at the Castle, adorned in Gothic and Renaissance décor and architecture. Their Valentine's day package includes overnight accommodations with Queen/King bed *Suites available to upgrade (just inquire), a Champagne Toast, and a Romantic fve course meal.
Reviews/booking

Personal Chef - Dine Out in the Comfort of Your Home
Website - Information and Ordering
Their Private Chef serves Jersey City, Hoboken, Union City, Short Hills, Englewood Cliffs and Teaneck.
Offers high end, gourmet chefs to prepare, cook serve, and clean up. You even have the option of selecting a chef from the list of chefs.





2023 Central NJ  Valentine's Day
Celebrations and Events
HUM TUM in Santorini - A Valentines Day Party

Friday, February 10, 2023; 7:00 PM to 11:45 PM 
Royal Albert's Palace
1050 King Georges Post Road
Edison, NJ - 08837
Website
Cost: $50- $100
This Valentine's Day celebration features a DJ, Dhol, Dance, Music, Multi-cuisine Dinner, Luve food stations, Live performances, PhotoBooth, Belly Dancer, Premium Open Bar, Games, and Raffle Prizes will all be present.
Dress to impress since there will be a Best Dressed Couple award! Men should wear suits, and women should wear long gowns ( coordinate with color)
SEPRATE Kids' Entertainment and Activities.
"Be My Valentine" at Ocean Place
Saturday, February 11, 2023; @ 7pm
Seaview Restaurant and Lounge
Ocean Place Resort & Spa
Long Branch, NJ 07740.
Cost: .$109++ per person
Website/Tickets
This romantic event features a (3) Course Dinner, Live Music & Dancing (Music by LT Brown & Contagious), Complimentary glass of Champagne, Cash Bar with Beer/Wine and Specialty Cocktails, & Amazing Oceanfront Views.
Celebrate Valentine's Day With A Dinner at Little Ridge Vineyards
Saturday, February 11, 2023; 5:00 PM – 9:00 PM
Phillipsburg, NJ
Website
Dine in the beautiful Barn Parlor to celebrate Valentine's Day. Buffet Dinner entrees are prepared with selected Little Ridge Vineyards wines. Buffet Dinner by Chef Ed ~ The Angry Chourico, Wine served by Little Ridge Vineyards and Live Music by Chuck Schubert. Wine will be available for purchase by the bottle or glass throughout the evening. Doors open at 5pm and Dinner with Live Music starts at 6pm.
Old-Fashioned Valentine's Day On The Farm
Saturday, February 11, 2023; 10:00 – 4:00 p.m
Howell Living Farms
Lambertville, NJ 08530
Website.
The air may be chilly, but the farm's wintery landscape is the perfect setting for a heartwarming Valentine's Day ride. Couples can take a romantic spin in a two-seater sleigh or carriage pulled by a team of light workhorses. Families can ride in a bobsled or hay wagon pulled by a handsome team of drafts. No matter the hitch, the horses will be wearing their finest bells. At the farmhouse there will be soup on the stove, and a children's craft program from 11 to 3 p.m. for a small materials fee.
Valentine's Day Party at Royal Albert's Palace
February 11, 2023; 7pm-11:30pm
Royal Albert's Palace
Fords, NJ
Website/Tickets
732-661-1070
Event Cost: Starting from $69
This Valentine's Day event will feature guest of honor TV Actress Kanishka Soni!!
There's something for every lovely couple to enjoy romantic event with live performance, DJ, Drinks, Deluxe Buffet, Dancing and Fun.
Family packages available!
Asbury Park Valentine's Bazaar
February 11, 2023; 12pm-6pm
The Asbury Hotel
210 Fifth Ave
Asbury Park, NJ 07712
Website
Event Cost: Free
This event features local and regional vendors selling goods and gifts hand made with love. Come shop & stroll at both of their pop up locations at The Asbury Hotel and Grand Arcade of Convention Hall!. There will be vendors, food & libations, photo stations, flower bar, workshops and more. Bring a date, family member and friend or celebrate Galentine's Day with them!
Perth Amboy Valentine's Day Dinner Cruise
Tuesday, February 14, 2023
Boarding 6:30pm, Departing 7pm, Returning 10pm
From – 401 Riverview Drive – Perth Amboy NJ - Raritan Bay
Cornucopia Cruise Line
Website/Booking
Treat your special someone to a night of elegance with a four-course dinner, music, and a breathtaking sunset!
Offers 2 options to choose from: VIP Private Table ($199 priced per person) with with plated Hors D'oeuvres, Lobster Bisque Appetizer, Filet Mignon & Lobster Tail, 1 Bottle of Champagne, Chocolate Covered Strawberries, Roses, & Dessert.
Standard Private Table ($109.95 priced per person) with plated Hors D'oeuvres, Appetizer, Sit Down Dinner Combo Medley of Beef, Chicken and Fish accompanied by a Vegetable, Potato and Dessert.
Celebrate Valentines Day at Pier Village
February 14, 2023; 3 PM – 10 PM
Pier Village
Long Branch, NJ
Website
Celebrate the day and evening with a full variety of activities and events.
Enjoy an evening of dinner, shopping and ice skating, complimented with Horse & Carriage Rides while listing to the sounds of love with a duo of singers through our beautifully decorated Village. During your visit, treat yourself to our rink side open air, apres skate escape where you can cozy up with hot chocolate and a delicious treat and watch the ice skaters. Single? Celebrate you at one of our many bars & lounges. Horse & Carriage Rides 4PM-8PM Ice Skating 4PM – 10PM
Indulge in a Romantic overnight Getaway at the Spring Lake Inn
This charming B & B was built in 1888 as the Grand Central Stables of Spring Lake NJ. Located only a block from the ocean and the non-commercial boardwalk, each of the rooms offers all or a combination of the luxury features: fireplace, ocean view, Jacuzzi, 4-poster bed, sleigh bed,& more.
Splurge for the "Ultimate Romantic Getaway" Package. You and your loved one will receive a dozen red roses, an assortment of delectable chocolates, a gourmet breakfast in your suite, and a bottle of champagne.
Reviews/booking
A Romantic Experience in a Japanese Style Outdoor Soaking Tub

Princeton, NJ
Website
Dress for summer, but enjoy the winter in a Japanese style outdoor soaking tub. Alchemy Mind And Body offers a romantic couples package. The day of relaxation starts with a 60 minute garden pass with access to a private outdoor hot tub and the communal dry/steam sauna. Next a side-by-side 60 minute massage including an aromatherapy blend of benzoin, bergamot, French lavender, petitgrain, neroli, Egyptian geranium, ylang ylang, clary sage, and Spanish marjoram. Lastly, a foot soak in their relaxation space.
Annual Valentine's Day Plunge
Saturday, February 11, 2023
on Main Beach in Manasquan
Manasquan, New Jersey
Website
(show your support)
This annual event for a good cause features an exciting fund raiser where participants, called Plungers, collect donations for ALS patients in exchange for plunging into the icy Atlantic Ocean. To support this event, register as an individual, be a spectator, or make a donation.
The Ultimate Romantic Dinner Prepared by Your Own Personal Chef

David's Culinary
2520 Hooper Ave
Brick Township, NJ
609-402-6281

Website
Serves the Central Jersey area.
Experience a Romantic Dinner in the comfort of your home. They will prepare and serve you a three course meal. For the full romantic Valentine's Day experience, add a couples Massage!
2023 Southern NJ  Valentine's Day
Celebrations and Events
Valentine's Weekend Dinner at Laurita!

Friday & Saturday, February 10 & 11, 2023, at 7pm
Laurita Winery
85 Archertown Rd
New Eqypt, NJ 08533
609.752.0200
Website/Reservations
Don't miss this romantic experience which is sure to delight you and your palette. Wine and dine your Valentine with a beautiful four course dinner and live romantic music by a live pianist.
Absecon Lighthouse Annual Wedding Vow Renewal in Honor of Valentine's Day
Saturday, February 11th, 2023;@ at 6pm
Absecon Lighthouse
31 S. Rhode Island Ave.
Atlantic City, NJ 08401
Website
Reservations: Call 609-449-1360
"An Evening of Romance & Renewal" Group Vow Renewal Ceremony. Toast, Music, Romantic Climb Couples make private donation to participate based on the event's value to them (minimum donation $40)
Indulge in a Blue Valentine Special At Congress Hall, Cape May
Treat your loved one to a special getaway in a special place. Why give your sweetheart red roses when you can have a Blue Valentine at Congress Hall this February? Enjoy a split of champagne, a romantic dinner in the Blue Pig Tavern, breakfast in the morning, late check out, and more.
Website
Valentine's Dinner Dance
February 11, 2023: 7:00pm – 11:00pm
Tomasello Winery
225 North White Horse Pike
Hammonton, NJ 0803
Web Site
Reservations: Call 1-800-666-9463 x1 to purchase tickets
Cost: $62.95 + tax & gratuity
It's time for a special evening with your special someone! Join us for a romantic night of "wine-ing," dining, and dancing at Tomasello Winery! Treat your Valentine to an exquisite gourmet dinner prepared by our on-site executive chef and enjoy a love potion from our fully stocked cash bar.
Other 2023 NJ Valentine's Day Ideas

Send A Romantic Valentine's singing Telegram
Preppy grams Singing Telegrams
1-800-936-7464 (Sent statewide to New Jersey and NY)
Website
Send a singing telegram for any happy Romantic occasion including Valentine's Day
Nouveautes, Inc

70 Clinton Rd
Fairfield, NJ 0700
(973) 882-8850
Website
Send a Chocolate text ---a great gift for Valentine's Day or your own special chocolate celebration!


David Bradley
92 North Main Street
Robbinsville, NJ
609-443-4747
Website
They sell on-line at their three retail stores located in New Jersey, offering seasonal fresh, handmade chocolates with intense chocolate flavor combined with rich smoothness.
At their production factory in Robbinsville, you can watch fresh chocolates being made through their observation window. Visitors can taste Free Samples of our chocolate daily.
Suzi's Sweet Shoppe
1100 Highway 35
Middletown, NJ 07748
(732) 796-0115
Website
Offers premium homemade chocolates using fresh, high-quality ingredients. Noted for their chocolate-dipped strawberries.

Vesta Chocolate Bean-to-Bar Chocolate Boutique & Lab
598 Valley Road
Upper Montclair, NJ
973-860-7136
Website
Vesta is an artisan bean-to-bar chocolate lab and boutique, featuring chocolate bars, confections, baked goods, off-menu items, or custom-made gifts... all hand-crafted on premises in small batches every day by Chef Roger. He uses only organic cacao beans sourced from the Dominican Republic and other Latin American regions.
Vesta can fulfill custom chocolate orders for any special occasion, including Valentine's Day.





Romantic Northern NJ Hotels and Bed & Breakfasts

Romantic Central NJ Hotels and Bed & Breakfasts
Romantic Southern NJ Hotels and Bed & Breakfasts