Sandy Hook Lighthouse - A Visitors Guide
The oldest working lighthouse in the country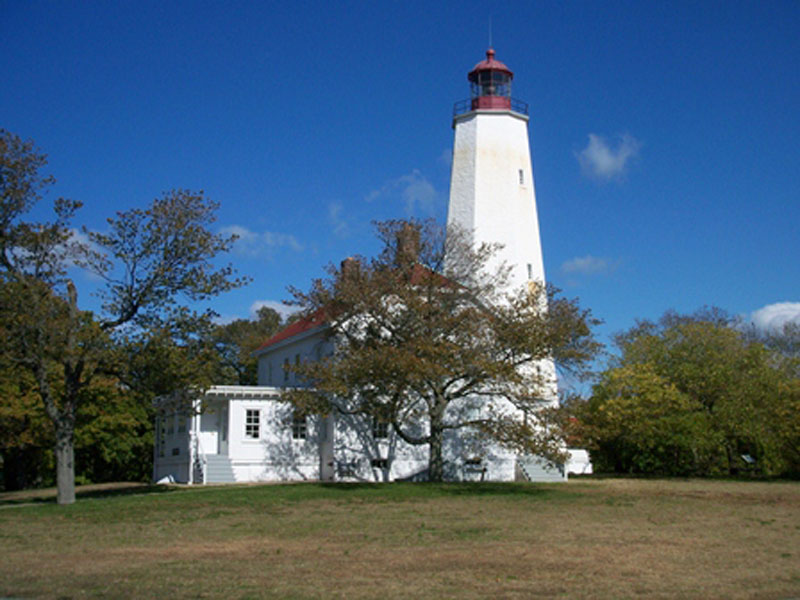 Photo courtesy Gateway National Recreation Area
Sandy Hook Lighthouse
Sandy Hook, Gateway National Recreation Area
Fort Hancock, NJ 07732
(732) 872-5970
Website
Open:
April 1 through October 31: From 5 AM to 10 PM daily, except by permit or as noted below.
through March 31: The park is open from 5 AM through 8 PM daily, except by permit.
Through the summer of 2016, there is a $15 charge per day for beach parking
from Memorial Day weekend through Labor Day. Parking at Fort Hancock is always free.
The Sandy Hook Lighthouse, located on the the tip of Sandy Hook, NJ, at the entrance of New York Harbor, has served as an to aid mariners who navigated the entrance of the southern end of the New York harbor.

The Lighthouse has survived the occupancy of British soldiers during the Revolutionary War and exposure to the coastal storms and flooding at the end of Sandy Hook.
The view of the New York skyline from the bridge crossing into the Sandy Hook demonstrates the strategic role the lighthouse played in the history of New York harbor.

The Lighthouse is situated one and a half statute miles inland from coast and is currently the oldest working lighthouse in the United States.

During the revolutionary War, the lighthouse survived an attempt to destroy it by Alexander Hamilton to avert it as aid to British navigation and a subsequent occupancy of British soldiers.

When the lighthouse was built in 1764, it was located 500 feet from the tip of Sandy Hook.

Today, due to growth and expansion of the land area caused by littoral drift, it is now one and half miles (2.4 km) inland from the coast line.

On June 11, 1964, the lighthouse was declared a National Historic Landmark on the 200th anniversary of its first lighting. This historic maritime landmark is still in operation at the entrance of the New York Harbor.

The lighthouse is an automated, 3rd order Fresnel lens, fixed white light, and is visible for nineteen miles on clear nights.

The light is maintained by the United States Coast Guard and is lit 24 hours a day.

The lighthouse was restored in spring 2000.

The Lighthouse is a unit the Gateway National Recreation Area.