Your Guide To The Best Peach Picking Farms In New Jersey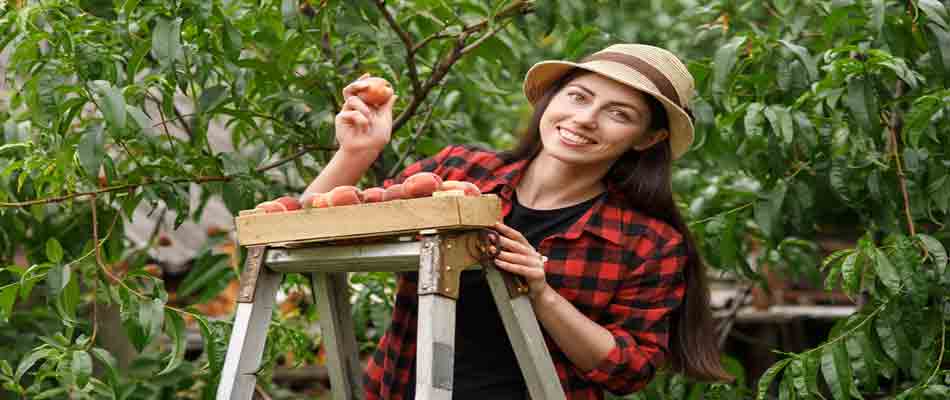 Discover New Jersey's Best Pick Your Own Peach Picking Farms:
A great Family Activity

If you love peaches and enjoy getting out with the family for a fun activity, head on out to a pick your own peach farm and take home fresh, fully ripened, and flavorful peaches --- peaches that you aren't able to get at the local supermarket.

Little known fact: The Garden State is the 4th largest peach producer in the country

Peach picking season begins in early July and runs to the middle of September, depending on varieties and weather conditions.
Peach Picking Tips

Fully ripened peaches should be picked when the fruit can be easily removed from the branches, otherwise they are not fully ripened.

Peaches will not ripen after separation from the tree --- they will only "soften".

Check the color when picking. The deepness of the red coloring varies with the variety of the peach and is not always a true indicator of ripeness.

Yellow varieties ripen to an orange skin tint while white varieties changes from greenish to yellow-white. Green skin is always a sign of an unripened peach.

You can't always rely on the color red as an indicator of how ripe a peach is. Softness is another indicator of a peach being ripe for picking. For a fresh, fully ripened peach, it should have a little give when gently pressed.

Peaches can be kept refrigerated for a week in a refrigerator. For best flavor and texture, use them as soon as possible after picking.

Note:  As weather conditions dictate the growing seasons and picking times, it is suggested that you call the farms to confirm the picking schedule and special events or for additional information on their activities.
Northern New Jersey Peach Picking Farms
Alstede Farms

Chester, NJ
(908) 879-7189
Website
Every Saturday, Sunday and Holiday from 12 noon to 4 pm Enjoy live entertainment at their outdoor "Truck Band Stand" located near the Farm Store & Open Air Pavilion. Live entertainment is free.
Demarest Farms
Hillsdale, NJ 07642
201-666-0472
Website
Peach picking starts approximately the 3rd week of July
Weekends open to the public 10 to 3
Hillview Farms
223 Meyersville Road
Gillette, NJ
(908) 647-0957
Website
In addition to pick your own peaches, they offer farm fresh fruits and vegetables in their General Store.
Melick's Town Farm
Califon, NJ
(908) 439-2318
Website
They have over 5,000 peach trees and grow over 30 varieties of both yellow and white peaches to allow a long season for your selection. Fresh peaches for picking in July, August and September
Phillips Farms
Milford, NJ
908-995-0022
Website
A family-owned farm situated along the scenic Delaware River in the rolling countryside of Holland Township; offers pick your own apple and peach picking.
Race Farm
87 Belcher Rd
Blairstown, NJ
908-362-8151
Website
Opens July 1 (9-5 Fridays, Saturdays and Sundays) through October 31st!
Stoneyfield Orchard
5 Orchard Street
Belvidere, NJ
(908) 475-5209
Website
In addition to "pick-your-own" fruit, they also offer a year-round retail farm stand with fresh eggs, cheeses, cider, and a wonderful assortment of honeys and preserves.
They are kid-friendly, with cows and other farm animals for the children to see.
Tree Licious Orchards
135 Karrville Road
Port Murray, NJ
908-689-2906
Website
Peaches are one of their signature fruits. Uses low-impact farming methods including integrated pest management. They also offer apple and pear picking.
Von Thun Farms

438 Route 57 West
Washington, NJ
732.986.6816
Website
Peach picking – Mid-July thru August
Wrightman's Farms
1111 Mt. Kemble Avenue
Morristown, NJ 07960
(973) 425-9819
Website
They offer a seasonal Membership. It provides access to their orchard for up to 5 people for the season! The cost of the fruit you pick per pound is reduced and membership also gives you some other discounts on farm related purchases. They are open for picking on Fridays from Noon - 5:00PM, Saturdays and Sundays from 9AM to 5PM
Central New Jersey Peach Picking Farms
Battleview Orchards
Freehold, NJ
(732) 462-0756
Website
Peach picking is typically available beginning the 2nd week in July and lasting into the 2nd week of September
Eastmont Orchards

Colts Neck, NJ
(732) 542-5404
Website
Open seven days/week during picking season beginning early July.
Peach picking schedule:
July Glengold, Sentry; August Cresthaven, Fantasia, Flavortop, Glohaven, Jerseyqueen, Lady Nancy, Loring, Raritan Rose, Redhaven, Sugar Giant, Summer Beauty, Sunglo; September Encore
Lee Turkey Farm
201 Hickory Corner Rd.
East Windsor, NJ
609-448-0629
Website
54 acres nestled in the arms of suburbia. Hundreds of fruit trees and acres of vegetables all yours for the picking.
The picking/market hours are from 9:00am till 6:00pm begonning about the 2nd week in July. You must be at the farm no later than 5:15pm to enter the fields and orchards.
Offers pick your own Apples, Peaches, and pumpkins. Note: Before entering their fields and orchards, you must be a member of the Lee Turkey Farm Pick Your Own Club.​ The purpose of our Pick Your Own Club is to ensure that all of our customers understand the rules of our farm. There is a $2 charge for this.
Southern New Jersey Peach Picking Farms
Haynicz's Orchardview Farm
corner of Buck and Elk road (Rt 553 and Rt 538)
Monroeville, New Jersey
856-881-1004
Facebook page
They have pick your own strawberries,
peaches
, apples, collards and pumpkins in season.


Johnson's Corner Farm
133 Church Rd.
Medford, NJ
609-654-8643
Website
Offers pick ypur own apples, peaches and pumpkin picking.
Visit their Animal Farm, which now includes an obstacle course. The Animal Farm is bursting with many animals to feed along with a pipe slide, wacky bridge, rope maze, balance beam, and tire climb! Enjoy our furry animals in a picturesque farm setting with utilities to feed them safely through our feeding tubes and to wash-up afterwards at our hand washing stations. There is also the Discovery Barnyard This is a Fun-filled and secure area designed for Families with young children. The Discovery Barnyard is brimming with age appropriate climbing structures, shaded eating area, small animal barnyard, and our very popular pedal go-carts. Click this link for a full explanation, and check out our photo gallery of fun! On those hot summer days, cool off at our farm market with a delicious Ice Cream cone, thick Milkshake, or refreshing Italian Ice, and enjoy it while sitting under the shade of our sycamore trees or our tented picnic area.
Johnson's Locust Hall Farm
2691 Monmouth Rd.
Jobstown NJ
(609) 353 9000
Website
This 17th century 325 acre farm offerring peach picking is one of two farms owned by the Johnson family who also owns and operates the Johnson's Corner Farm in Medford, NJ
Mood's Farm Market
901 Bridgeton Pike
Mullica Hill, NJ
(856) 478-2500
Website
Closed on Sundays
Offeres pick your own apples,
peaches,
and pumpkins. Closed Sundays, Open Monday - Saturday, 8am-7pm. They grow Cling and Freestone yellow and white peaches.With Cling peaches, the pit does not easily separate from the fleshy fruit. With Freestone peaches, the fruit easily separates from the stone. Freestone peaches are easier to work with and are recommended for canning.
Strawberry Hill Farm
Chesterfield, NJ
609-298-0823
Website
Offers pick your own apple and peach picking
Open daily, 9am - 5pm