2023 MLK Day of Service:
Events In New Jersey Honoring Dr. Martin Luther King, Jr.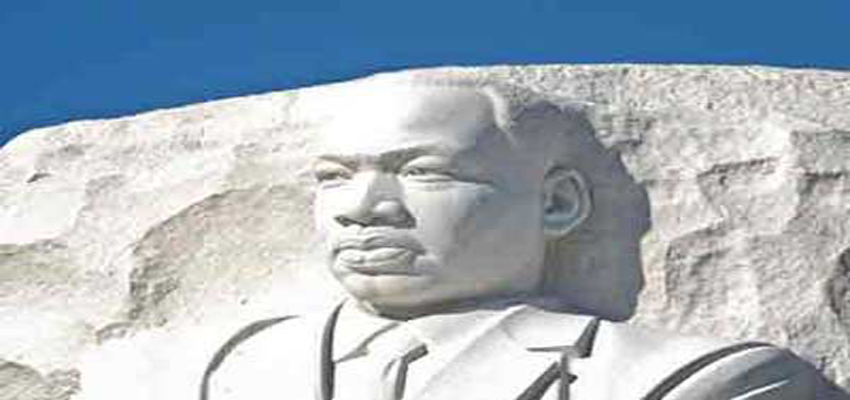 MLK Day is observed on the third Monday of January each year (January 16, 2023) to pay honor to Dr. Martin Luther King and to the principles for which he lived and died.
---
MLK Day  also celebrates the life and contributions of Dr. Martin Luther King Jr. and the history of the civil rights movement in the United States

The other component of the MLK holiday is "The Day of Service" which fosters his legacy by transforming the federal holiday into a national day of community service grounded in his teachings of nonviolence and social justice.

The idea is to make the holiday a day where people of all ages and backgrounds come together to improve lives, bridge social barriers, and move our nation closer to the " Community" that Dr. Martin Luther King envisioned.

On MLK Day, many of the events throughout NJ are set up for volunteers as a day of service to the community.

Note: Sometimes conditions require cancellations or changes of dates, times and location which are not reflected in the original schedule. Before planning a trip to visit one of the listed events, it is suggested that you call the event sponsor to confirm the event schedule or for additional information on the event.

Stay tuned --- we will be updating this list as the event sponsors confirm this year's events.

Northern New Jersey
2023 MLK Jr. Events

The Martin Luther King "We Won't Go Back" March

Sunday, January 15, 2023, 2:00pm
Beginning at the Martin Luther King Statue
495 Dr Martin Luther King Jr Blvd
Newark, NJ
Facebook
Contact: (973)801-0001
Sponsored by People's Organization For Progress (POP), this march is held January 15th, the actual birthday of Martin Luther King.
Community Day: Dr. Martin Luther King Jr.
Monday, January 16, 2023:12 PM - 5pm
The Newark Museum of Art
49 Washington St
Newark, NJ
Website/Registration
Free Event
Honor Martin Luther King, Jr. with dynamic performances, hands-on activities, and opportunities to help others. There's something for the whole family! Visitors are encouraged to bring nonperishable food items to support a local food bank, women's shelter, or church.
Jersey Cares Martin Luther King, Jr. Day of Service -- "I Have A Dream" Walk
Monday, January 16, 2023; from 10:00 a.m. - 12:00 p.m
Millburn High School Track
462 Millburn Ave
Millburn, NJ
Registration
Volunteers will come together in solidarity to support the legacy of Dr. Martin Luther King Jr. and social justice causes by walking 2 miles or running a 5k. 50% of all funds raised for this project support the New Jersey Institute for Social Justice. Registration for this project is FREE. This event is appropriate for ages 4+.
NJCU Dr. Martin Luther King, Jr. Celebration
Thursday, January 19th, 2023: 1pm - 2:30pm
at the Gothic Lounge (H202)
at Hepburn Hall.
New Jersey City University
2039 JFK Blvd
Jersey City, NJ 07305-1597
Contact: The Lee Hagan Africana Studies Center.
[email protected]
201-200-3524
Web Site
This event features Keynote Speaker Dr. Aishah Scott. Dr. Aishah Scott is a jointly appointed Assistant Professor of Black Studies and Health Science at Providence College. She is an advocate for social justice and closing gaps in healthcare for underrepresented communities.
There will also be Scholarship awards.
Central New Jersey
2023 MLK Jr. Events

Rev. Dr. Martin Luther King, Jr. 34th Annual Commemorative Breakfast
Friday, January 13, 2023; 7:30am - 9:30am
Sheraton Eatontown Hotel
6 Industrial Way East
Eatontown, NJ, 07724
Cost: Event tickets are $35 for adults, $10 for youth who are 16 & under and $350 for a table of 10
Purchase Tickets
The YMCA of Greater Monmouth County proudly celebrates the life and legacy of Dr. Martin Luther King, Jr. at their 34th Annual Dr. Martin Luther King, Jr. Commemorative Breakfast in his honor. Please join in as they grow awareness and support for the important work of Dr. King and today's civic leaders.
Keynote: Reverend Dale Caldwell Human Dignity Awardee: Pastor Kerwin Webb Social Responsibility Awardee: Senator Vin Gopal Togetherhood Champion: Yulissa and Jayden Gomez


SEED MLK Commemorative Breakfast

January 14, 2023; 10:00 AM – 12:30 PM
Hyatt Regency Princeton
102 Carnegie Center
Princeton, NJ 08540
Cost: $65
Tickets
To celebrate Martin Luther King Jr. and his impact, S.E.E.D. (Servants Endeavoring to Empower and Develop) has announced the theme of this year's gathering; The Power of the Dream: Justice for All. The keynote speaker for this year's breakfast is Reverend Charles F. Boyer, the pastor of Greater Mt. Zion A.M.E. in Trenton as well as the founder of Salvation and Social Justice, a non-profit organization advocating on behalf of the Black faith community. The Drum Major for Service Awards will include Joy Bethea, Danielle Miller Winrow, Brother Jean Bouie, and Pastor John Taylor. The Harriet Tubman Award will be presented to Jacqueline-Tolbert Beverly.
All proceeds will benefit the S.E.E.D. and Heal the City initiatives.

Dr Martin Luther King Jr Day – Community Bagel Breakfast
Monday, January 16, 2023; 9 AM – 11AM
Arts Council of Princeton
102 Witherspoon Street
Princeton, NJ
Registration
Free Event
The Arts Council of Princeton will be celebrating the life and legacy of Dr. Martin Luther King Jr. The featured speaker ill be Tina Campt – noted Black feminist theorist of visual culture and contemporary art and Roger S. Berlind '52 Professor in the Humanities at Princeton University – during a community bagel and coffee breakfast.   Families are invited to pick up a copy of an updated limited-edition coloring book featuring prominent Black residents of Princeton from history, including accomplished business owners, politicians, educators and influential women, in addition to Martin Luther King Jr.'s visits to campus in the 1960s, designed in partnership with the Historical Society of Princeton, neighborhood historian Shirley Satterfield, and Princeton University Wintersession.   Help us help those in need: bring canned or boxed non-perishables for our food drive. All donations will benefit Princeton Nursery School, a non-profit organization providing a quality preschool education program and child care for families in need, providing a diverse environment and a broad array of support services.

Spend MLK Day in Nature
Monday, January 16, 2023:10 AM & 1 PM
Mountain Lakes House
57 Mountain Ave
Princeton, NJ
Website/Registration
Friends of Princeton Open Space, a nonprofit dedicated to land preservation, is hosting a Day of Service in Nature in honor of Dr. Martin Luther King, Jr. Please help us continue our work on the Riparian Restoration Project: Restore the Lakeshore! at the Billy Johnson Mountain Lakes Nature Preserve in Princeton, New Jersey. Volunteers will work under the guidance of their Natural Resources and Stewardship Director, to identify and remove invasive plants species, such as burning bush (Euonymus alatus) and multiflora rose (Rosa multiflora).

West Windsor MLK Day of Service
January 16, 2023 @ 10:00 am - 3:00 pm
West Windsor Arts Center
952 Alexander Rd.
Princeton Junction, NJ
(609) 716-1931
Website
Join West Windsor Arts Council and African American Parent Support Group as they partner with local agencies to provide much needed assistance to the people they serve. In order to help plan accordingly, please register each individual in your group for a timeslot by selecting one of the available tickets. Families, clubs, or corporate groups welcome. The total number of volunteer spots are limited for the safety of our participants. "Donations organizers" will work inside West Windsor Arts to package donations as they arrive into kits to be ready for delivery. Anyone may donate items! Registration is not required. Bring your donated items to West Windsor Arts on the day of the event between the hours of 10:00 am to 3:00 pm -OR- in advance from January 9 - 13 between the hours of 10:00 am and 6:00 pm.





Southern New Jersey
2023 MLK Jr. Events

Martin Luther King Day of Service at Rutgers–Camden
Friday, January 13, 2023; 9 a.m. to 12 p.m.
Cramer Hill Community Center
1035 Reeves Ave
Camden, NJ
Volunteer/Registration
On January 13, 2023, tens of thousands of people across our country will gather to honor the legacy of Dr. Martin Luther King Jr. through acts of service. At Rutgers–Camden, we they be participating in a community cleanup at the Cramer Hill Community Center.
Annual Martin Luther King Jr. Scholarship Breakfast @ Rowan University
Monday, January 16, 2023: @9am.
Eynon Ballroom, Chamberlain Student Center
201 Mullica Hill Road
Rowan University
Glassboro, New Jersey 08028
Website - Registration

Cost: Breakfast: $75
Contact: 856-256-4059,
[email protected]
Join in for an uplifting gathering in recognition of Dr. Martin Luther King Jr. This event celebrates the life and legacy of a true American visionary. All proceeds will support our students through the William H. Myers Memorial Scholarships. Guests will enjoy remarks from: Dr. Mae C. Jemison - Special Guest, The first woman of color to travel into space and NASA's first Science Mission Specialist. Rick Williams - Master of Ceremonies, Current co-anchor of Action News at 5 p.m. and anchor of Action News at 11 p.m.
Gloucester Township's Dr. Martin Luther King, Jr. Day of Service

Monday, January 16, 2023; 8:30 am - noon
Charles W. Lewis Middle School
875 Erial Road
Blackwood, NJ
Website/Registration
Join Mayor David Mayer, Township Council, Gloucester Township Public Schools, and Friends and Neighbors by volunteering your time to fulfill Dr. King's dream of helping others. As Dr. King once said, "Life's most persistent and urgent question is: "What are you doing for others?"
Be a part of fun and worthwhile service projects that have a lasting impact on our entire community. They are limiting preregistration to 500 volunteers. Online registration will end on Thursday, January 12th at Noon. Event day registration is available, however project availability may be limited.
Ocean City Martin Luther King Jr Ceremony
Monday, January 16, 2023: at 12:00 PM
Music Pier
825 Boardwalk
Ocean City, NJ 08226
Website
609-399-6111
The ceremony will start at 12 p.m. at the Ocean City Music Pier. The event brings the community together to remember Dr. King through words, song and dance. The Martin Luther King Community Services Award will honor local volunteers.  The event will be followed by a complimentary buffet luncheon in the Music Pier solarium. Free parking will be available in the municipal lots on Moorlyn Terrace, Eighth Street and Ninth Street.
Stockton University Annual Martin Luther King, Jr. Day of Service
January 16, 2023; @ 8:30am
Stockton University
101 Vera King Farris Drive
Galloway, NJ 08205-9441
(609) 652-4256
[email protected]
Volunteer registration and event information
The Dr. Martin Luther King, Jr. Day of Service is Stockton University's signature Annual Day of Service. It brings together over 500 students, community members, and community partners, and often encompasses over 15 projects both on- and off-campus. The goal of Days of Service are to provide an intensive, community-wide experience for students and to introduce them to partners where they can serve long-term and develop an ongoing relationship.  
Rutgers Law BLSA's 27th Annual MLK Gala!
Friday, January 20, 2023; 7:00 PM – 12:00 AM
The Merion
1301 U.S. 130
Cinnaminson, NJ
Website /Tickets
Cost: General Admission: $115, Past Honoree Admission Free, & Student Admission $35.00
the Rutgers School of Law-Camden Black Law Student Association will be honoring three champions of Social Justice that embody the spirit of Martin Luther King Jr. The Gala festivities will begin with a cocktail reception at 7:00 PM, followed by a seated dinner and the awards ceremony. Each Gala ticket includes a 3 course seated dinner and open bar.