Memorial Day Weekend Events In New Jersey
A Holiday Guide to the best 2018 Ceremonies, Events, Parades, and Festivals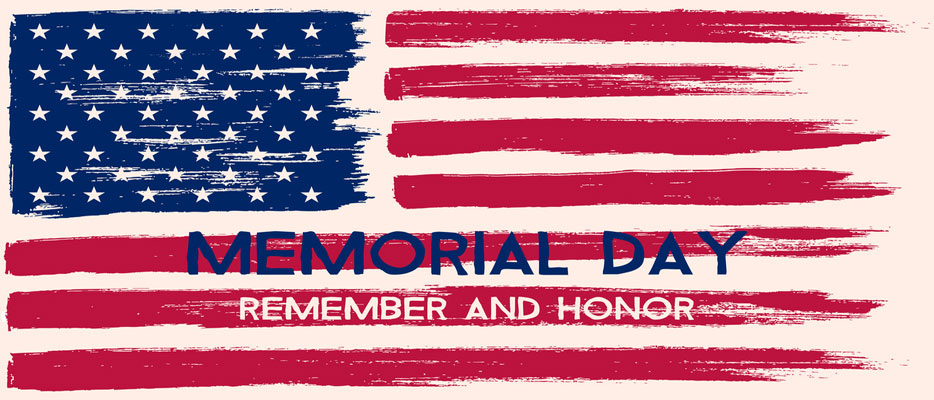 This year Memorial day will be celebrated on Monday, May 28, 2018

Memorial Day, originally called Decoration Day, is a day of remembrance for those who have died in our nation's service.

It is a time for parades, flags, and wreath-laying ceremonies paying tribute the who died serving our country.

Memorial Day is also the unofficial beginning of summer in New Jersey with the Jersey Shore beach communities coming alive with activities.

Many of these activities include music festivals, ethnic festivals, fireworks, auto racing events and special events geared to the kick off of summer.
Note: This information is provided by event sponsors as a free service to our viewers. Sometimes conditions require cancellations or changes of dates, times and location which are not reflected in the original schedule. Before planning a trip to visit one of the listed events, it is suggested that you call the event sponsor to confirm the event schedule or for additional information on the event.

2018 North Jersey Memorial Day Weekend Events
Stay tuned --- we will be updating this list as the event sponsors confirm this year's events.

Field Station: Dinosaurs
Opens Memorial Day Weekend; 10 am - 6 pm
Overpeck County Park
Fort Lee Rd.,
Leonia, NJ
Cost: $15.50, ages 2 and up
This family event celebrates the post-winter grand opening of Field Station: Dinosaurs: A working scientific expedition where visitors participate in active scientific investigations across the disciplines of biology, geology, climatology and paleontology. Field Station: Dinosaurs is a unique zoo, with 31 life-sized animatronic dinosaurs in a natural environment surrounded by one of North America's most important bird estuaries.
Native American Intertribal Dancers
May 26 - 28, 2018
Wild West City
50 Lackawanna Dr.
Stanhope, NJ
973-347-8900
This family event features Traditional Native American dances along with kids activies including such as face painting, and more. Native American handicrafts will also be availble for purchase.The program will be run by Little Hawk ( Bob Martin).Bob Martin is a half blooded member of the Mohawk tribe and will be joined by his sister, Morning Dove and both their respective families as they introduce a variety of Native American dances practiced during the height of their existence across North America.
Fleet Week at Liberty State Park
May 27, 2018: 10:00 AM until 5:00 PM
1 Audrey Zapp Dr.
Liberty State Park
Jersey City, NJ
201-915-3400
Event is free and open to the public.
This family event features performances by the U.S. Coast Guard Silent Drill Team, the U.S. Navy Band and the U.S. Marine Corps band.
Attendees will also get to expedrience parachute, helicopter, and search and rescue demonstrations by the Navy and Coast Guard. Military tactical vehicles, a U.S. Navy dive tank. More exhibits will also be on display throughout the day along with kids activities, and more.
Memorial Motor Madness Car Show
Sunday, May 27th, 2018; from 9 am to 3 pm. Rain or Shine
MARS Chocolate North America
800 High St.
Hackettstown, NJ
908-850-7005
This annual event features over 500 vintage cars. Entrants can register in a variety of classes including Mustang, Fire bird, Camaro, VW Beetle, Antique Trucks, and Street Rod, Monster and Mini Truck, and more. Best of Show is awarded the Ed Hagaman Memorial Trophy, named in honor of one of the show's founders. Special dash plaques are awarded to the first 400 entrants. 
Crystal Springs Fireworks Spectacular
Sunday, May 27, 2018 @9pm
Crystal Springs Resort
1 Wild Turkey Way
Hamburg, NJ
Reviews/booking
Open to all Hotel Guests and Members.
The Lantus Tour of Somerville Cycling Series
Monday May 28, 2018, 10:45 a.m., rain or shine
Main Street
Somerville
801-699-5126
The Lantus Tour of Somerville Cycling Series is three days of world-class bike racing Memorial Day weekend. The Bound Brook Criterium kicks off the weekend Saturday on a new downtown race course. The historic 75th Tour of Somerville featuring top pro and amateur cyclists competing Monday, Memorial Day. Highlighting the weekend, is a new racing event Sunday evening, the Somerville Sprints. High octane, super-fast drag racing down Main Street starring some of the fastest sprint cyclists on two wheels.
Innovative activities will fill the "themed" streets of Somerville. Showcasing live entertainment, sports demonstrations, children's festival center, a bike swap meet and much more.
Memorial Day begins with the annual parade recognizing the sacrifice of our military service men and women followed by a Family Fun Ride on the Tour of Somerville race course.
Memorial Day Picnic at a scenic Historical Site
Monday, May 28, 2018; 1 - 3 pm.
Ramsaysburg Historic Homestead
140 Rt. 46
Knowlton, NJ
908-475-5352
This family event features a picnic on the Ramsaysburg Historic (circa 1794) Homestead with plenty of things to do. The historical park is situated on twelve wooded acres along the banks of the Delaware River. Bring your picnic lunch and take in the days family activities that include historic tours, scenic walks, use of the boat launch on the Delaware River, along with special Memorial Day tributes.
Memorial Day Celebration
Monday May 28, 2018; 11:00AM to 6:00PM
Brook Hollow Winery
594 SR 94
Columbia NJ 07832
(908) 496-8200
This event features a Memorial Day celebration with Music. Wine. and Fun.
Includes Live Music by Andy Rimer, Food From Humpty Jr's in Columbia, NJ Half Smoked Chicken, Half Rack of Ribs, Sliced Brisket Smoked Meat loaf, Pulled Pork, Burgers, Hot Dogs, Cheese Plates, and More
Woodland Park Street Fair & Parade
May 28, 2018; 11:00 AM until 6:00 PM
Woodland Park, NJ
This event will be held on McBride Ave. from Lackawanna Ave. to Memorial Drive when the street will be transformed into a giant town block party. Our special kids section will be brimming with all kinds of fun stuff to do. There will be kiddie rides, face painting, sand art, temporary tattoos, pony rides & petting zoo. This event brings the whole community together. Local merchants and businesses will showcase their shops and offer their special sales. Everyone come hungry and enjoy the wide selection of delicious foods such as hot dogs, ice cream, chicken fingers, zeppoles, shish ka bobs, fresh squeezed lemonade, Italian Ices, french fries, hamburgers, sausage and pepper sandwiches, cheesesteaks, and much

2018 North Jersey Memorial Day Parades
Stay tuned --- we will be updating this list as the event sponsors confirm this year's events.


Secaucus Parade and Block Party

Saturday, May 19, 2018
(
Due to anticipated inclement weather, Saturday's Memorial Day Parade has been canceled. There will not be a rain date
)

Website


Morris Plains

Saturday, May 26, 2018: @ 9:30 AM
Website
The Annual Memorial Day Parade, the largest in Morris County, will start near the intersection of Glenbrook Road and Mountain Way. The parade route travels south on Mountain Way, east on Rosedale Ave, then north along Speedwell Avenue, past the reviewing stand at the corner of Franklin Place, opposite the railroad station, and continues north up Littleton Road to Route 53 north where it ends at the VFW Watnong Post 3401.
Oakland
Sunday, May 27, 2018
Website
Contact: 201-337-9845
The annual Memorial Day Parade and Ceremony, sponsored by the American Legion and the Borough of Oakland, will be beginning at 1:00 PM at Grove Street and Ramapo Valley Road. The parade will close with a ceremony in Veterans Park. Complimentary food and refreshments will be served at the American Legion Post at 65 Oak Street immediately following the parade.


Saddle Brook

Sunday, May 27, 2018; 1 pm
Saddlebrook, NJ
Website
The parade will begin at the Korean War Monument and the line of march is as follows; Fairlawn parkway & Evans Place, south to Cambridge Avenue, east on Cambridge to Saddle River Road, South on Saddle River Road to Market Street, West on Market Street to Washington School where the parade ends.


Bloomingdale
& Butler
Monday, May 28, 2018 &9AM
Website
973-838-0778 x. 241
The parade takes Monday, May 28th at 9:00 a.m. at the Blomingdale Senior Center, 103 Hamburg Turnpike, and will continue on Hamburg Turnoike to Main st, Butler, and on to Park Place where a memorial ceremony will be conducted.
Califon Memorial Day Parade

Monday, May 28, 2018 11:00 am - 5:00 pm
Califon, NJ
Website
The parade will start at 11:00 AM on School Street and will feature St. Ann's of Hampton Pipes and Drums, the 15th New Jersey Volunteers Infantry Company A accompanied by the NJ Field Music Fife and Drum Corps, antique cars, scout troops, area fire and rescue squads and more! The parade will proceed down Main Street and will continue on to Califon Island Park. In honor of those being remembered, bagpipes will play from the center of the Califon Bridge. A memorial service will held at noon next to the Califon Veterans Memorial. The Voorhees Choir will be performing the Star Spangle Banner. The National Anthem will be sung while local scouts raise the American flag. The 15th , NJ will close the memorial service by performing a 21-gun salute as everyone pauses for a moment of silence. Afterwards, Califon Fire Company will have food and drinks for purchase.


Cranford

May 28, 2018; @ 9 AM
Website
Line up begins at the Community Center, 220Walnut Avel @ at 8:30 a.m. and marching commences at 9:00 a.m. ending with a traditional memorial ceremony at Memorial Park on Springfield Avenue between RiversideDrive and Central Avenue at 10:00 a.m


Glen Ridge

Monday, May 28, 2018; @11AM
Glen Ridge, NJ
Website
Parade starts at the intersection of Sherman Ave. and Baldwin St. and marches toward Ridgewood Avenue School. Service to follow after parade.
Hackettstown
May 28, 2018: @9:45 AM
Website
908-852-1646.
The parade begins near the post office on Washington Street and continues to Grand Avenue and Main Street and ends at Union Cemetery on Mountain Avenue.
Hawthorne
May 28, 2018; @ 1:30 pm
Website
The parade commences at the corner of Lafayette Avenue and Rea Avenue at 1:30 pm. The parade proceeds on Lafayette Avenue to Vreeland Avenue, where it turns right and continues to Parmelee Avenue, where it turns left. The parade continues on Parmelee Avenue, passing Hawthorne High School, to the corner of Diamond Bridge Avenue, where it turns left. The parade continues on Diamond Bridge Avenue to the corner of Lafayette Avenue, where it turns left, and proceeds to the viewing stand at Borough Hall, 445 Lafayette Avenue.

Ho-Ho-Kus 
May 28, 2018; 10:30 AM
Ho-Ho-Kus, NJ 
Website
Starts at corner of Sheridan Ave. and Ardmore Ave. followed by a brief ceremony at War Memorial on East Franklin Turnpike
Livingston
Website
This year's Memorial Day services will start at 9:30am, Monday, May 28, 2018 with a ceremonial service at the Oval to commemorate those who have died defending the United States. At 10am, after the ceremony, the parade will start on S. Livingston Avenue and will end at Congressional Way. In the event of inclement weather the Ceremonial Service will be held at the LHS Auditorium.


Mahwah

May 28, 2018; 10 AM
Mahwah, NJ
Website
A collection of community groups march from Immaculate Heart of Mary Catholic Church on Island Rd. to Veterans Memorial Park on the corner of Franklin Tpke. and East Ramapo Ave., in time for a Memorial Day Ceremony.


New Providence
Monday, May 28, 2018: 10:00 AM

Website
908-665-1400
The parade starts at 10:00am on Monday on Springfield Avenue from Central Avenue to Academy Street.


Nutley

May 28, 2018; @ 10:45 AM
Nutley, NJ
Website
973-284-4966
Starts at the Park Oval, Franklin Avenue and Chesnut Street, followed by march down Chestnut Street to Passaic Avenue, Centre Street and Franklin Avenue past viewing stand at Walker Middle School.


Parsippany

May 28, 2018: @ Noon
Website
Starts at North Beverwyck Rd. and Katherine Dr. and ends at reviewing stand on North Beverwyck Rd. at Volunteers Park.


Rockaway

May 28, 2018; 11:30 AM
Website
Starts at Fleetwood and Edith, ends at gazebo on Chestnut St.


Scotch Plains - Fanwood

May 28, 2018: 10:45 AM
Website
Parade begins at the gazebo on corner of Park Ave. and Front St in Scotch Plains and proceeds along Park Avenue to Martine Avenue into downtown Fanwood. The parade ends at La Grande Park in Fanwood.


Summit

May 28, 2018; 10AM
Website
The parade will begin at 25 Deforest Ave. and proceed to the Village Green.
Union
May 28, 2018; @10 AM
Website
Parade begins at the VFW hall. marchers will go down Stuyvesant Ave past Pearl Harbor Square & Connecticut Farms School to the Veterans Honor Roll & Memorial Park. For the best viewing stop by the Pearl Harbor Square near our Reviewing Stand!
West Caldwell

May 28, 2018; 9:30 AM
Website
Starts on Forest Avenue


Westfield

May 28,2018; @ 9 AM
Website
Parade begins at the World War I Monument Circle and continues onto E. Broad St. and ends at Fairview Cemetary.
Wyckoff
Website
Contact: 201-891-7000
The parade will start at 11:30 a.m on Monday, May 28th. The parade begins on Wyckoff Avenue at Cornerstone Christian Church. As the participants march out of the Cornerstone Church parking area they turn left onto Wyckoff Ave., continue down Wyckoff Ave. before turning right on Main Street, turn right on Franklin Ave. and end behind Town Hall at the Ambulance Corps building.


Wood-Ridge

Monday, May 28, 2018; 11:30 AM
Woodridge, NJ
Website
Starts from the corner of Hackensack St. and Highland Ave. The conclusion of the parade will take place at our beautifully maintained ground of Veterans Park where festivities will include free refreshments (hot dogs & ice cream), strolling musicians, military vehicle rides, plus the involvement from many of our Wood-Ridge merchants. Free flags and novelties will be distributed to all who are present by the curbside along the parade route.
More New Jersey Memorial Day Weekend Events

---