May Events: Our Top Picks To Plan Your
Day Out in New Jersey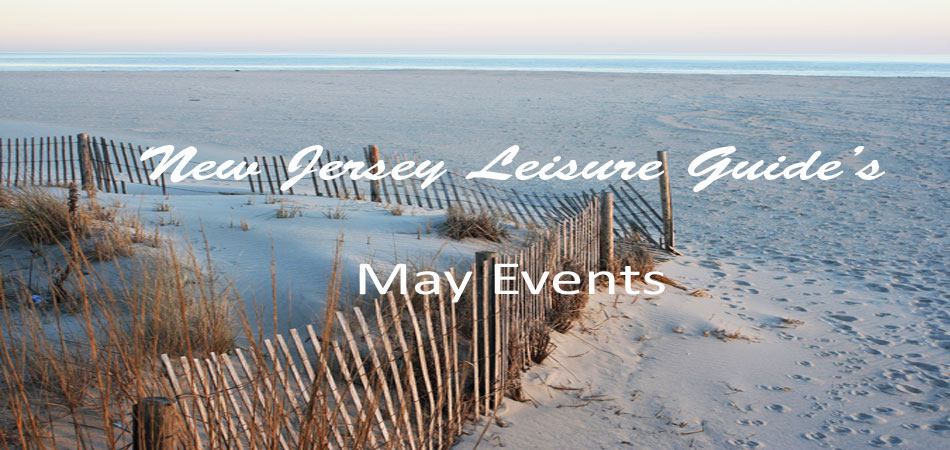 Discover New Jersey's Best May Events: Uncover The Month's Top seasonal attractions, popular events, and hidden gems

The New Jersey May events calendar is packed with exciting things to do in NJ.

May is also the month for the unofficial beginning of summer when visitors will flock by the thousands to the Jersey shore to hit the beaches and the boardwalk amusement parks.
---
Note: Sometimes conditions require cancellations or changes of dates, times and location which are not reflected in the original schedule. Before planning a trip to visit one of the listed events, it is suggested that you call the event sponsor to confirm the event schedule or for additional information on the event.

North Jersey 2022 May Festivals and Themed Events
Hoboken Arts & Music Festival
Sunday, May 1, 2022: 11am to 6pm (rain or shine event)
Washington St. bet. Observer Highway & 7th St.
Hoboken, NJ
Website
Free Admission
This annual family event features over 300 artists, crafters, food vendors and local businesses. Live performance will also be performing on three different stages set up. There will be kid-friendly activities ranging from games, prizes, face painting and crafts on Third Street where the Capital One Bank parking lot is located.
27th Annual Westfield Spring Fling
Sunday, May 1, 2022; 10 a.m. to 5 p.m. rain or shine.
Downtown
Central Avenue running from East Broad Street to North Avenue and will include the parking lot across from the Post Office
Westfield, NJ
Website
This fun filled family event will feature diverse live entertainment, food vendors, merchandise vendors, a Kids Zone with rides and a multitude of activities to entertain kids throughout the day. Valenica Music and the New Jersey Workshop of the Arts will perform music and entertainment.


Palestine Street Festival
Saturday, May 7, 2022: from 2 PM to 6 PM
between Gould Ave and Grove Street
Paterson, NJ
Website
This event features the official renaming of part of Main Street, Paterson to 'Palestine Way'.
This street festival represents more than just an honoring of the renaming of the area to 'Palestine Way', but also pays honor and respect to the Palestinian diaspora, who has remained present, loud, and resilient in the face of decades of displacement, refugeehood, and erasure. The street festival will consist of vendors, informational booths, a fun-filled kids zone, singers, and of course, dabka! All the stores and small businesses in the area will also remain open for food and more shopping opportunities.


Skylands Food Truck & Craft Beer Festival
Saturday May 7th, 2022; from 12-7pm (Rain or shine)
Skylands Stadium
94 Championship Place
Augusta, NJ 07822
(973) 383-7644
Website
Cost: $5, Children 38 Tall and Shorter, Free
Free parking
This event has entertainment for all ages. Spend a special day enjoying the outdoors, with delicious options including 20+ food truck vendors, deserts, specialty drinks & more. We have 100+ craft beers, live music, and games.
Mother's Day Brunch Cruise - NY Harbor
May 8, 2022; Board: 11:30AM | Cruise: 12:00PM - 2:00PM
Departing from Lincoln Harbor Marina
1500 Harbor Blvd
Weehawken, NJ
Website/Booking
New Jersey Mother's Day Signature Brunch Cruise on the East and Hudson River. While onboard, treat the mom in your life to a special day with their holiday buffet, classic cocktails, and New York's most incredible views. Celebrate with dining and dancing from our climate-controlled interior, or soak in the picturesque backdrop from our outdoor decks. These Signature cruises are perfect for all ages!
Includes:
Two-hour brunch cruise on the East and Hudson Rivers with Delicious brunch buffet with freshly prepared entrees, salads and desserts Unlimited coffee, hot tea, iced tea and water.
Spectacular views of the city skyline and local landmarks. Guaranteed table for your party size. Onboard entertainment.
Beer BBQ Bacon Showdown
Saturday, May 14 2022; 12:00 PM - 5:00 PM
Mennen Arena Field
161 Hanover Ave
Morris Plains, NJ
Tickets
New Jersey's first festival, featuring only New Jersey Beer, coupled with restaurants, gourmet food trucks & Chefs, offering a delectable array of mouth watering BBQ & Bacon creations, all available for purchase. There will be a competition to showcase their culinary skills, with a panel of celebrity judges choosing the best of the best, along with People's Choice awards for Best Dish & Best Beer. 30 New Jersey Breweries will be in attendance, each bringing 3 styles of Beer. One of these styles will be either a rare Beer or a Brew created specifically for this event. The event will take place outdoors and under tents, with some fantastic Music!
Passaic County Restaurant Week
Monday, May 16 – Sunday, May 22, 2022
In collaboration with local restaurants and dining venues, the County is presenting a catalog of limited-time, prix fixe menus for lunch and dinner.
For Information and participating restaurants
Great Swamp Great Music festival 
May 22, 2022: 12pm - 7 PM; (rain or shine)
Giralda Farms
Dodge Drive/Madison Ave. (Rt. 124)
Madison, NJ
Website and Tickets
973-538-3500
Tickets: Adults: $30 ($35 at the gate) students: $20 ($25 at the gate): children 13 and under free
This event features musicians, who are all generously donating their time and talent, for a top-notch day of music in support of clean water and a healthy environment. Performing at the festival are three returning crowd-favorites and two exciting new acts. In order of appearance, the lineup includes: The Refuge Dogs, The Step Brothers Band, Lenox Underground, Not Enough Jeffs, and The Big Fuss. Nick Amling & The Lifeline will entertain those who arrive before noon and Nick will keep the music going between band sets.
New to the festival this year, comedian, and New Jersey native, Max Antonucci, will emcee the event.
Central Jersey 2022 May Festivals and Themed Events

Flemington Cinco De Mayo Fiesta Celebration Week

May 1 - 8, 2022 @ 3:00 pm - 7:00 pm
Viva Mexico
14 Turntable Junction
Flemington, NJ
[email protected]
(908) 809 – 5464
Cost: Free
Celebrate Cinco de Mayo all week in Flemington, NJ, with Mexican food, drink, and Cinco de Mayo-themed events throughout Flemington's restaurants and markets.
Don't miss the Cinco De Mayo Fiesta – returning to 14 Turntable Junction on Saturday, May 7 from 3 to 7 p.m.
The Cinco de Mayo Fiesta will feature great Mexican food, live mariachi bands, craft beer and sangria, Latino artisans, and kids' activities. This event benefits the United Way of Hunterdon County. Free admission, bring cash for food and drinks!


Annual Azalea Festival
Saturday, May 7th, 2022: 10am-4pm (Rain Date: Sunday, May 8th, 2022: 10am-4pm)
Sayen Park Botanical Garden
155 Hughes Drive
Hamilton Square
Hamilton Township, NJ
(609) 890-3874
Website
Held only on Mother's Day weekend each year. This event takes place in the historic Hamilton Square, Sayen House and Gardens, a sanctuary for nature lovers, garden enthusiasts and history buffs alike. Enjoy seeing over 250,000 flowering bulbs, dogwoods, azaleas and rhododendron, In addition to touring the grounds' collection of beautifully landscaped walking paths, fountains, bridges, lakes, gazebos, and breathtaking scenery, attendees can enjoy crafters, food, music, entertainment, and more.
Highlands Fiesta de Mayo Cantina Crawl
May 7, 2022: 12pm - 5pm (rain or shine)
Huddy Park
301 Shore Dr
Highlands, NJ 07732
Website
732-291-4713
[email protected]
Event Cost: $25.00 and includes a Margarita Contest with eight restaurants competing for the Best Margarita in Highlands!
Participants will sample eight delicious 6oz. Margaritas and then vote for their favorite! The fee includes discounted food and drink specials at local eateries and pubs, specials at many of our fine retail establishments and even some surprise samplings!
Live Mariachi music will be playing at the participating restaurants to add an authentic Mexican flair to the event!
Check-in is at Huddy Park, located on Bay and Waterwitch Ave. (301 Shore Drive - GPS) between 11AM and 12:30PM. You will be given a wrist band and map of the participating business locations.
You may register the day of the event.
Maria Allaire's Wedding Reenactment
Saturday, May 7, 2022; 11:00 AM – 4:00 PM
The Historic Village at Allaire
4263 Atlantic Avenue
Farmingdale, NJ 07727
Tickets
Join us in celebrating the 1836 marriage of Maria Allaire & Thomas Andrews
In the Spring of 1836 James P. Allaire's daughter, Miss Maria Allaire, wed Mr. Thomas Andrews at the Allaire Chapel. The honorable Bishop George Washington Doane traveled into town to officiate the union, and New York friends, including the Vanderbilt family, traveled to the Village for this beautiful occasion. Join the villagers in celebrating the wedding reenactment with cake, dancing, and music after the ceremony. Homes and shops will be open for demonstrations and tours.

Thompson Park's Annual Creative Arts & Music Festival
Saturday, May 7, [email protected] 10:00am - 4:00 pm
hompson Park
805 Newman Springs Road
Lincroft, NJ
732-842-4000
Website
Cost: Free
This family event feaures fine artists and artisans peddling mixed media pieces, paintings, photography, jewelry, pottery, and more. Plus, enjoy live music by some of the best local musicians. Food vendors, artist demonstrations, and free activities happen throughout the day.

Mother's Day Brunch at Hopewell Valley Vineyards
May 8TH, 2021; Brunch starts at 11:00am
Hopewell Valley Vineyards
46 Yard Road
Pennington, NJ
609-737-4465
Website/Tickets
Cost:$38.95/adult + gratuity & tax ($46.74 + tax) $13.95/child 10 and under + gratuity & tax ($16.74 + tax) Children under 2 are complimentaryy
Come celebrate mom at their beautiful winery with a delicious brunch.
Menu features our ricotta pancakes, breakfast pizzas and much more. Wine, mimosas and bellinis available for purchase.
BRUNCH MENU: Artisan Cheeseboard Spinach Strawberry Salad Ricotta Pancakes with berry preserves Variety of breakfast pizzas baked in our wood-burning oven Breakfast potatoes Breakfast sausage Fruit Salad Variety of baked goodies Panna Cotta Coffee & Tea.

Annual Saint George Greek Orthodox Church Festival
May 12 - 15, 2022
1101 River Road
Piscataway, NJ
732-463-1642
[email protected]
Website
The St. George Greek Orthodox Church celebrates our Greek culture by hosting a Greek Festival every year during the month of May (the weekend after Mother's Day). During the Festival, our community showcases our Greek spirit by providing the surrounding towns with an event filled with delicious food, live entertainment, and dancing.
In May 2022 we will be IN-PERSON and hosting again an ONLINE ORDERING Food Festival bringing you the very best of Greek cuisine!


Seaside Heights Restaurant Week
Friday May 13th – Sunday May 22nd, 2022
Enjoy a tantalizing variety of dining experiences plus the enjoyment of the Classic American Boardwalk and beach
For Information and participating restaurants
Asbury Park Vegan Food Festival
Saturday & Sunday, May 14, 15, 2022; 11AM - 5PM (This event is rain or shine)
Bradley Park
101-199 5th Ave (Across the street from Convention Hall)
Asbury Park, NJ
Tickets
Cost: $10 – $15 Kids 13 and under are free.
This two-day celebration features yummy vegan and plant-based meals from local chefs, as well as vegan products, plant-based fashion, live music and good times. All welcome!

Brew By the Bay
May 14th, 2022; 12pm - 5pm (May 15th Rain date)
Seafarer
1 Atlantic St.
Highlands, NJ 07732
Web Site/Tickets
Contact: 732-291-4713


[email protected]


Event Cost: $35.00 - tickets include seven 4oz. tastings and a pint of craft beer and a commemorative pilsner cup (for the first 300 registered. Additional tastings can be purchased at the event for $3
This event takes place on the picturesque waterfront. Each participating brewery will bring two styles of beer each. There will be live music, fire pits, and delicious Local Smoke cuisine.

BBQ Jamfest!
May 15, 2022 @ 12:00 pm – 4:00 pm
Downtown Point Pleasant Beach
710 Arnold Ave
Point Pleasant Beach, NJ 08742
732-899-2424
Website
Cost: Tickets are $10 in advance or $12 at the gate
An outdoor cookout with family and friends! The event features Live Music, Cornhole, Prizes.

Walnford Day
Sunday, May 15, 2022: from 11:00am to 5:00pm
Historic Walnford
Walnford Road
Upper Freehold, NJ
Website
609-259-6275
Free Event
This family-friendly event offers visitors the chance to explore this historic site and see its 19th century gristmill in action, tour the elegant Waln family home, and go on a horse-drawn wagon ride. Demonstrations for the day include blacksmithing, loom weaving, basket weaving, 18th century music, and more.
New Jersey Seafood Festival
Friday, Saturday and Sunday, May 20-22, 2022; Friday 4:00PM - 8:00PM; Saturday 11:00AM to 8:00PM; and Sunday 11:00AM to 6:00PM.
Pyanoe Plaza and Pyanoe Plaza Parking lot.
Belmar, NJ
Website
Admission: Free
This popular family-friendly event offers an ultimate feast of crowd-pleasing fare — from gumbo, lobster rolls, and jambalaya, to coconut shrimp, crab legs, conch fritters, and more.
In addition to some great seafood, live music is also a big part of the Belmar Seafood Festival. The lineup of bands includes popular area musicians performing live during all three days of the festival.
Allaire Music Fest
Saturday, May 21, 2022: 11 AM – 4 PM (Rain Date May 22nd)
The Historic Village at Allaire
4263 Atlantic Avenue
Wall Township, NJ
Website/Line-up/Tickets
Cost: On-line advance:Child: $5, ages 4 to 12 - Adult $10
Day of Price Child: $7, ages 4 to 12 - Adult $15
This event features local NJ bands perform a variety of Bluegrass and Folk music throughout the Historic Village at Allaire.
Multiple stages and jam sessions throughout the day! Artists tables available for vending of music and signings.
For children, a special interactive instrument and music session to promote the importance of music - "An Intro to Music & Instruments." Check out some great NJ based crafters between sets! Tour the Historic Village at Allaire, including the early 18th & 19th century Homes, Craft Shops and Retail Shops. Historic demonstrations and activities offered throughout the duration of the event and are included in the price of your ticket!
Celebrate National Armed Forces Day
Saturday, May 21st, 2022: 12 - 2pm
iPlay America
110 Schanck Rd
Freehold, NJ 07728
Website
Active & Retired Military * FREE Rides!
Join in as they celebrate National Armed Forces Day with exclusive offer for active and retired military members.
Fundraiser for Troops:
50% of ride band sales go back to the cause!. 30% of your food bill at Game Time Bar & Grill goes back to the cause.
Donations given to Marine Corps 5K to be Split between Chariites
:
Marine Corps League Cpl Philip A Reynolds Detachment Marine Raider Foundation Semper Fi Fund.
A Salute to America Concert
May 27, 2022; 3pm - 11pm
on the boardwalk in front of Spicy Cantina
Seaside Heights, NJ
Website
This celebration features a Memorial Day Weekend Kickoff to Summer event in Seaside Heights which is the unofficial start of the summer season! We also want to honor the true meaning of Memorial Day which1s to remember those in military service who made the ultimate sacrifice for our freedom.
The event will begin with October Rose Performing. After the kickoff, the celebration continues with the music of the NICKY FABBZ Band hitting the stage at 7pm.
Bradely Beach Memorial Day Weekend Festival
Saturday & Sunday, May 28, 29, 2022; from 9am-7pm
on the Bradley Beach Boardwalk
The festival includes crafters, food, live music, and Family Fun
Parade on Saturday, May 28th at 10am
21st Annual Seaport Craft Show
May 29, 2022: 10am - 5pm
Huddy Park
301 Shore Dr.
Highlands, NJ
Website
732-291-4713
Admission is free
Come experience a delightful collection of various handmade crafts from more than 60 crafters and artisans.
Live entertainment from 11AM - 3PM.
Shop till you drop for unique gifts, art, jewelry and personal items at this Juried Show.





South Jersey 2022 May Festivals and Themed Events
Cape May Music Festival

May 1, 2022 – June 30, 2022
Emen Physick Estate
1048 Washington St
Cape May, NJ
Website
609)884-5404
Join us for eight weeks and 15 musical performances of classical, chamber, jazz, brass band and Americana music, featuring the Bay Atlantic Symphony, the New York Chamber Ensemble, New Jersey Symphony Orchestra Chamber Players, the Atlantic Brass Band, Nora Jane Struthers, Paula Johns, and more, including a tribute to George Mesterhazy.


Mother's Day Brunch at Renault Winery
Sunday, May 8th, 2022: Three seatings: 10:30 AM, 12:30 PM & 3:00 PM
Renault Winery
72 North Bremen Avenue
Egg Harbor City, NJ
(609) 965 2111
Website
Cost: $25 – $62
Celebrate the special woman in your life with a delicious brunch in our Champagne Ballroom. This brunch offers pastries, breakfast favorites including made-to-order omelettes, savory classics, and carving stations. Treat Mom to a meal she won't have to cook or clean up after! She can simply relax and enjoy her special day with those she loves.

Exit 0 International Jazz Festival
May 13-15, 2022: 11am-6pm each Festival day
Main Venue: Exit Zero Ferry
1200 Lincoln Blvd.
North Cape May, NJ
Website-lineup-schedule-tickets
International touring artists perform on 2 outdoor stages on the grounds of the Exit Zero Ferry Park, Cape May bars and restaurants will host many genres of music during the evening. You might find yourself one minute second-lining to a New Orleans brass band, and, in the next, snaking through town behind a 22-piece Brazilian drum bloco. The joy of the Exit Zero Jazz Festival is in the discovery of incredible music and musicians you may never have known existed.


Ocean City Spring Block Party

Saturday, May 14, 2022; 9:00 AM - 5:00 PM
From 5th Street to 14th Street on Asbury Ave.
Ocean City, NJ
Website
1-800-BeachNJ
This event features oOver 350 crafters, food vendors, musi, and more.
Cape May Lighthouse Full Moon Climb
May 16, 2022; 7-9PM
Cape May Point State Park
215 Lighthouse Ave.
Cape May Point, NJ
Website
Admission for night time climbs is $20 for adults and $8 for children (ages 3-12)
Climb the 199 steps to the Watch Gallery at the top of the Cape May Lighthouse, to enjoy the grand vista of the evening sky and the full moon from atop this majestic beacon at nighttime.

Renault Jazz Festival
May 27 - 29, 2022
Renault Winery
72 North Bremen Avenue
Egg Harbor City, NJ 08215
Website
Parking Fee: $10 per vehicle
Renault Winery & Resort presents Renault Jazz Festival – three days, three stages, a full schedule of Jazz performances for music aficionados. Celebrate Memorial Day Weekend with live performances in Renault's new festival grounds, Champagne Patio and indoors in the Tasting Room. Food and cocktail specials will include BBQ brisket, a shrimp boil, shrimp po boys, beignets and signature beverages. Sample Renault Champagnes and wines along with chef created food pairings, while you learn about the tasting notes.
The weekend-long festival is highlighted by a fireworks display on Sunday night at 9:00 PM.


Spring Family Wilderness Skills Weekend
May 27-30, 2022
Pine Barrens Primitive Camp
905 Wells Mills Rd
Waretown, NJ 08758
Website/Tickets
Cost: $0 – $250
This event features an inspirational journey with you and your family to get outdoors through the warm seasons to come. We look forward to recalling the Old Ways, sitting around the campfire with friends and family, sharing stories, gratitude, and laughter! All meals will be provided (dinner on Friday, breakfast/lunch/dinner on Saturday-Sunday, and breakfast on Monday)


Twilight Adult Guided Tour Aboard the Battleship New Jersey
May 27, 2022; 6:00 pm – 8:00 pm
Battleship New Jersey
62 Battleship Place
Camden, NJ
(856) 966-1652
Tickets
Cost: $30 --- $15 for Battleship NJ Members
Experience an "adult-oriented" tour during the evening hours! This adult tour, led by a member of our curatorial team, will take guests through rarely seen parts of the ship and will showcase the more mature sailor art created over the years, as well as share some adult stories. Guests can enjoy a cold beer, glass of wine or a soft drink after the tour on the Main Deck! Must be over 21 years old.


Wildwoods International Kite Festival
May 27 - 30, 2022
On the Beach at Rio Grand Avenue
and inside the Wildwoods Convention Center
Wildwood, NJ
Website
732.822.4884
FREE to spectators.
Festivities begin with a Friday night social via the local kite club and the 9:00pm illuminated night kite fly. Saturday includes the silent and loud auctions (open to all) and Saturday and Sunday include the flying of large inflatable kites, sport kite demo's, team flying, as well as family games. Monday features the World Indoor Kite exhibition inside the Wildwoods Convention Center.
41st Annual May Fair

Saturday, May 28, 2022;10am to 5pm. (Rain date is May 29, 2022)
Business district along Haddon Avenue
Collingswood, NJ
Website
This event features Multiple stages of live music featuring blues, rock, folk and more. There will also be 200+ artists and crafters, a children's "KidZone" with carnival games, rides and children-friendly crafters, and an antique & classic auto show. Visitors will also find several Food Courts complimenting the downtown restaurants and cafés.
Founders Day
Saturday May 28, 2022
Frederic A. Priff Elementary School
139 Wells Mill Rd
Waretown., NJ
Website
This family event features free children's rides, live bands, crafters, and fireworks at dusk
Memorial Day Weekend Boardwalk Craft Show
May 28 & 29, 2022! Rain or shine. 9 a.m. – 5 p.m. and Sunday from 9 a.m. – 4 p.m.
On the Boardwalk
Wildwood, NJ
Website
609.522.0378
The Boardwalk Craft Show is a must-see for any fan of handmade products.
New Jersey Renaissance Faire
May 28, 29, 2022
1195 Florence Columbus Road
Bordentown, NJ
Tickets
Every year, the Shire of Crossford hosts thousands of patrons that come out to see sword fights, dance with faeries, eat turkey legs.
There are six formal stages in all with shows for the young and young-in-spirit, but truth be told, the entire Village of Crossford is a stage – and the show begins upon entering the castle gates! If you thought you would just sit through some droll rendition of a 16th century tale at the New Jersey Renaissance Faire, you are mistaken! Colorful characters, charming artists and playful scenes are all center stage during this year's all-outdoor Faire. Walk through the gates and discover what many of us already know – the live interaction at this Faire is part of the fun! Outdoor improvisational theatre surrounds you throughout the magical shire of Crossford, located on the beautiful grounds of Liberty Lake. There are dozens of scheduled shows, as well many that 'pop up' right before your eyes on the village paths. Be prepared to burst into laughter and gaze in awe during your stay at our shire!
The event also features over 30 Merchants, Vendors and Crafters make up Crossford's Artisan Village.

Tropicana's Free Fireworks Series
Memorial Day weekend on May 28, 2022
Tropicana Casino & Resort
2831 Boardwalk
Atlantic City, NJ
Website
609-340-4000
Free Event
Fireworks are launched from the beachfront and can be viewed all along the beaches or boardwalk of Atlantic City.





Upcoming Ticketed Events