Labor Day Weekend Events - New Jersey's Best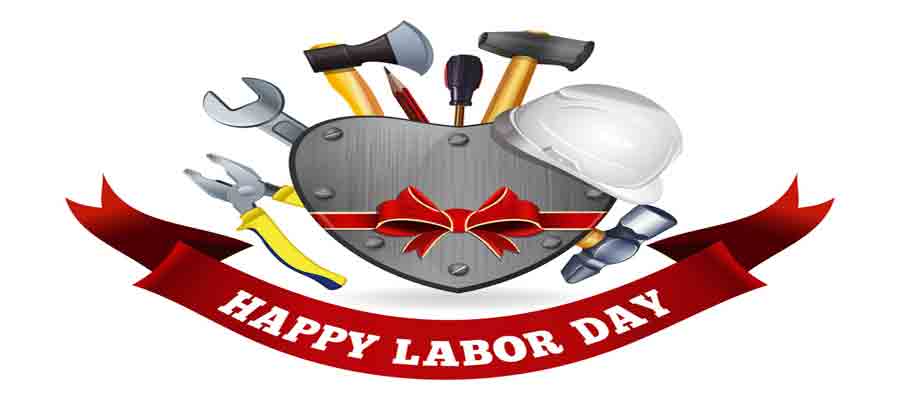 Your Guide to New Jersey Labor Day Weekend Events - Parades, Fireworks, Concerts, Festivals and other weekend events

Labor Day, the first Monday in September, falls on September 6, 2021 this year.

Created as a labor movement dedicated to the social and economic achievements of American workers, It constitutes a yearly national tribute to the contributions workers have made to the strength, prosperity, and well-being of our country.

Over the years this holiday has evolved from a being a labor union celebration into a celebration of the unofficial end of summer, especially for families with kids.

Labor Day is often regarded simply as a day of rest and or end of summer celebrations that include picnics, barbecues, fireworks, parades, water sports, and public art events. Families with school-age children take it as the last chance to travel before kids begin the new school year.
Note: Sometimes conditions require cancellations or changes of dates, times and location which are not reflected in the original schedule. Before planning a trip to visit one of the listed events, it is suggested that you call the event sponsor to confirm the event schedule or for additional information on the event.
---
Stay tuned --- we will be updating this list as the event sponsors confirm this year's events.

Northern NJ Labor Day Weekend Events
Boonton's Fireman's Carnival & Parade
September 2, 3, 4, 5, 2021
Boonton High School
306 Lathrop Ave
Boonton, NJ
Website
This annual event features live entertainment each night, carnival rides, a Parade on Saturday, and the grand finale fireworks on Sunday @ 10pm
Annual St. Bartholomew/UNICO Italian Festival
Friday, September 3 to to Monday, September 6, 2021 (Friday, Saturday Sunday 4:30pm to 10:30pm; Monday 3:30pm to 9:30pm)
4:30 PM to 10:30 PM each day.
St. Bartholomew Church
2032 Westfield Ave
Scotch Plains, NJ
908-322-5192
Website
The festival honors San Nicola di Bari, the patron saint of the town of Montazzoli, Italy. This family feast features nightly live music, rides, games, and Italian food including favorites like pizza, pasta, zeppoles, clams, mussels, and calzones. A procession will be held following the 5 p.m. Saturday Mass which is celebrated in Italian.


Lead Fest

Friday, Saturday, Sunday, September 3, 4, 5, 2021
Hilton Parsippany
1 Hilton Ct.
Parsippany, NJ
Website
Tickets & information: (908) 876-9100
This family oriented, oldies festival is a high quality classic car and Rock 'n' Roll show. It features more than 34 live bands and musicians plus five DJ's inside and out, classic cars, trucks and exciting cruisers, food trucks, and indoor and outdoor dancing.
The Feast of Saint Joseph of Lodi
September 3, 4, 5, 6, 2021; Friday 6-10pm, Saturday & Sunday 4-11pm, Monday 2-10pm
Saint Joseph Church
40 Spring Street
Lodi, NJ
Facebook
saintjosephsocietylodinj@yahoo.com 
This family event features traditional Italian festival food, exciting nightly entertainment, thrill rides, and games of chance. The highlight of the Feast is on Labor Day at 2PM where there is a solemn mass followed by a procession honoring Saint Joseph.
Sussex County Minors Post Game Fireworks
Skylands Stadium
September 4, 2021
94 Championship Place
Augusta, NJ 07822
Website
Due to anticipated capacity restrictions, it is recommended fans reserve their tickets as early as possible.
American Labor Museum Parade
September 5, 2021
83 Norwood Street
Haledon, NJ 07508
973-595-7953 
Website
The opening ceremony begins at the Museum at 1PM. Parade Step-off is at 1:30PM, rain or shine.
NYC Labor Day Weekend Harbor Cruises
Saturday, Septmber 4th, 2021; Lunch Cruise departing @ 12pm & Dnner Cruise departing @7:30 PM
Departures from Lincoln Harbor Marina
1500 Harbor Blvd
Weehawken, NJ
Website
Spirit Cruises offers the experience of a festive and fun atmosphere at your own pace. Step aboard and taste our delicious buffet dining. Relax on their comfortable climate-controlled decks, or take a stroll to the spacious open-air observation deck. Sip from a refreshing cocktail and take in amazing views of NYC's iconic skyline.
Lake Hopatcong Labor Day Weekend Cruises
September 5th & 6th, 2021
Lake Hopatcong Cruises
37 Nolan's Point Park Road
Lake Hopatcong, NJ
973-663-5000
Website
They offer 2-hour cruise around Lake Hopatcong (Excluding the 3:30 PM cruise, which is 90 minutes.) Food served buffet style (Excluding the 3:30 PM cruise in which you can add-on a light appetizer. Available during ticket purchase!) All meals prepared by one of their sister properties, Alice's Restaurant or the Windlass Red. White & Blue drink specials offered Full-Service Cash Bar
Annual Mendham Borough Labor Day Parade
Monday, September 6, 2021
973-543-7152
Website
Parade begins at 10am (rain or shine) and runs along East Main Street and Mountain Ave. Viewing Stand at the Gazebo.
Lyndenhurst Fireworks

September 6, 2021 (Rescheduled from July 4th)
Bbehind the Little League fields on Riverside Avenue.
Lyndenhurst, NJ
Website
Riverdale Labor Day Street Fair
Monday, September 6, 2021; 10am-5pm
Newark Pompton Turnpike from Newbury Place to Cotluss Rd, (off Rte 23)
Riverdale, NJ
Website
201.998.6311
This fun filled family street fair features live entertainment, festival foods, local merchants and restaurants displaying their specialties and a variety of family activities. The event includes a special arts & crafts section, kiddie rides & games, food trucks, and so much more.






Central NJ Labor Day Weekend Events
Fireworks On Belmar Beach
Friday, September 3, 2021; Rain date Saturday, September 4th.
Belmar, NJ
Website
Contact: 732-681-3700, ext. 214
The show starts at dusk on 7th Avenue beach (Ocean Avenue). Bring your beach chairs and get there early for a prime viewing spot. Free admission.

Manasquan Labor Day Concert & Fireworks
Friday, September 3, 2021; @ 5:30pm (rain date September 4th)
Main Beach
Main St & 1st Ave
Manasquan, NJ
Website
This family event features Concert by Deep Six and Fireworks on Main Beach.
Trenton Pork Roll Festival
Saturday, September 4, 2021: 10:00 AM – 10:00 PM 
Trenton Social
449 South Broad Street
Trenton, NJ 08611
Website/Tickets
Whether you call it Pork Roll or Taylor Ham ... this cult favorite meat, still made in Trenton, is one of Jersey's most beloved edible treasures. This event features Food trucks & guest chefs, a Beer garden and full bar, Live music stage, their superhero mascot, P-Roll. VIP option for the ultimate experience Games and fun for kids and adults alike.
Edison Labor Day Weekend Concert
Septermber 4h, 2021: @4pm
​Stephen J. Capestro Theater
Roosevelt Park
1 Pine Drive
Edison, NJ
Website
contact: Erin Drakoulis at (732) 745-8188
Celebrate an evening of unforgettable, high energy entertainment. Don't forget to bring your lawn chair!
The entertainment features Xtreme Queen --The Legacy of Freddie Mercury, and Seperate Ways the Band -- The Ultimate Tribute to the music of Journey
Monmouth Park Labor Day Weekend BBQ & Craft Beer Festival
September 4, 5, 6, 2021; 11:00am to 5:00pm
Monmouth Park Racetrack
Oceanport, NJ
Website
The Monmouth Park Racetrack will be hosting their Annual Labor Day Weekend Festival filled with horse races, beer tasting, great barbecued food, and fun for the entire family. some of the Garden State's best BBQ joints. In addition, cool off with a cold one in the beer garden with live music.
Annual South Plainfield Labor Day Parade Fireworks
Monday, September 6, 2021
South Plainfield, NJ
Facebook page
The parade starts at the Police Athletic League [PAL] Recreation Center on Maple Avenue at 10:00 AM.
The parade is one of the oldest and biggest parades in the state. The parade winds through town and ends up at South Plainfield Middle School. Festivities to follow at Veterans Park and Fireworks at dusk at Spring Lake Park.
Southern NJ Labor Day Weekend Events

Labor Day Weekend Fireworks on the Beach in Wildwood
Friday September 3rd, 2021 at 10pm (Rain date is Sunday at 9 p.m)
On the Rio Grande Avenue beach
Wildwood, NJ
Website
 (609) 523-1602
Visible from almost anywhere on the Wildwoods Boardwalk! Hear the fireworks explode to a musical score that is played all along the Boardwalk and is simulcast on 98.7 The Coast.
Airfest 2121
September 3, 4, 5, 6, 2021; 10 AM – 4 PM
NAS Wildwood Aviation Museum
500 Forrestal Road
Cape May Airport
Rio Grande, NJ
(609) 886-8787
Website
Cost: Adults $14, Kids 4-12 $10, 2 and under Free. AirFest admission is FREE if you are a Member of Naval Air Station
This annual event features all new aircraft, Tuskegee Airmen, live music, beer garden, vendors, exhibitors, classic cars & more.
The 49th Annual Delaware Valley Bluegrass Festival
September 3, 4, 5, 2021
Salem County Fairgrounds
725 Route 40
Pilesgrove Township, NJ
Website (Line-up, schedule, and Tickets)
This family music festival features southern Appalachian old-time and bluegrass and related music styles. For kids, there is also a Children's Stage.
The festival site has plenty of room for camping for tenters as well as RVers, and unlike many other festivals, they do not charge extra for camping. Weekend ticket holders may camp on the grounds at no charge, but camping is available only to weekend ticket holders - daily ticket holders may not bring vehicles or camping gear into the campground.
Glassboro Car Show & Food Truck Festival
September 3, 2021; 5 - 9pm
Glassboro Town Square
1 Main Street West
Glassboro, NJ
Website
Cost: Free; Parking Free
The viewing area will be on Rowan Boulevard in Downtown Glassboro and an anticipated 5,000 attendees will have the opportunity to view over 300 vehicles while listening to live music, DJ Pepper Paul 92.1 and enjoying great food trucks and cold craft beer. Participants compete for a multitude of trophy awards judged by car professionals.
New Jersey Horror Con and Film Festival
September 3rd, 4th and 5th, 2021
Showboat Casino/Hotel
Atlantic City, NJ
Website/tickets
This event features amazing Horror films in the indie scene and also an opportunity to mingle with big names in horror. Horror fans can also participate in Q&A sessions, see the amazing vendors from around the Horror scene and watch the best indie films around. The event will include over 20 well known celebrities, many Indie Horror films, Film Awards, Exclusive Q and A panels, 200 vendors, Cosplay, Trivia Contest, Photo Ops and more!
Bordentown Fireworks Celebration
September 4, 2021: @ dusk Rain Date September 5, 2021
Joseph Lawrence Park
Bordentown, NJ
Website
End of Summer Fireworks. Free Kids Corner, Food Trucks, DJ, and giveaways!!! Bring your chair and blanket and all your friends to watch fireworks at the park!!
Tropicana's Weekly "Summer Celebration" fireworks
Saturday, September 4. 2021
 south of Tropicana Casino and Resort
2831 Boardwalk
Atlantic City, NJ
Fireworks are shot off on the beach just south of the beachfront in front of the Tropicana.
The show lasts ten minutes.
Website
Hands-On History Weekend
Saturday and Sunday, September 4th & 5th, 2021; 11:00am-4:00pm
Historic Cold Spring Village
720 Route 9
Cape May, NJ 08204
609-898-2300
Website
Cost: Adults $12; children 3-12 $10; under 3 free
This family event features two days of interactive and educational fun. Children will be given a "Pastport" at the start of their Village trip, which can be stamped at the buildings they visit after completing a take-home craft or activity, like writing with a quill pen, carding wool or churning butter. Pastports can be redeemed at the Country Store for a free treat! Other family-friendly activities include games and live entertainment.
Millville Air Show
September 4, 5, 2021
Millville Army Air Field Museum
Millville Executive Airport
1 Leddon St
Millville, NJ
(856) 327-2347
Website
The 2021 Millville Airshow is back on Labor Day Weekend. This 2-Day event will feature the USAF F-22 Raptor Demonstration Team along with many other military and civilian performers.
Annual Wildwood Block Party and Music Festival
Sunday, September 5, 2021; 1pm - 10pm
Fox Park
(across from the Wildwoods Convention Center on Ocean Avenue between Burk and Montgomery Avenues)
Wildwood, NJ
(609) 522-2444
Website
This family festival event will feature free live entertainment, craft and food vendors and many entertainers. Admission to the block party and concert is FREE.
2021 NJ Labor Day Weekend Ticketed Concerts & Stage Shows