Labor Day Weekend Events - New Jersey's Best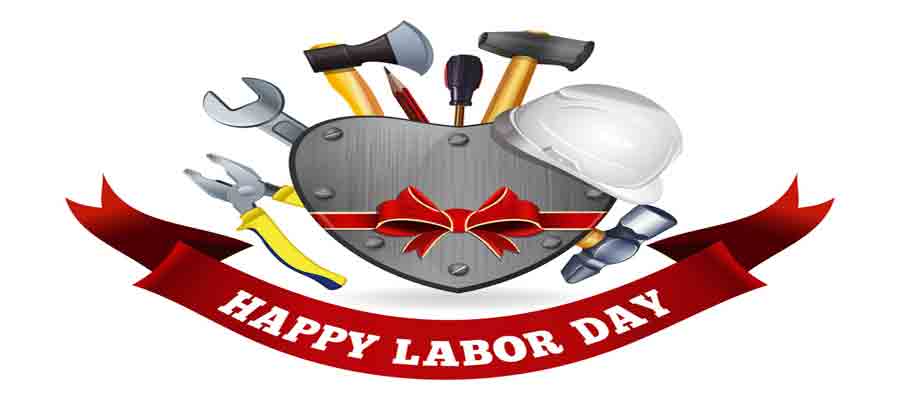 Your Guide to New Jersey Labor Day Weekend Events - Parades, Fireworks, Concerts, Festivals and other weekend events

Labor Day, the first Monday in September, falls on September 5, 2022 this year.

Created as a labor movement dedicated to the social and economic achievements of American workers, It constitutes a yearly national tribute to the contributions workers have made to the strength, prosperity, and well-being of our country.

Over the years this holiday has evolved from a being a labor union celebration into a celebration of the unofficial end of summer, especially for families with kids.

Labor Day is often regarded simply as a day of rest and or end of summer celebrations that include picnics, barbecues, fireworks, parades, water sports, and public art events. Families with school-age children take it as the last chance to travel before kids begin the new school year.
Note: Sometimes conditions require cancellations or changes of dates, times and location which are not reflected in the original schedule. Before planning a trip to visit one of the listed events, it is suggested that you call the event sponsor to confirm the event schedule or for additional information on the event.
---
Stay tuned --- we will be updating this list as the event sponsors confirm this year's events.

Northern NJ Labor Day Weekend Events
Garfield Labor Day Fireworks
Friday, September 2nd, 2022
Century Field
75 Elizabeth St.
Garfield, NJ
Website
Bring chairs & Blankets. Fireworks start at dusk.
Annual Medham Labor Day Carnival, Parade, Concert, & Fireworks
Friday, Saturday, Sunday, & Monday, September 2, 3, 4, 5,2022; (Parade & Fireworks rain date on September 10th)
Bourough Park
Mendham, NJ
Website
Admission: Free
This annual family four day holiday event features a carnival with rides, games, food, and a 50/50 raffle, on Friday, Saturday and Sunday evening 6pm - 10pm.
On Labor Day, Monday, the parade will kickoff @ 10:00am, beginning on 72 E Main St, and ending at the Borough Park Gazebo. After the Parade at 11:00am at the Borough Park Gazebo, the Altman Brothers (Mainstream Southern Rock Band) will perform. Later that night, the spectacular fireworks display will take place at dusk at Borough Park
Annual St. Bartholomew/UNICO Italian Festival
Friday, September 2 to to Monday, September 5, 2022 (Friday, Saturday Sunday 4:30pm to 10:30pm; Monday 3:30pm to 9:30pm)
St. Bartholomew Church
2032 Westfield Ave
Scotch Plains, NJ
908-322-5192
The feast is truly a great family event and has something for everyone to enjoy. There is nightly live music, rides, games, and great food, including favorites like pizza, pasta, zeppoles, clams, mussels, and calzones. In addition, there are nightly 50/50 drawings and a super 50/50 raffle on Monday.
The Feast of Saint Joseph of Lodi
September 2, 3, 4, 5, 2022; Friday 6-10pm, Saturday & Sunday 4-11pm, Monday 2-10pm
Saint Joseph Church
40 Spring Street
Lodi, NJ
Website
[email protected] 
This family event features traditional Italian festival food, exciting nightly entertainment, thrill rides, and games of chance. The highlight of the Feast is on Labor Day at 2PM where there is a solemn mass followed by a procession honoring Saint Joseph.
Boonton Fire Department Labor Day Parade
Saturday, September 3, 2022: 1:30 PM 4:00 PM (rain date September 5th)
Boonton, NJ
Website
The parade will assemble in the West Boonton area and proceed down Main Street to Grant Street, to Old Boonton Road, ending at Boonton High School.
Sussex County Minors Labor Day Food Truck Fest
Skylands Stadium
Saturday, September 3, 2022: Gates open at 4:35 PM, first pitch at 6:05 PM
94 Championship Place
Augusta, NJ 07822
Website

This event features a baseball game, food trucks, live music, and firework
s.


American Labor Museum Parade
Sunday, September 4, 2022
83 Norwood Street
Haledon, NJ 07508
973-595-7953 
Website
The opening ceremony begins at the Museum at 1PM. Parade Step-off is at 1:30PM, rain or shine.
Lake Hopatcong Labor Day Weekend Cruises
September 4th & 5th, 2022
Lake Hopatcong Cruises
37 Nolan's Point Park Road
Lake Hopatcong, NJ
973-663-5000
Website
They offer 2-hour cruise around Lake Hopatcong (Excluding the 3:30 PM cruise, which is 90 minutes.) Food served buffet style (Excluding the 3:30 PM cruise in which you can add-on a light appetizer. Available during ticket purchase!) All meals prepared by one of their sister properties, Alice's Restaurant or the Windlass Red. White & Blue drink specials offered Full-Service Cash Bar
NYC Labor Day Weekend Harbor Cruises
Sunday, Septmber 4th, 2022; Dinner Cruise: Board 5:30pm, Depart: 6:00pm, Return: 8:30pm
Departures from Lincoln Harbor Marina
1500 Harbor Blvd
Weehawken, NJ
Website
Cost: $ 129.90 & $159.90
Experience wide-open, ever-changing views of the Empire State Building, Brooklyn Bridge, Statue of Liberty and NYC's skyline that will take your breath away.
Includes a 2.5 hour dinner cruise on the Hudson and East Rivers Delicious dinner buffet with freshly prepared entrees, salads and desserts Unlimited coffee, hot tea, iced tea and water Spectacular views of the city skyline and local landmarks, including the Empire State Building Onboard entertainment with DJ music, access to shared spaces and interactive games.
Mendham Borough Labor Day Parade
Monday, September 5, 2022
973-543-7152
Website
Parade begins at 10am (rain or shine) and runs along East Main Street and Mountain Ave. Viewing Stand at the Gazebo.
Riverdale Labor Day Street Fair
Monday, September 5, 2022; 10am-5pm
Newark Pompton Turnpike from Newbury Place to Cotluss Rd, (off Rte 23)
Riverdale, NJ
Website
201.998.6311
This fun filled family street fair features live entertainment, festival foods, local merchants and restaurants displaying their specialties and a variety of family activities. The event includes a special arts & crafts section, kiddie rides & games, food trucks, and so much more.
Central NJ Labor Day Weekend Events
Fireworks On Belmar Beach
Friday, September 2, 2022; Rain date Saturday, September 3rd.
Belmar, NJ
Website
Contact: 732-681-3700, ext. 214
The show starts at dusk on 7th Avenue beach (Ocean Avenue). Bring your beach chairs and get there early for a prime viewing spot. Free admission.
Manasquan Labor Day Concert & Fireworks
Saturday, September 3, 2022; @ 7:30pm
Main Beach
Main St & 1st Ave
Manasquan, NJ
Website
This family event features Concert by Deep Six followed by Fireworks on Main Beach.
Monmouth Park Labor Day Weekend BBQ & Craft Beer Festival
September 3, 4, 5, 2022; 11:00am to 5:00pm
Monmouth Park Racetrack
Oceanport Avenue
Oceanport, NJ
Website
Cost: General admission tickets are available in advance as well for $5 or day-of $6.  All crafts will also be available at our craft beer bar for $6. - Parking is FREE!
This Labor Day weekend from 11am to 5pm join us for three days of delicious BBQ and a great selection of brews in our Craft Beer Garden. The perfect companion to delicious BBQ is an ice-cold beer! Our NJ Craft Beer Garden will feature over 40 craft beers to choose from – and for the first time, all beers will be brewed right here in the Garden State.  Enjoy live music from 12-4pm all three days!  After the Reign rocks out on Saturday followed by Chris Morrisy Sunday and Jessica Rose on Monday.
FREE Family Fun Day activities take place from 12-4pm on Saturday and Sunday featuring pony rides, clowns, face painters and a bounce house.
Annual South Plainfield Labor Day Parade & Fireworks
Monday, September 5, 2022
Spring Lake Park
South Plainfield, NJ
Facebook page
The parade starts at the Police Athletic League [PAL] Recreation Center on Maple Avenue at Noon.
Immediately following parade, enjoy the festivities at the Veterans' Memorial Park (ÄÃÈ Elm Street - behind the South Plainfield Senior Center) ● Fireworks at dusk at Spring Lake Park





Southern NJ Labor Day Weekend Events

26th Anniversary Airfest
September 2, 3, 4, 5, 2022; 10 AM – 4 PM
NAS Wildwood Aviation Museum
500 Forrestal Road
Cape May Airport
Rio Grande, NJ
(609) 886-8787
Website
Cost: Adults $14, Kids 4-12 $10, 2 and under Free. AirFest admission is FREE if you are a Member of Naval Air Station
This annual event features all new aircraft, Tuskegee Airmen, live music, beer garden, vendors, exhibitors, classic cars & more.

The 50th Annual Delaware Valley Bluegrass Festival
Labor Day Weekend, September 2-3-4, 2022
Salem County Fairgrounds
725 Route 40
Pilesgrove Township, NJ
This family music festival features southern Appalachian old-time and bluegrass and related music styles. For kids, there is also a Children's Stage.
The festival site has plenty of room for camping for tenters as well as RVers, and unlike many other festivals, they do not charge extra for camping. Weekend ticket holders may camp on the grounds at no charge, but camping is available only to weekend ticket holders - daily ticket holders may not bring vehicles or camping gear into the campground.

Glassboro Car Show & Food Truck Festival
September 2, 2022: 5 - 9pm This is a rain or shine event.
Rowan Blv'd
Glassboro, NJ
Cost: Free; Parking Free
This family fun event features restored vehicles representing all decades of automotive history as well as modern exotics and race cars.  Food truck vendors will be on site selling food and non-alcoholic beverages.   Landmark Americana will host the Beer Gardens.  View over 300 cruise vehicles while listening to live music, and a DJ, and enjoying great food trucks, a beer garden with cold craft beer. Participants compete for a multitude of trophy awards judged by car professionals.
The viewing area will be on Rowan Boulevard in Downtown Glassboro and an anticipated 5,000+ attendees

Labor Day Weekend Fireworks on the Beach in Wildwood
Friday September 2nd, 2022 at 10pm (Rain date is Sunday)
On the Rio Grande Avenue beach
Wildwood, NJ
Website
 (609) 523-1602
Visible from almost anywhere on the Wildwoods Boardwalk! Hear the fireworks explode to a musical score that is played all along the Boardwalk and is simulcast on 98.7 The Coast.

Hands-On History Weekend
Saturday and Sunday, September 3rd & 4th, 2022; 11:00am-4:00pm
Historic Cold Spring Village
720 Route 9
Cape May, NJ 08204
609-898-2300
Website
Cost: Adults $14; children 3-12 $12; under 3 free
This family event features two days of interactive and educational fun. Children will be given a "Pastport" at the start of their Village trip, which can be stamped at the buildings they visit after completing a take-home craft or activity, like writing with a quill pen, carding wool or churning butter. Pastports can be redeemed at the Country Store for a free treat! Other family-friendly activities include games and live entertainment.

Tropicana's Free Fireworks Series
Saturday, September 3, 2022
Tropicana Casino & Resort
2831 Boardwalk
Atlantic City, NJ
Website
609-340-4000
Free Event
Fireworks are launched from the beachfront and can be viewed all along the beaches or boardwalk of Atlantic City.

Atlantic City End of Summer Fireworks Celebration
Sunday, September 4th, 2022; @ 8pm
500 Boardwalk
Atlantic City, NJ
Website
Fireworks can be viewed at the Park and Beach adjacent Ocean Casino Resort

End of Summer Labor Day Weekend Booze Cruise Boat Party in Atlantic City
Sunday, September 4, 9:30 PM - Monday, September 5, 2022, 12:00 AM
Atlantic City Cruises
800 North New Hampshire Avenue
Atlantic City, NJ
Website/Tickets
Cost: General Admission $45.00 +$3.17 Fee +$3.19 Sales Tax (All items will be CASH BAR ONLY)
The boat will sail the marina circling the casinos of Harrah's, Borgata and Golden Nugget for a calm cruise with Live DJ playing the hottest music. The boat will not go in the ocean only the marina. DJ and Dancing!

Filipino American Festival
Sunday, September 4, 2022; 1pm — 6pm
Overpeck Park
99 Challenger Rd.
Ridgefield Park, NJ 076661
201-841-3070
Website
This event features all things Filipino with Filipino foods, vendors, a cultural show fashion show, entertainment, beverages, arts, bubble tea and more.

Annual Wildwood End of Summer Block Party & Music Festival
Sunday, September 4, 2022: 1pm - 10pm
Fox Park
(across from the Wildwoods Convention Center on Ocean Avenue between Burk and Montgomery Avenues)
Wildwood, NJ
609.522.2444
Website
Free Event
This family festival event will feature free music, entertainment, food vendors, craft vendors and more as we say goodbye to another great summer here in Wildwood.





2022 NJ Labor Day Weekend Ticketed
Concerts, Sports Events & Shows