Best NJ Labor Day Weekend Events

2017 parades, fireworks, concerts, festivals, and more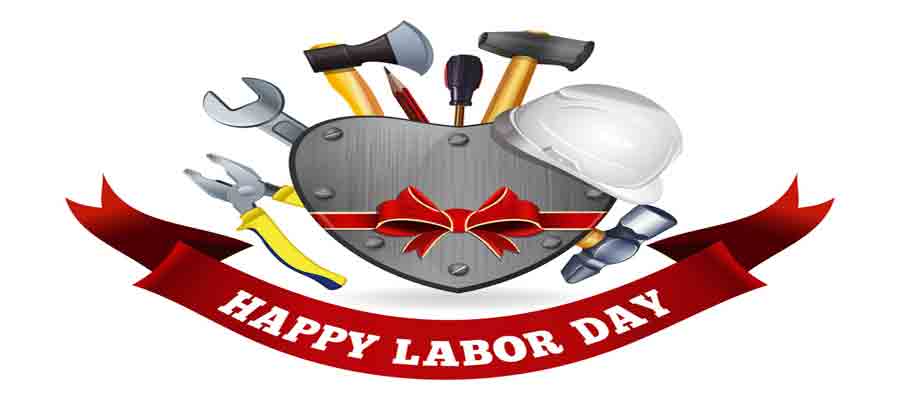 Labor Day, the first Monday in September, falls on September 4, 2017 this year.

Created as a labor movement dedicated to the social and economic achievements of American workers, It constitutes a yearly national tribute to the contributions workers have made to the strength, prosperity, and well-being of our country.

Over the years this holiday has evolved from a being a labor union celebration into a celebration of the unofficial end of summer, especially for families with kids.

Labor Day is often regarded simply as a day of rest and or end of summer celebrations that include picnics, barbecues, fireworks, parades, water sports, and public art events. Families with school-age children take it as the last chance to travel before kids begin the new school year,



Note: This information is provided by event sponsors as a free service to our viewers. Sometimes conditions require cancellations or changes of dates, times and location which are not reflected in the original schedule. Before planning a trip to visit one of the listed events, it is suggested that you call the event sponsor to confirm the event schedule or for additional information on the event.

Stay tuned --- we will be updating this list as the event sponsors confirm this year's events.

Northern NJ Labor Day Weekend Events
Boonton's Fireman's Carnival & Parade

Thursday, August 31 - Sunday, September 3, 2017
Boonton High School
306 Lathrop Ave
Boonton, NJ
This annual event features live entertainment each night, carnival rides, a Parade on Saturday, and the grand finale fireworks on Sunday @ 10pm


The Feast of Saint Joseph
-
Viva San Giuseppe
September 1 - 4, 2017; Friday 6-10pm, Saturday & Sunday 4-11pm, Monday 2-10pm
Saint Joseph Church
40 Spring Street
Lodi, NJ
Website
This family event features traditional Italian festival food, exciting nightly entertainment, thrill rides, and games of chance. The highlight of the Feast is on Labor Day at 2PM where there is a solemn mass followed by a procession honoring Saint Joseph.
Annual St. Bartholomew/UNICO Italian Festival
Friday, September 1st to Monday, September 4th, 2017
St. Bartholomew Church
2032 Westfield Ave
Scotch Plains, NJ
908-322-5192
Website
The festival honors San Nicola di Bari, the patron saint of the town of Montazzoli, Italy. This family feast features nightly live music, rides, games, and Italian food including favorites like pizza, pasta, zeppoles, clams, mussels, and calzones. A procession will be held following the 5 p.m. Saturday Mass which is celebrated in Italian. This year's entertainment includes: the Classic Acoustic/Electric Music sounds of Wolf Creek, Diamond Reno performing a Neil Diamond Tribute, the Rock sounds of The Broadcasters, and the New Orleans Jazz & Funk sounds of The VooDudes.
Saturday Night Lights
September 2, 2017; 7-10pm
Mountain Creek
The Great Lawn
Waterpark
Biergarten
200 Rt. 94,
Vernon, NJ 07426
973-827-2000
Website
Price: Free, $10 general parking, must have Waterpark admission to enter the Waterpark.
Celebrate Labor Day weekend at Mountain Creek during their special Saturday Night Lights event with extended waterpark hours,
fireworks
, great food and drinks and live music! Bring the family, meet up with your friends, throw down a blanket or a few chairs and enjoy some quality time together. The Waterpark will even be open for extended hours so you can enjoy some rides and slides until 8:30pm!
Annual Scandinavian Fest
Sunday, September 3, 2017; 10am until 6pm (rain or shine)
Vasa Park
Wolfe Road
Budd Lake
Website & ticket coupon
This family festival celebrates and promote the cultures, histories and current life of the Nordic area countries. The festival features: Nordic Foods, Authentic Crafts, Live Entertainment, Folk dress, Special Kids' Events, Artisans Demonstrations, Folk & Classical Music, Contemporary Culture, Wife Carrying and Fearsome Vikings
Annual Mendham Borough Labor Day Parade
Monday, September 4, 2017 @10am
973-543-7152
Website
Parade begins at 10am (rain or shine) and runs along East Main Street and Mountain Ave. Viewing Stand at the Gazebo.
Riverdale Labor Day Street Fair
Monday, September 4, 2017; 10am-5pm
Newark Pompton Tpke, (off Rte 23) Street
Riverdale, NJ
events@jcpromotions.info
201-926-1125
This fun filled family street fair features live entertainment, festival foods, local merchants and restaurants displaying their specialties and a variety of family activities. Over 100 exhibitors, kiddie rides and climbing wall, a special section with craft exhibitors who are displaying their handmade craft, games, face painters, activities and delicious food.
Annual South Plainfield Labor Day Celebration
Monday, September 4, 2017
South Plainfield Middle School
732-226-7601
Webpage
The parade starts at the Police Athletic League [PAL] Recreation Center on Maple Avenue at 10:00 AM.
The parade is one of the oldest and biggest parades in the state. It features bagpipers, clowns, local boy and girl scout troupes, home-made floats and marching bands. The theme for the 2015 parade is "Celebrating Our Heritage". The parade winds through town and ends up at South Plainfield Middle School. The remainder of the days celebrations continues from here with crafts, live music, food vendors, and
ending with the Grand Finale fireworks display at dusk.
Passaic River Labor Day Paddle
Monday, Septermber 4th, 2017; 10:30am to 12:30pm & 2pm to 4pm
Essex County Environmental Center
621A Eagle Rock Avenue
Roseland, New Jersey
Meet in the Garibaldi Hall parking lot.
Website
Cost: $30/canoe; Advance Registration is required call 973.228.8776.
A family event for adults and children ages 10 and older.
Celebrate Labor Day with a leisurely paddle on the Passaic River! Paddlers will enjoy scenery and peacefulness as they paddle up the river and float downstream. Geared for beginners and children 10 and up accompanied by a parent or guardian.
42nd Annual Rutherford Labor Day Street Fair
Monday, September 4, 2017; 9am - 5pm, Rain or Shine
Park Avenue, from Ames Avenue to Highland
Rutherford, New Jersey
201-460-3015
Website
Event is Free!
The Rutherford Labor Day Street Fair is the largest and longest running street fair in New Jersey.
This family event features, crafts, live entertainment, kids activities, food vendors, and a beer garden. The town boasts that the fair attracts over 25,000 people. In addition to the 100 plus antique dealers that line Park Avenue, and the numerous craft vendors that overflow the Williams Plaza onto Glen Road and Franklin Place, live music will entertain at the Lincoln Park Band Shell.The event's lineup of live musical acts includes Rutherford resident Lise Avery, host of the internationally syndicated WFDU show, "Anything Goes." Lise will once again open the Labor Day Street Fair, as she has for the past few years. Lise plays music from the 40s through current music on her Monday morning FM program. The Total Soul Band will also perform.
Central NJ Labor Day Weekend Events
Asbury Park Beach Bonfire

September 1, 2017; from 8:00 PM - End
Anchor's Bend, on the Sunset Ave Beach.
Asbury Park, NJ
Website
(732) 775-2100


Rutgers Scarlet Knights vs. Washington Huskies Football

Friday September 1, 2017 8:00PM
High Point Solutions Stadium
Piscataway, NJ
Tickets
Allaire Bacon, Bikes & Brews
September 2, 3, 2017; 11am to 5pm
Allaire Village
4265 Atlantic Ave.
Farmingdale, NJ
732-747-4449
Website
This Labor Day weekend family event features a celebration with good beer with a beer tent and garden, food trucks, live bands. kids activities, and historic tours and exhibits including displays of historic bikes and motorcycles.

Indo-American Fair
September 2, 3, 2017; 11am to 7 PM (Both days) Rain date - September 4th
Mercer County Park
West Windsor, NJ.
Website
A premier art and culture event for people of South Asian descent. The Indo-American Fair is organized to spread and share the art, culture and heritage of India amongst our American friends and other local and regional communities.
Everyone from all cultures aew welcomed to attend to be part of Indo-American Fair and enjoy this outdoor event while shopping, enjoying the food and entertainment

Manasquan Beach Labor Day Celebration
Saturday, September 2, 2017 (Rain date Sept 3rd)
Main Beach
Main St & 1st Ave
Manasquan, NJ
Website
This family event features a concert with "9 South " @ 7:30 pm Main Beach followed by grand finale fireworks display @ dusk.

Spring Lake Labor Day end of Summer Celebration/Art Walk
Saturday, September 2, 2017
Downtown Spring Lake, Third Ave
Spring Lake, NJ 07762
732-449-0577
Website
Stroll along the charming Spring Lake village 3rd Avenue business district while enjoying and admiring local artists work.

Monmouth Park Labor Day Weekend BBQ & Craft Beer Festival
September 2, 3, 4, 2017; 11:30am to 5:30pm
Monmouth Park Racetrack
Oceanport, NJ
Website
The Monmouth Park Racetrack will be hosting their Annual Labor Day Weekend Festival filled with horse races, beer tasting, great barbecued food, and fun for the entire family. some of the Garden State's best BBQ joints. In addition, cool off with a cold one in the beer garden with live music.

Frenchtown Riverfest
Sunday, September 3, 2017
49 Bridge St.
Frenchtown,آ NJ
Website

This family celebration in downtown Frenchtown features kids activities, live music from local performers, the annual pet show, local natural wildlife displays and presentations, earth friendly arts, local food vendors, the Frenchtown Farmers Market along with in store sales and discounts.آ This year's theme: Wings Over the River! Come celebrate the diverse range of avian wildlife in the Delaware




Southern NJ Labor Day Weekend Events

Cruise Nite Car Show & Food Truck Festival
Friday, September 1, 2017: 5 - 9pm
College Ave
Glassboro, NJ
Website
Cost: Free; Parking Free
This event features Food Trucks, Live music by TK & The Howlers, and DJ Pepper Paul, 92.1, a beer garden and lots of cruise cars.

Labor Day Weekend Fireworks Spectacular
Friday, September 1, 2017 @10pm
on the beach at Pine Avenue
Wildwood, NJ
609.523.1602
Free
Celebrate the end of summer with with an awesome Fireworks display
Visible from almost anywhere in the Wildwoods!

The 46th Annual Delaware Valley Bluegrass Festival
September 1- 3, 2017; noon to 11pm
Salem County Fairgrounds
725 Route 40
Pilesgrove Township, NJ
Website (Line-up, schedule, and Tickets)
This family music festival features southern Appalachian old-time and bluegrass and related music styles. For kids, there is also a Children's Stage.
The festival site has plenty of room for camping for tenters as well as RVers, and unlike many other festivals, they do not charge extra for camping. Weekend ticket holders may camp on the grounds at no charge, but camping is available only to weekend ticket holders - daily ticket holders may not bring vehicles or camping gear into the campground.

I Love The 90s: TLC, Naughty By Nature, Montell Jordan & Mark McGrath
Friday September 1, 2017 6:00PM
BB&T Pavilion
Camden, NJ
Tickets

21st Annual Airfest
September 1 through September 4, 2017
NASW Aviation Museum
500 Forrestal Road
Cape May Airport
Rio Grande, NJ
(609) 886-8787
Website
This event features many aircraft on display including the B-17 Flying Fortress, P-51 Mustang, B-24 Liberator, and NASW's 26 historic aircraft. The event will also include the Hangar filled with vendors, exhibitors, music, food, and much more.

Labor Day Weekend at Diggerland
Saturday, September 2 through Tuesday, September 4, 2017
Diggerland USA
100 Pinedge Drive
West Berlin, NJ 08091
Website & Discount Ticlets
Last Call for Summer Fun!
This family friendly event will take the labor out of Labor Day. While operating construction equipment can be work; at Diggerland it's buckets of fun! Scoop up some earth and take a spin on the Spin Dizzy – bring summer to a close the right way!

Labor Day Weekend at Sahara Sam's
Saturday, September 2 through Tuesday, September 4, 2017; 10:00 AM – 7:00 PM
Sahara Sam's Oasis
535 North Route 73
West Berlin, NJ 08091
Website & Discount Tickets
Don't let summer getaway without making a splash at the Outdoor Beach Club and BRAND NEW expansion, The Mirage! To make your end of summer celebration even better, we've got a special promo code for Labor Day weekend!

Sting
Sunday September 3, 2017 8:00PM
Borgata Events Center
Atlantic City, NJ
Tickets

Annual Wildwood Block Party and Music Festival
Sunday, September 3, 2017, Continuous 11am - 11pm
Fox Park
(across from the Wildwoods Convention Center on Ocean Avenue between Burk and Montgomery Avenues)
Wildwood, NJ
609.522.2444
Beginning at 11am, the family festival event will feature free live entertainment, craft and food vendors and many entertainers.
Admission to the block party and concert is FREE.

Our Three Tenors with the Ocean City Pops
Sunday, September 3, 2017; @ 7:30 pm
Ocean City Music Pier
Moorlyn Terrace & Boardwalk
Ocean City, NJ
609-399-6111.
Purchase tickets (Tickets are $20)
An Ocean City tradition! Shawn Mathey, Cody Austin and Roy Hage will bring down the house with your favorite arias and showpieces.

Music Festival at Congress Hall
Sunday, September 3, 2017 @ 4pm (Rain date Monday)
Congress Hall

200 Congress Place
Cape May, NJ
(609) 884-8421
Website
Send off the summer of 2017 with a celebration on Congress Hall's Lawn. enjoy a classic All-American Picnic, with musical performances kicking off at 5pm. We're proud to welcome back Major Thrice and The Bastard Sons of Captain Mey, while introducing a new act to the Cape Resort's Family, Little Country. Picnic: 4:00 pm - 9:00 pm Tie Die: 4:00 pm - 6:30 pm Face Painting: 4:00 pm - 8:00 pm Free Live Entertainment: 5:00 pm - 9:30 pm .






---