Kids Museums in New Jersey
Programs from toddlers to teens that are
educational, fun, and adventuresome.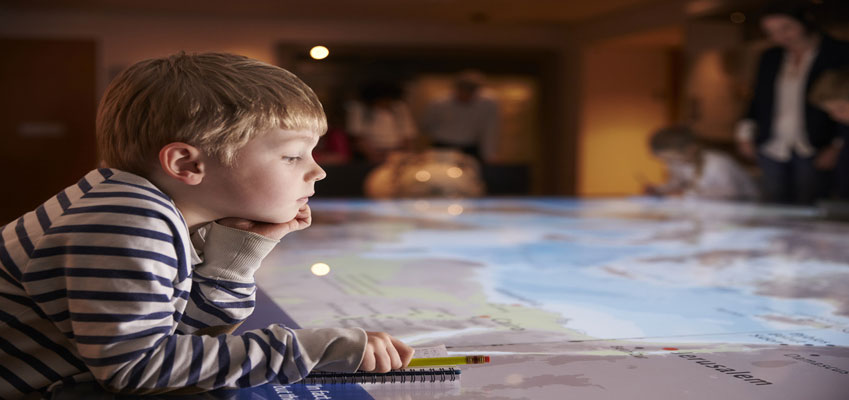 For families looking for a one day trip, a weekend getaway, or an additional kids attraction on your vacation, pack the car, buckle in the kids, and head to the Garden State to visit one of many kids museums.

They run the gamut from hands-on interactive science programs, educational exhibits, learning through fun activities, and many other adventuresome activities that make the learning experience enjoyable for kids.
New Jersey Kids Museums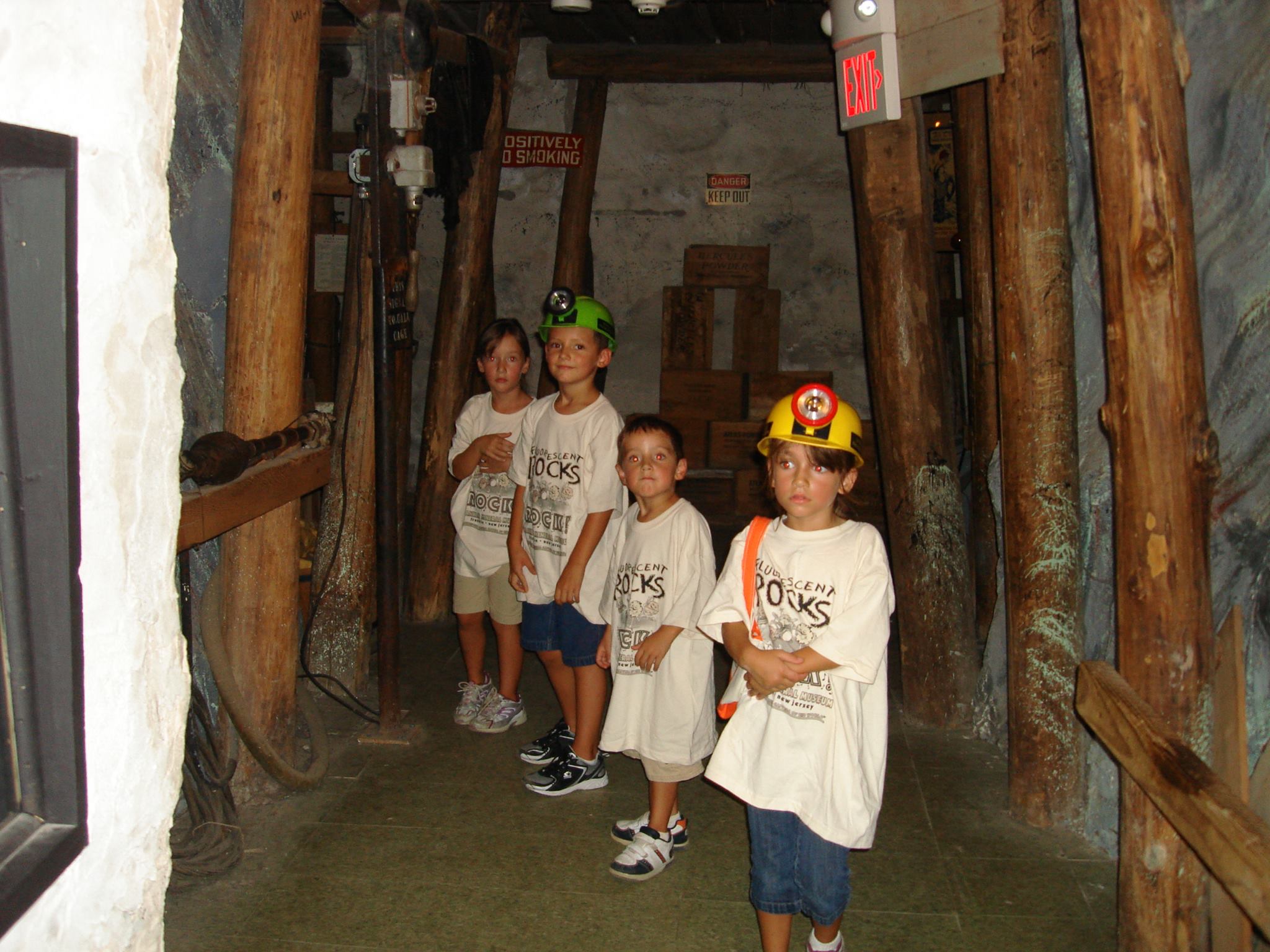 Franklin Mineral Museum
2 Evans Street
Franklin, NJ
973-827-3481
Website
This is a zinc mine with a display of mineral fluorescence, (glowing rocks) and variety of rare species.  They have thousands of mineral specimens on display with a huge fluorescent presentation of brilliant and glowing colorful minerals.
The museum also has demonstrations and examples of the mining methods used during that period of operation. The museum welcomes teachers and school tours and can create a curriculum to fit your schools educational interest.
---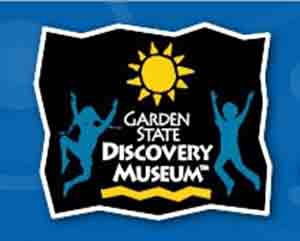 Garden State Discovery Museum  
2040 Springdale Road
Suite 100
Cherry Hill, NJ
856-424-1233
Website
The Garden State Discovery Museum is a hands-on museum for infants to 10 year olds. The Discovery Museum offers fifteen larger-than-life, kid powered, and interactive exhibit areas. Every exhibit is an invitation to touch, explore, and create. Visitors can get inside of a gigantic bubble, scale a rock climbing wall, hop aboard a ship, bandage a wounded teddy-bear, "shop" at the farm or whip up meal in the Discovery Diner. Dabble in art; create some music, put on a show and more-- all under one roof!
---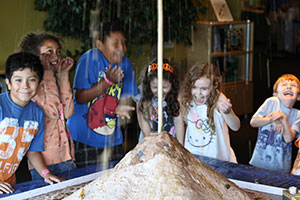 Liberty Science Center  
222 Jersey City Blvd.
Jersey City, NJ
201-253-1310
Website
Kids have plenty of room to burn off steam while enjoying 100s of exhibits, rock climbing, a suspended maze , live demonstrations (volcano pictured), a mini zoo, films, and shows. They even offer special exhibits and programs for kids ages 2-5. There's so much to do that most visits last 4 hours. Try the famous Touch Tunnel maze, see tiny live monkeys, and dodge a sneeze from the Big Blue Nose. Learning has never been so much fun. The new Jennifer Chalsty Planetarium and LSC Giant Dome Theater is the largest and most technologically advanced planetarium in the Western Hemisphere. Only three others in the world—two in Japan and one in China—are bigger
---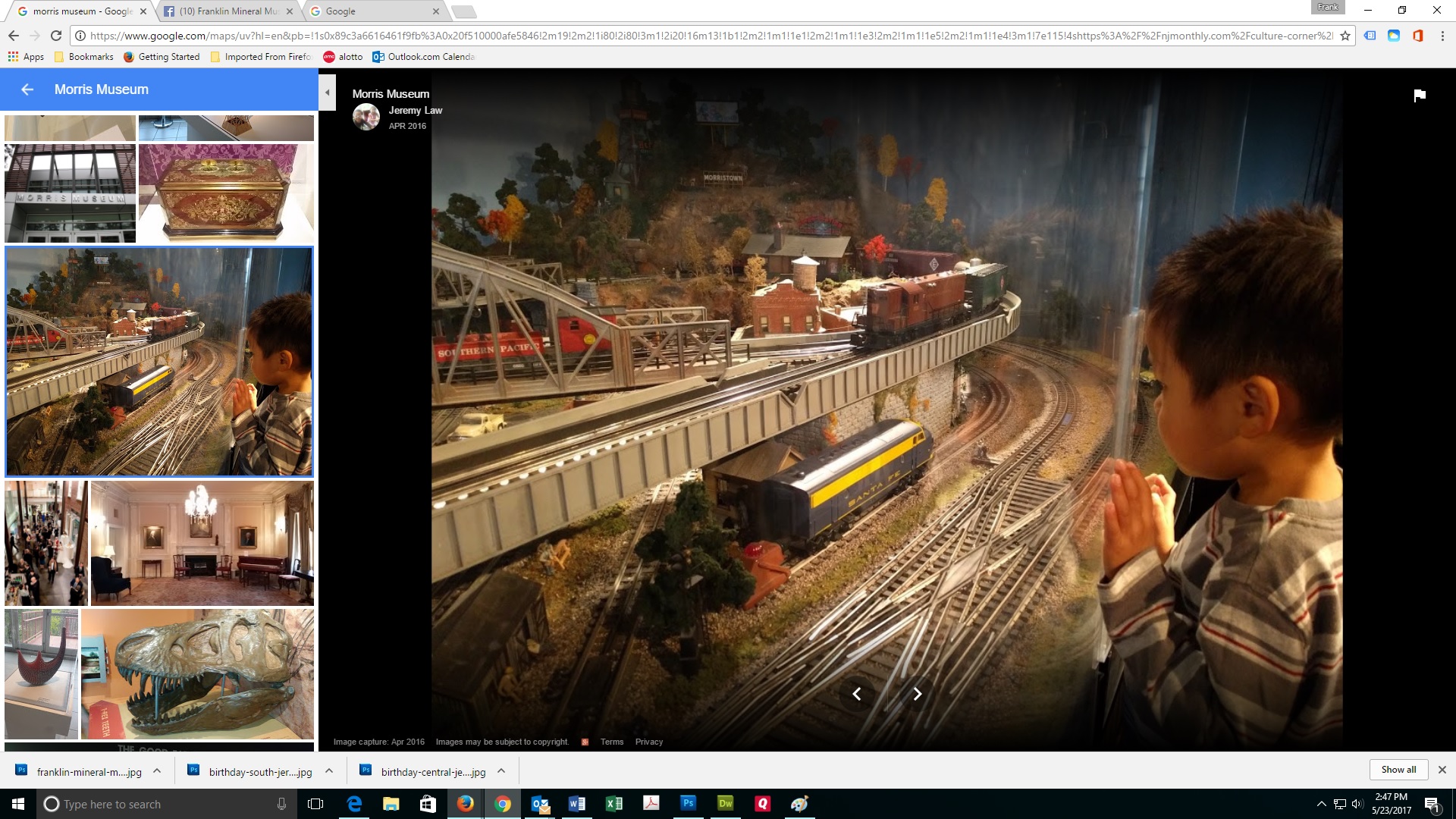 The Morris Museum
6 Normandy Heights Road
Morristown, NJ
973-971-3700
Website
Offers special events for all ages and all interests -- from young children to seniors, from hands-on art and science workshops to discussions of significant historical events, and theatrical and other performances.
The museum contains a collection of more than 40,000 objects ranging from rocks and minerals to model trains, as well as one of the country's largest collections of mechanical musical instruments and automata.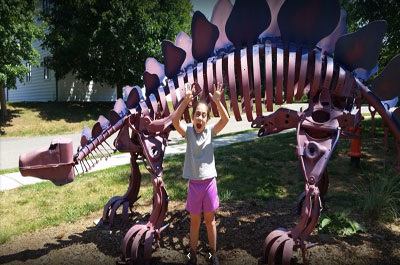 Monmouth Museum
On the Brookdale Community
College campus
765 Newman Springs Road
Lincroft, NJ
(732) 747-2266
Website
It's a museum that appeals to all ages. It's for children, adult's, and is a great place for a family day trip. The Monmouth Museum, one of the top five museums in New Jersey, is a center for education and culture. The Museum features changing exhibitions and programs. Monmouth Museum is believed to have the largest Sewing Bird Collection in the United States.
Group tours are available.
---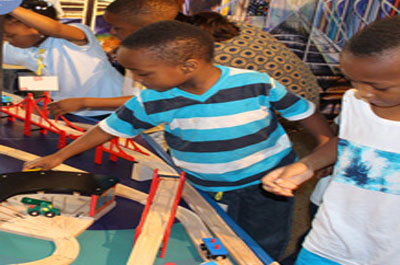 The Newark Museum

49 Washington Street
Newark, NJ
973-596-6550
Website

New Jersey's largest museum offers experiences in the arts and natural sciences, for children and adults,studio programs for kids 3- 13 to create and explore the world of science, experienced family travel programs,and educational programs for teachers.
---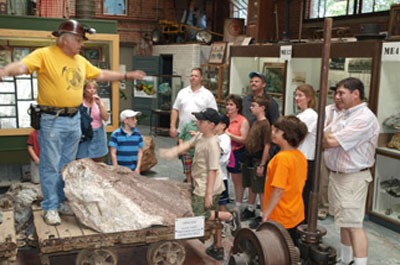 Sterling Hill Mine Tour and Museum

30 Plant Street
Ogdensburg, NJ
973-209-7212
Website
"Step Into Earth Science" The mining museum features a 1,300-ft underground walking tour through the mine where visitors can discover the equipment used while the mine was in operation and exhibits on the mining process including the 5,000 sq./ft. Zobel Exhibit Hall with over 20,000 mining related items, the miners lamp room, the shaft station, mine galleries dating to the 1830's. Also, for children the Rock & Fossil Discovery Center with fluorescent mineral displays, fossils, gemstones, carvings, and everyday objects, and more. They also offer educational group tours for school classes, scout groups, summer camps, vacation tour groups, snack bar and gift shop, etc.
---