Best Kids Indoor Playgrounds and Activity Centers
in New Jersey

Kids indoor activities for children of all ages
As the weather outside turns nasty, take the kids to an indoor playground or activity center for hours of entertainment or educational fun.

The popular kids indoor playgrounds and activity centers cover a range of interest from toddlers up to teens.

Northern NJ Kids Indoor Play Places
Escape Room
157 Main St
Hackensack, NJ
(201) 815-1784
Website
Escape Room is an interactive adventure experience. Your team will be locked in a room with clues, riddles, puzzles and challenges that must be completed.
Not recommended for children under the age of 12.
Fun Force
551 Main Ave,
Wallington, NJ
973-777-0767
Website
This large facility offers many attractions and things to do including an indoor Roller Skating Rink, laser tag, bounce house ,air blaster arena, arcade and more.
Funtime Junction
400 Fairfield Road
Fairfield, NJ
973-882-9777
Website
Best for:Toddlers and young children
They have a giant indoor jungle gym, ride-on toys and cars, a painting and crafts corner, playhouse, arcades, laser tag, and games. Snack bar on location. Open Sunday and Monday 11am-6pm, Tuesday-Friday 10am-6pm, and Saturday 10am-7pm.
Hudson Play
189 Brunswick St
Jersey City, NJ
Website

A unique family playspace with activities to engage at every age. With a focus on interactive entertainment and fitness, HudsonPLAY is designed for serious fun with dynamic play areas for toddlers, state-of-the-art activities for preschoolers and a challenging Ninja Warrior Course for everyone else!
Imagine That!
4 Vreeland Rd.
Florham Park, NJ
973- 966-8000
Website
Best for: Toddlers & young children
A children's museum where children are encouraged to touch, discover, learn and explore in our 16,000 square foot hands-on museum featuring over 50 unique exhibits. kids "Learn through play" in a safe environment where they can use their imaginations and have fun exploring and discovering unique and interesting exhibits -- and learning at the same time during the children's field trip. Open seven days, 10 a.m. to 5:30 p.m. Closed Thanksgiving and Christmas.
Kids Rule
157A Main Street
Hackensack, NJ
(201) 576-9423
Website
A unique new Family Entertainment Center which offers Open Play, Play Dates, Private Play and Private Play Dates as well as Teen Parties, Tween Parties and Kids Birthday Parties. The venue features the ability to customize over 2000 sq feet of walls with any theme you choose. including huge 2, 4 or 6 foot pictures of our guest of honor, comic book characters, sports teams, 3D Space or even 3D Haunted House themes with 3D glasses for all our guests. 7 foot high platform for DJ and an amazing area for our star and up to 3 guests to be presented and introduced from. 2 huge levels with 3 separate party areas to utilize and create the ultimate experience. Huge 2000 sq foot private outdoor entertainment area and so much more! They use The latest and most Innovative Effects like 30 snow machines, 30 bubble machines, 3 fog machines, Confetti Cannons, Balloon Drops, thousands of feet of music responsive LED's, LED Dance Floors, Strobes, Multi Color Lasers, Discos, 8 Flat Screen TV's, 9000 sq feet of UV Blacklights and much more
Kidz Village
2 locations...
131 South 31st Street
Kenilworth NJ 07033
908-445-7220
507 King Georges Rd,
Woodbridge, NJ 07095
732-826-8577

Website
Best for: Kids 10 and under
Kidz Village is a 11,000 square foot children's play facility designed to stimulate children's imagination, learning and social interaction while they have fun. The "village" is in a safe and secure large open area allowing parents to relax in the "center of town" while watching their children have a blast climbing the multi-level indoor playground or pretending to be a knight in the ball-launching castle, arcade, and pretend businesses that children pretend to work and play at such as; 50 style diner, grocery store, salon, tool shop, school, music nook, toddler room, movie theater, comic book room and more They also have a snack bar!
Open 7 days a week for open play, all day, everyday
Liberty Science Center
Liberty State Park
222 Jersey City Boulevard
Jersey City, NJ
Website
When the weather outside is frightful, LSC is delightful. Kids have plenty of room to burn off steam while enjoying 100s of exhibits, rock climbing, a suspended maze (pictured), live animals, films, and shows. They offer special exhibits and programs for kids ages 2-5. There's so much to do that most visits last 4 hours.
Maximum Sports Center
1100 Route 17 N (Rear of NYSC and Fountain Spa)
Ramsey, NJ
201-962-2711
Website
A 12,000 sq ft, multi-sports indoor turf facility offering a variety of programs for participants of all ages including; open play, team/club field rentals, private and individual trainings, tournaments, leagues, clinics, birthday parties and corporate events. They feature certified reball (paintless paint ball), soccer, lacrosse, baseball, softball, cheering, and tumbling.
The New Jersey Children's Museum
599 Valley Health Plaza
Paramus, NJ
201-262-5151
Website
Best for: Toddlers & young children
An indoor play space for imagination play, offering a real fire truck, real helicopter, a ballet studio with costumes, a medieval castle, a pretend grocery store, indoor sandbox, and more. On certain days there may also have storytelling or crafts, so check the daily calendar when you arrive. Open 10am-5pm on weekdays, 10am-6pm on weekends.
Powerhouse Studios
2 Locations)
7 Littell Rd.
East Hanover, NJ
973-560-9560
or 49 E. Midland Ave.
Paramus, NJ
201-265-9060
Website
If your child loves to act out or be goofy then Powerhouse Studios is the b-day destination for you. They offer an interactive selection of three diverse programs that cater to the age and personality of your child. The Playtime Forest option is for kids ages 3-6 that features a fun journey filled with singing, dancing, games and a Dragon named Milo that children love to play with. The Wild'N Wacky Challenge.
Central NJ Kids Indoor Play Places
Bounce-U

165 Amboy Road
Morganville, NJ
732- 972-6862
and in Lakewood, Piscataway, West Windsor, Blackwood, Cherry Hill, & Pleasantville.
Website
Best for: Toddlers & children
They offer open sessions every week. They come complete with music, games, snacks, and – of course – a whole lot of bouncing. From preschool play date, to family bounce night. Just make a reservation, bring your socks, come on down. Pizza can be purchased on location after the session.
Hours and prices vary by location.
Fun Time America

269 Route 35
Eatontown, NJ 07724
(732) 460-0700
Website
Best for: Young Children & teens
An indoor amusement park with incredible entertainment including a multi-level Club House Bounce, Rides, Games, a Apache Helicopter, Laser Tag, Soft Play Science Fun, Arts and Crafts and a snack bar.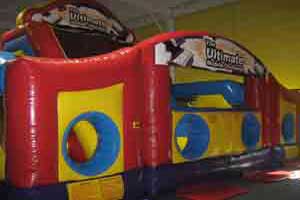 House of Bounce
5100 Belmar Blvd
Suite #9
Wall, NJ
732-919-0999
Website
They offer over over 10,000 square feet of inflatable, indoor activities! With 9 giant inflatables, both kids and adults alike will have a blast on our climbers, slides, obstacle courses and sport centers. They also have programs for kids with special needs to come and work on their gross motor, social and sensory processing skills in a safe environment.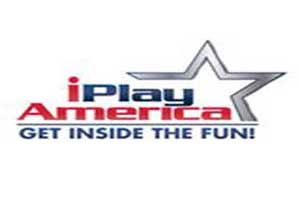 iPlay America
110 Schanck Road
Freehold, NJ 07728-2938
732-577-8200
Website
iPlay America offers fun for the whole family in a themed indoor environment. Boardwalk style rides, the IPA Speedway, 4D Theatre and Cosmic Laser Tag are just a few of the main attractions! The park includes a massive arcade, featuring state-of-the-art gaming technology with over 200 traditional and cutting edge arcade games.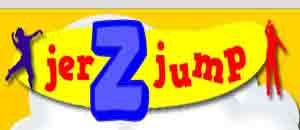 JerZJump
51 Stouts Lane
Monmouth Junction, NJ
732-438-JUMP (5867)
Website
Best for: Toddlers and children
A 17,500 sq. ft. indoor play space! The facilities include a special toddler room where your three-and-under can play without getting pummeled by the big kids. For older children, there's a 15-foot tall jungle gym, huge bouncies, and inflatable slides.
Adults can enjoy arcade games, a snack bar, and a lounge with free WI-FI and TV's.
The toddler room is open Monday through Thursday from 10:30-7pm, Friday and Saturday 10am-8pm, and Sunday 11am-6pm. Open "Jump" is Monday-Thursday 3-7pm, Friday 1:30-8pm, Saturday 10am-8pm, and Sunday 11am-6pm.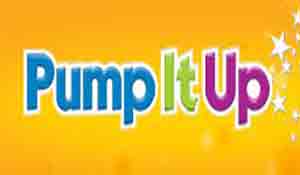 Pump It Up
Children's Entertainment Venue
145 Ethel Rd W
Piscataway, NJ 08854
Website
There's fun for all ages with private, indoor arenas with gigantic inflatables. A Pump It Up party combines imagination and inflatables to create the most exciting party your child has ever had. It's always stress-free and easy to do. We personalize every party to your specific needs. They also have many open events where your child can participate in imaginative play all through the year.
Southern NJ Kids Indoor Play Places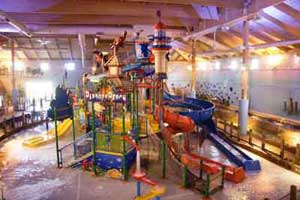 CoCo Key Water Resort
At The Hotel ML
915 Route 73
Mount Laurel, NJ 08054
877-494-COCO (2626)
Website
CoCo Key Water Resort is an indoor water park with a Key West theme and is New Jersey's only indoor water park with an on site hotel which adds to the fun and adventure for out of towners looking to make this an overnight trip. The park is kept at 84 degrees and open all year round. Some of the popular attractions include: 40-foot slides, a lazy river, the Parrot Perch interactive play area, and if you choose, you can unwind in the Dip-In Movie theatre or play in the arcade
Funplex
3320-24 US 38
(cross streets are Briggs Road & Hartford Road).
Mt. Laurel, NJ
856-273-9666
Website
A 100,000 SQ-FT indoor amusement park packed with state-of-the-art arcade games (with new, higher value prizes), exciting rides and great atmosphere to enjoy rain or shine. They are equipped with food and dining facilities at our cafe, too. indoor family entertainment center, open year round. Attractions include, Foam Frenzy, Go-Karting, Mini Golf, Lazer Tag, Free Fall, Bumper Boats, Ferris Wheel, Tilt-A-Whirl, Motion Simulator, Batting Cages, Driving Range and an Arcade. They have a cafe and host kids parties, and group outings.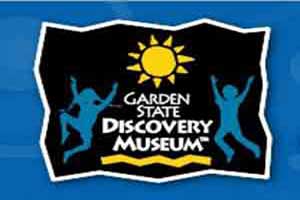 Garden State Discovery Museum
2040 Springdale Road
Suite 100
Cherry Hill
856-336-2585
Website
The Garden State Discovery Museum is a hands-on museum for infants to 10 year olds. They offer a variety of kids programs.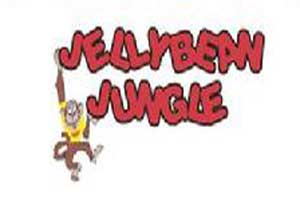 Jellybean Jungle
Crispin Square
230 North Maple Ave
Marlton, NJ
856.596.8889
Website
A play and learn adventure for children 5 and under. They offer a large variety of imaginative and developmentally appropriate activities that will lead your child on an adventure of social exploration! As your child plays, you will gain insight into their development, as well as enjoy a great time of bonding.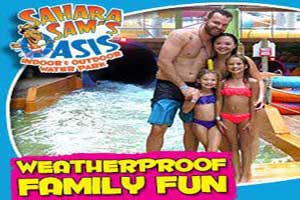 Sahara Sam's Oasis Indoor & Outdoor Water Park
535 N. Route 73
West Berlin, NJ
856-767-7580
Website
A 68,000 sq-ft entertainment center under a retractable roof system, that features a 3,000 square foot arcade with the sate of art gaming systems, the famous FlowRider surfing simulator, numerous water attractions, slides, and more. A variety of annual and single day tickets prices are available
A 68,000 sq-ft entertainment center under a retractable roof system, that features a 3,000 square foot arcade with the sate of art gaming systems, the famous FlowRider surfing simulator, numerous water attractions, slides, and more. A variety of annual and single day tickets prices are available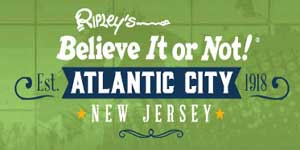 Ripley's Believe it or Not!
1441 Boardwalk
Atlantic City, NJ
(609) 347-2001
Website
An indoor adventure center offering two unique attractions; The Ripley's Believe It or Not! Odditorium, a collection of strange and bizarre exhibits from around the world. and the Vault Laser Maze Challenge, a mysterious room filled with laser beams. The Laser Maze is an awesome display of brilliant green lasers radiating from the walls. The Laser Maze Challenge™ is a timed event. The lower the time, the better. They offer individual and group rate ticket pricing
---