The Best Kids Amusement Parks in New Jersey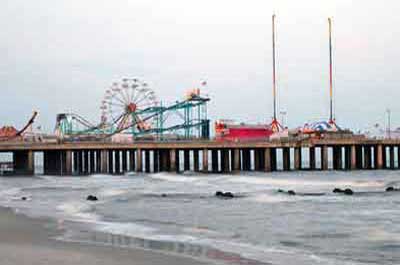 New Jersey is a mecca for summertime fun with great kids amusement parks andtheme parks, beaches, and boardwalks
The Jersey Shore with it's boardwalk's and amusement piers provide an ideal setting overlooking the ocean with the many food stands that sell great hot dog's, Italian sandwiches (Subs - Hoagies -Hero's), saltwater taffy, and ice cream.

These are great summertime destinations for a family looking for a one day trip, a weekend getaway, or an additional kids attraction on your vacation. Pack the car, buckle in the kids, and head to the Garden State to visit one of many kids amusements parks and theme parks.

---
Northern New Jersey  Kids Amusement Parks
Land of Make Believe
Hope, NJ 07844
Website
An affordable family amusement park that features many attractions including: The Action River Ride, The "Wishing Well" Ferris Wheel, a Roller Coaster, a Buccaneer Pirate & Wading Pool, a Tilt-A-Whirl, a Civil War Locomotive, a Hayride, an Old McDonald's Farm, a Middle-Earth Theater, a "Black Hole" a 1 Water slide, a Grand Carousel, a Sidewinder, a Pirates Fort and much more. Class and group trips accommodated during week days in May & June by reservation only. They offer picnic areas though no grills, no cooking, and and no coolers allowed in park or parking lot. Free Parking, Free Picnic Area and Free Water Park are included with paid admission! Open for the public WEEKENDS ONLY starting Memorial Day weekend (including Memorial Day Monday) thru 2nd weekend in June. Open for the public Daily from the 3rd Saturday in June thru Labor Day. The Park will also be open on the weekend after Labor Day. Hours of Operation: 10am - 6pm throughout the season.
Wild West City
Stanhope, NJ
Website
Wild West City is a western heritage theme park that brings the old west back to life through portrayals of real-life western characters, legendary events and a frontier town re-creation. Featuring twenty-two (22) different live action shows throughout the course of the day, Wild West City offers the visitor the chance to "live" in the old west! In addition to the shows, we offer a 24-gauge miniature train ride, stagecoach and pony rides. Guests can browse our shops and museums along Main Street, visit and talk with our many knowledgeable townsfolk portraying early western life as historic figures or trades people, pan for gold, visit our barnyard zoo or play miniature golf. Our Chapel is quietly nestled beyond the town alongside our authentic 1880's Schoolhouse.
Central New Jersey Kids Amusement Parks

iPlay America
Freehold, NJ
Website
iPlay America offers fun for the whole family in a themed indoor environment withBoardwalk style rides, the IPA Speedway, 4D Theatre and Cosmic Laser Tag are just a few of the main attractions. The park includes a massive arcade, Sonny's Boardwalk Grill, Mixx Frozen Yogurt, a Unique Candy Store, and City Square Bar and Grill. Dine while overlooking the City Square or relax for a drink and watch your favorite game on one of the many flat screen TVs.
Keansburg Amusement Park
Keansburg, NJ
Website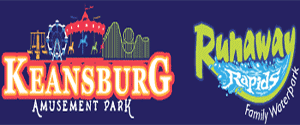 The Keansburg Amusement park is a boardwalk park that features rides, a water park, three large family arcade centers, and boardwalk food.
Less expensive and less crowded than the other Jersey Shore Amusement Parks.
Six Flags Great Adventure
Jackson, NJ
Website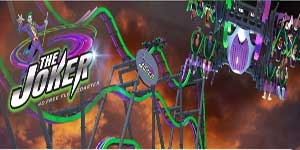 NJ's most popular and largest Kids amusement parks with one of the largest drive through safaris, Hurricane Harbor water park and 3 exciting areas for small children. Their new featured attraction is the Joker with unique swiveling vehicles to deliver a sensation you've never experienced before. You'll soar outside the confines of the track in wing cars facing other riders. You'll take an elevator-style lift straight up 120 feet in the air. When you reach the top, you'll begin to tumble head-over-heels, free-falling down two beyond 90-degree raven drops and experiencing at least six weightless flips.
Southern New Jersey Kids Amusement Parks

Blackbeard's Cave
Bayville, NJ
Website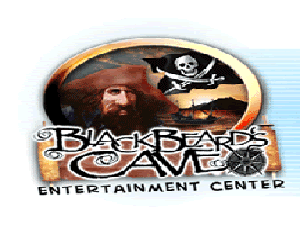 Fun amusements for all ages, with activities that are both fun and challenging, like a 20 hole par 59 Miniature Golf Course. Zip around our Formula 1 Go-Kart track with it's bridges and tunnels. Dodge around the explosions and through the caves at the Bumper Boats. If baseball is your game then step up to the plate at our Batting Cages. Now your off to the Driving Range and one of the 40 tees. We also offer to bring you back to the days of Robin Hood at the Archery Range. The fun continues with other activities like the battle of Water Wars, the Jousting and Gangster Alley.
Casino Pier
Seaside Heights
Website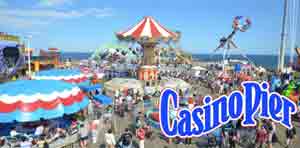 At the legendary Casino Pier in Seaside Heights, NJ, the boardwalk in Seaside has been restored to its former glory The amusement park offers classic children's rides such as the Boats, Motorcycles, and Speedway whip cars.  Family rides include the Tilt-A-Whirl, Moby Dick, Hot Tamales Roller Coaster, and Fun Houses.  Thrill seekers will enjoy the 170 foot tall Skyscraper where riders are strapped to the end of a crane-like arm and are whipped around at speeds up to 70 miles per hour!
Clementon Park and Splash World
Clementon, NJ
Website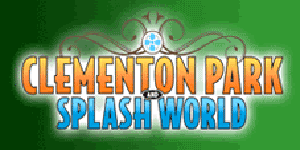 A major South Jersey attraction for kids and families; Splash World's features the gigantic Big Wave Bay wave pool - 23,000-square feet of rolling, surging and refreshing fun! Body surf, play in the spray and dive into waves along with the Laguna Kahuna-13,000 square feet of splashing, sliding, drenching, beat-the-heat fun. This Polynesian-themed adventure includes 8 slides, 10 different play platforms and more than 125 sprays, jets, bubbles, streams, squirters, waterfalls and wheels. Sitting atop the 50-foot tall structure is the big Kahuna himself, a giant jungle water bucket that dumps more than 422 gallons of water on his unsuspecting islanders playing below. Puma A thrilling rejuvenated roller coaster, with a 110-foot plummet;King Neptune's Revenge a thrilling log flume ride on over Clementon Lake, and Rosie's Big Bear Show with live Grizzly Bears.
Diggerland USA
100 Pinedge Drive
West Berlin, NJ 08091
(856) 768- 1110
Website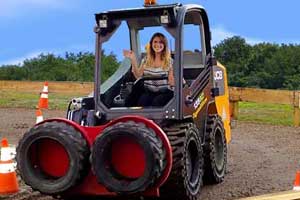 A construction themed adventure park where children and families can drive, ride and operate actual machinery. Each machine has been engineered for safety allowing children as small as 36" to operate with little or no instruction.
Gillian's Wonderland Pier
Ocean City, NJ
Website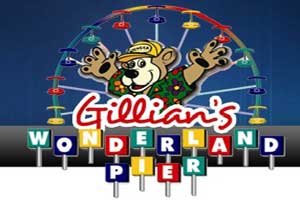 A major Jersey Shore Amusement Park with a wide variety of exciting rides for the whole family and people of all ages.
Jenkinson's Boardwalk
Pt. Pleasant Beach
Website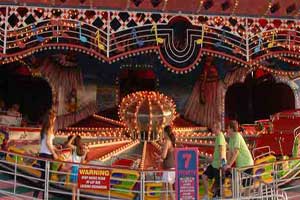 Jenkinson's Boardwalk offers your family a wide range of activities. Whether you are visiting for the day or the entire summer, you will always find something to excite every member of your family. This park is especially popular for small children. It's a great place for a child's first amusement park experience. At the southern most end of the amusement park you will find the larger rides. Teenagers and kids at heart alike will be thrilled by rides such as the our new Swing Ride, Himalaya, and Moby Dick.
Morey's piers
Wildwood NJ
Website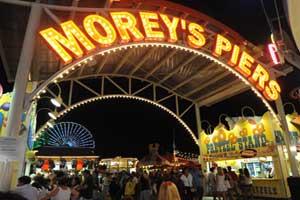 This is is NJ's largest beach/ocean front amusement park complex including:
Morey's Surfside Pier and Ocean Oasis Waterpark and Beach Club.






Sahara Sam's Oasis Indoor & Outdoor Water Park
535 N. Route 73
West Berlin, NJ
856-767-7580
Website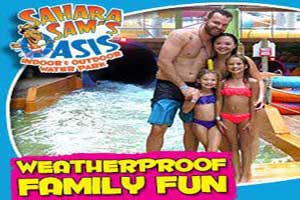 A 68,000 sq-ft entertainment center under a retractable roof system, that features a 3,000 square foot arcade with the sate of art gaming systems, the famous FlowRider surfing simulator, numerous water attractions, slides, and more. A variety of annual and single day tickets prices are available.



Ripley's Believe it or Not!
1441 Boardwalk
Atlantic City, NJ
(609) 347-2001
Website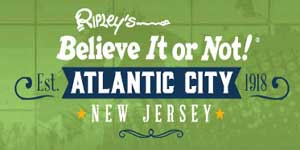 An indoor adventure center offering two unique attractions; The Ripley's Believe It or Not! Odditorium, a collection of strange and bizarre exhibits from around the world. and the Vault Laser Maze Challenge, a mysterious room filled with laser beams. The Laser Maze is an awesome display of brilliant green lasers radiating from the walls. The Laser Maze Challenge is a timed event. The lower the time, the better. They offer individual and group rate ticket pricing.


---
---