Best Horseback Riding Camps For Kids in New Jersey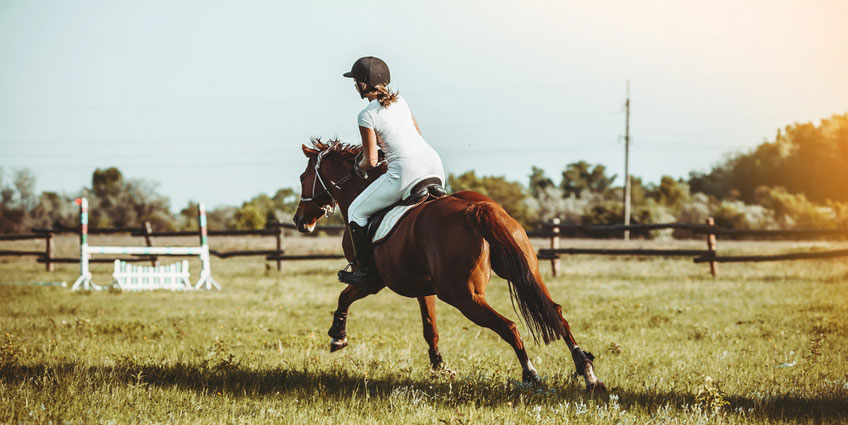 Discover The Top Kids Horseback Riding Camps in New Jersey: Features Summer Horseback Riding Camps Open To The Public

The facilities listed offer summer kids horseback riding camps to the public.  Many of these camps specialze in teaching a wide variety of horse care and horsemanship topics.
Northern NJ Kids Horseback Riding Camps

Echo Lake Stables
55 Blakely Lane
Newfoundland, NJ
973-697-1257
Website
This summer camp sits on on 23 acres of land. The facility includes three barns, an outdoor riding arena, pond, and 100 acres of scenic trails through the wilderness. There is also a tack shop on the premises to meet every Equine Campers needs. There are 20 horses to choose from. There is plenty to do in the event of a rainy day. Our classroom includes a TV/VCR for educational equestrian movies. Echo Lake Stables provides excellent instruction to students just learning to ride and teaches the finer points of horsemanship and equitation to the experienced rider. All levels of riding are carefully supervised and rules of riding safety are strictly observed. Students are taught English and Western Riding on the basis of balance and confidence in their ability. Campers are given a mounted riding lesson every day along with an unmounted discussion on all aspects of horse care. Each camper will be assigned a horse/pony according to their ability and experience. They will care for and ride their mount each day. A trail ride and horse show will be held each week for campers only.
River Edge Farm
1575 River Road East
Bedminster, NJ
Phone (908) 420-1274
Website
They offer a summer Horsback riding day camp for girls. The riding camp program caters to girls ages 5-16. It has been designed to build confidence, teach riding and horsemanship skills, and instill respect for the environment, while encouraging new friendships with other girls who share the same interest.
Saddle Ridge Riding Center
900 Shadow Ridge Road
Franklin Lakes, NJ
201-847-9999
Website
This summer camp is set on over 28 acres of mountains, fields, and trails, only 40 minutes from NY.
Open to campers ages 5-15 years old, limited to 20 campers per week Campers learn basic safety, grooming, tacking and barn management skills 4 one hour group lessons per week Weekly trail rides (must be at least 8 years old for trails) Pizza party Fridays provided by SRRC
Spring Valley Equestrian Center
56 Paulinskill Lake Rd.
Newton, NJ
Website
They offer Horsemanship Camp with full and half-day sessions throughout the summer. Thier instructors teach a wide variety of horse care and horsemanship topics. ​ For those who choose the full day session, a Student Horse Show will be held on the last day (Friday) of that session week. Parents, friends and relatives are encouraged to attend and watch the skills that the students have mastered. Various awards are given to the riders acknowledging their progress and participation. The half-day students end the session with a scenic full hour trail ride.
Central NJ Kids Horseback Riding Camps

Bella Rosa Riding Academy
151 Oak Glen Road,
Howell, NJ
732-938-5445
Website
For children ages 5-16 at any skill level.
Covers 25 acres, two indoor and two outdoor riding arenas operating year round, 25 horses,and ten riding instructors.
They offer summer camps with Two Riding Lessons Included Per Day for Full Day
Brookside Show Stable
656 River Road
Hillsborough, NJ
908-334-1569
Website
They offer a Kids summer camp that features daily horse back riding lessons, a theme to guide the interactive workshops, arts and crafts, and fun day with horses! Camp runs 9am to 3pm.
Farrington Farms
28 Davidson Mill Road
North Brunswick, NJ
(732) 821-9844
Website
They are located in the woods to provide a quiet and peaceful setting. They have Two barns on the property with large box stalls, indoor & outdoor wash facilities, and a tack room in each barn.
They offer full week summercamps that teaches teamwork, compassion and responsibility, and not only teaches your child about horses and riding, They have tons of fun doing it
Hunter Brook Horse Farm
672 Fort Plains Rd
Howell, NJ
732-364-4949
Website
The horse farm has a 5/8 mile riding track surrounding the perimeter of the facility with a picturesque lake close by. They offers extensive summer and winter riding programs designed for beginners through advanced riders. Programs run in one week intervals. Participants may attend programs in any combination
Hunter Farms

1315 The Great Road
Princeton, NJ
609-924-2932
Website
They are a full-service equestrian center offer a summer camp Beginner to advanced with Riding Instruction every day. Includes jumping, shows, stable management, crafts and games!
Kierson Farm
107 W. Woodschurch Road
Flemington, NJ
908.528.3307
Website
This is a high end facility with a reputation for turning out top Amateur and juvenile riders that compete at the top of the industry. They offer a large variety of kids year round horseback riding programs.
Their instructors are dedicated to providing a safe and friendly environment that promotes accomplishment, self growth, and self esteem.
Legacy Riding Stables
3299 Bordentown Avenue
(located between Jemme Mill Road & Cheesequake Road)
Sayreville, NJ
(732) 727-3838
Website
They offer a summer Horse Camp for ages 6 - 14, and a Junior Buckeroo Camp (ages 4 - 8). Here you will learn many aspects of horsemanship including grooming, horse nutrition and care, saddling, Riding Lessons and Trail Rides at the beautiful wooded Capik Nature Preserve. Children and teens will have the opportunity to experience horse ownership for a week and all the fun that goes with it.
Painted Pony Riding Academy

80 Obre Road
Colts Neck, NJ
732-771-3962
Website
They offer a summer day camp for Ages 6 and up! The day will be jam-packed with fun including
English and Western Riding, Grooming and Bathing, Understanding Horse Anatomy, Tack and Lingo, Arts & Crafts/Games, and a Pizza party every Friday
They have an indoor arena with rain or shine
Silver Dollar Stables
80 Petty Rd
Cranbury NJ, 08512
609-395-1790
Website
For Children 5 years or older, they offer a summer camp on their spacious facility including a year-round indoor arena.
Southern NJ Kids Horseback Riding Camps

Chesterfield Farm
141 Georgetown-Chesterfield Road
Chesterfield, NJ 08515
609.291.8008
Website
They are a 76 acre horse farm that offers a week long horseback riding camps in July and August. Activities are appropriate for beginners as well as experienced riders. In addition to receiving a lesson each day, campers will learn safety awareness around horses and how to groom, saddle, and bridle their horse. There will be opportunities to learn stable management, equine anatomy, and care of tack. Campers observe veterinarians and farriers caring for our horses.
Split Elm Equestrian
553 S. Frankfurt ave.
Galloway, NJ 08205
609 965 5010
Website
A 64 acre horse farm in southern New Jersey in the Galloway/Mays Landing/Egg Harbor area. They offer a summer camp program. Their summer programs are designed to allow riders to practice their skills in a group setting while under instruction. They run from 9am to 3pm and typically have two riding sessions as well as horsemanship lessons. Horsemanship is a broad subject and can cover anything from tack care to veterinary knowledge to parts of the horse.
Woodedge Stables
116A Borton Landing Road
Moorestown, NJ
856.235.5623
Website
They are primarily a teaching facility, with instructors that help student riders progress at their own pace in a relaxed atmosphere. Instructors also assist competition riders in preparing for the show ring.
They offer a summer camp for girls and boys ages seven to fifteen that include two riding lessons, horse care, and theory.