Celebrate Hanukkah in New Jersey:
Best Events & Festivals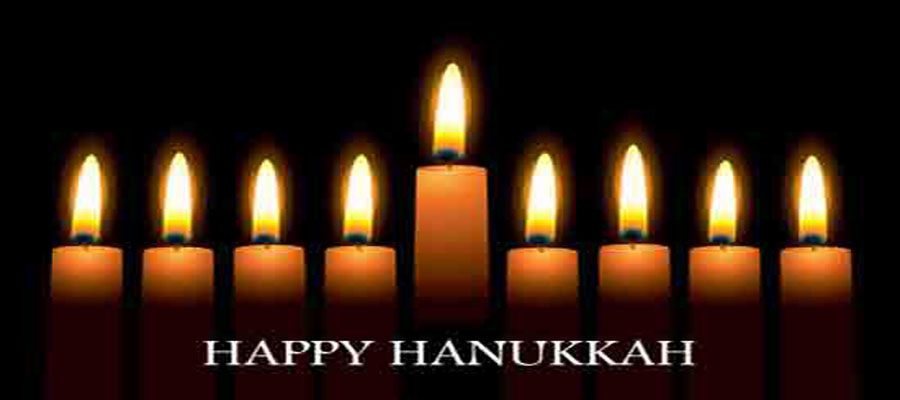 Hanukkah (Chanukah) is an Eight Day Jewish Festival
Also known as the "Festival of Lights".
Hanukkah (Chanukah) is an Eight Day Jewish Festival Also known as the "Festival of Lights"
This year, Hanukkah, the eight-day Jewish festival of lights at starts at nightfall on December 18, 2022 and ends with nightfall on December 26, 2022.
Hanukkah, the Hebrew word for dedication, commemorates the re-dedication of the holy Temple in Jerusalem which was vandalized after the Greek King of Syria forbade the Jews from worshipping or practicing many of their faith's rituals. The temple was reclaimed after a battle with the Syrian army for eight days and nights in 165 B.C.
The holiday is celebrated by the lighting of the menorah. According to the Talmud, at the re-dedication of the temple, there was only enough consecrated olive oil to fuel the eternal flame in the Temple for one day. Miraculously, the oil burned for eight days, which was the length of time it took to press, prepare, and consecrate fresh olive oil. Each night of the festival of lights, another light on the menorah is lit until all eight lamps shine on the eighth night.
Hanukkah is also a joyful celebration, especially for children. After lighting the Hanukkah candles together, families and invited guests will eat and play games. Traditional Hanukkah food is oil-rich in commemoration of the miracle of the oil that burned for eight days. Potato pancakes are a Hanukkah favorite. Israelis eat Hanukkah dough nuts called soofganiot. Dreidel (sivovon in Hebrew) is a traditional Hanukkah game, with game rules so simple that the whole family, from toddlers to grandparents can play together. The custom of giving Hanukkah gelt (money) to children has evolved into a gift-giving tradition in many Jewish families today
Note: Sometimes conditions require cancellations or changes of dates, times and location which are not reflected in the original schedule. Before planning a trip to visit one of the listed events, it is suggested that you call the event sponsor to confirm the event schedule or for additional information on the event.

2022 Hanukkah Celebrations in New Jersey
Northern Jersey 2022
Hanukkah Celebrations
Family Hanukkah Celebration

Sunday, December 11, 2022; 4pm - 5:30pm
Temple Avodat Shalom
385 Howland Ave
River Edge, NJ
Tickets
Cost: $20 per family. Grandparents welcome!
Age Range: Best for kids up to 5 years old
Grab the whole family & join us for this special Hanukkah celebration. Doors open at 4 PM with traditional Hanukkah goodies to eat and fun take-home crafts. Interactive musical performance by KidzMusic at 4:30 PM. Get ready to shake and sing along!
The Chatham Menorah Lighting

Sunday, December 18, 2022 at 7 p.m.
Reasoner Park Gazebo
Fairmount Avenue.
Chatham, NJ
Website
Fairlawn Chanukah Family Festival

Sunday, December 18, 2022 • 24 Kislev 5783 4:00 PM - 6:00 PM
Bris Avrohom of Fair Lawn
30-02 Fair Lawn Avenue
Fair Lawn, NJ
201.791.7200
Reservations
Tickets; $15
Celebrate the first eve of Chanukah with family, friends, community and a GIANT ICE CREAM CONE MENORAH! Chanukah crafts, hot dinner, latkes, donuts, game booths, holiday music and lighting the giant ice cream cone Menorah and then everyone enjoys ice cream!
Franklin Lakes Menorah Lighting
Sunday, December 18, 2022; 5:00 PM (Rain or shine)
Franklin Lakes Borough Hall
480 DeKorte Drive
Franklin Lakes, NJ
201-891-4000  
Website
The celebration is centered around the lighting of the Borough Menorah by the Mayor and will be punctuated by a parachute 'dreidel-drop' from the Franklin Lakes Fire Department ladder truck. There will also be costumed mascots, light-up giveaways, crafts and traditional holiday refreshments including potato latkes, hot chocolate, donuts and chocolate gelt! All are welcome and there is no charge for food or participation.
Glen Rock Hanukkah Menorah Lighting

December 18, 2022; @ 3pm
outside of Kilroy's Wonder Market
288 Rock Road
Glen Rock, NJ
Website
The family-friendly Glen Rock celebration, now in its sixth year, includes food, games, music, and a special menorah lighting ceremony taking place around 3:35pm.
Hoboken Menorah Lighting + Chanukah Gelt Drop
Sunday, December 18th, 2022: 5PM – 6PM
Hoboken City Hall
94 Washington Street
Hoboken, NJ
Website
Free for the entire community.
Bring the family as the Hoboken firemen rain Chocolate Gelt and dreidel parachutes down from their firetruck! Hot Latkes, Donuts, Music, Menorah lighting with the Mayor.
Roseland Menorah Lighting
Sunday, December 18, 2022; 6:15pm
Monument Park in front of Borough Hall
140 Eagle Rock Avenue
Roseland, NJ
Website
Welcoming remarks and the ceremonial lighting will take place at 6:30 pm. Music, singing, and refreshments are in store!
Pre-Registration is NOT required to attend.
Chanukah Laser Show
Monday, December 19, 2022
Temple Emanu-El
756 East Broad Street
Westfield, NJ
908-232-6770
Website - Registration
Cost: Suggested donation – $18
The Chanukah story is fundamentally one of underestimation and resourcefulness. The Hellenized Persians underestimated the Jewish people's commitment to Judaism, and underestimated the ability of a small, poorly armed guerrilla force to overcome an organized and well-equipped army. Then, upon re-sanctification, the Jewish Priests underestimated how long a small jar of holy oil could stay aflame. With our Festival of (Laser) Light, we'll see how we can do a lot with a little by using it well! Come celebrate with us and enjoy the miracle of what a little bit of light can do – and maybe eat a delicious bit of fried food..
River Vale Hanukkah Menorah Lighting and Celebration
Monday, December 19, 2022; 5:30pm
Outside Town Hall
Near the Tennis Courts
Rivervale, NJ
201-664-2346
Website
There will be a Drone Menorah, latkes, doughnuts, Music, and Children's prizes.
Wayne Car Menorah Parade
December 19, 2022: 6:30pm
Chabad Center
194 Ratzer Road
Wayne, NJ
Website
Free event
Strap a car menorah to the top of you car and join the parade. Precession starts at the Chabad Center, making its way all around Wayne, and ending at the community menorah lighting in front of the Wayne Municipal Building.
Chanukah Celebration

Tuesday, December 20, 2022; @6pm
295 Closter Dock Road
Closter, NJ
Website
201-937-6562
Menorah lighting @6pm featuring Mega Led Robot, , latkes/doughnuts, Hot drinks, Music & Dancing
Montclair Chanukah Fest & Grand Menorah Lighting
Tuesday, Deember 20, 2022; 5:30 PM – 7 PM
The Wellmount Arts Plaza
5 Seymour Street
Montclair, NJ
RSVP
Free event
Begins at 5:30pm with Maccabeths in concert & Menorah Lighting, Hot Latkes, Chocalte Gelt, Doghnuts, and a gift for every child.
Nefesh Mountain: The Hanukkah Show
Wednesday, December 21, 2022: at 7:30PM
South Orange Performing Arts Center
One SOPAC Way
South Orange, NJ
Tickets
Cost: $23-$33 +fees
Boundary-pushing group Nefesh Mountain combines elements of Americana, Appalachian Bluegrass, Celtic Folk and Eastern European melodies with messages of inclusivity, diversity and hope.
Central Jersey 2022
Hanukkah Celebrations
Christmas Light Spectacular Featuring the World's Largest Dreidel

Thursdays, Fridays, Saturdays and Sundays, beginning November 10th until December 23, 2022
Allaire Community Farm
1923 Baileys Corner Rd
Wall Township, NJ
Facebook
Admission: $17 per person.
This specactular lights display features the world's largest dreidel. Standing 30 feet tall, it's the largest known display of its kind in the world. Attendees will get to exprience a tractor drawn Hay Ride thru a beautiful Christmas light display, providing a holiday outing for all families to enjoy.
The event was created to feed the animals and fund programs that continue during the winter months when the farm is closed to the public and does not generate any revenue.
Allaire Community Farm is a 501(c)(3) NJ Non Profit with a mission of rescuing animals to rescue people of all ages with focus on special needs children and adults, including veterans with PTSD, teens with mental health issues, and local families battling cancer in our community.
Allaire Community Farm is operated and supported by over 200 volunteers year rou
Howell Township Christmas Tree & Menorah Lighting
Sunday, December 11,2022; 4:30 – 7:00 PM
Echo Lake Park
Echo Lake Pavilion
1205 Maxim Southard Rd
Howell Township, NJ
Website
Chanukah Carnival
Sunday, December 18, 2022: 12:00 PM - 2:30 PM
Center for Jewish Life
176 Rt 79 North
Marlboro, NJ
Tickets
732-316-7600
Features Arts & Crafts ♦ Edible Menorahs ♦ Donut Decorating ♦ Game Booths with prizes ♦ Menorah Lighting ♦ Hebrew School Performance
Includes all games and pizza lunch
Admission: Online Special $20; $25 at the door
.
Monroe Township Chanukah Party
Sunday, December 18, 2022; @6pm
Chabad House of Monroe
324 Applegarth Road
Monroe Twp, NJ
(609) 409-1000
Website
Cost: $25
This event features a Chinese buffet with comedian John Pizzi, as seen on America's Got Talent

Freehold Menorah Lighting
Monday, December 19th, 2022; 5:30 – 6:30pm
Hall of Records
1 East Main St.
Freehold, NJ 07728
Website
Members of the community can enjoy lively music, latkes and doughnuts.

Pier Village Menorah Lighting
Monday, December 19, 2022; at 6:00 PM
Pier Village
Long Branch, NJ
Website
Features a lighting of the Giant Menorah, Ice Skating, Festive Music and Donuts. Rabbi Laibel Schapiro, Rabbi Yaakov Greenberg from the Chabad of the Shore and Mayor, John Pallone of the City of Long Branch will officiate the lighting. The Menorah Lighting will take place rain or shine.
The Edison Township Menorah and Hanukkah Celebration
Tuesday, December 20th, 2022; 7:00PM
The Jewish Community Center of Middlesex County
1775 Oak Tree Road
Edison, NJ
732-494-3232
Website
Join in on the lighting of the Edison Township Menorah and Chanukah Celebration! Dignitaries, JCC staff and community members will be in the gym for the lighting of the menorah. The festivities continue with music, entertainment and light refreshments for all. This is a free event!

Ocean Township Menorah Lighting
Sunday December 18, 2022; 5 – 6 PM
Ocean Township Municipal Office
399 Monmouth Rd
Oakhurst, NJ

Ocean, NJ Menorah Parade
Monday, December 19, 2022; @5pm
Chabad of GMC
1 poplra Place
Ocean, NJ
Website
Line-up @ 5pm, doughnuts, @ 6:15pm Menorah Lighting

Annual Asbury Park Menorah Lighting
December 20, 2022; 6pm
Kennedy Park (Corner of Cookman & Grand, next to Cross & Orange)
Asbury Park, NJ
Website
Rabbi Yaakov Greenberg and Chabad of the Shore will be officiating, as well as providing refreshments and dreidels to all!

Jackson Menorah Lighting
Tuesday, December 20, 2022: 4:40 PM
95 West Veterans Highway
Jackson, NJ
Website
732-928-1200
Candles will be lit by Rabbi Shmeul Naparstak

Palmer Square Annual Menorah Lighting
Tuesday, December 20th, 2022: @ 4:00 pm - 5:00 pm
Nassau Inn Patio
10 Palmer Square
Princeton, NJ
Website
The event features great music, great food and great fun for everyone. It has been a tradition for many years to celebrate Hanukah – a free event open to the community!

Red Bank Menorah Lighting
Tuesday, December 20, 2022; @5pm
Riverside Gardens Park
42 West Front Street
Red Bank, Nj
Website
Join Rabbi Dovid Harrison as we begin the Festival of Lights by lighting the menorah!

Jackson Menorah Car Parade and Chanukah Party
Thursday, December 22nd, 2022; 4:30 PM through 7:00 PM
Bagel King
2080 West County Line Road
Jackson, NJ 08527
732-523-5112
RSVP
Begin at Bagel King @ 4:30pm, drive past the local senior homes and end at Chabad for the Menorah lighting and Chanukah Party

Adult Chanukah Comedy Night
Saturday, December 24, 2022
Chabad of the Shore
620 Ocean Ave
Long Branch, NJ
Tickets
732-229-2424
Cost: $65/person
This event features Sushi, Drinks, Latke Bar.





Southern Jersey 2022
Hanukkah Celebrations
South Jersey's Annual Car Menorah Parade!

Sunday, December 18th, 2022; 'Gear Up' 3:15pm • Depart 4:00pm
The Chabad Center
1925 Kresson Road
Cherry Hill, NJ
Website/RSVP
Departure from The Chabad Center 1925 Kresson Road. Ends at Barclay Farms Shopping Center with a Grand Outdoor Menorah Lighting at 5:00pm - open to all!
Parade through town with a car-top Menorah and police escort bringing safe and fun Chanukah cheer to the streets of Cherry Hill!


Ventnor Menorah Lighting
Sunday, December 18, 2022 24 Kislev, 5783 at 4:36pm.
Chabad at the Shore
6605 Atlantic Avenue
Ventnor, NJ
Website
Menorah Lighting
Light 1 light on the Menorah after 4:36 PM.
This year, we're bringing the ancient custom of giving Chanukah Gelt/coins to a whole new level. Children will be showered with delicious chocolate gelt by a Giant 8 Foot Mega Robot! At this free outdoor event, participants will enjoy doughnuts, hot cocoa, as well as music performed by our children's choir.


Chanukah Village Walk
Tuesday, December 20, 2022, 5pm - 7:15pm
Medford Village Park
Main Street
Medford, NJ
Website
Admission: Free
Enjoy an enriching holiday experience for the whole family as Main Street Medford celebrates Chanukah.
The event features Latkes, Donuts and Hot Cider, Photo Booth, Chanukah Video Truck Presentation, Chanukah Beer at the Brewery, Crafts & Activities, Judah Maccabee, Holiday fun at Game on Arcade, Music and More!
@ 7pm Grand Menorah Lighting Corner Main Street & Allen
Haddonfield Menorah Lighting
Wednesday, December 21, 2022; @ 6pm
Library Point
60 N. Haddon Ave.
Haddonfield, NJ
856 - 874-1500
Website
This event features Latkes, Donutes, Music, Chanukah Cheer, and the public Menorah Lighting
Chanukah on Ice
Saturday, December 24, 2022: 7pm - 8:30pm
The Flyers Skate Zone
601 Laurel Oak Road
Vorhees, NJ
856-874-1500
Website/Registration
Cost: Tickets are $12 at the door, $10 in advance. Ticket prices include skate rental, doughnuts and drinks.
Features a giant Menorah Lighting, skate to Jewish music, donuts, hot latkes, crafts, and fun for all ages.