Grounds For Sculpture
The Grounds For Sculpture is a 35-acre park that attracts over 100,000 visitors each year to enjoy the beautiful gardens, the outdoor permanent sculpture collection, indoor seasonal exhibitions, and to learn about contemporary sculpture through a variety of educational programs including workshops for adults and children, artist residencies and lectures, tours for adults, schoolchildren, toddlers, as well as touch tours for the blind..
Grounds For Sculpture
18 Fairgrounds Road
Hamilton, New Jersey 08619
(609) 586-0616
Website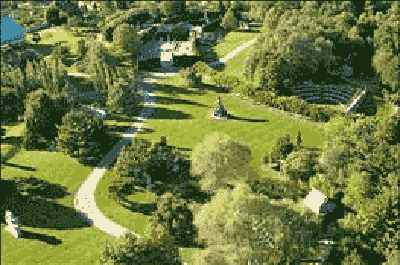 It was created in 1992 on the site of the former New Jersey State Fairgrounds by J. Seward Johnson to promote an understanding of and appreciation for contemporary sculpture for all people.
In addition, the park also offers year round events, shopping, and dining, including the fine dining Rat's Restaurant.
Most of the outdoor sculptures on exhibit are displayed courtesy of The Sculpture Foundation, Inc., a charitable foundation that collects works of art by American and international artists and lends works for exhibit in the park.
The Sculptures come in a variety of styles and media, including bronze, steel, stone, wood, concrete and mixed media are represented.
Throughout the year, new additions to the outdoor permanent collection are exhibited as well as a group or one-person exhibition indoors.
Through interactive workshops, both children and adults the are given the opportunity to engage in the art-making process. They include:
Children's workshops are led by experienced educators and artists for 6-9 year olds and for 10-14 year olds. Topics include sand-casting, found objects, and papier mache.
Adult workshops are 4-6 weeks in length; topics include stone carving, fiber art, and ceramics.
The Tots on Tours program is an interactive program for 3-5 year olds, offered March through October on the third Saturday of each month, 11am-12 noon. Participating children explore the park and learn about sculpture, make an original work of art and listen to a story. No reservations are needed and there is no additional charge to participate. Meets in the Visitor Center, one adult must accompany each child.
While the grounds are open to the public, private membership programs are available to offer frequent visitors the opportunity to be the first to learn about new exhibition openings, family programs, and special events.