Greek Festivals and Events in New Jersey
Discover the popular 2018 Greek festivals

Greek festivals in New Jersey are usually organized by either a Greek Orthodox church with a large following or a Greek community service organization with an interest in promoting their culture and providing knowledge and stories for future generations to benefit from.

They typically run for three to four days around a summer weekend and in addition to promoting the Greek culture, they raise money to support many worthwhile charitable causes.
Note: This information is provided by event sponsors as a free service to our viewers. Sometimes conditions require cancellations or changes of dates, times and location which are not reflected in the original schedule. Before planning a trip to visit one of the listed events, it is suggested that you call the event sponsor to confirm the event schedule or for additional information on the event.

May 2018 Greek Festivals and Events

St. George Greek Festival
Friday, May 4, Saturday, May 5, & Sunday, May 6, 2018
818 Valley Road
Clifton, NJ 07013
Website
(973) 779-2626
Experience the wonderful sights, sounds, and delicious smells that beckon us to a beautiful place far warmer than it is here now. This year's festival will again feature authentic Greek food, live entertainment including Bouzouki music and the color and pageantry of Greek folk dancing, a host of activities for our children, shops offering many beautiful Greek items, and tours of the church showcasing an up-close look at the Byzantine style iconography and hand carved alter facade that were imported from Greece over 40 years ago as well as an opportunity to learn more about the Orthodox life and faith.
St. Athanasios 44th Annual Greek Festival
May 17, 18, 19, 20, 2018
Thursday: 11am to 9pm Friday: 11am to Midnight Saturday: 11am to Midnight Sunday: Noon to 9pm
51 Paramus Rd
Paramus, NJ
Website
(201) 368-8881
This festival features Greek food, fun & festivities for the entire family including traditional Greek cuisine, culture, Live Greek music, dancing, and hospitality. Dine indoors or outdoors under their big outdoor tent.
Their Business Lunch Special on Thursday & Friday from 11 am to 2 pm. offers a complimentary glass of wine, can of soda or bottle of water with the purchase of your meal.
Free on-site and off-site parking available.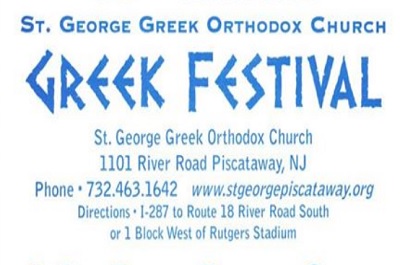 Saint George Greek Orthodox Church Festival
May 17 - 20, 2018; Thursday: 12 noon - 10:00 pm (free admission) Friday: 12 noon - 12:00 am Saturday: 12 noon - 12:o0 am Sunday: 12 noon - 8 pm
1101 River Road
Piscataway, NJ
732-463-1642
stgeorge@gocnj.org
Website
This annual event attracts thousands of people each year who come to enjoy a taste of Greek culture with homemade Greek food, live music, traditional Greek Folk Dancing, and Church tours.
Free parking and shuttle service is available at the Church and Rutgers Stadium.
June 2018 Greek Festivals and Events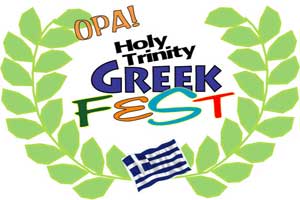 The Holy Trinity Greek Fest

Thursday, May 31 until Sunday, June 3, 2018
Holy Trinity Greek Orthodox Church
250 Gallows Hill Road
Westfield, NJ
908-233-8533
Website
Come experience a a taste of Greece in Westfield. The festival features the best Greek food including Gyros, Spanakopita (spinach pie), Greek Feta Cheese, Fried Calamari, Loukoumathes (Greek donuts with honey), Baklava, and more along with live entertainment, Greek Dancing, live cooking demonstrations and gifts. There will be games for children of all ages and activities for children from 3 years of age to over 100. There is plenty of free parking both on site and just down the street at Union College. This year activities and dining come under the big tent or inside the air conditioned Bouras Center!
Check out the "Super Greek Tent" in the middle of the "Plaka" (central plaza) that is stuffed with items from Greece!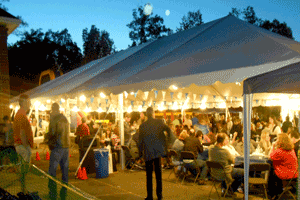 Big Greek Festival
June 1, 2, 3, 2018
St. Andrew Greek Orthodox Church
1447 Sussex Turnpike
Randolph, NJ
973-584-0388
Website

Experience a 'little bit' of Greece featuring artistic talents in music, dancing and handicrafts made by Greeks. Cooks and bakers prepare a variety of traditional Greek dishes in the same manner as their mothers and grandmothers did. The St. Andrew dance troupe that entertains audiences each year is comprised of dedicated youth and the Greek community who seek to preserve the character and ties to Greek culture. During the festival, guests tour the church and see the craftsmanship and intricate work in colorful icons and wood carvings, and colorful glass windows.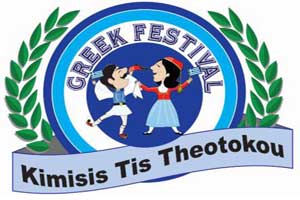 Bayshore Greek Fest
Thursday June 7 - Sunday, June 10, 2018
Kimisis Tis Theotokou Greek Orthodox Church
20 Hillcrest Road
Holmdel NJ
Website
(732) 739-1515
kimisisfestival@gmail.com
Enjoy a taste of Greek Culture with Greek food, pastry, specialty items, folk dancing, music, rides, games, and prizes. Some of the mouth-watering gourmet menu items include traditional lamb shanks, pastitsio, moussaka, cheese and spinach pies (tiropites and spanakopites) and so much more! Festival goers can also enjoy a gyro, or souvlaki, in a pita or on the stick. Among the selection of traditional homemade pastries are baklava, diples, loukoumades (honey puffs) and also new dessert items baklava sundaes and ouzo cake. All items are available for take-out. Complimenting the food is the culture of Greece. Festival goers will have the chance to partake in and also watch traditional Greek folk dances that are performed by costumed children from the various Kimisis dance groups. Music and entertainment is presented all weekend long. Free parking is provided at the St. Benedict's Catholic Church, a half mile from Kimisis Tis Theotokou, and a free shuttle transports visitors to the festival. On-site parking is available for visitors who need easy access to the festival.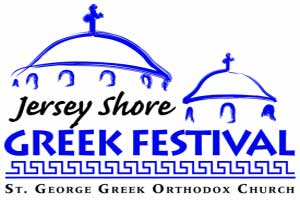 Jersey Shore Greek Festival
June 29, 30, July 1, 2018
Friday: 5:00pm to 11:00pm, Saturday: 2:00pm to 11:00pm, and Sunday: 1:00pm to 8:00pm
St. George Greek Orthodox Church
1033 West Park Avenue
Ocean, New Jersey 07712
Website
This event features authentic Greek food and pastries prepared by community parishioners from recipes handed down over generations. In addition there will be Games and Rides, Greek Folk Dancing , Religious Gifts, Books, and Icons Greek Food Store and activities fir children with a Little Kids Playground. Free parking at Ocean Township High School 550 W Park Ave, Oakhurst, NJ AND Ocean Township Intermediate School 1200 W Park Ave, Ocean Township, NJ Free shuttles from both schools!
September 2018 Greek Festivals and Events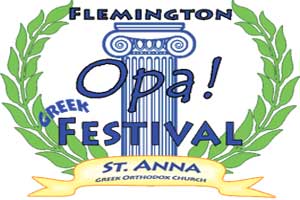 Annual Flemington Opa! Festival
September 7, 8, 9, 2018
St. Anna Greek Orthodox Church
85 Vorhees Corner Road
Flemington, NJ
frakousoulas@gmail.com
Website
Enjoy Greek food, shopping, fun, and entertainment. Guests can dine indoors or outside under the tent, enjoying classic oven baked items and popular grill selections such as souvlaki and gyros. Greek pastries, coffee, wine and beer also available. All can enjoy carnival games, shopping, and folk dancing entertainment. Among the many charities supported, this year the parish is also fundraising to support the building of the St. Nicholas National Shrine at Ground Zero. Parking is free.
---