The Most Celebrated Gardens and Arboretums
in New Jersey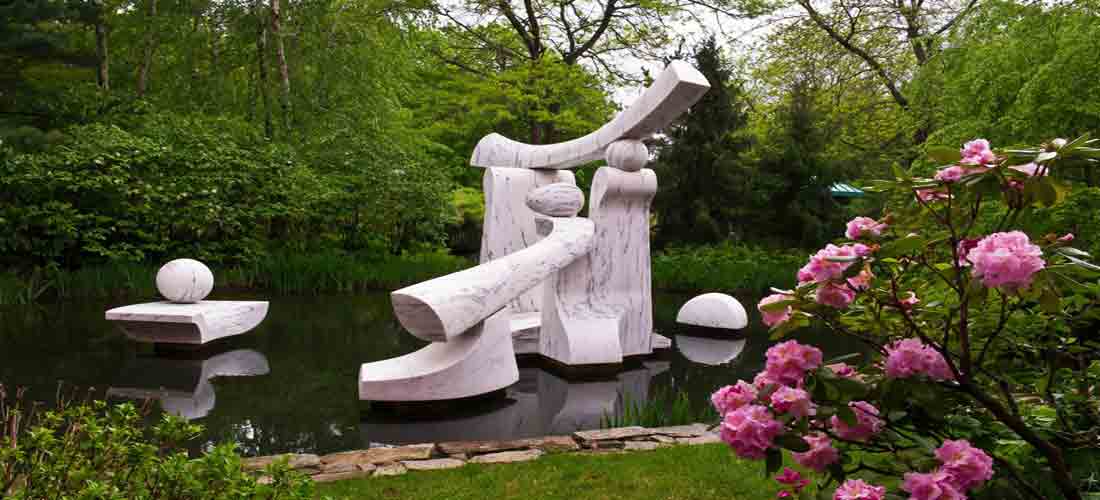 Photo Courtesy:  Grounds For Sculpture

Your Guide To The Best Botanical Gardens, Arboretums, and Outdoor Sculpture Collections in New Jersey

The popular Botanical Gardens and Arboretums in New Jersey are a mecca for a wide variety of plants, shrubs, and trees that have been cultivated for scientific, educational, and ornamental purposes. Some of the gardens and Arboretums include a reference library, a herbarium, greenhouses, and historic estates.

North Jersey Botanical Gardens and Arboretums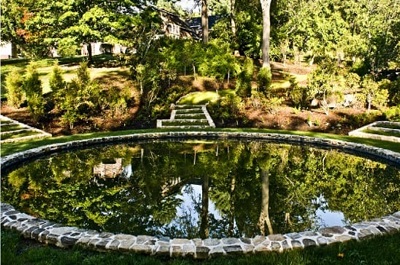 Bamboo Brook Outdoor Education Center
170 Longview Rd
Far Hills, NJ
973-326-7600
Website
Located on 670 acres, this botanic garden and public park includes fields, woodlands, and a formal garden designed by Martha Brookes Hutcheson, one of the first female landscape architects in the United States. From 1911 to 1959, this was "Merchiston Farm," the home of William and Martha Hutcheson. The Gardens (including the Coffee Terrace, Circular Pool, and the Upper and Lower Waters) have been fully restored to their appearance from 1945 and are listed on the New Jersey State and National Registers of Historic Places.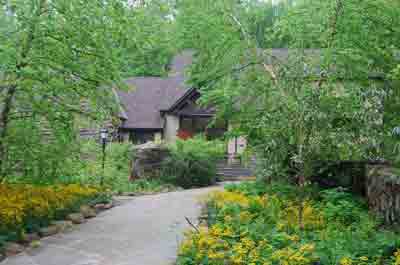 Cora Hartshorn Arboretum and Bird Sanctuary
324 Forest Drive South,
Short Hills, NJ 07078
973.376.3587
Website
An historic woodlands garden and educational institution. They promote an understanding of the relationship between people and the environment through programs that integrate arts, sciences and the humanities. The Arboretum conducts four major activities: education, outreach, research, and zoological/horticultural display. The Arboretum provides services to local schools, community institutions and citizens of all ages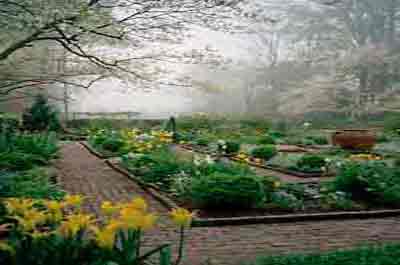 Cross Estate Gardens New Jersey Historical Garden Foundation

Old Jockey Hollow Road
Bernardsville, NJ 07924
Website
The gardens are intended to offer visitors a view of historic trees and learn about their importance to native Americans and colonists. Located on the property of the New Jersey Brigade Unit of the Morristown National Historical Park, the gardens feature a variety of perennials, a wisteria-covered pergola, a mountain laurel allee, native plants, and large specimen trees. The gardens can be experienced as a self-guided walk. Hiking trails are also on the site and connect to trails in Jockey Hollow, Lewis Morris Park, and the Scherman-Hoffman Wildlife Sanctuary (New Jersey Audubon).
The Gardens are open from dawn to dusk and admission and parking are free.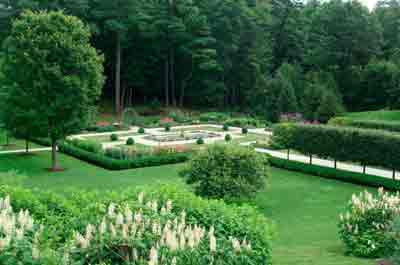 Frelinghuysen Arboretum
53 East Hanover Ave
Morristown, NJ
(973) 326-7600
Website
A 127-acre park that provides a beautiful setting for visitors to take a casual walk around its beautiful Colonial Revival mansion to stroll amongst the beautiful gardens, woodlands, shrubs, and meadows, to discover and learn about plants that are ideally to the soils and climate of Morris County. Self-guiding trail maps and information are provided.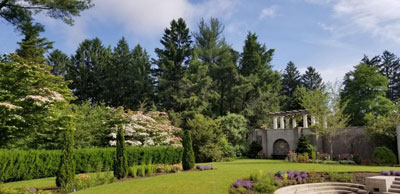 Greenwood Gardens
274 Old Short Hills Road
Short Hills, NJ
973.258.4026
[email protected]
Website
Greenwood Gardens maintains a number of outdoor sculptures and ornaments. The stone Tea House is framed by ceremonial hand-washing basins of granite and whimsical oversized chess pieces. Granite lanterns adorn the walls of the cascade terrace, a bronze sculpture of a boy holding two geese by the sculptor Emilio Angela (1889-1970) has been reinstated in the center of the Garden of the Gods and latticework panels have returned to the Cottages.
Greenwood Gardens is open to the public Fridays, Saturdays and Sundays from 10:00 a.m. until 5:00 p.m. Entry is by advanced timed ticket registration.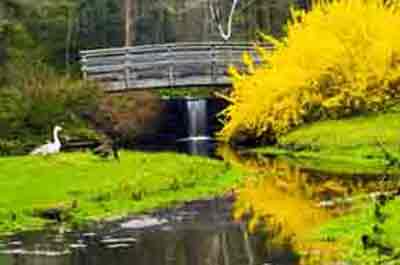 Leonard J. Buck Garden
11 Layton Road
Far Hills, NJ 07931
908 234-2677
Website
The Leonard J. Buck Garden is a nationally recognized rock garden.
Since the late 1930s when the garden was established, the garden covering a 29 acre wooded stream valley has grown to include a range of planted rock outcroppings and woodland gardens. Named after Leonard J. Buck, who created the garden on his his estate, it subsequently donated in 1976 by Helen Buck to the Somerset County Park Commission. Visitors to the Leonard J. Buck Garden can expect to discover an amazing variety of exotic rare rock garden plants, beautifully landscaped amongst rock formations. Visitors can wander the wooded trails that filled with wildflowers, ferns, and other shade plants. Below the Visitor Center, the F. Gordon Foster Fern Collection contains a shade garden of hardy ferns and perennials. The peak season of bloom is in spring, when delicate wildflowers, diminutive alpines, and colorful azaleas all compete for attention, however horticultural interest is abundant throughout the year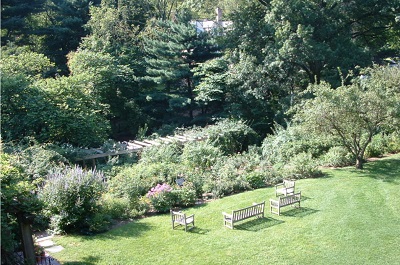 Macculloch Hall Gardens & Historical Museum
45 Macculloch Ave.
Morristown, NJ
973-538-2404
Website
The Gardens are on the 26 acre property of the Macculloch Hall Historical Museum which holds largest single collection in US of original drawings of American political cartoonist and Morristown resident Thomas Nast (1840-1902). Museum archives include family records of garden plantings. The Garden highlights include the wisteria trellised along the rear porch, given to the Maccullochs by Commodore Matthew Perry in 1857; the sundial on the upper lawn installed in 1876; the sassafras tree at the far end of the lawn, believed to be the second oldest and largest sassafras tree in New Jersey; and many varieties of heirloom roses, meaning their cultivars date to before 1920.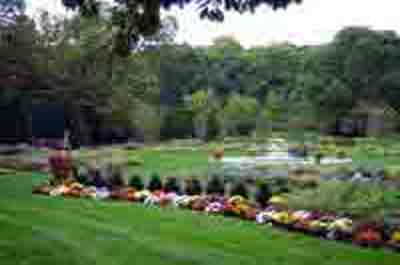 New Jersey Botanical Garden
2 Morris Road
Ringwood, NJ 07456
973-962-9534
Website
Spend a couple of hours wandering through the 96 acre gardens with over 400 varieties of lilac. Take a casual stroll though the woodland paths of magnolia walk and crab apples. The gardens contain mostly mostly annuals and as a result return visitors will experience a change throughout the seasons and from past years. There are also attractive fawns and small "Four Seasons" statues anchoring the ovals in the corners. Stop by for a visit at the magnificent Tudor-style manor house. . Admission is free.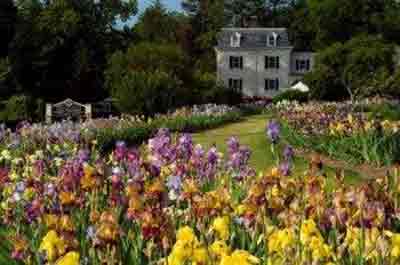 Presby Memorial Iris Gardens
474 Upper Mountain Ave
Upper Montclair, NJ 07043
973-783-5974
Website
This living museum, listed on the
State and National Registers of Historic Sites
, offers a spectacular display of thousands of iris varieties to visitors from all over the world. Blooming season runs from mid-may through June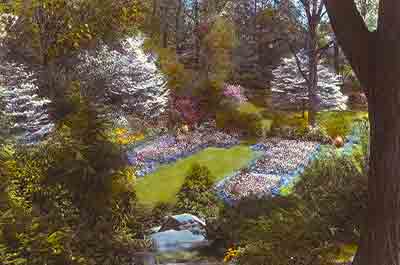 Reeves-Reed Arboretum and Gardens
165 Hobart Ave.
Summit, NJ
(908) 273-8787
Website
The arboretum is attractive for visitors who are interested in experiencing and learning more about woodlands and gardens and to leave with the added knowledge of how they can become better stewards of nature and the environment. The site covers 13 acres of landscaped lawns, gardens and woodlands. It includes 5 1/2 acres of formal gardens. The gardens represent design trends of the early 20th century. Recently they have undergone restoration of the historic Wisner House, the Azalea Garden, and the Rock Garden. They also have a variety of children's educational programs and can host children's birthday parties.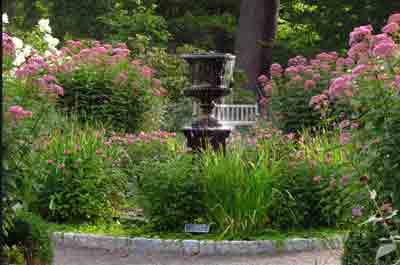 Van Vleck House & Gardens

21 Van Vleck Street
Montclair, NJ 07042
973-744-4752
Website
Discover the beauty of the historic house and gardens on a 6 acres with over 400 varieties of trees and shrubs. The Van Vleck estate and gardens is an excellent example of the large estates built in this New York City suburb during the late 1800s.They also offer a variety of educational programs for adults and children Open daily, 9am to 5pm. Admission is Free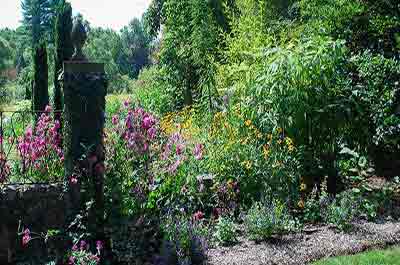 Willowwood Arboretum
300 Long View Road
Far Hills, NJ
(973) 326-7600
Website

130 acres of rolling farm land, has about 2,100 kinds of native and exotic plants, many of them are rare. In addition to the formal gardens near the residence and undisturbed forest, historic collections include oak, maple, willow, magnolia, lilac, cherry, fir, pine, a superb specimen of Dawn Redwood (Metasequoia) now more than 98ق€™ tall, masses of ferns and handsome stands of field and forest wild flowers. open free to the public daily, 365 days yearly from dawn to dusk. Visitors are invited to enjoy the gardens Spring through Fall. During Winter, the Ornamentals Collection offers evergreen and deciduous plants featuring interesting fruit, bark or branching habit.
Central Jersey Botanical Gardens and Arboretums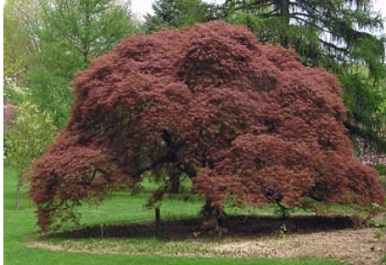 David C. Shaw Arboretum
Holmdel Park
44 Longstreet Road
Holmdel, NJ
(732) 842-4000, ext. 4312
Website
Located on Twenty-two acres inside Holmdel Park, the Arboretum is an educational and horticultural display devoted to the culture and study of many kinds of trees, shrubs and other woody plants that grow in Monmouth County.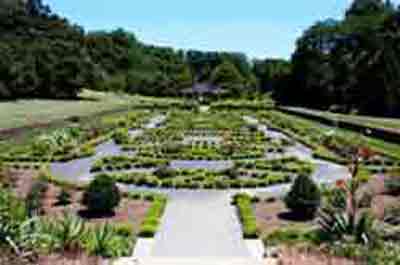 Deep Cut Gardens
152 Red Hill Road
Middletown, NJ 07748
(732) 671-6050
Website
Deep Cut Gardens, with over 54 acres of gardens and greenhouses, is an ideal place for the home gardener to enjoy the huge variety of native plants through the seasons. One of the sections features renovated Parterre with 52 varieties of roses with over 180 bushes. The gardens can be enjoyed by taking a casual walking tour or stopping by visitors center and the reference library to speak to one of the horticultural specialists.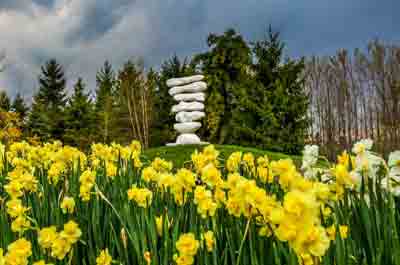 Grounds For Sculpture
18 Fairgrounds Road
Hamilton, New Jersey 08619
(609) 586-0616
Website
The Grounds For Sculpture is a 35-acre park that attracts over 100,000 visitors each year to enjoy the beautiful gardens, the outdoor permanent sculpture collection, indoor seasonal exhibitions, and to learn about contemporary sculpture through a variety of educational programs including workshops for adults and children, artist residencies and lectures, tours for adults, schoolchildren, toddlers, as well as touch tours for the blind.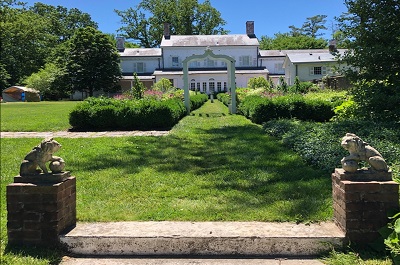 Morven Museum & Garden
55 Stockton Street
Princeton, NJ
609.924.8144
Website
Situated on 5 acres, the beautiful historic gardens surrounding the Morven Museum mansion from the 18th and 19th centuries include a Colonial Revival Garden and their changing Demonstration Garden, are the perfect place to enjoy the beauty of nature. The grounds recreate the landscape of the past 200 years. Tulips and daffodils begin blooming in April, followed by irises and peonies in May. Throughout the summer, Phlox and summer annuals fill the garden with bright colors.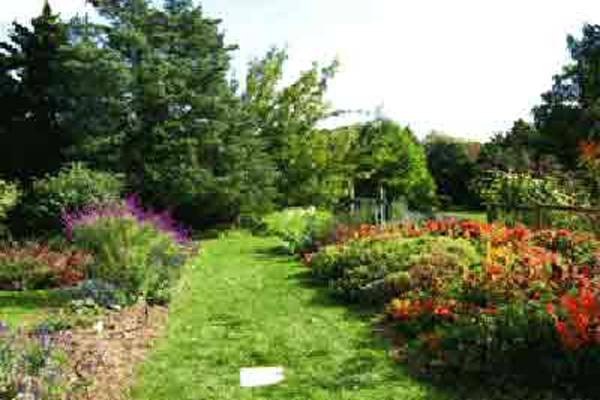 Rutgers Gardens
Rutgers, The State University of New Jersey
112 Ryders Lane
New Brunswick, NJ 08901
732-932-8451
Website
Made up of a collection of specialty gardens geared to promoting and providing accurate information about the art of horticulture and the relationship between plants, human health and nutrition in the designed, as well as in the natural landscape. It includes:
Donald B. Lacey Display Garden
- One of the most unusual and colorful displays annuals, tropicals, herbs and vegetables in NJ.
The Roy H. DeBoer Evergreen Garden
- The evergreens are grouped by genus around the great sunken lawn, with a large weeping white pine serving as the focal point.
The Ella Quimby Water Conservation Terrace Gardens
- A series of terraces demonstrating the sustainment of drought tolerant plants.
American Hollies
- Displays an unusual collection of native evergreens.
Shrub Collection
- Features the oldest collection of lilacs, both hybrids and species that were originally planted in 1927.
Rain Garden
- Displays attractive and environmentally sensitive additions to residential, commercial and municipal properties.
Rhododendron and Azalea Garden
- This garden was designed as a garden community integrating small trees with a variety of shrubs --- emphasis is on Rhododendrons and ground covers.
They also offer children's programs including group field trips, summer camp, and self guided tours. Open 365 days a year. Admission is free.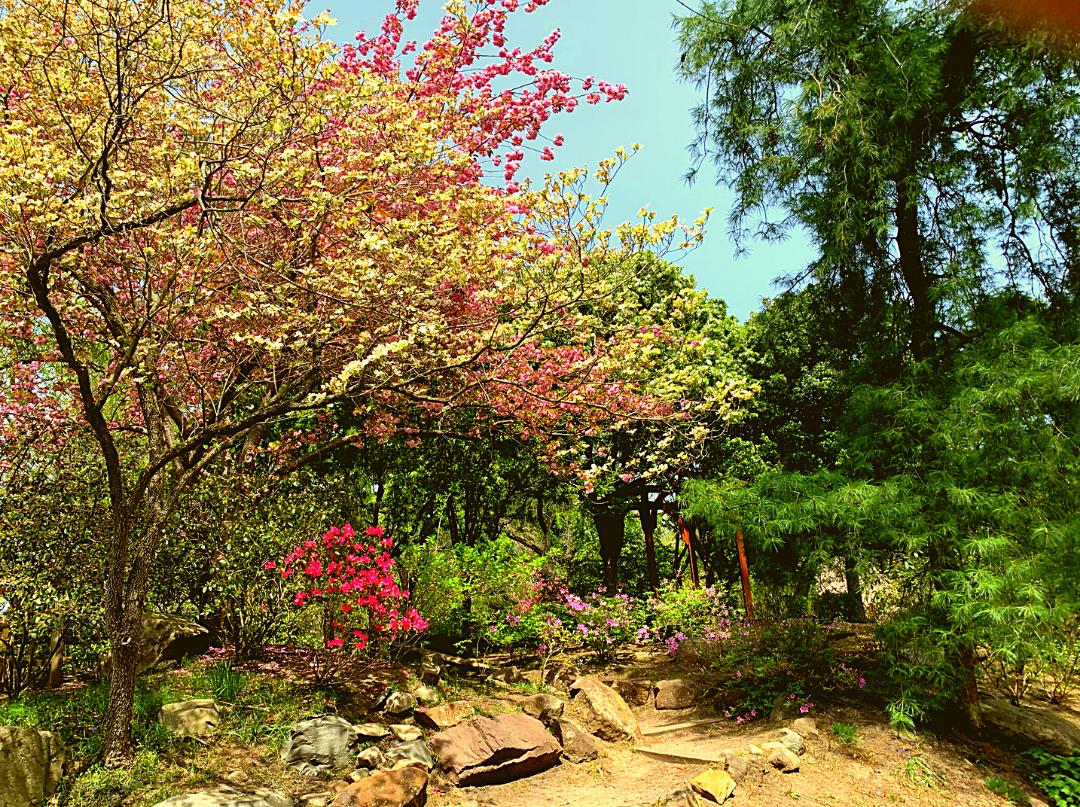 Sayen Park Botanical Garden
155 Hughes Drive
Hamilton Square
Hamilton Township, NJ
(609) 890-3874
Website
Also known as Sayen House and Gardens, this 30 acre botanical garden is a municipal park with more than 1,000 azaleas, nearly 500 rhododendrons, and more than 250,000 flowering bulbs for spring display. The garden also is beautifully arranged with ponds, bridges, gazebos, and walking trails. The Gardens are at their peak in the spring when they have their annual Azalea Festival each Mother's Day, during which Sayen House is open to the public from 10AM to 4PM. Held Rain or Shine. The Sayen House can be rented by both Township and non-residents for private functions like wedding receptions, fund raisers, and other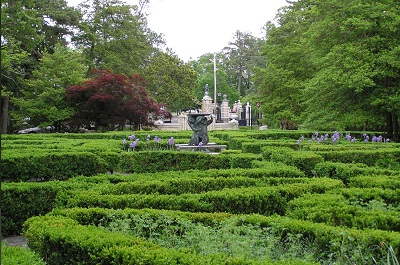 Sister Mary Grace Burns Arboretum
Georgian Court University
900 Lakewood Avenue
Lakewood, NJ
732-987-2373
Website
On the campus of Georgian Court University, former estate of George Jay Gould, millionaire son of railroad tycoon Jay Gould. The was Arboretum established 1989 and named after Sister Mary Grace Burns and comprises some 100 acres of campus. There are five major gardens: The Italian Garden, the Sunken Garden, the Formal Garden, the Japanese Garden, and the Wellness Garden. The collection includes over 2,200 woody plants from over 200 species, representing most of native species of New Jersey Pinelands, as well as many non-native plants. Named to Best College Reviews list of 50 Most Beautiful College Arboretums in 2015.
South Jersey Botanical Gardens and Arboretums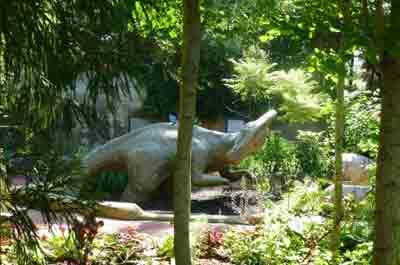 Camden Children's Garden
3 Riverside Drive
Camden, NJ 08103
856-365-8733
Website
This 4 acre indoor and outdoor center is enjoyed by both children and families. Here children can discover and explore the natural world. The garden provides horticultural experiences for creative and imaginative play. The Garden includes three indoor attractions and other outdoor exhibits and activities.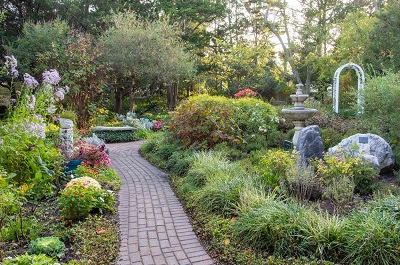 Edith Duff Gwinn Gardens
5th Street and Central Avenue
Barnegat Light, NJ
(609) 494-3522
Website
Located behind the Barnegat Light Museum, this is home to one of the most beautiful flower gardens on Long Beach Island, and the fact that you're in the middle of the Shore, you have this really lush, vibrant garden. It's a delightful place to clear your head, read a good book, or stroll with a friend. The garden is open every day.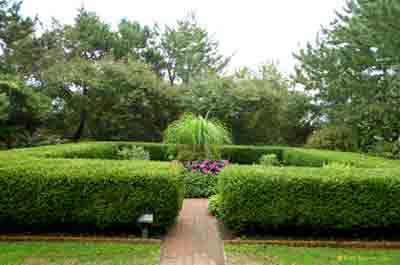 Hereford Inlet Lighthouse Gardens
Village of Anglesea
111 North Central Avenue,
North Wildwood, NJ
Website
On the grounds of the Hereford Lighthouse, there are over 200 plant varieties in different garden areas that adorn the site, each connected by winding paths that eventually lead right up to the seawall and Atlantic Ocean. Benches, set back in cozy little niches line the garden path and a large gazebo is a focal point of this beautiful and tranquil setting.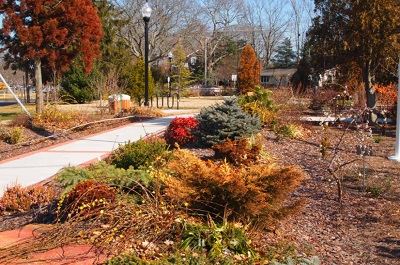 Linwood Arboretum
1410 Wabash Avenue
Linwood, NJ
(609) 214-1399
Website
The focus of the Linwood Arboretum is educational, allowing the public to become familiar with uncommon or rare woody plants that are particularly suited to home landscaping. The most striking feature of the Linwood Arboretum is its size, less than an acre, tiny in comparison to other well-established arboretums.
The arboretum features many plants that would thrive in the fall and winter months. Plants include redbuds, hollies, maidenhair trees, and dawn redwoods.