New Jersey Fishing Tips:
For Recreational, Non-commercial Anglers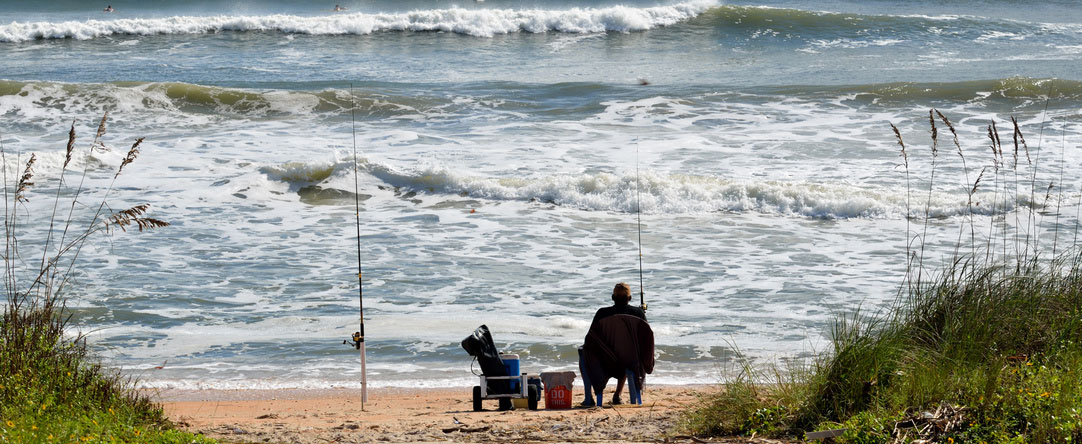 Fishing tips for recreational anglers looking to experience the joy
of hooking a wild caught fish
New Jersey fishing is a huge opportunity to experience a wide variety of fishing experiences and fish species.

From the spring migrations of striped bass on the Jersey shore, and the American shad in the Delaware River to the bay shores and the ocean along the Atlantic coastline, there's something for all anglers.

Anglers can enjoy saltwater fishing from the bays on a small craft, fishing piers, ocean chartered boats, or surf fishing from the beach.

Salt water non - commercial fishing requirements
Registration is required for anyone fishing in marine (and tidal) waters.
The registry is an important tool that will help fishermen and policy makers work together to better account for the contributions and impacts of saltwater anglers on ocean ecosystems and coastal economies. It is part of a national overhaul of the way NOAA collects and reports recreational fishing data.
The goal of the initiative - known as the Marine Recreational Information Program, or MRIP - is to provide the most accurate information possible that can be used to determine the health of fish stocks. Reliable, universally trusted data will in turn aid anglers, fisheries managers and other stakeholders in their combined efforts to effectively and fairly set the rules that will ensure the long-term sustainability of recreational fishing.
Salt water registration form 
New Jersey's Salt Water Fish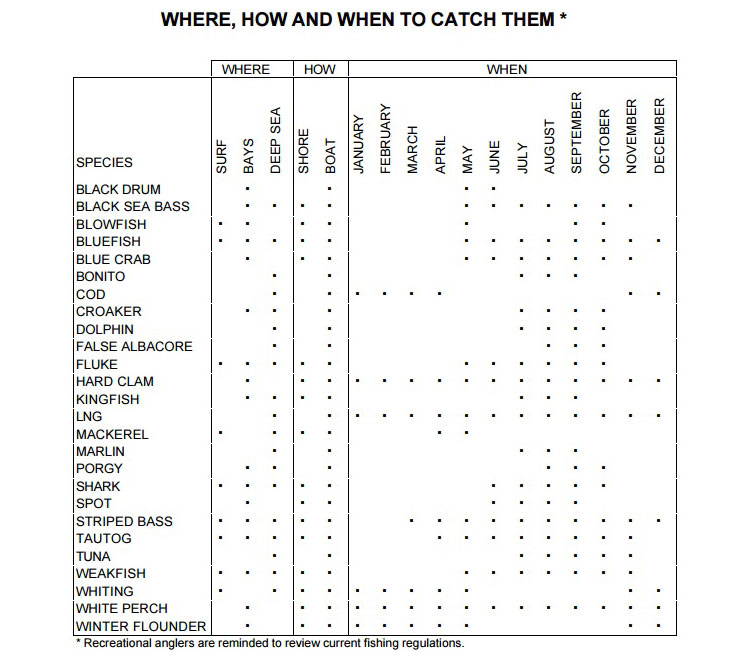 Courtesy:
New Jersey Department Environmental Protection
New Jersey's Saltwater Fishing Piers
Atlantic County

Brigantine:  Old Brigantine Bridge, across from Harrah's Marina Ramp

Margate City: The Margate Fish Pier The Angler's Club, extends into the Atlantic Ocean. Somers Point: Edward Klingener Fishing Pier Between Somers Point & Longport Off Rte. 152. Its on a wide highway off Great Egg Harbor Bay over mostly shallow water.

Ventnor City: Fishing Pier Cambridge Avenue & the Boardwalk, It is the only public fishing pier in New Jersey that goes out into the open Atlantic. The fishing pier charges seasonal fees. 609-823-7944


Cape May County

Avalon: Municipal piers at: 5th Avenue and 20th Street; 5th Avenue and 24th Street; 6th Avenue and 22nd Street; 23rd Street and 3rd Avenue, Ocean Drive; 33rd Street and 3rd Avenue, Ocean Drive; 37th Street and 3rd Avenue, Ocean Drive; 53rd Street and 3rd Avenue, Ocean Drive; and 57th Street and 3rd Avenue, Ocean Drive Grill Fishing Pier. One of the few oceanfront fishing piers in the area. Avalon Boardwalk between 31st and 32nd Streets .

Ocean City: Fishing Club 14th and Boardwalk, Ocean City. 609-398-9800

Sea Isle City: Municipal Pier, 59th Street and Sounds Avenue

Wildwood: Municipal Pier at Sunset Lake, w Sweet Briar Rd & Park Ave. Grassy Sound Marina - Fishing and Crabbing Pier. 13 Old N. Wildwood Blvd. Between North Wildwood & Stone Harbor off Ocean Drive. (609) 846-1400. They charge a small admission fee but offers access to excellent bay fishing. They provide landing nets, a fish cleaning station, picnic area, and toilet facilities. It is well-lit at night, family-friendly, and catches include Flounder, Striper, Bluefish, Weakfish, Croakers, Kingfish.--- and Blue Claw Crabs.


Monmouth County

Keansburg: Keansburg Fishing Pier, extends into the Raritan Bay. 732-495-8842

Keyport: Keyport Fishing Pier, extends into the Raritan Bay


Ocean County

Beach Haven: Beach Haven Pier 2nd St. and the bay, extends into Barnegat Bay

Point Pleasant: 9/11 Memorial Bridge Fishing Pier, Route 70 and River Avenue and the Maxson Avenue Pier, Maxson Avenue

Seaside Heights: Has two piers extending into Barnegat Bay and the Seaside Heights Fishing/Casino Pier extending into the Atlantic Ocean. A daily pass to the pier allows you to come and go all day. 732-830-2252

Seaside Park: Seaside Park Municipal Piers, South Bayview and 5th avenues and South Bayview and 14 avenues

Fresh water, non - commercial fishing requirements

A New Jersey fresh water fishing license is required for:
- Residents at least 16 years and less than 70 years of age
- Non-residents 16 years and older
- Resident anglers age 70 and over do not require a fishing license.
License Fees
Resident Fishing Ages 16–64 yrs. .....................$22.50
Senior Resident Fishing Ages 65–69 yrs. ........$12.50
Resident Trout Stamp Ages 16–69 yrs. ............$10.50
Non-resident Fishing Age 16 yrs. and older .......$34.00
Non-resident Trout Stamp ....................................$20.00
Non-resident 2-Day Vacation Fishing ..................$9.00
Non-resident 7-Day Vacation Fishing ............... $19.50
Fresh water Fishing licenses can be purchased either on-line through the NJ DEP
or through an agent: Fresh water License Agents

You can also check interesting fresh water fishing tips on" Bonfire Bob"