Faubourg, A Montclair, NJ Restaurant Review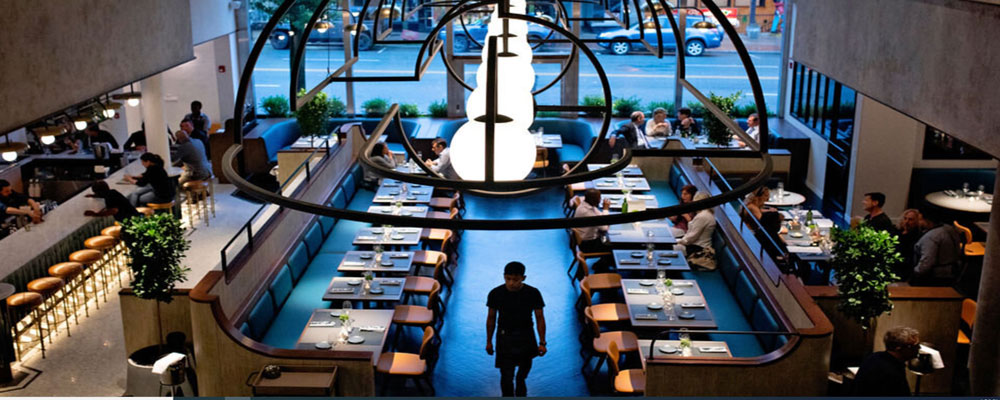 Faubourg: Restaurant Highlights
Fare: French/Mediterranean
Price: Expensive 
Food Quality: Well executed menu, using high quality ingredients, prepared with care to not overwhelm the presence of seasonal ingredients.
Service: Professional, well trained, customer focused.

Ambiance/Decor: Elegant, vibrant with an art-deco vibe
Overall Rating: 3 1/2 stars. Classified as Chef-Inspired Casual Dining venue. (* Note - See below restaurant classification for details) 

Note: Four-star Rating System from 1/2 stars = poor to Four stars = Best in Class
Noise Level: Moderate

Dress: Business casual
Recommended For: Diners who enjoy high end, chef inspired dining in a trendy, vibrant, elegant setting.
Not Recommended For: Budget conscious diners who prefer a low key, BYOB with traditional food served in huge portions.
Recommended dishes: When available, The "COQ AU VIN" chicken & red wine, bacon, mushrooms, spaetzle; The HALIBUT & CORN hen of the woods, baby kale; and The Japanese Miyazaki Wagyu.

Liquor: Full-service bar with specialty signature cocktails, and an extensive wine list by the glass and by the bottle
Restaurant Review 

One of the best French Restaurants in New Jersey. Faubourg is a trendy, Bi-Level French Brasserie with a NYC vibe, and an executive chef and management team with impressive credentials.
located on the site of the former 1940s bank turned theater in Montclair. The venue has been converted into an elegant, trendy, indoor/outdoor restaurant featuring a glass-enclosed wine cellar and a garden patio with outdoor bar seating and fire pit.
The restaurant is massive with bulbous orbs of lighting fixtures hovering over the lower-level dining and bar area with a handsome Carrera-marble topped bar setting off an art-deco vibe. There's a huge floor-to-ceiling wine vault that patrons can peek into and an open kitchen at the rear, enhancing the vibrant vibe. The. three levels of outdoor space include tables, a firepit, a fountain, and a bar. 

The management team of Dominique Paulin and Chef Olivier Muller have each put in at least 18 years of service under famed French restaurateur Daniel Boulud. Chef Muller worked with manager Paulin at Boulud's DB Bistro Moderne in NYC and helped Boulud open and run restaurants in many corners of the globe. 

Chef Muller born in France, spent his formative years developing his culinary skills in the Michelin-starred kitchens of Michel Husser and Philippe Jego, before joining Daniel Bolud working at nearly every Boulud restaurant in NYC before being promoted to Executive Chef at db Bistro Moderne. 
The well-executed menu offers a French cuisine dominant menu with oysters, seafood, meats, and wood-burning grill prepared selections. The menu includes an ample selection of small plates, appetizers, and entrees. The small plate and appetizer selections are popular with groups as they enhance the social nature of the restaurant. Vegan options are available with a separate plant-based menu.
Chef Muller's cooking style is focused on preparation to ensure not overwhelm the presence of seasonal ingredients. In addition to Chef Muller's awesome dishes, leave room for pastry chef Melissa Rodriguez's sumptuous desserts.
Faubourg is open 7 days/week: For LUNCH — 12pm-2:30pm (Mon-Fri); For BRUNCH —11am-3pm (Sat + Sun); For DINNER — 5pm onward: The upstairs cocktail lounge is open Monday through Saturday starting at 5pm
Reservations are a must. They book up well in advance 

*Description of Restaurant Classification - Chef-Inspired Casual Dining: 

- The current trend of upscale, high quality food focused restaurants.
- They are chef driven by chefs with impressive credentials including formal culinary education and skills honed at award winning restaurants.
- Serves an approachable, more casual menu with creative food preparation.
- Uses higher quality food ingredients such as imported items not available in the supermarket, with emphasis on local seasonal farm-to-table produce, wild caught seafood, & meats without the use of antibiotics and growth hormones.
- Chic, trendy ambiance with a casual atmosphere and a casual dress code.
- The wait staff is professional, knowledgeable, and attentive.
-Patrons are of all generations with medium to high incomes. 

The most popular upscale restaurants in New Jersey, classified into three categories; Chef-Inspired Fine Dining, Chef-Inspired Casual Dining, and Contemporary Casual. 

learn more about these restaurants and how reviews are created.
(Updated: November 2022)