Father's Day Card
Whether or not you purchase or make your own gift to go with a Father's Day card, at least start with the card.  A card is a meaningful keepsake that your dad can always look back on to remember his special day. Purchase one that fits your dad's personality. Would he like the musical cards? Or the ones where you record your own voice to greet him? For a card even more unique and meaningful, make your own. Use construction paper, if you'd like, along with crayons, markers, or even watercolors. Use whatever materials you like. Be creative! You might even paste a picture of the two of you in the card.
Work coupons
Draw up some coupons to give your dad for Father's Day. These will mean a lot, as you give of your time to help Dad out with chores around the house. Brainstorm on tasks you could do to help out. One coupon might be for mowing the lawn, another for washing the car, and yet another for taking out the trash for a month. If you live on a farm, offer to feed the livestock or other animals for a certain month. If your father is elderly, give him coupons related to picking up groceries or prescriptions for him. If he loves gardening, give him coupons for outdoor furniture which is really perfect in summer. Doing things for your dad will show him how much you care.
Outing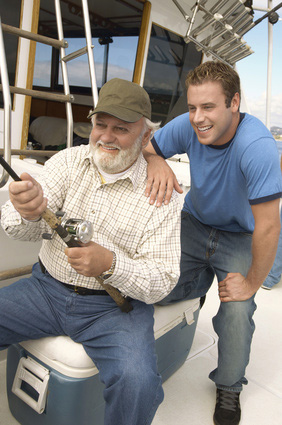 Take your dad out for Father's Day. Whatever his interests are, he is sure to enjoy them on Father's Day, especially with his kids. Plan a movie outing or something more active if that is what he enjoys. Get the fishing gear ready, along with a picnic lunch of sandwiches, and schedule a few hours for the two of you to get out for a while. If Dad likes golf, take him out for a few rounds, even if it's just miniature golf. Whatever activity you choose, the time together will be a meaningful way for your dad to spend the afternoon or evening.
Favorite meal or dessert
Most dads love food! Even if you don't normally cook, just giving it your best shot will be a meaningful gift in itself. What is your dad's favorite food or dessert? Look online to find a simple recipe. Spaghetti? Pizza? If you would rather try dessert, Dad is sure to love that. Does he love pies? Buy a frozen pie crust, canned pie filling, and bake it. Get a cake mix and frosting to make a cake. Decorate the top with sprinkles. Get creative. Your dad is sure to love your cooking efforts.
Favorite picture
Giving your father a picture of you or the two of you together is a great gift. Put it in a frame, if you would like, or look into having your photo put on a keychain or coffee mug. Many sites do this for reasonable prices. Dad will remember his special Father's Day anytime he looks at this gift.
Father's Day gifts don't have to be elaborate or expensive. Consider one of these cool gifts for Dad on Father's Day, gifts that will be unique and meaningful for both you and your dad.
Author Bio:  Tiffany Faming, a passionate writer, loves to write on Family, Home Décor and Gardening. For more Father's Day gift ideas, please visit here for more useful tips
---