The Best Kid Friendly Farm Markets and Farms
in New Jersey
Features locally grown New Jersey farm products and a welcoming atmosphere for kids and their families.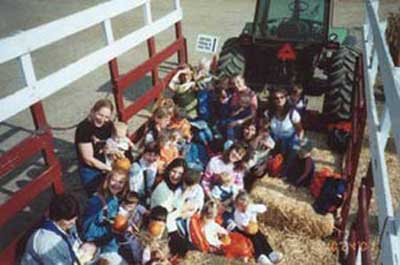 Many of these farms offer fun and educational activities for kids, including pick your own produce, farm animals, events, school trips, birthday parties, and summer camp farms for kids.



Please call ahead to confirm activity schedules and get your travel directions.
Northern Jersey Kid Friendly Farm Markets & Farms

Abma's Farm
700 Lawlins Road
Wyckoff
(201) 891-0278
A 30-acre farm dates back to the 1790s. The out-buildings have been well-preserved, kept in their original state, and the Dutch-style barn, one of the few 200-year-old barns still standing in Bergen County, converted into a thriving retail market with a "scratch" bakery and a gourmet kitchen. They have a roadside farm market that sells Fruits & vegetables, preservative free bakery items. They also sell Jersey fresh free range eggs and chickens, Homegrown Pork, smoked bacon, pork chops, ribs, loins with whole pigs, either in parts to order or for roasting. Hormone and antibiotic free homegrown turkeys are available, fresh-killed, throughout the year For kids, farm means farm animals, so while parents shop in our greenhouses or market, children can go over to the barnyard and pet and feed our animals. From May to September they offer pony rides on Saturdays and host Kids birthday parties with pony rides. Kids (and moms and dads, too) love to visit our petting zoo, pet the sheep or cow, feed carrot greens to the rabbits (supervised by our staff, of course), see our baby chicks, fancy birds, goats, ponies, donkey, calf, alpaca, and our llama.

Website
---
Alstede Farms
84 Route 513 (Old Route 24)
Chester
Phone: 908-879-7189
Pick your own strawberries, black raspberries, purple raspberries, Green and Pink Gooseberries, Currants, Blackberries, Yellow raspberries, Red Raspberries, Peaches, eggplant, tomatoes, peppers, Pumpkins, Indian corn, Gourds, and Apples.
They also have a year round retail farm market that sells fruits and vegetables, bakery products, milk, eggs, breads, ice cream, and local wine. For kids they have pony rides and moonwalks, birthday parties and summer day camps. This is a great opportunity to experience life on a working farm!

Website
---
Bobolink Dairy
369 Stamets Road
Milford, NJ 08848
973-764-4888
[email protected]
Take a one hour walk through the milking parlor, creamery, bakery, cheese cave, and a hike up the hill to see the cows and our beautiful land. Please wear sturdy shoes--this is a bit of a climb. The pasture walk is not recommended for strollers or people with mobility issues, but there's lots to see down below, too. Full tour takes about an hour, plus cheese tasting. At the end of the tour you will be given a coupon for a nice discount at our local brewery, The Ship Inn, with authentic British ales, including a Farmhouse Ale inspired by our cheeses. The food at the Ship is decidedly unauthentic for a British pub, as it is really, really good: the burgers are made from my neighbor's grass-fed beef. Tours are limited to twenty, and are guided by either a family member or one of our interns. Well-behaved dogs on leashes are welcome to join the tour. Reservations are required, and a $5 fee is charged for all humans over 3 years. If there is space, last-minute attendance may be possible--please ask in the farm market.

Website
---
Sunset Vista
27 Pierce Road
Lafayette, NJ 07848
(border of Andover Township)
973-579-7382
Located on 20 acres in Sussex County, they have scenic views of nature, beautiful gardens, and a self-contained nature classroom. They feature fun and educational kids activities for class trips, birthday parties, scouting events, and country picnics, and are the only certified National Arbor Foundation Nature Explore Classroom. Nature-oriented classes and events for kids are held year round.

Website
---
Fosterfields Living Historical Farm
73 Kahdena Road
Morristown, NJ 07960
(973) 326-7645
(973) 631-5343 (groups)
This living history farm has been under cultivation since the eighteenth century. As part of the Morris County Park Commission, the 200-acre farm offers educational activities and demonstrations of turn-of-the-century - 1920s farming methods and life. Visitors are encouraged to participate in various farm-related activities whenever appropriate at this National Register Site. They can churn butter, crack corn and feed it to the chickens, and tend the garden. Staff are dressed in period attire and interpret the lives and roles of Foster family members, domestics, and farm laborers. They perform a daily regimen of farming and domestic chores and raise livestock and crops by historical methods.

Website
---
Grochowicz Farm Market
2401 Route 31 South
Glen Gardner
(908) 537-4332
Open: April - December
A working farm that sells farm fresh and homemade products as well as unique wholesome fall family fun. The farm grown products include: All natural farm raised beef, pork, and eggs , soft serve and hand dipped ice cream, fresh baked pies, and produce in season. For the kids there is lots of family fun with frightful nights, you can see farm animals on a 1/2 hour hay ride, and explore the corn maze. Weekday visits are available for large groups of 20 or more by reservation only.

Website
---
Stony Hill Farm Market
15 North Road
Chester
908) 879-2908
Open: Easter - Christmas, 9 am to 6 pm
They have a farm market that sells fresh picked fruits and vegetables, bakery products, and local honey. In the fall they sell apples, peaches and other fruit and pick your own pumpkins, gourds, Indian corn, corn stalks, straw bales, mums and other items for fall decorating.For kids, they have a 10 acre Home Maze Quest, it's a cornfield maze adventure and hay rides, farm tours and animals. Group tours are available with discounts for 20 or more people.

Website
---
Sun High Orchard
19 Canfield Avenue
Randolph
(973) 584-4734
Open: Daily, May - Dec., 9 am to 6 pm.
Pick your own pumpkins with a roadside Market that sells apples, pumpkins, vegetables, sweet corn, tomatoes, raspberries, peaches. apple cider, donuts, bakery, pies, soup, salads, jams, honey, cut flowers, bedding plants, perennials, gifts & craft items. For Kids they have an alpaca named "Jersey Gold" and mini donkey "Jessica" that are always looking to make new friends. In their market, you can play a game of checkers or Candy land in front of our reconstructed historic bee hive oven and fireplace. Kid's birthday parties are available with bouncers and hay rides. In the fall they offer farm tours for Pumpkin picking for schools and play groups!

Website
---
Valley Shepherd Creamery
50 Fairmount Rd
Long Valley, NJ 07853
908-876-3200
They are a unique creamery, giving the visitor an insight into sheep dairy farming as practiced in Europe for the last 4,000 years. It takes you through years of cheesemaking expertise and modern equipment from all over the world to build a facility allowing full public access to all farm activities. They educate and involve the visitor in daily life on a real working sheep dairy. They offer many educational public and school tours for children throughout the year and includes; On the Spring Lambing Tour ... see hundreds of fluffy white little lambs.Lambing tours April and May; Milk and Cheese tours on Saturdays and Sundays in the spring and summer; Fall Harvest Tours from late August through October,

Website
---
Central New Jersey Kid Friendly Farm Markets & Farms
Cranbury Brook Farm
308 Federal Road
Monroe Township
609-918-0351
Call ahead before visiting.
Cranbury Brook Farm is is a quaint and private family farm that is open to the public by appointment only. They grow and sell farm fresh hybrid tomatoes, eggs, berries, and cut flowers at their quaint roadside stand. Other attractions include the raising of pygmy, dairy, and meat goats, Bernese Mountain Dogs and French Bulldogs, birthday farm parties for kids, a 10 stall barn with full boarding facilities, and another large pasture with another small private 2 stall barn & tack room.

Website
---
Fulper Farms
281 Rocktown Lambertville Rd.
Lambertville, NJ 08530
A 5th generation family farm featuring high quality raw milk from generations of cow families. The are committed to "greener" dairy farm practices, including a renewable solar energy system, soil conservation methods, and nutrient recycling plans to ensure the production of a sustainable product. In addition to the sale of farm-fresh dairy products, they offer a variety of family and kids events including summer camps, farm tours, birthday parties, and events!

Website
---
Howell Living History Farm
101 Hunter Rd.
Titusville, NJ
(609) 737-3299
A popular living history farm for kids, especially on Saturday's when most of the events occur. The farm offer's many activities for kids to get involved. Since the 1730s, just about every type of farming situation has occurred here. The farm has evolved from a grain producing farm to a dairy farm and over the years various crops have been grown, animals raised, products produced, etc. Family events and hands-on activities are seasonal and include Maple Sugaring, Workhorse Rides, Crafts Workshops, Wagon Tours, Hay rides, Sheep Shearing, Corn planting and husking, Plowing Matches, Cutting ice from a frozen pond and storing it, and making pancakes from wheat grown on the farm. Students get to grind and sift flour and churn butter to get these pancakes!A Self-Guided Tour takes about an hour and a half, inspecting some thirty unique features. Begin in the Parking/Picnic area, where the day's farming activities are posted. Group Tours are available, and School Groups have a wealth of fun and learning opportunities at their command.

Website
---
Terhune Orchards
330 Cold Soil Road
Princeton
609-924-2310
A 200 acre farm with apple and pumpkin picking, cider, pies, farm animals, field trips, and a farm market. The farm market store and Farm Yard are open every day all year. For kids they have a Barnyard of animals including; sheep, goats, donkeys, horses, ducks, geese and chickens. In the fall, starting the 3rd weekend in September, they have: a corn stalk maze, theme story barn, wagon rides on Saturday and Sunday, and a pumpkin patch. They also offer a kids summer camp, group tours, and birthday parties and many other read and explore educational events.

Website
---
Von Thun's Country Farm Market
519 Ridge Road (Route 522)
Monmouth Junction
(732) 329-8656
A 90 acre farm with with pick your own strawberries, raspberries, pumpkins and peas. With a roadside market for sweet corn, tomatoes, peppers, strawberries, raspberries, string beans, melons, pumpkins, and other assorted home-grown fruits & vegetables. Kids tours are done on the farm in Spring, Summer, and Fall, and vary just slightly. Tours last approximately an hour and are scheduled Monday through Friday. Summer and Fall tours are not offered on Thursdays. Tour times are 9:30, 10:30, 11:30, 12:30, and 1:30. Occasional 4:00 tours are given for youth and after school groups. Kid's Day at the farm has traditionally been held the Saturday before Mother's Day with flowering Mother's Day gifts available and lots of activities for the kids. The highlight of the year is their annual Fall Festival, held on Saturday and Sunday of Columbus Day weekend, with hay rides, pony rides, petting zoo, corn maze, straw maze, pedal course, face painting, sand art, candy art, games, inflatable moon bounce, vendors, food, crafter's, country music, goat milking demonstrations, clown shows, straw jump, activity tent contests, and a visit with our special costumed guest. Free crafts for the kids can also be done at the Activity Tent. Antique farm tractors and equipment are on display.

Website
---
Southern New Jersey Kid Friendly Farm Markets & Farms
Duffield's Farm Market
Greentree & Chapel Heights Rds
Sewell
(856) 589-7090
A farm with over 130 acres that grows over 35 varieties of vegetables and fruits, including peaches, strawberries, nectarines, Jersey sweet corn and tomatoes. They have a farm market that sells their crops, deli, and bakery products. They have pick your own peas, strawberries, and pumpkins. For Kids they have farm animals where children can feed our animals through tubes, but never come in direct contact with them. In the Spring and fall they have field trips where their educational Learning Barn is always a great time for students to participate in hands on activities that will teach them about farming. They also have Kids birthday parties, for a minimum of 10 children, that includes a hay ride around the farm, hot dog or pizza and drink, time to feed the animals, and a visit from their mascot, Rudy the Rooster, who gathers the children for a chicken dance! Depending on the season, you can stop off and pick Easter eggs and visit with the Bunny, or pick a pumpkin in the patch to take home.

Website
---
Fernbrook Farms Education Center
142 Bordentown-Georgetown Road
Chesterfield, NJ 08515
( 609) 298-4028
A 230-acre working farm with over 60 acres of woods, two streams and two ponds is an educational farm providing hands-on educational experiences for people of all ages by exploring the complex interconnectedness of our natural world. Their purpose is to educate about agriculture, the sources of our food and the importance of nutrition for healthy lifestyles. They believe people should make meaningful connections with our natural world in order to become responsible steward of local and global sustainability. They provide year-round programs for families, public and private schools, home-schooled, children and scouting groups.

Website
---
Johnson's Corner Farm
133 Church Road
Medford
(609) 654-8643
A pick your own farm with an animal barnyard. They have hay rides that take you out to the fields to pick blueberries, strawberries, sweet corn, peaches, nectarines, sweet cherries, apples, and pumpkins. They also have a farm market that sells farm-baked pies, pot pies, sandwiches, salad, dips, ice cream, Italian ice, donuts, cookie, candy, quiches, and soups. In June they have a Blueberry Fest with live music, moon bounce, and burgers on the Grill. They offer fun, educational programs for kids for summer schools, camps, churches, day cares,and neighborhood moms with playgroups.

Website
---
Springdale Farm Market
1638 S. Springdale Road
Cherry Hill
856-424-8674
A 100 acre farm with pick your own strawberries, and pumpkins. The have a market that sells over 35 crops, pies, and wines from New Jersey wineries. You can also celebrate a birthday or wedding in their lovely, glass enclosed conservatory, or attend a cooking demo. There are many children's activities, including hay rides, tractor rides, pumpkin picking, campfires, and corn mazes. They offer children's birthday parties; indoors at the conservatory, or outdoors on their patio, in a tented area, or at a campsite, that are both fun and educational.

Website
---