Elements Restaurant, Princeton, NJ:
A Restaurant Review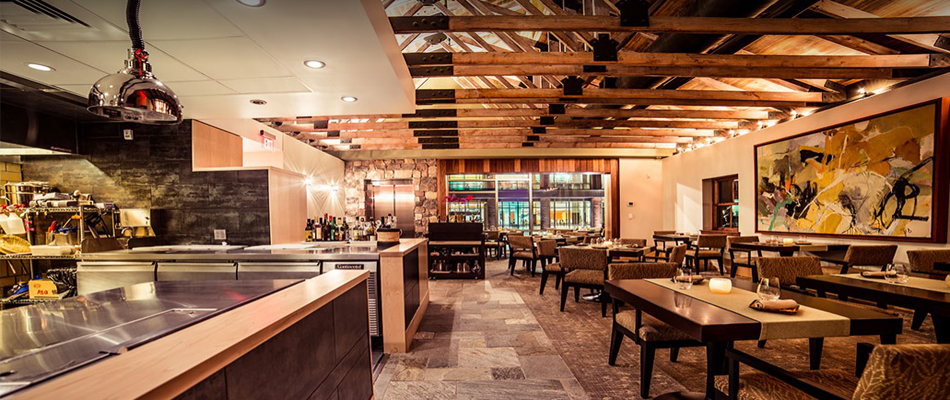 Elements pushes the envelope with trend setting food creation
and  a non-traditional service model

Elements: Restaurant Highlights

Fare: Interpretive New American

Price: Very Expensive

Food Quality: Extraordinary, their seasonally inspired menu features the freshest, high quality, often rare ingredients. Menu is well executed, using progressive, modern techniques to draw out the purest flavors.

Service: Wait staff is professional, knowledgeable & attentive without being intrusive.

Ambiance/Decor: Luxurious, quietly elegant, with open, exposed, beamed ceilings. Every table having a view of the open kitchen. providing an intimacy with the kitchen staff.

Overall Rating: 4 Stars - One of the Best restaurants in New Jersey. Classified as an upscale Chef-Inspired Casual Dining restaurant (* Note - See below restaurant classification for details)

Note: Four-star Rating System from 1/2 Star = poor to 4 stars = Best in Class

Noise Level: Moderate

Dress: Upscale Casual

Recommended For: High income diners with sophisticated taste, seeking a non-traditional menu using high-quality, rare ingredients, using progressive cooking techniques.

Not Recommended For: Budget conscious diners who have a strong preference for a traditional ala carte menu.

Recommended dishes: The Five Course small plate, tasting menu. (limited options)

Liquor: Full-service bar service shared with Mistral's restaurant on the lower level. Large variety of high end domestic and international wines by the bottle. Wines by the glass are limited.

Restaurant Review

Elements is a nationally recognized restaurant, and one of the best restaurants in New Jersey. Located atop Mistral restaurant, both Mistral restaurant and Elements are the creations of co-owners Steve Distler and famed chef Scott Anderson.

The kitchen is under the direction of acclaimed Chef Scot Anderson, having four years running James Beard semi-finalist for Best Chef in the Mid-Atlantic region. Chef Anderson has reached the pinnacle of success using non-traditional, inventive and progressive cooking techniques. Elements is not a restaurant that is all things for all diners.

The dining experience at Elements is unique and not likely to be found in other New Jersey restaurants. Chef Anderson is an industry trend setter and innovator. His innovative cooking techniques go beyond traditional boundaries.

Led by Executive Chef Scott Anderson and Chef de Cuisine Mike Ryan, the Five Course small plate, tasting menu offers limited options. For example, in the interest of preserving the purest flavors of each ingredient, the Wagyu Beef and tuna selections cooking times such as well done, medium rare, etc. and temperature servings are not offered as patron preferences.

 The new American menu with Japanese/Asian influences changes seasonally to feature the freshest ingredients that are mostly sourced from local farms and producers. Most of the fresh farm produce is sourced locally from Dave Zaback' s organic Z food farm in Lawrenceville.

There is a serious commitment to using fresh organic ingredients and sustainably raised meats and seafood.

The ingredients are of exceptional high quality --- well beyond "supermarket" quality. You will not find salt or pepper at the table. Requests for ground pepper that will overwhelm the delicate taste of the high-end ingredients, are frowned upon.

Be prepared for a 2 1/2 - 3-hour dining experience. The five-course small plate tasting menu begins with two servings of well executed, tasty, artfully presented amuse-bouche.

The decor and ambiance are quietly formal and elegant with open, exposed, beamed ceilings. Walls are earth toned and adorned with a large mural in the main dining area. Tables in the main dining area are spaced comfortably apart with seating for two or four. The dining area has seating at nine tables for 28 with every seat having a view of the open kitchen. providing an intimacy with the kitchen staff.

In addition to the main dining room, Elements' features two private dining rooms, which can accommodate a combined total of 40 individuals.

The wait staff are professional, well trained, and  knowledgeable, dressed in dark suits, white shirts and ties, without appearing stuffy and formal.

The dining patrons are typically high-income patrons ages 35 to 55+, well dressed, with some patrons wearing sports jackets.

Limited street metered parking. A private parking garage is within walking distance at Chambers Street and Hulfish Street.

*Description of Restaurant Classification - Chef-Inspired Casual Dining:

The current trend of upscale, high quality food focused restaurants.
They are chef driven by chefs with impressive credentials including formal culinary education and skills honed at award winning restaurants.
Serves an approachable, more casual menu with creative food preparation.
Uses higher quality food ingredients such as imported items not available in the supermarket, with emphasis on local seasonal farm-to-table produce, wild caught seafood, & meats without the use of antibiotics and growth hormones.
Chic, trendy ambiance with a casual atmosphere and a casual dress code.
The wait staff is professional, knowledgeable, and attentive.
Can be BYOB or have an alcohol menu with a variety of wines, specialty cocktails, and beers.
Patrons are of all generations with medium to high incomes.


The most popular upscale restaurants in New Jersey are classified into three categories: Chef-Inspired Fine Dining, Chef-Inspired Casual Dining, and Contemporary Casual.
learn more about the three types of upscale restaurants and how reviews are created.

(updated November 2022)