New Jersey Day Camps for Kids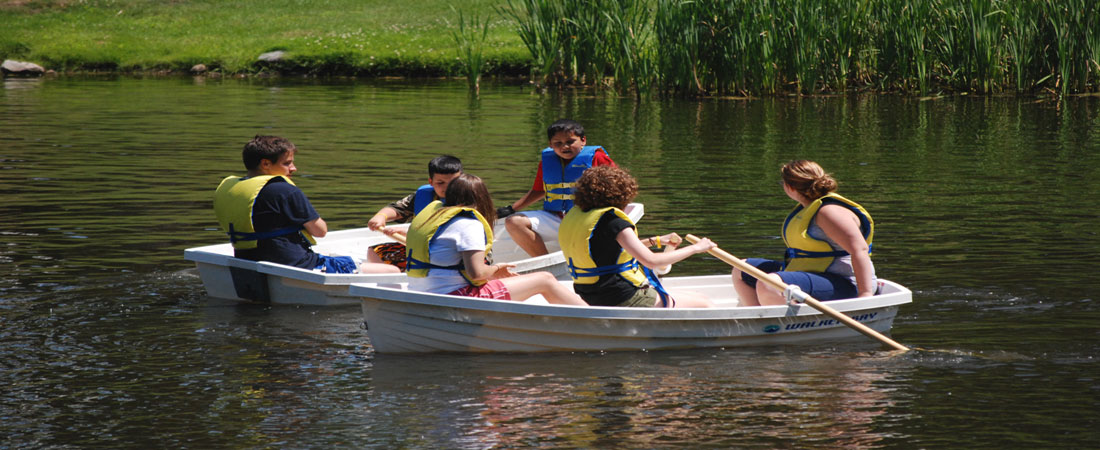 Discover New Jersey's Top Day Camps For Children 2 - 17 years of age
Day camps are committed to a safe, nurturing environment and offer a variety of programs to focus on healthy, developmentally, appropriate experiences, discovery, and learning opportunities for leadership and personal growth.

North New Jersey Day Camps
All Children's Theatre
Parsippany, Watchung, NJ
Website
Open to children ages 6 to 17.
This special purpose camp offers performing arts programs by providing campers with instruction and experiences in comedy, creative dramatics and musical theatre. Programs are supervised by state certified teachers with experience in children's theatre.
Blue Mountain Day Camp - YMCA
Stillwater, NJ
Website
Open to children from age 3 to grade 9
Operated by the Sussex County YMCA, Blue Mountain Day Camp, is located on the shores of beautiful Fairview Lake in Stillwater, New Jersey. This unique camp setting offers all of the amenities of a sleep-away camp in a convenient day camp format.
Campers are grouped together by grade for activities such as team-building exercises, games and sports. Campers discover new interests by exploring activities that focus on building self-esteem, confidence and social skills while increasing independence and health and wellness awareness.
Camp Veritans
Haledon, NJ
Website
Open to children pre-K to 9th graders. with a Counselor in Training Program for 10th graders. Located on 60 wooded acres of athletic fields, open space, hiking trails, playgrounds and climbing areas. Campers are encouraged to participate in activities but are never forced, a rule that is born of the philosophy that when activities are positively introduced in an inviting and fun manner, children will naturally want to try them.
Equine Science Summer Day Camp
Centenary University Equine Center
40 Califon Rd
Long Valley, NJ 07830
Web Site
laura.marcelli@centenaryuniversity.edu
For ages 14 and up
Students will gain an understanding of the evidence-based, scientific concepts behind caring for horses, recognize various principles applied to daily management of an equine facility, and develop horse handling and care skills.  Lead by university faculty, staff and student volunteers. 
JCC Camp Deeny Riback
Flanders, NJ
Website
Open to children from pre-k to 8th grade. There is an additional CIT Leadership Program for grades 9 - 10.
Located on a 35-acre facility, they strive to create imaginative programming and memorable experiences that enhance campers' growth and development. Their facilities include covered basketball courts, soccer fields, baseball field, volleyball court, tennis courts, hockey rink, 3-heated pools, 60' water slide, a waterfront at nearby Budd Lake, 2 arts & crafts studios, dance & gymnastics studio, performing arts center, cooking center, digital photography studio, 11-station high ropes challenge course complete with a 50' climbing tower, 200' zip-line, 40' "flying squirrel" & 35' vertical playpen , 6-target archery range , and a multi-acre Mt. Bike trail.
Jockey Hollow Summer Day Camp
Mendham Township, NJ
Website
Open to girls entering grades 1 to 9
Run by the Girls Scouts of Northern New Jersey, located ​on 212 acres with a large "L"-shaped swimming pool, low ropes challenge course and zip line, equestrian center, archery range, playing field, and adventurous hiking trails.
Lake Rickabear
Kinnelon, NJ
Website
Open to girls entering grades 1 to 12
Run by the Girls Scouts of Northern New Jersey, located on 332 acres with a 40-acre, spring-fed lake with kayaking, canoing, pedal-boating, paddle boarding, and a long stretch of soft, sandy beach lining the swimming area.
New Horizons Day Camp
Florham Park Park , NJ 
Website
Open to children from kindergarten to 9th grade with an additional Transitional Counselor Program for ages 15 -17.
Located on the grounds of Brooklake School, with swimming taking place daily at the Florham Park Municipal Pool , 4 minutes by bus. Campers customize their own schedules to explore their interests while having a traditional day camp experience. Campers can choose from a variety of activities in sports, science, technology, creative arts, performing arts, innovations, academic enrichment, and media. Activities change throughout the summer offering campers opportunities to try something new or continue a favorite.
YMCA Camp Bernie
Port Murray, NJ
Website
Open to children from Kindergarten to 8th grade.
Located on a 275 acre facility, their programs are designed to give campers a sense of independence with the freedom to be themselves by offering a variety of activities designed to build confidence, try new things and have fun. A combination of personal choice activities and scheduled programming means that campers have the freedom to customize their experience. Activities include swimming, arts and crafts, basketball, archery, climbing tower, volleyball, canoing, mountain biking and more.
Central New Jersey Day Camps

Black Bear Lake Day Camp
Millstone, NJ
Website
Open to children 4 years old (pre-Kindergarten in Sept.) to 15 years old (entering 10th grade in Sept.)
Situated 30 wooded acres with it's centerpiece 5-acre lake, they offer campers a huge variety of programs and activities. They offer campers the flexibility to choose their favorite activities and participate in them on a daily basis for a week, while still enjoying fun group activities like Swim, Group Choice, Lunch, and Special Event activities every day. . Campers can change their electives each week, or choose the same ones each week. If a camper like Horseback Riding, they can choose it every week of the summer for one of their elective activities.
Camp Brook - The Brook Arts Center Youth Summer Theater Camp
Bound Brook, NJ
Website

Their summer program is designed to provide a fun creative experience for students entering grades 1st - 7th in the Fall of 2019, who are interested in the exploring the wonders of theater! We offer a full day program, weekdays July 15 -26 from 9am -3pm. Their counselors and director have designed a fun program which will develop self-confidence, self-expression, creativity and teach students to work as a team. The program is a great way to try something new and meet new friends!
Country Roads Day Camp
Manalapan, NJ
Website
Open to children from pre-k to 7th grade. There is an additional CIT Leadership Program for grades 7 - 10.
Located on 23 wooded acres with a mountain rope bridge over the shallow running water of the Pine Brook., the facilities include two air-conditioned buildings for indoor summer activities, a water-slide with continuous, a Spray Park wonder world with 70 computer-run sprays and geysers, and a giant flying trapeze. Winding paver walkways link the covered patios throughout the property for outdoor activities.
CYO Yardville Day Camp
Yardville, NJ
Website
Open to children ages 5 - 13
Located on a 23-acre wooded site, the CYO is a Catholic based organization with camping programs that strive in developing in body, mind, and spirit. and to instill values such as respect (for self and others), fair play, sharing and cooperation. They welcome all campers regardless to race, handicap, gender, color, religion or national origin.
Dance Camp
Dance Connection of Hillsborough
1 Jill Court, Ste 12
Hillsborough, New Jersey 08844
Website
Contact: David Kieffer, Phone: 908-874-8800, Email:
move@danceconnectionnj.com
This weekly summer dance camp is open for children ages 5 through 11.
Each week, campers take dance classes in Ballet, Jazz, and Hip-Hop. Campers collaborate on challenges, stay active, do arts and crafts, and more! At the end of the week, campers create a short dance music video that they can share with you!
A different theme each week! Dance as many weeks as you'd like!
Eagle's Landing Day Camp
74 Davidson Mill Road
North Brunswick, NJ
Website
732-821-9155
They offer a full-day program for ages 3 - 15 (entering 10th grade) from the last week in June until the 3rd week in August.
For campers ages 3 - 5 (entering pre-k and kindergarten) they have a half-day option along with a 3, 4 or 5-day option. Campers in grades 6-10 participate in their trip program each week.
They also offer a Leader in Training (LIT) program for campers entering 9th grade and a Counselor in Training (CIT) program for campers entering 10th grade.
Frogbridge Day Camp
Millstone Township, NJ
Website
Open to children from pre-K to 8th grade, with an additional CIT Program for 9th & 10th graders.
Frogbridge is a huge 86 acre facility with 18 indoor air conditioned activities and many top adventure sports venues including "The Rock", their permanent rock climbing tower complete with 3 sides for climbing as well as cargo nets and a bungee swing, bungee trampolines, outdoor laser tag, archery, camping, fishing, bumper boats, athletic fields, lake front activities in three natural lakes, three heated swimming pools ---- and much more.
The Goddard School of Wall Summer Camp
Wall Township, NJ
Website
Their summer camp curriculum incorporates STEAM learning (science, technology, engineering, arts and mathematics) into exciting, one-of-a-kind and fun experiences for your child every day! We offer a broad range of programs and mini-camps to pique the interest and curiosity of every child.
Ivy League Day Camp
Manalapan, NJ
Website
Open to children ages 2 -15 years old
Located on a 13-acre campus with 5 heated pools, and A/C space for indoor activities. Their Lower camp has all sized down athletic fields and the upper camp has full size fields to suit all age groups from 2-15.
They offer full day, mini day and teen travel programs
Door to door air conditioned transportation is available to nearby towns
JCC Abrams Camp
148 Cedarville Road
East Windsor, NJ 08520 ​
Website
(609) 606-7070
JCC Abrams Camps was founded on and celebrates the principles of Jewish values, culture and traditions. They offer a wide range of programs and activities including aquatics, creative & performing arts, sports, outdoor adventure, and Jewish values.
Oak Crest Day Camp
Somerset, NJ
Website
Open to children ages 3-15.
Located on 35 acres, they specialize in creating camper summer experiences, lifetime memories while gaining the social and emotional tools they need to be successful in life.
The facility is nestled against the Six Mile Run Reservoir site which contains over 3,000 acres of protected woodland with hiking and mountain biking trails. It includes 4 heated swimming pools (including 2 Olympic size pools and 2 smaller instructional pools), over 20,000 square feet of indoor air-conditioned space, and a 40' Climbing Tower complete with a 400' Zip-line.
Pine Grove Day Camp
Brick, NJ
Website
Open to children pre-K to 9th grades
They strive to equip campers with the skills they need to be successful in life that will yield a more confident, independent and well-rounded human being.
Located on a 36-acre shaded facility with a wide variety of indoor, outdoor and aquatic activities, more than 25,000 square feet of Indoor air-conditioned space., 4 heated pools, a 4,000 square foot gymnasium with 5 elements and a tumbling area, an air-conditioned 5,000 sq.ft. theatre, 3 separate adventure rock and ropes areas, and a variety of traditional sports facilities including baseball, softball, soccer, beach volleyball, hockey, basketball, four square, team handball and lacrosse.
Rolling Hills Country Day Camp
Freehold, NJ
Website
Open to children pre-K to 10th grade
Their programs are aimed at fun, friendship, and growth
Located on 20 acres with three heated pools, six basketball courts, and a 24-foot rock climbing wall, a Kiddie Village, Crazy Crawl and gymnastics Pavilion, 3 zip lines, 4 hockey rinks, 2 two dance stages, a variety of athletic fields, and cooking and arts facilities.
Seashore Day Camp and School
Long Branch, NJ
Website
Open to children ages 10-12 ; They also offer a half day program for 3 & 4 Year-Olds
Located a block from the beach, they feature swim instruction, water sports, a variety of activities, and a variety of specialty programs such as kite boarding wind surfing, stand up paddle boarding, surfing, football, softball, basketball and soccer.
YMCA Camp Topanemus
Millstone Township, NJ
Website
Open to children entering grades kindergarten through 10th
They offer a traditional day camp experience that helps children and teens grow in spirit, mind and body based on the values of caring, honesty, respect and responsibility. They feature an excellent Swim Instruction Program that follows the YMCA Progressive Swim Guidelines.
Convenient, optional transportation is available from Clarksburg, Englishtown, Farmingdale, Freehold, Hightstown, Howell, Jackson, Manalapan, Marlboro, Morganville and Old Bridge.
South New Jersey Day Camps
Amity Acres
Waretown, NJ
Website
Open to children ages 3 - 17.
Amity Acres is operated by the Girl Scouts of the Jersey Shore. It welcomes all campers - girls, ages 4-17 and boys, ages 3-11. After age four, boys are in a separate unit, separate from girls but with similar activities.
The camp stresses the need to unplug from today's technology distractions by giving campers a chance to step back and appreciate the simple things. By turning off the TV, by not answering a cell phone, or surfing the Internet, your child's eyes and ears will welcome the sights and sounds provided by nature itself, and she'll experience the outdoors like never before. Summer camp in the outdoors is also a great way to explore leadership, build skills, and develop a deep appreciation for nature. Campers at Amity Acres Day Camp have an opportunity to grow, explore and have fun under the guidance of caring, trained adults. The camp programs are aimed at building a camper's self-confidence, social development, motor skills and abilities in a fun, exciting environment. Swimming, zip-line, climbing wall, archery and other creative activities are at the core of the camp program, resulting in a memorable summer for each camper
Liberty Lake Day Camp
1195 Florence Columbus Road
Bordentown, NJ 08505
609-499-7820
Website
They offer a variety of camp programs with sessions lasting from2 to 10 weeks for campers from pre-kindergarten to 10th grade with a committment te developing Independence, Integrity, Aspiration, Teamwork, and Friendship amongst campers. Bus transportation is included in camp tuition.
Tall Pines Day Camp
Williamstown, NJ
Website
Open to children ages 3 - 12, with a Counselor in Training Program for 13-14 year olds
Located in the heart of the Pinelands on 66 acres, they offer a wide variety of programs and facilities including: gymnastics, tennis courts, swimming pools, archery, basketball, horseback riding, computers, wood shop, arts & crafts, pedal karts, field hockey, lacrosse, soccer, climbing tower, lake crossing high ropes, boating, fishing, and more.
Campers will be able to choose from among many expertly guided, age-appropriate programs in athletics, nature, computers, and the arts. Through the combination of these varied activities, campers of all ages will maximize their summer-time fun while maintaining a recreational balance.
YMCA of the Pines
Lake Stockwell Day Camp
Medford, NJ 08055
Website
(609) 654-8225
Located in the heart of the South Jersey Pines, this traditional co-ed Summer Camp offers theme-based enriching activities, leadership development for boys and girls, group games, sports, fitness activities, hands-on science projects, arts & crafts, music, swimming, horseback riding, archery, boating, kayaking and much more.
They specialize in character development and team building for boys and girls – and the're technology free, so children can happily unplug from devices while they're here! Campers spend a lot of time in the outdoors, enjoying pristine lakes, hiking trails, a ropes course, a climbing wall, a nature center and dedicated program areas, in addition to an air-conditioned gym and a craft center. Each day is packed with safe, age-appropriate activities, new friends and personal growth.
They offer three age appropriate Camps:
Main Camp: Ages 5-11
Explorers Program: Ages 12-15
Teen Leadership Programs, Counselor-In-Training (CIT): Completed 9th grade