Best Crabbing Places in New Jersey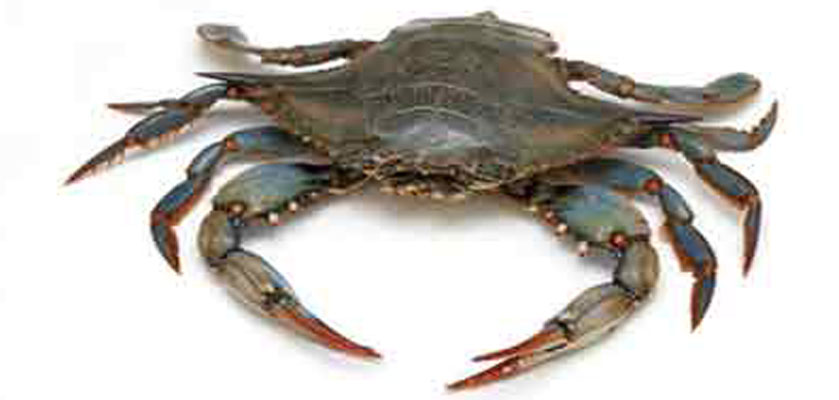 Your Guide To The Best Crabbing Spots in New Jersey.  A popular summer and fall Activity, Crabbing is most active along the bays and creeks on the Jersey Shore.
In terms of numbers caught, recreational crabbing in New Jersey exceeds recreational fishing catches of bluefish, flounder, black sea bass and striped bass.
Crabs can be caught from a rental row boat using a drop line or a scoop net along the bay dock pilings, or with a net and bait along the side of a creek, Less popular but very effective is trot lining. It's a long line, resting on the bottom and anchored at both ends with a string of bait attached at intervals of two to six feet.

Recreational crabbing bait, Chicken necks are very popular with recreational crabbers using crab traps and hand lines.. They are durable do well in attracting crabs. Bull Lip is another increasingly popular recreational crabbing bait. It's great for trot lining since it is durable and inexpensive. It's a slice of meat from the facial area of beef. Bull lip can be purchased from any meat slaughterhouse.

While the crabbing season in New Jersey runs from March 15 until November 30, and from April 16 until December 14th in the Delaware Bay, the peak crabbing season runs from mid June, topping in the month of August, and until early October when the water temperature exceeds 55 degrees.
New Jersey Recreational Crabbing Regulations
Crabs may be taken with single hand lines, manually operated collapsible traps, or scoop nets, without a license.
A license is required for recreational crabbing using crab pots or trot lines.
Definitions:

 A crab trap (as opposed to a crab pot) is a wire frame covered with a webbing of wire or netting that is activated to enclose crabs when they are attracted to bait placed in the trap. It requires attendance to catch crabs. 
A crab pot is a wire frame covered by a webbing of wire or netting through which a conical shaped funnel allows crabs to enter as they are attracted to bait. It does not require attendance to catch crabs. 
A trot line is a long line, resting on the bottom and anchored at both ends, to which a series of baits are attached at intervals of two to six feet. The baits are attached to the main line by simple slipknots or by shorter lines called dropper lines (known as trots or snoods.) Non-commercial trot lines shall not exceed 150 feet in length with a maximum of 25 baits attached.

All female crabs having eggs or spawn attached shall be immediately released. Permitted size of crabs: Peeler or shedder crabs 3 inches; soft crabs 3.5 inches and hard crabs 4.5 inches. All measurements are from point to point.
Purchase a Non-commercial Crab Pot License



Popular Crabbing Places in Monmouth County

Keansburg Fishing Pier, Raritan Bay -
Crab on the pier with good results if you can get close the the pilings with a scoop net
Navesink River, Rumson -
Boat rentals can be available right near the Oceanic Bridge
The Red Bank Marina is a place where you can rent a boat for crabbing
Website
Popular Crabbing Places in Ocean County

Berkeley Island County Park -
A good park for fishing and crabbing with a fishing/crabbing pier, playground for the kids, and a life guard patrolled bathing beach located on the other side of the park.
Website
Windward Beach
Princeton Avenue
Brick Township
Website
Has a pier with, a popular spot for crabbing with a depth of 6-8 ft of water
Seaside Heights, Barnegat Bay -
The Seaside Heights docks on the Cranberry Inlet between Lavallette and Seaside. The bayside has two docks that are perfect for crabbing with a food concession stand, public restrooms, a boat ramp and crab boat rentals.
The Dock Outfitters
5 Rt 35 South
Seaside Heights, NJ
732-830-8171
Website
Offers crab boat rentals, a bait shop, and a free fishing/crabbing pier

Island Heights on the Toms River
West End Avenue Crabbing Pier
Island Heights Boardwalk
Island Heights, NJ
Website

(732) 270-6415
This public dock is a great spot for crabbing
Note: you must have a badge issued by Island Heights in order to crab here.
Mantoloking Bridge Fishing Pier County Park
30 Mantoloking Road
South of Point Pleasant) on Rt. 528
Brick, NJ
Website
A great location for crabbing and family activities. The fishing and crabbing pier is a new 70-foot long structure and includes a boardwalk, picnic area, sun shade gazebo, rest rooms, and lighted paths. Parking is free. They also have a ramp for launching boats, canoes, and kayaks. For your crabbing bait and equipment needs, Pell's Fish and Sport shop is located just north of the bridge on Mantoloking Road.
Dock Road & Westecunk Creek, Eagleswood -
At the end of Dock road as the creek flows into Little Egg Harbor.
Good Luck Point, Bayville
- In Ocean Gate, just a little south of the Seaside Bridge.
Rt. 539 & Green Street, Tuckerton
- At the end of the road, there is a small park area with railings around it, parking, a pavilion, and a bathroom. Good area for crabbing, especially with small children.
Bass River Bridge area, New Gretna -
Under the parkway and Rt 9 bridge. Going south on Rt 9 go over the bridge make your first left or right and go back along the bridge. Especially enjoyable for kids.
Great Bay Blvd at Seven Bridges Road, Little Egg Harbor
- You can from the the first bridge as it has pedestrian walkway along one side, and crabbing along the banks of the creeks near the second and third bridges.
Route 72 Causeway - Manahawkin, LBI
- Crabbing is best just north of the bridge.
Rent a boat for crabbing.
Boatyard and Marina,
on the Long Beach Island Causeway (Route 72), east of the bridge to Ship Bottom.
609-494-1371.
Website
- Suggest calling ahead and reserving. They have Crabbing & fishing skiffs for six & eight people.
Ship Bottom (LBI)
Fishing and Crabbing Pier
25th Street and the Bay
West Point Island Bridge, Lavalette -
Under the bridge connecting Lavallette to West Point Island.
Playhouse Road E., Mystic Island , Tuckerton -
Before Big Creek Bridge. Crabbing along the edge of the lagoon, and the remains of an old dock area with pilings.
South Green Street Park
1199 S Green Street
Tuckerton, NJ
Website
They have 60 ft fishing pier, a popular spot for crabbing. conveniently located near the Dockside Cafe, parking, and restrooms.





Popular Crabbing Places in Atlantic County

The waters surrounding Somers Point, NJ
- Known to be some of the best on the Jersey Shore when it comes to crabbing. The locations include Patcong Creek, Great Egg Harbor Bay, Great Egg Harbor River, Middle River, Tuckahoe River, Tuckahoe-Corbin City Fish and Wildlife Management Areas, Peck Bay, Steelman Bay and Scull Bay.
The Route 52 Causeway fishing pier (located between Mays Landing Road in Somers Point and Ninth Street in Ocean City)
- A popular hot spot for crabbing and fishing with anglers of all ages. There are four fishing piers within the 2.2 mile stretch of the bridge.
Somers Point is also home to one of the largest crabbing tournaments in the area - Assault on Patcong Creek
- The event, held in June on the Saturday after Father's Day, has attracted more than 300 crabbers from fourteen different states. These numbers make it the largest crabbing tournament in the United States.
Learn more on the
Website
about the Annual Assault on Patcong Creek Crabbing Tournament and BBQ.
Petcong Creek Charted Boat Crabiing --- A unique and fun family experience for all ages and abilities
Fun Time crabbing in Sormers Point offers a three-hour trip on a chartered boatr. They are located just minutes from Ocean City over the bridge to Somers Point. They are a charter service that supplies you with a Captain, crew, a state-of-the-art boat, and all the gear you will need to catch your crabs, at a very reasoble cost.
This is a great experience for people who have never gone crabbing, especially for families who have younger kids who have never tried crabbing.
They use Maryland style skiffs that are 24 ft. long and 8 ft. wide. ​ They supply and use 20-30 topless crab traps where . connected to a buoy every 100 feet or so. You are not siiting and waiting to pull up one or two crab traps. The boat is in continual motion moving back and forth collecting the traps, re-baiting them and drop them back in.
Fun Time Crabbing
1810 Somers Point-Mays Landing Road
Egg Harbor Township, NJ
609-736-3109
Mays Landing-Somers Point Road, Egg Harbor Township -
On the way to Somers Point, on the left. Park park your car and wade through the tall grassy meadows to find a path to the water.
Poplar Ave, Linwood -
Behind the Linwood Country Club, at the end of Poplar Ave.
Route 9, Absecon -
Near the Holy Spirit high School, use traps or nets.
Margate City
Scott's Dock
9211 Amherst Avenue
Margate City, NJ
(609)822-6819 9211
Website
For beginners or familes with young kids, or it's your first time out and do not have equipment, Scott' Dock offers guided trips for small groups to the whole family.They also provide all the equipment whether hand lining and using a net or dropping pots. You can reserve a boat or if you prefer to have one their staff take you out for a guided adventure.
Popular Crabbing Places in Cape May County
Cape May National Wildlife Refuge
. - Along the creeks in the marshlands on Ocean Drive between Cape May and Wildwood Crest.
Lakeview Docks, Wildwood Crest -
Pier for fishing and crabbing off Park Blv'd. open 7 am - 7 pm.
Website
Charges a small fee for crabbing off the pier. Boat rentals also available.
Grassy Sound Marina Wildwood
- - Fishing and Crabbing Pier. 13 Old N. Wildwood Blvd. Between North Wildwood & Stone Harbor off Ocean Drive. (609) 846-1400.
Website
They charge a small admission fee. They provide landing nets,, picnic area, and toilet facilities. It is well-lit at night, family-friendly, and catches of Blue Claw Crabs are typical.
Popular Crabbing Places in Cumberland County
Dividing Creek, Route 553 at the Bridge -
A good spot to crab in a boat. Boats can be rented at several of the boat rentals in the area.
Rent a boat at:
Dividing Creek Boat Rentals
Route
553 Dividing Creek, NJ
856-785-2828
Website
Family oriented recreation complete with picnic area, bathrooms and cleanup. They offer motor boat rentals.