The Best Chili Food in New Jersey
Chili cook-offs, festivals and restaurants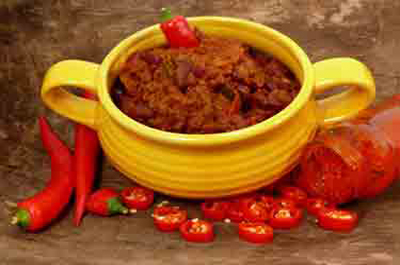 It is believed that Chili, as we know it today, originated with the Incas, Aztecs, and Mayan Indians with strong influences from Spain and India, Indonesia, and the Caribbean.
These influences came from the Chile peppers from Cervantes' Spain.. Don Juan de Onate introduced the the green chile pepper enteredin New Mexico in 1598, and Canary Islanders, in 1723 came to San Antonio bringing with them a native mixture of local peppers, wild onions, garlic, and other spices to concoct pungent meat dishes.
While popular opinion points to the Southwest as having the best chili, every state claims that their style of Chili is the best.
According to Texans, authentic Chili is peppers and meat simmered in mixture of spices. There are no tomatoes, no onions, and no beans. This goes back to the days of Texas Cowboys being out on the range not having access to tomatoes or onions.
The taste of Chili is very subjective. Beans or no beans, mild or tongue burning, ground beef or chunks of chuck roast. What's your taste
In New Jersey for example, you are apt to find chile made with meat, spices, hot peppers,tomatoes, onions, beans. There are many variations found in NJ including vegetarian Chili.
A Great Way to Experience the Best Chili in NJ - Visit a Chili Cook-off
The gold standard for chili cook off sanctioning and judging is the International Chili Society (ICS). The Red Chili Characteristics they look for in judging the best chili at these events includes:

Top Northern NJ Chili Food: Cook-offs & Restaurants
Hoboken Chili Cook-off and Home brewing Competition
Annual Event held in February
Elks Lodge
1005 Washington Street
Hoboken, NJ
Website & Tickets
This annual event features a best in show style judging and a people choice awards with hundreds of dollars in prizes.  Because of limited space at the event, there will be a limit of 20 entries and all entrants must have their beer present at the event to serve.
The 4th Street Arts Chili Cook-Off
Annual Event held in May
Grove Street Path Plaza
Jersey City, NJ
Website
This family event features an opportunity to taste more than 20 Chilis cooked by resident chefs and local restaurants
Annual Sussex County Chili Contest
Held Annually in August
New Jersey State Fair
Sussex County
Website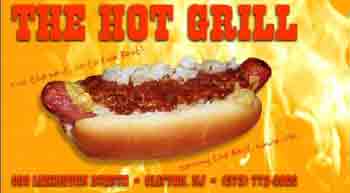 The Hot Grill
669 Lexington Ave.
Clifton, NJ
This hot dog stand has a historic background having evolved from past generations of former employees of the creator of the "Hot" Texas Weiner -- Chilli dog. They serve up a deep fried dog covered with chili sauce, onions, and mustard. They have been making them since 1961 and the taste is an excellent representation of the true "Hot" Texas Weiner Chili Dog.
Top Central NJ Chili Food: Cook-offs & Restaurants
Bring the Heat Annual Chili Cook-Off
Held Annually in April
Clinton First Aid & Rescue Squad
Old Rt 22
Clinton, NJ.
Website
A family event featuring live music, a raffle, and the opportunity to vote for your favorite chili.
Flo's Annual Chili Cook-Off
Held Annually in September
American Legion Hall
DeVoe Lake
Spotswood, NJ
Website
This family event features a chili cook off, live entertainment, kids activities and more. A fund raiser to benefit the JFK Brain Tumor Center's programs & services for patients & families
Top Southern NJ Chili Food: Cook-offs & Restaurants
The Annual Fire & Ice Festival
Held Annually in January
Relief Fire House
Pine Street
Mount Holly
Website
This one-day event brings people out into the snow to enjoy ice sculptures and a variety of delicious chili recipes. With creative art to look at and hot food to eat, this festival is fun for people of all ages. Visitors also get a chance to taste a variety of delicious chili recipes. More than 40 cooks from all over Burlington County come to try for a chance to win the chili contest.

Annual Super Chili & Chowder Challenge
Held on Super Bowl Sunday in February; 11 am – 3 pm
Congress Hall
Cape May, NJ
Website
For more information, call 609-884-5508 or visit the website
In celebration of the Super Bowl, they we are giving you a warm-up to the big game, come taste Chili & Chowder prepared by professional and home-style chefs.  You are the judges and pick the winners and the Super Bowl winner too! Enjoy the tastings from a group of chefs along with our DJ spinning cool tunes; a cash bar will be available to help you chill! $5 admission fee helps support local food banks please bring a non-perishable item to donate.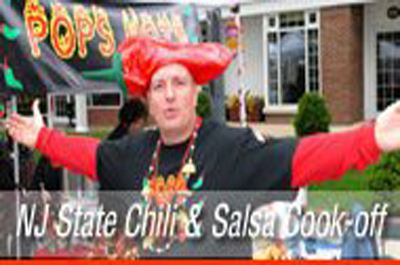 Annual New Jersey State Chili & Salsa Cook Off Festival
Annual Event Takes place in May
Downtown, Toms River
Website
The original and hottest cook off festival in New Jersey. Family fun, mouth watering vittles, contests, chili & salsa tasting, live music and much more!
Competition open to "Cooks" from across the country!
Free Admission and Parking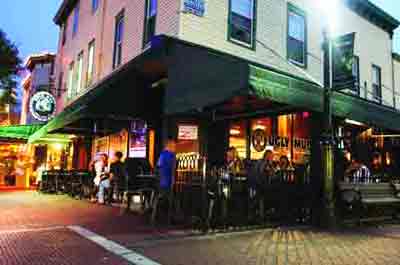 Ugly Mug
426 Washington St.
Cape May, NJ
The chili is very good, the best in the area. It's light on beans and heavy on the good stuff --- big chunks of ground meat, peppers and onion, kidney beans with a tasty "kick".
Other New Jersey Resources