Central Jersey Memorial Day Events
A Holiday Guide to the best 2017 Ceremonies, Events, Parades, and Festivals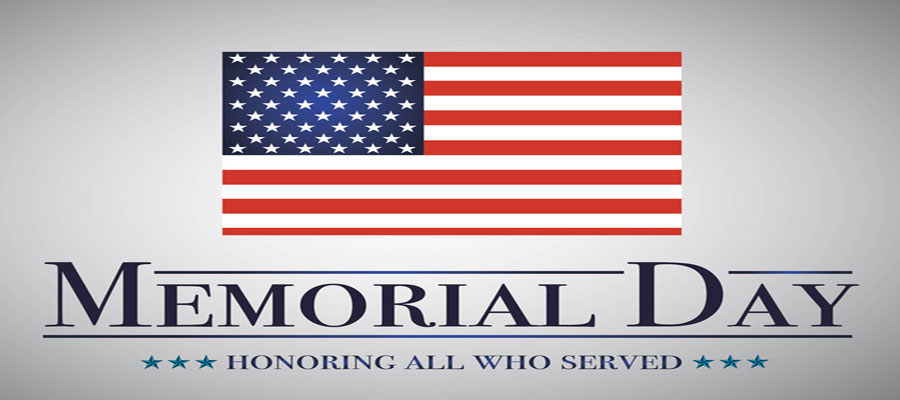 This year Memorial day will be celebrated on Monday, May 29, 2017

Memorial Day, originally called Decoration Day, is a day of remembrance for those who have died in our nation's service.

It is a time for parades, flags, and wreath-laying ceremonies paying tribute the who died serving our country.

Note: This information is provided by event sponsors as a free service to our viewers. Sometimes conditions require cancellations or changes of dates, times and location which are not reflected in the original schedule. Before planning a trip to visit one of the listed events, it is suggested that you call the event sponsor to confirm the event schedule or for additional information on the event.

2017 Central Jersey Memorial Day Weekend Events
Stay tuned --- we will be updating this list as the event sponsors confirm this year's events.

Bradley Beach Memorial Day Weekend Festival
Saturday, May 27 - Sunday, May 28, & Monday, May 29, 2017; Rain or shine!
Contact: 732-776-2999 Ext. 1050
The Annual Memorial Day Parade will start on Saturday, at 10am on Ocean Avenue and Bradley Blvd. The parade is the "kick off" for The Memorial Day Weekend Festival held on Saturday, Sunday. and Monday. Food, craft vendors and activities for everyone at the beachfront. The annual parade features several local school marching bands, pipe bands from around the state.
The 4th Annual Pork Roll Festival
Saturday, May 27, 2017; 10:00 AM ق€" 7:00 آ PM
Mill Hill Park
Trenton, NJ
609-815-1343
This year's festival will celebrate Trenton's unique pork roll product while promoting the city's history, art, music, small businesses and cultural diversity. One of New Jersey's famous foods, the pork roll, although North Jeryans will call it Taylor ham will be the featured food.
It will feature Music Stage (all day) Entertainment, Children's Events, Pork Roll Recipe Contest and Awards, and the 2017 Pork Roll Queen Pageant and Crowning. The event is held annually during the Memorial Day Weekend, will honor those who have served and sacrificed so that we can enjoy the benefits of freedom.
Waterrfront Arts Festival
Saturday, May 27th, 2017; 12pm to 8pm
Perth Amboy Waterfront
Sadowski Parkway
Perth Amboy, NJ
(732) 826-1690 x 4305
Cost:
Free
Attendees wiil get to enjoy a variety of local and regional talented artists, who showcase their original oils and acrylics, vibrant watercolors, prints, unique sculptures, dazzling jewelry, decorative ceramics, hand-made items, and vivid photography. To complement the festivities, 5 bands will perfrom on stage throughout the day playing Latin sounds, rock, folk, jazz and acoustic music. A food court will feature over a dozen local eateries and food trucks. The family-friendly festival will also feature free arts and crafts activities for children and community mural that everyone can participate in creating!
Jersey Shore Food Truck Festival
May 27, 28, 29, 2017; Gates open 11:30 am
Monmouth Park Racetrack
175 Oceanport Ave.
Oceanport, NJ
732-747-4449
This event features more than 50 regional trucks competing for the tri state area's best mobile-made eats!
Attendees wilol get to enjoy a day of delicious food and family entertainment.
General Parking $5, General Admission $5, Children 12 and under are FREE.
Memorial Day Weekend Fireworks
Sunday, May 28, 2017; 8 PM - 10 PM
Asbury Park Boardwalk
Ocean Avenue Between Asbury and Sunset Ave
Asbury Park, New Jersey
For viewers who want to get in on a private viewing, The Mezzanine Room & Balcony of the iconic Paramount Theatre will be open to the public for a special birds-eye-view of the 2017 Memorial Day Fireworks, complete with music provided by a favorite Asbury Park DJ. Doors open at 8 PM and fireworks will begin at approximately 9 PM. There will be a cash bar for guests 21 & up. All ages are welcome, (please note that children must be accompanied by an adult). Standing room only. This event will take place weather permitting. Full refunds will be issued if the event is cancelled due to weather.
The Spring Portfolio Wine Tasting
May 28, 2017: 3 - 7pm
Beneduce Vineyards
1 Jeremiah Lane
Pittstown, NJ 08867
(908) 996-3823
(Tickets)
Cost: General Admission $34.00 ($36.18 w/service fee); VIP $59.00 ($62.06 w/service fee)
General admission includes admission to the grounds, 4 hours of wine tasting, entertainment, and bottled water. Flatbread pizzas are additional. Children 13-20 will be admitted with a ticket at the $10 designated driver rate.
Attendees will mingle with winemakers and proprietors, with specific opportunities to learn how these wines were crafted, and what makes New Jersey wines unique. Enjoy live music from Cold Weather Company, and nosh on gourmet pizzas from Fired Up Flatbread Company. Special guest George M. Taber, the TIME Magazine writer who broke the story on the 1976 Judgement of Paris will revisit the historic tasting with a talk and presentation at 3:30 and 5:00pm. In between and afterward, Mr. Taber will sign copies of his book on the subject. VIP tickets will include access to the 2pm Winemakers' Round Table panel discussion and tasting in the Oasis- Beneduce Vineyards' greenhouse dedicated to tropical plants and citrus trees. "Talking Terroir with the Winemakers" will focus on the soils and microclimates of the growing areas of the Co-Op wineries, and include a tasting of wines relevant to the discussion. VIP entrants will also have a chance to taste a selection of reserve wines, and a complimentary cheese & charcuterie platter.
Memorial Day Ceremony
Monday, May 29, 2017; 11:00am to 2:00pm
New Jersey Vietnam Veterans' Memorial Foundation
1 Memorial Lane,
Holmdel, NJ
(732) 335-0033
Hosted by New Jersey Vietnam Veterans' Memorial Foundation, this annual event features a Memorial Day ceremony . The ceremony will also include the presentation of two scholarships to New Jersey high school seniors.
2017 Central Jersey Memorial Day Parades
Edison

Website
Contact: Dana at
dligato@edisonnj.org
or 732-248-7298
The Parade is on Sunday, May 28, 2017 beginning at 12 noon. The parade will be in the Stelton section of the Township beginning on Division Street at the Main Library and travel up Plainfield Avenue to Jefferson Boulevard where there will be refreshments for all participants at American Legion Father & Son Post 435 on Oakland Avenue. Once again, the parade will feature "Most Patriotic" Bike Decorating Contest for youngsters.
Freehold

Website
The 142nd Freehold Memorial Day Parade will be held Monday, May 29th. The parade kicks off at Brinckerhoff and Main Streets at 10 am. The Freehold Memorial Day Parade is the oldest and largest such parade in Western Monmouth County, with an average of more than 70 units participating each year. The parade features many military units, veterans groups, bands, fire departments, EMS squads, youth groups, custom designed floats and civilian units.
Highland Park & New Brunswick
Website

Starting Monday May 29th @ 11 am at Monument Square, Corner of Livingston Avenue & George Street and ending at 1 pm at Doughboy Monument Fork at Raritan Avenue & Woodbridge Avenue
Contact : 732-745-5004
Hillsborough
Website
The Memorial Day Parade will occur on Saturday, May 27, 2017 @ 10:30 am.
The parade route will begin on New Amwell Road to Beekman Lane to Municipal Building. There will be a Ceremony following the parade.

Hopewell Borough
Website
Memorial Day Parade takes place on Sunday, May 28th, beginning @ 1pm and will be marching east from West Broad Street to Princeton Ave.

Metuchen Parade & Ceremony
Website
The parade begins on Monday, May 29th, at 10:00 a.m. - Noon. rain or shine, from Metuchen's Pearl Street parking lot.  It will proceed across Center St., turn right (north) onto Route 27, and right onto Main Street.  The parade will continue through the tree-lined streets of beautiful Metuchen and turn right onto High Street and then right again onto Lake Avenue where it will end at Memorial Park with a brief ceremony. 

Old Bridge
Website
732-721-5600 x 4010
Memorial Day Parade will be held on Monday, May 29th @ 9:00 a.m. beginning at Memorial School
11 Ely Avenue, Laurence Harbor. The parade will conclude with a Memorial Day services at Memorial Park, which is directly across the street from the Laurence Harbor Fire House.

Princeton
Website
Contact: mark.freda@verizon.net
Memorial Day Parade takes place on Saturday May 27th. The parade kicks off at 10am from Princeton Ave and Nassau St , then on to Princeton Boro Hall ending with a ceremony at Boro Hall at 11am.

Readington Township
Website
The parade starts on Monday, May 29th. The parade will begin at 10:30 a.m. at the Whitehouse Mall and will continue south on Route 523 for one mile, terminating at the Municipal Building. Immediately following the parade there will be a ceremony at the Municipal Building commemorating fallen service personnel, and a "Community Day" celebration will take place thereafter at Pickell Park with games, hot dogs and soda, provided by the Township Recreation Department.
Contact: 908-534-4051

West Windsor Township
Website
Kick-Off Monday May 29th @ 11:00 a.m. from West Windsor-Plainsboro High School, South
Ceremony: 12:00 (Noon) – West Windsor Municipal Complex corner of Clarksville Road and North Post Road.
More New Jersey Memorial Day Weekend Events
---