Central Jersey Christmas Events:
Best Holiday Events for 2017
Features Tree lighting events, festivals, concerts, and more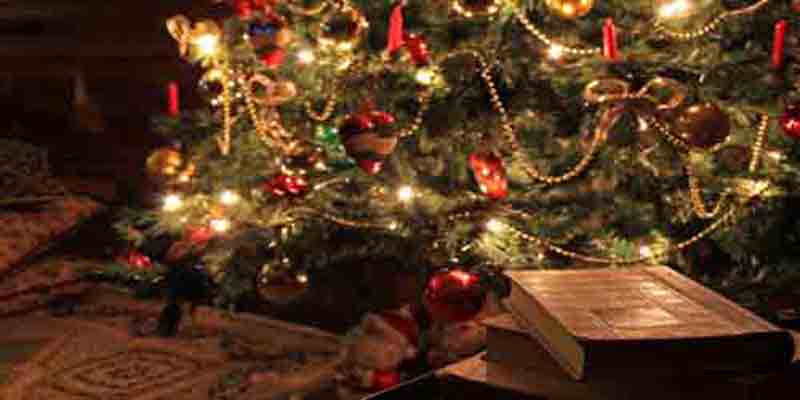 Experience Holiday and Christmas events and attractions in New Jersey, whether it's jingle bells, Christmas tree lighting, carol singing, or just reenactments of past New Jersey Christmas events, The attractions during the Christmas season in NJ are always festive. Many of these events begin the day after Thanksgiving with the traditional start of the Christmas Holiday season

Note: This information is provided by event sponsors as a free service to our viewers. Sometimes conditions require cancellations or changes of dates, times and location which are not reflected in the original schedule. Before planning a trip to visit one of the listed events, it is suggested that you call the event sponsor to confirm the event schedule or for additional information on the event.

Stay tuned --- we will be updating this list as the event sponsors confirm this year's events.

Central Jersey Christmas Events
The North Pole Express
Beginning Saturday, November 18 until Sunday, December 17, 2017
80 Stangl Road
Flemington, NJ
Website
This is an exciting holiday fun family train ride to North Pole Station to visit Santa and Mrs Claus! Enjoy hot cocoa and cookies, singing along with the elves, a chance to tell Santa your Christmas wish, and much more. This is a special experience that the entire family won't forget. The train operates rain or shine. The North Pole Express runs as listed: All trains depart Flemington Station and operate round-trip. Allow approximately two hours for your trip.
Festival of Trees
November 22, 2017 through January 7, 2018
Morven Museum & Garden
55 Stockton Street
Princeton, New Jersey
Website
The holiday event features the museum's elegant galleries decorated for the holidays and adorned with trees artfully decorated by local businesses, garden clubs, and non-profit organizations. Festival of Trees is open to the public during regular museum hours. No reservations are required.
Holiday Express Concert, Tree Lighting
,
& Activities
Friday November 24, 2017 @ 7pm
Red Bank, NJ
Website
Kick off the season with the annual Holiday Express Concert & Town Lighting. Now in it's 25th year, Holiday Express will be rocking the streets with all of your favorite tunes plus plenty of special guests. The holiday lights will be lit for the first time this season during the concert. The Red Bank Fire Department will be on hand with free hot chocolate. And don't miss the LIVE countdown to light the town with News 12! Free parking throughout town.
Santa rides into Red Bank from Little Silver for the annual Town Lighting & Holiday Express concert. Join Santa on the train in Little Silver or meet him at the Red Bank train station when he arrives. There'll be festivities before and after the train arrives with the Kathryn Barnett dancers and the Atlantic Watch bagpipers. Once in Red Bank, Santa will board a firetruck and lead the parade to Broad Street for the Holiday Express Concert & Town Lighting
Ice King's Holiday In Ice
November 24, 2017 through January 7, 2018; Hours are Thursday Noon 8pm, Friday 4pm - 10pm, Saturday 1pm - 10pm & Sunday 1pm - 7pm
Closed on Christmas Eve, Christmas Day, New Years Eve, and New Years Day
4045 New Jersey 33
Tinton Falls, NJ 07753
(732) 927-3593
Website & Tickets
This annual Christmas show is a favorite for both young and old. It features intricate ice sculptures, created by a world record-winning sculpture artist. This years theme is the 12 Days of Christmas. The sculptures can be up to 18 feet tall. You'll have a chance to pose with an ice Santa at the end of the display. The facility is kept at 15 degrees, so don't forget to bundle up!
Princeton Tree Lighting Ceremony
Friday, November 24, 2017; 4:45pm - 6:00pm
On the Green
Downtown Princeton, NJ
Website
This family event will feature live music and a reading of 'Twas the Night Before Christmas. The tree will be a 65-foot Norwegian spruce decorated over 32,000 lights.
Polar Express
Trips run November 24, 25, 26, December 1,2,3,8,9,10,15,16,17: Friday 6 & 8 pm, Saturday 2,4,6,& 8 pm, Sunday 2,4,6 pm
Lehigh Junction
99 Elizabeth St.
Phillipsburg, NJ 08865
877-872-4674
Website
Train Ride departs from Lehigh Junction located in the Historic Main Street area of Phillipsburg. On the train you will re-live the experience of the little boy in The Polar Express. The story focuses on a little boy who has been told by his friends that there is no Santa Claus. Unwilling to believe this, he lies awake in his bed on Christmas Eve, waiting for the sound of Santa's sleigh. Instead, he hears the hissing steam and squeaking metal of the Polar Express as it stops outside his window, ready to take him and other children to the North Pole. During your ride you will listen to this wonderful story, every child will be served hot chocolate and cookies Families are encouraged to wear their pajamas for the ride and join in on the magic of Christmas.
Annual Asbury Park Boardwalk Holiday Tree Lighting Ceremony
November 25, 2017; @ 6pm
Website
Convention Hall
1300 Ocean Avenue
Asbury Park
Thus event features the lighting of the three story high tree inside The Grand Arcade at Convention Hall. Doors open at 6 PM and the festivities begin shortly after.
Joining the lineup are the holiday beach sounds of Uke and Drum, DJ Foggy Notion spinning Christmas classics, Kristian Rex and The St. Nick's bringing classic Beach Boy sounds, master of ceremonies Rich Robinson of 90.5 The Night, and of course, Santa will be spreading that cheer.

Downtown Somerville Holiday Jubilee
November 25, 2017;5pm - 9pm
Division Street Plaza
Somerville, NJ
Website
This annual family event features Tree Lighting, Photos with Santa, Horse-Drawn Carriage Rides, Holiday Music, Entertainment and Refreshments to Highlight . Attendees will get to enjoy music and dancers in anticipation of Santa's arrival on board Somerville's vintage fire truck. Santa will light the towering tree, adorned with hundreds of energy efficient LED lights, and the holiday festivities will last all evening long

Cook's Christmas Lights
The show will begin Saturday, November 25, 2017 and run through New Year's Day. The Light Show can be seen Sunday through Thursday 6pm to 10pm, as well as Friday and Saturday 6pm to 11pm
1 Carlson Ct.
Jackson, NJ
Facebook page
The Cook's Christmas Lights display returns for its fourth season to raise money for the National MS Society. This year's display features over 20,000 lights, 4 singing faces and a 1,008 bulb pixel matrix, playing through 7 Christmas-themed songs and runs for about 25 minutes. Pull up to this marvelous display, turn your radio to the designated station and watch the magical light show from the comfort of your vehicle. . The Cook's Christmas Lights display is free, but donations are greatly accepted and 100% of proceeds are donated to the National MS Society.

Cranbury Christmas Lights Spectacular on Main Street
November 25th through December 27th, 2017; Starting 6:00pm and with turn off at 9:00pm on the following nights:
November 25th, 26th December 1st, 2nd, 3rd December 8th, 9th 10th December 14th, 15th, 16th, 17th December 19th 20th,21st, 22nd, 23rd December 25th , 26th, 27th, 2017:
128 North Main Street
Cranbury, NJ 08512
Website
Cranbury Christmas Lights is one of NJ's Number top Christmas Display's for charity. The tree stands over 36 feet tall and has over 50,000 Dancing lights! This year a 7,000 Light Pixel tree has been added that will absolutely amaze you, it is like a TV in the shape of the Christmas Tree! In total there are over 135,000 lights dancing to 18 songs. The show is free to watch and parking is also free. Donations from those who are financially able are accepted and all proceeds benefit local food banks. For a list of the 20 nights the lights will dance to the music see the schedule on the website.
Dress warm this is an outside event. Handicap parking available. VIP Tours and parking is also available, check the website for more information. Reading parking in instructions on their website is a must before going. On cold nights they will have our patio heaters running, bring hot chocolate, blankets and get cozie on their benches!

Bradley Beach Tree Lighting Ceremony
Sunday, November 26, 2017 @4 pm
Riley Park
Bradley Beach
732-776-2999
Website
Santa will arrive by Fire Truck Horse and wagon rides Bradley Beach. Refreshments & Entertainment and Santa Claus.

The Annual Long Branch Tree Lighting in Pier Village
Sunday, November 26, 2017; from 4-6 pm
Festival Plaza
Pier Village
Long Branch, NJ
Website
This family fun event features a performance by Tim McLoone and the Shirleyق€™s and the annual tree lighting. The Ice at the new Pier Rink will be open.

Downtown Toms River Tree Lighting
Friday, December 1, 2017; 6:00 PM to 8:30 PM
Town Hall Courtyard
Washington Street
Toms River, NJ
732-341-8738
Website
Annual Tree Lighting and the arrival of Santa Clause! Ceremony. Live holiday musical entertainment, reading of "A Christmas Carol" by Mrs. Claus, photos with Santa, and hot chocolate.

Highlands Tree Lighting
December 1, 2017 @6pm (Rain date Dec. 2nd)
Huddy Park
Highlands, NJ
732-291-4713
Website
The event features music performances, holiday dancers, along with free hot chocolate, candy canes, horse and buggy rides and a visit by Santa and Mrs. Claus.

Holiday Doo Wop
Saturday December 2, 2017 7:00PM
Count Basie Theatre
Red Bank, NJ
Tickets

Spring Lake Candlelight Christmas Inn & House Tour
December 2, 2017: 2:00 pm - 5:00 pm
Breakers Hotel
1507 Ocean Ave
Spring Lake, NJ 07762
Contact: 732-449-0577
Website
Enjoy a spot of tea at the magnificent Breakers Hotel to kick off this self-guided tour and then view our magnificent B&Bs, hotels & private homes decorated in holiday splendor.

Asbury Park Downtown Tree Lighting
Saturday, December 2, 2017; @5 pm
Press Plaza
Cookman Ave. at Emory St
Asbury Park, NJ
Website
This holiday event features the lighting of the 25 foot tall tree with carolers from Alphabets Preschool, members of the New Jersey National Guard, photos with Santa Claus, cookies and hot coca for all.

Christmas on the Farm
December 2, 2017; 11:00 am - 3:00 pm
Howell Living History Farm
70 Woodens Lane
Lambertville, NJ 08530
609-737-3299
Website
Revisit the 1900 era on a horse drawn wagon to help shock and pick corn, and return to the barnyard to help shell it, grind it, and bake it into cornbread. Visitors can participate in planting, cultivating and harvesting of crops, to care for our animals, to sweep the barn, to make soap, butter and ice cream, and of course to sit under the maple tree and talk about the future.

Holiday Lighting at the New Jersey Vietnam Veterans' Memorial
December 2, 2017, 6:00pm - 7:30pm
New Jersey Vietnam Veterans' Memorial
1 Memorial Lane
Exit 116, Garden State Parkway (on the grounds of the PNC Bank Arts Center)
Holmdel
Website
The ceremony includes the lighting of a Christmas tree and Menorah, and a reading about Kwanzaa.

Christmas at Allaire
December 3, 2017 @ 11:00 am - 4:00 pm
The Historic Village at Allaire
4263 Atlantic Avenue
Farmingdale, NJ
Website
This event is a celebration of the joys of Christmas past.آ  Experience the sights and smells of an early American Christmas with hearth cooking,آ  singing, dancing, wagon rides and St Nicholas!آ This is a day full of fun interactive programs. آ You can also bring your holiday cards to be sent from our historic post office located in the General Store. آ Bring your addressed envelopes with a stamp.

Colts Neck Holiday Festival Concert & Tree Lighting
Sunday, December 3, 2017 @ 3PM, Tree Lighting @3:45pm
Colts Neck Town Hall
124 Cedar Drive
Colts Neck
732-462-5470
Website
The program features a holiday Festival concert followed by the lighting of the Township Christmas Tree, candy canes for children and hot chocolate and dough nuts for all. The highlight of the program will be an appearance of Santa Claus, who will visit with each child.

Metuchen Holiday House Tour
Sunday, December 3, 2017; Noon -5pm
Metuchen, NJ
Facebook
Tour 6 beautifully decorated homes, enjoy complimentary seasonal refreshments and visit the artisan's bazaar and raffle at The Old Franklin Schoolhouse, 491 Middlesex Ave, Metuchen NJ.

The Colors Of Christmas: Peabo Bryson, Marilyn Mccoo & Billy Davis Jr.
Tuesday December 5, 2017 8:00PM
State Theatre - NJ
New Brunswick, NJ
Tickets

Downtown Freehold Christmas Tree Lighting
Tuesday, December 5, 2017; 5 - 7pm; Rain Date - Wednesday, December 6th, 5-7 pm
Hall of Records Plaza
1 East Main Street
Freehold, NJ
(732) 462-3584
Website
The annual Christmas tree lighting marks Santa's arrival in the borough! FRESH 102.7 will be here with a prize wheel. Listen and hear the announcements about Downtown Freehold's Tree Lighting

Christmas Tree Lighting at Seaside Heights
December 8th, 2017; 5pm - 6pm
Courtyard in front of Borough Hall
Seaside Heights, NJ
732-793-6488
Website
The Annual Tree Lighting Ceremony takes place Friday at 5pm in the courtyard in front of Borough Hall. Festivities include the lighting of the tree, light refreshments and a very special appearance by Santa!.

The Nutcracker
Saturday December 9, 2017 1:00PM
Count Basie Theatre
Red Bank, NJ
Tickets

Ocean Grove Victorian Holiday Festival & House Tour
December 9th & 10th, 2017
Ocean Grove, NJ
Website
Step back in time in Historic Ocean Grove for this special two-day Holiday event. Children under 12 not admitted to the House & Inn Tours.

Jenkinson's Aquarium Sea of Lights Holiday Festival
December 15, 16, 22, 23, 26, 27, 28, 29 and 30, 2017: from 6-9pm.
Jenkinson's Aquarium
300 Ocean Ave.
Point Pleasant, NJ
732-892-0600
Website
This annual Holiday festival features the Aquarium done up with the holiday spirit with hundreds festive lights and decorations, plus make and take crafts, face painting, even a scuba diving Santa and other special guests from the coolest new animated movie.

Rudolph the Red-Nosed Reindeer
Monday December 18, 2017
State Theatre - NJ
New Brunswick, NJ
Tickets

The Annual Christmas Delaware River Crossing Re-enactments
The reenactment is held each year on December 25 at 1 p.m.
Washington Crossing
1112 River Road
Washington Crossing, PA
Website
215-493-4076
This year's Re-enactment, will assemble at Washington Crossing State Park, Pennsylvania, and make their way across the Delaware River to New Jersey. The annual event commemorates the Christmas Day crossing made by Gen. George Washington and his troops in 1776. It was an historic undertaking that resulted in defeat of the Hessian troops in the Battle of Trenton.


More New Jersey Christmas Events

---
---