The Top Camp Sites in New Jersey
Private Campgrounds and Camping Resorts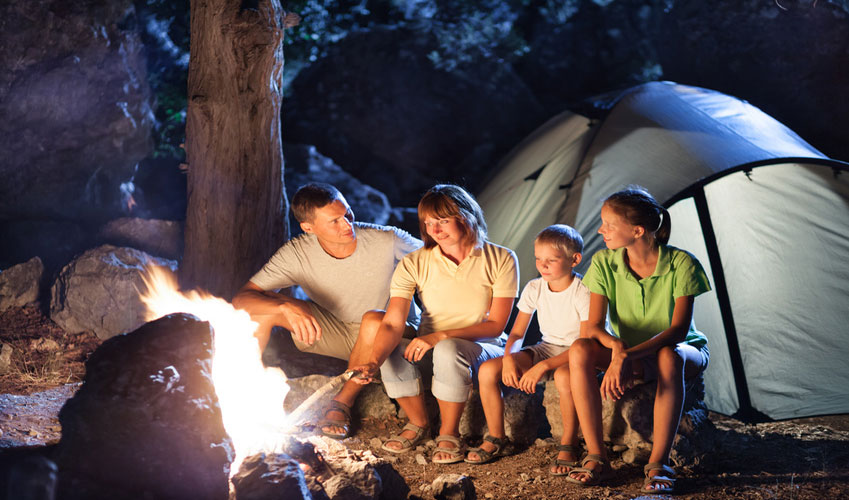 The popular private New Jersey camp sites and resorts open to the public and offer a wide variety of scenery, facilities, and nearby attractions for the family with kids.

Many of the campgrounds provide opportunities for the more serious nature enthusiast who wants to get out and experience the wilderness.

Private camp sites, although more expensive that State Parks, offer many additional family recreational activities, and for people who enjoy a beer or glass of wine with their meal, they usually do not have restrictions on moderate alcohol use. However, that does not mean that they will allow a large group with a keg party.

Note: While rules may vary by campground, (it is suggested you discuss this with the campground) these rules are likely to be enforced by most private campgrounds

Northern NJ Private Campgrounds
Camp Taylor Campground
Columbia, NJ
Website
Located on 400 acres adjacent to the Delaware Water Gap National Recreation Area and the Appalachian Trail, New Jersey's most majestic terrain. The heavily wooded mountain ridges provide large shaded sites with a remote wilderness setting and miles of hiking trails. They offer a variety of primitive, electric and water sites, as well as on site trailer and cabin rentals; available by the day, week, or season. Recreational facilities include: Two acre lake for swimming, Boat Rentals, Playground and Recreation Field, Game room, Miniature golf, Hiking and Nature Trails, Wolf watches at the nearby Lakota Wolf Preserve. Pet Friendly. Alcohol is permitted as long as it is kept under control and on your site.
---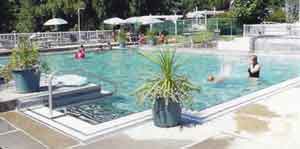 Harmony Ridge Farm & Camp Ground
23 Ruston Drive
Branchville, NJ
(973) 948-4941
Website
Over 200 large sites in lake front, wooded or mountain areas with heated rest rooms with free hot showers , Country store with wood, supplies, Laundromat, Snack bar, Game room, LP Gas refills, Dump station, 3 Group areas, Party tent rentals for group activities. Recreation facilities include: Swimming - in spring fed lake or our stainless pool, Boating - in your row boat, canoe or one of their paddle boats
,
Fishing - Catch and release, in one of 3 lakes stocked with Large Mouth Bass, Blue Gills and Catfish, Shuffleboard, Bocci Ball, Horse Shoes, • Beach Volley Ball, Hiking - Stroll through 160 acres of the campground, or hike the beautiful nearby Appalachian Trail,
Basketball, Cross Country Skiing - Snowmobiling - Ice Skating - and Sledding
-
throughout the many trails in the campground, or ski several nearby slopes, and Bird Watching. Open all year
---

Liberty Harbor RV Park

Jersey City
Website
See the Statue of Liberty and Ellis Island right from your site. How great is that!? Open year round for your convenience. Take a Tour Bus into Manhattan right from our front porch. Facilities include: Wi-Fi, 50 sites (water and electric), Dump station, Full restrooms with hot showers, Restaurant/Bar on premises. Pet Friendly.
---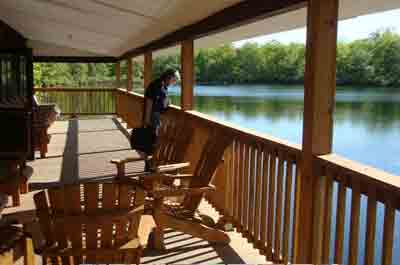 Mohican Outdoor Center

50 Camp Mohican Road
Blairstown, NJ 07825-9655
908-362-5670 (9-5 daily)
Website
Open year round. Meal services offered on weekends between May 15th and October 15th, 2015.
Operated by the Appalacian Mountain Club, a non-profit organization of volunteers and professionals, who operate the Club's facilities and programs to encourage public respect for the environment.The Mohican Outdoor Center is located on a beautiful glacial lake in the 70,000-acre Delaware Water Gap National Recreation Area with easy access to the Appalacian Trail.
This is an ideal retreat for nature lovers, looking for a base for exploring on your own, with your family and friends, or with a larger group. Visitors can book lodging in a self-service cabin with a comfortable lodge bunk space, and a fully-stocked kitchen or just settle in on one of their campsites, For a guided experience, Mohican's weekend getaway programs offer the chance to learn a new skill and get to know other fun outdoors folk. A visitors experience with nature will include hiking the Appalachian Trail to magnificent views of the water gap. or to nearby wetlands to spot the local wildlife. For a more relaxing experience with nature, take a dip or paddle in Catfish Pond.
---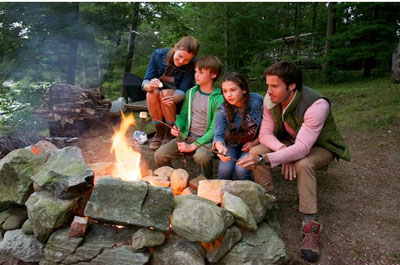 Panther Lake Camping
Andover, NJ
973-347-4440
Website
A 45-acre lake on 160 scenic acres just 50 miles from New York City. We invite you to come and enjoy the wonderful outdoors whether you prefer swimming, boating, fishing or just relaxing on a sandy beach. They offer cabin and trailer rental options for those that want to enjoy the camping experience without having to purchase their own camping equipment. Alcohol permitted. You must be 21 years or older to possess or consume alcohol on campground property. Pet Friendly.
---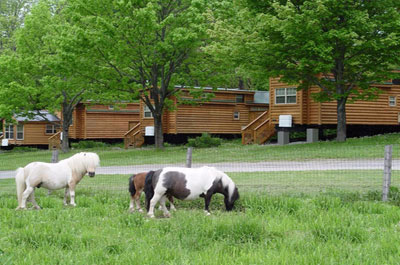 Pleasant Acres Farm Campground

Sussex, NJ
973-875-4166
Website
A modern RV resort (no tent sites) near New Jersey's rural Kittatinny Mountains Includes over 300 grassy or shaded RV sites w/ full hookups
,
FREE Wi-fi Internet Accessibility on All Sites and Pavilion, modern Restrooms w/Hot Showers,Convenience Store, Snack Bar, Laundromat, scheduled free meals every weekday
(July & August),
Trailer Rentals,Large Recreation Hall, Game Room, Metered LP gas, Dump Station,Dog exercise area.
Recreation facilities include: Olympic-size swimming pool, Separate kiddie pool, Free scheduled entertainment, Organized recreational activities, Weekly horse-drawn hay rides,
Two
private 3-acre fishing lakes, Farm animals to pet & feed, Nature trails for hiking,Playground, Softball field, Basketball court, Volleyball court, Horseshoe Pits, Feature films, Bingo, Miniature golf, Arcade, Pool Tables, Ping Pong, Large Rec Hall, and a full schedule of winter activities. Pet Friendly. Alcoholic beverages are permitted, but intoxication will not be tolerated.
Central NJ Private Campgrounds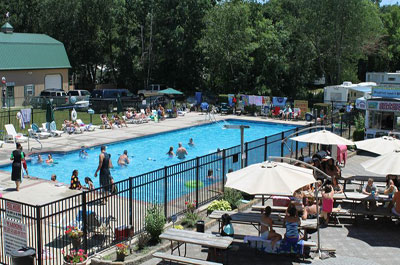 Butterfly Camping Resort

Jackson, NJ
(732) 928-2107
Website
Near Six Flags Great Adventure Theme Park and Safari and 30 minutes from Jersey Shore Beaches. Cabin and campsite rental;s available. Facilities include; Free Arts And Crafts, Games, Music & Dances, Karaoke, Bingo, Wet & Wild Week Ends, Free Dunk Tank & Playground, 3 Acre Baseball Field, Basketball & Sand Volleyball, Shuffleboard, Horse Shoes, Ping Pong & Free Wagon Rides. Fishing & Hiking in adjacent Butterfly Bogs State Wildlife Refuge. Pet Friendly
---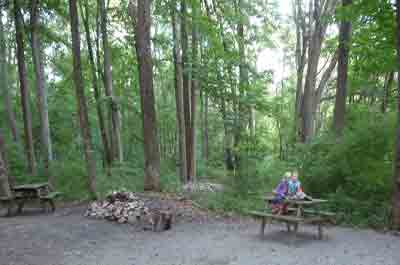 Mountain View Campground
135 Goritz Road
Milford, NJ 08848
(908) 996 - 2953
Website
Open May, 1st - October, 25th, . located on the south side of the Musconetcong Mountains in the North West corner of Hunterdon County, they offer rustic, wooded sites for tents and RV's. They are located near many outdoor attractions and activities including Tubing, kayaking, canoeing, boating, fishing, bike riding, hiking, and swimming.
---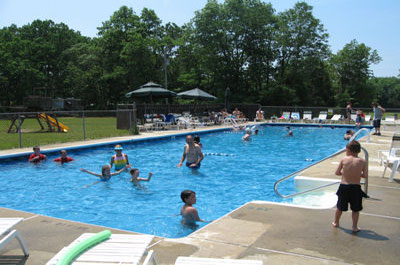 Pine Cone Resort
.
Freehold, NJ
(732) 462-2230
Website
Camp sites and cabin rentals include; Cable TV, Picnic table, Fire ring, Water, electric and sewer hookups available, Modern Restrooms with free hot showers, Laundry, Camp Store. Monthly / Seasonal Sites Available, RV and Trailer Storage, Recreation Facilities: Swimming Pool, Tennis Court, Basketball, Volleyball, Game Room, Playground, Soccer Field. Pet friendly
---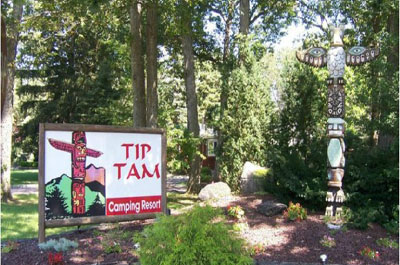 Tip Tam Camping Resort

Jackson, NJ
Website
They have RV & tent sites and cabin rentals. Close to popular attractions Six Flags Great Adventure Theme Park, Safari, and Hurricane Harbor
.
They have discount ticket programs for visiting the parks. They have an excellent Camp Store for just about anything you need! Fire Wood, Ice, Food, RV Parts, Propane and free Wi-Fi . Pet Friendly.

Southern NJ Private Campgrounds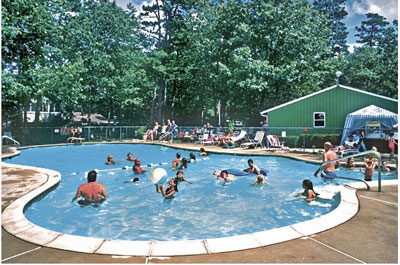 Baker's Acres Campground

Little Egg Harbor
Website
Has over 300 large and shaded campsites set amidst 60 acres of mountain laurel and natural splendor at the edge of the beautiful New Jersey Pinelands. Pet Friendly
---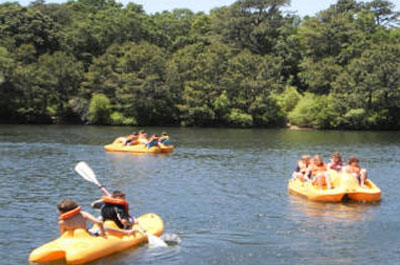 Beachcomber Camping Resort
Cape May, NJ
Website
100 acre camping resort area 4 miles from Cape May & Wildwood Beaches. Camp site Facilities in include:
2 Spring-Fed Lakes with Sandy White Beach, 3 Adult Pools and 3 Kiddie Pools, Lake Front and Wilderness 1 Room, 2 Room, & Loft Cabins, Park Model Trailer Rentals on wooded cable sites, ULTRA VIP Cable Sites are Big Rig friendly up to 48' with 50 Amp Electric, Concrete Patio, Lamp Post, & Fencing. Wireless Internet Access Available; Golf Cart, Paddle Boat, & Kayak Rentals, Spring & Fall Rates, Packages, Group Camping, & Scout Rates . Seasonal Sites with up to 100 Amp Electric Service to Accommodate Large Park Model Trailers. Pet Friendly.
---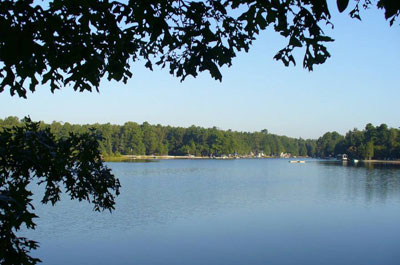 Belhaven Resort & Campground

Green Bank, NJ 08215
Website
An RV park resort campground offering seasonal RV camping in the Pine Barrens near Atlantic City NJ, Batsto, Hammonton, Egg Harbor and Wharton State Forest NJ. Amenities include: 300 wooded campsites, 30 acre swimming lake, 4 way hook up on every site, 2 Hot water Laundromats, Convenience store, Firewood, Ice, Video Arcade, Snack bar & Ice cream parlor
---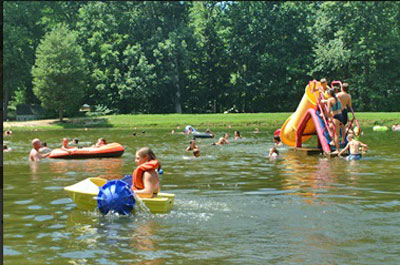 Four Seasons Family Campground
Pilesgrove, NJ
Website
Located in the Delaware River Region of Southern New Jersey 30 miles from Philadelphia featuring large open or wooded sites, and plenty of activities. Pet Friendly
---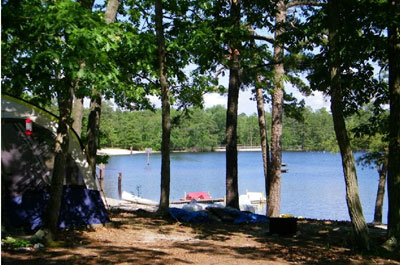 Indian Branch Park Campground
2021 Skip Morgan Drive
Hammonton, NJ 
(609) 561-4719
Website

Located near the center of South Jersey's popular attractions, this campground offers lake side camping in a family-oriented, Christian  atmosphere. They offer spacious shaded lake-side campsites, with amenities to swim on one of their sandy beaches, paddle boat riding,, and more on their 10 acre lake.
Camp sites include:
Lake front RV Sites, Lake front Tent Sites, Interior RV Sites, and Interior Tent Sites
---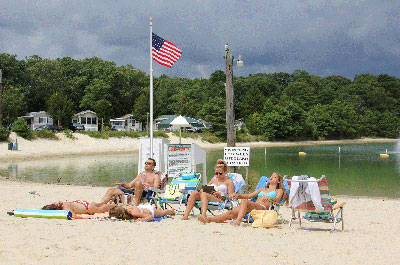 Ocean View Resort
Ocean View, NJ
(609) 624-1675
Website
Located between Atlantic City and Wildwood, they are three miles from the beaches. On 180 wooded acres they have over 1100 campsites with 20/30 amp electric service, water, sewer, and cable TV as well as a fire ring and picnic table. Many of the amenities include:40' x 120' swimming pool, separate kiddie pool, fresh water lake with white sandy beach, stocked fishing pond, air conditioned activities, 18 hole miniature golf course, 2 playgrounds, 2 arcades, paddle boat rentals, tennis courts, basketball courts, shuffleboard, beach volleyball, and a softball field
---
The Depot Travel Park
West Cape May, NJ
(609) 884-2533
Website
Located 10 blocks from Cape May beaches, they have 240 tent and RV camp sites with 2-way, 3-way and 4-way hook ups, free Wi-Fi Hot spots, site picnic tables, children's playgrounds propane dump station, and pet friendly. Alcoholic beverages are not permitted (in public) in the park
---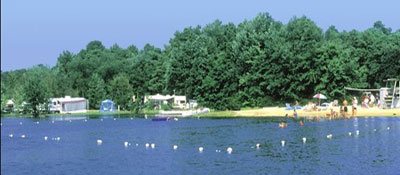 Timberline Lake

New Gretna, NJ
Website
Located In the heart of the Jersey Pine Barrens with its 650,000 acres of wilderness, Timberline Lake is close to Atlantic City and the Jersey Shore. Swim, Fish, Hike, and Canoe. Pet Friendly
---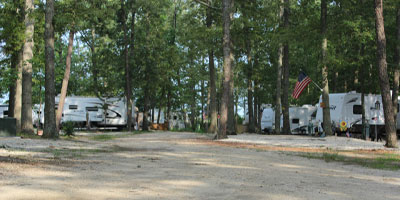 Turtle Run Campground
Wading River, NJ
(609) 965-5343
Website
Located in the New Jersey Pine Barrens, They offer sites for RVing, tent camping, and for the less adventurous, they have cabins Cabins that sleep 6 with refrigerator, air conditioning, cable TV, DVD player, kitchen, and a bathroom. The facilities include: Store w/ Groceries & RV supplies, laundromat, game room, recreation hall, swimming pool, large playground, horseshoes, basketball, recreational field, planned recreational activities, picnic area, two dump stations, portable dumping service, propane filling service, firewood, ice, and more.
---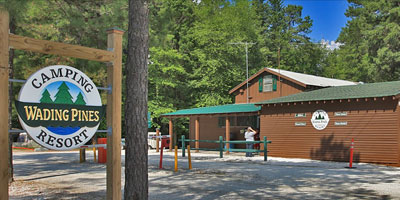 Wading Pines Camping Resort

Chatsworth, NJ
(609) 726-1313
Website
Situated on the Wading River in the New Jersey Pine lands they offer wooded sites to accommodate every style of camping, from tent sites to spacious pull-thrus with hookups which include everything from 50-amp electric through free cable TV! For the less adventurous, they also have 16 rental cabins, many with waterfront locations. You can rent a canoe at the campground and paddle downstream to one of the many secluded picnic spots along the riverbanks or you can you can picnic at their private island in the river, take a dip in our spacious salt water pool, fish in their private stocked pond, or enjoy every sporting activity from tennis to basketball to sand volleyball to horseshoes
---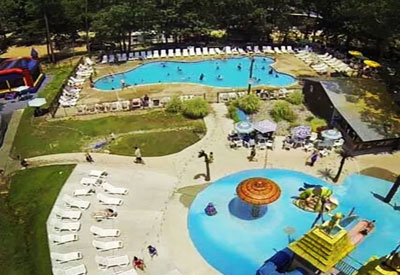 Yogi Bear`s Jellystone Park NJ
Elmer, N.J
800-252-2890
Website
Situated on 113 beautiful woodland acres, located in rural southwestern New Jersey, they offer shaded camp sites from primitive tent sites, to a variety RV sites, and a variety of cabin rentals. They feature: Pool, Volleyball, Horseshoes, Barbeque Facilities, Basketball Court, BBQ & Picnic Area, Bike & Walk Paths, Dump Station, Fire Pits, Lake Fishing, Modem Hook-up, Pets Welcome, Picnic Pavilion, Playground, Pool Table, Book Exchange, Outdoor Movie Theater, Ice Sales, Laundry and Shower Facilities, Propane Delivered, and more.
---