Caffe Aldo Lamberti:
A Cherry Hill, NJ Restaurant Review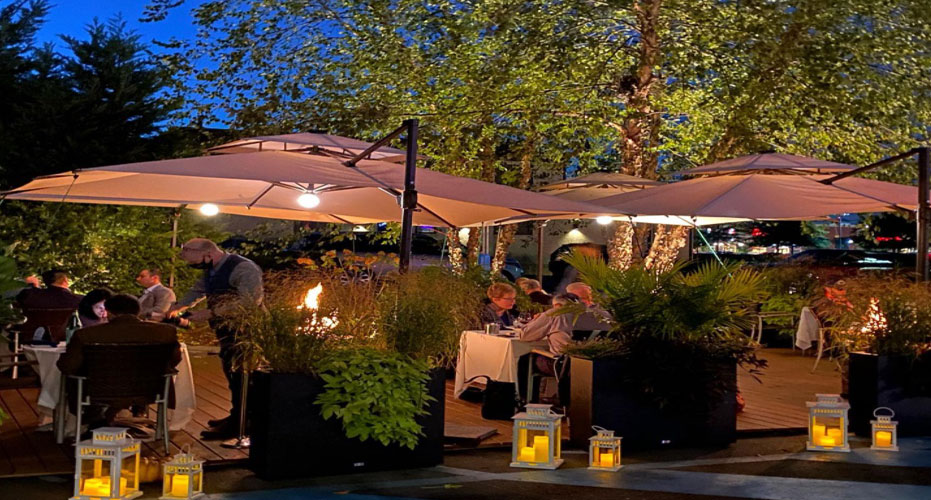 Caffe Aldo Lamberti
2011 Rte. 70 W.
Cherry Hill, NJ
856-663-174
Website
Caffe Aldo Lamberti is a landmark upscale, Italian fine dining restaurant without the "Old World" traditional stuffiness.

Caffe Aldo Lamberti: Restaurant Highlights

Fare: Contemporary Italian

Price: Expensive

Food Quality: Excellent. Well executed, artfully presented, and prepared using high-quality, fresh ingredients.

Service: Professional, well trained, knowledgeable, and attentive.

Ambiance/Decor: Upscale with spacious dining rooms bring together a mix of classic Italian and modern California Art-Decor. Neomodern Italian decor has a NYC/Philly atmosphere.

Overall Rating: 3 1/2 Stars --- Classified as a "Chef-Inspired Fine Dining" restaurant. (* Note - See below restaurant classification for details)

Note: Four-star Rating System from 1/2 Star = poor to 4 stars= Best in Class

Noise Level: Moderate - Loud

Dress: Upscale Casual

Recommended For: Diners who enjoy well executed contemporary Italian food served in an upscale setting.

Not Recommended For: Diners who prefer family, casual comfort food dining

Recommended dishes: When available, The Fresh Whole Fish Filleted Table Side, The Veal & Broccoli Rabe Campagnola ; and The Pappardelle or Paccheri Bolognese with homemade sauce.

Liquor: Full-service bar with an extensive wine list of over 15,000 bottles. They have been the recipient of the Wine Spectator "Best of Award of Excellence" for the 12th year in a row.

Restaurant Review

Caffe Aldo Lamberti is a landmark upscale, Italian restaurant, one of a family of Aldo Lamberti's restaurants in New Jersey, Pennsylvania, and Delaware, is a popular "power Lunch' spot with Cherry Hill businessmen.

The interior is upscale with spacious dining rooms that bring together a mix of classic Italian and modern California Art-Decor. This lovely neomodern Italian restaurant has a big city --- NYC/Philly atmosphere. A good choice for celebrating a special occasion or for a romantic dinner.

In addition to the public dining rooms, they also have three stunning private wine cellars, for private parties.
For that special romantic occasion, for an extra fee, you can go down to one of the wine cellars to enjoy your meal.

The food is excellent, well executed, artfully presented, and prepared using high-quality, fresh ingredients.

The menu features selections of fresh whole fish, seafood, prime steaks, and homemade pastas. Including: seasonal Florida stone crabs, Alaskan king crabs and East & West Coast oysters to build an indulgent raw seafood bar.

The outdoor dining options are plentiful with multiple dining areas on both patio and deck seating.
They have outdoor dining for up to 100 patrons on the deck with seating between 30 and 40 guests, surrounded by lush and full greens, including palm trees and elephant ears. with the remainder on their middle patio with a cascading waterfall, the restaurant bar dining area as two sides of the walls are completely open to the outside, and on the sidewalk patio.

Caffe Aldo lamberti is serious about taking COVid-19 precautions and has installed a thermal body imaging system before you approach the host stand, one-way paths in and out of the rear patio, implementation of QR code menus, and a vigorous cleaning schedule
They offer free valet parking.

Caffe Aldo Lamberti is "Kid Friendly"

Caffe Aldo Lamberti is open seven days/week: Monday - -Thursday 11:30am-10pm; Friday 11:30am-11pm; Saturday 12pm-11pm; and Sunday 1pm-9pm (dinner only)

* Description of Restaurant Classification - Chef-Inspired Fine Dining:

"Old World" with sophisticated and romantic décor.
Priced higher than other upscale restaurants to cover the cost of the added amenities.
They are chef driven by chefs with impressive credentials including formal culinary education and skills honed at award winning restaurants.
Committed to high quality food ingredients such as imported items not available in the supermarket, with emphasis on local seasonal farm-to-table produce, wild caught seafood, & meats without the use of antibiotics and growth hormones.
The wait staff is rigorously trained --- professional, knowledgeable, and attentive. Has an alcohol menu with high end wines and specialty cocktails and with a staff knowledgeable in wine pairings.
Additional amenities include linen and fine China table settings, carpeted flooring, chandeliers, and complimentary sorbets, dessert chocolates, etc.
Patrons tend to be older, more formally dressed, with high incomes.

The most popular upscale restaurants in New Jersey, classified into three categories; Chef-Inspired Fine Dining, Chef-Inspired Casual Dining, and Contemporary Casual.
learn more about the three types of upscale restaurants and how reviews are created.

(updated: October 2021)